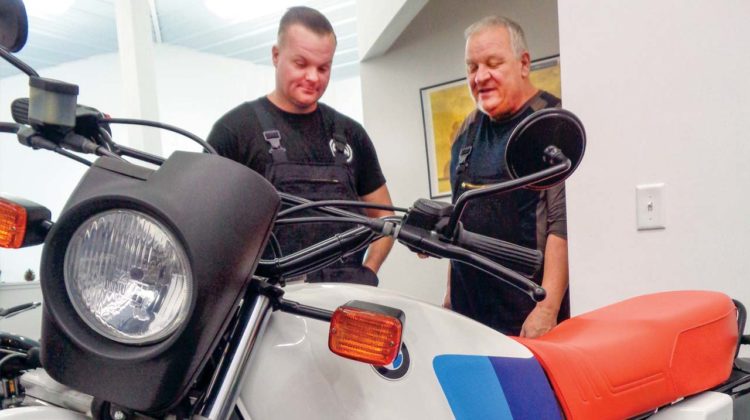 By Michael E. Gouge
Eddie Plam's childhood playground doesn't look too different from his current workplace, a brightly lit room filled with airhead BMWs and his proud father watching from nearby.
"My dad was a BMW dealer from 1985 to 2008, so essentially I grew up in a BMW shop," said the 32-year-old California native. "I grew up around these old bikes. I remember taking them apart out of the crates and playing with the crates with my brother. I've always had a love for these motorcycles."
Plam and his father, William, operate Wunderlich America, the sole North American importer of Wunderlich parts and accessories for BMW motorcycles. They also run Boxer2Valve.com, which supplies parts for older, carbureted airhead Beemers. Plam Werks is their service and restoration shop where Eddie and his team do everything from simple oil changes to full concours-quality restorations to custom café/bobber builds.
"Watching my old man's love for these old bikes, I got kind of into it," he said. "We bought a bunch of /5s and we bought a 1981 R80 G/S, which is the one that's in the showroom. Me and my dad restored that bike together in his garage. We would sell Wunderlich parts all day and come back to his house and work on old bikes. That's when I really fell in love with these old things."
After decades in California, the Plams relocated Wunderlich America to Hendersonville, N.C., a couple of years ago. Their new, larger facility houses the three branches of their parts and service companies. The new location also offers other advantages for the motorcycle-loving family.
"Riding the Blue Ridge is beautiful," Eddie said. "Just the mountains. It's unreal. There are a lot of good roads in California, but I think the roads here are much better quality, well maintained and beautiful. There are so many different places to ride. You can go to Tennessee, go to Virginia. We're in such a cool area. It's beautiful here. One of the best things I like about our area is the weather, too. It doesn't get super cold. It doesn't really get scorching hot. It's like that year-round."
The Blue Ridge Mountains also offer a bit of adventure riding for the BMW enthusiast, who spent years riding in the Sierra Nevada Mountains.
"I'm a GS guy. I've been to Baja, Mexico, on a liquid-cooled GS. I've actually had to come back in a pick-up truck because I cracked my rim in the middle of nowhere about 50 miles before the border in Tecate. I did a lot of the GS Giants rides with our Wunderlich dealers. I was always down to ride, but now I have three children," he says with a shrug most riders of a certain age will recognize. "I still ride. I love just throwing everything you need on your bike and going camping on my GS. It's so fun"
He doesn't limit himself exclusively to adventure riding. Life here in Western North Carolina offers him opportunities to join vintage riders, cruisers and others who enjoy the sport. He divides his riding time between an R 1200 GS and a R Nine T, truly giving him the best of "Land or Street."
"I just like riding. It's fun. There's nothing like feeling the wind in your face," he said. "I'm not a big windshield guy. All my bikes either have no windshield or like a little deflector. I like that feel of just the open air. It's just you, your brake and your throttle. That's pretty much it."
The idea to move the family business to the Blue Ridge Mountains made sense for the Plams. They needed a bigger facility to grow the business. They needed to be on the East Coast to aid with shipping and communication with the German-based headquarters of Wunderlich, and they had a desire to escape the high-costs in California.
"They had dealer meeting in Spartanburg," William said. "I came up to see Biltmore. I thought, 'What a cool place.' The area always stuck in my head. This is such a breath of fresh air. No one is tailgating me. I can find a place to park. Everyone is friendly."
After looking around for a suitable place, the Plams found a new building still under construction in Hendersonville. It seemed perfect for their growing businesses. They were three time-zones closer to Germany in a milder climate and in a much more affordable city.
"We packed up and moved everything out here. It took four, 54-foot semi-trucks to do it," William said.
The relocation also afforded Eddie the chance to start Plam Werks and turn his hobby of bike building into a successful business. He transitioned from his role with Wunderlich America to focus more on the mechanical side of the family businesses.
"I've always been good with my hands and very mechanical. Having my dad as a BMW master-certified technician teaching me, I didn't really develop any bad habits out of the gate," Eddie said.
Plam Werks sprang from building old bikes in his spare time and taking them to shows in California. It started when he was commissioned to build a raffle bike for BMW MOA. People started sending him engines and bikes to rebuild. "I restored a /5 for a guy in Alaska. He flew down, picked it up and rode it home."
"We do more transmissions than anything else," he said while showing the specially made shipping crate he sends to customers who can carefully package their gearboxes for shipment. "We get transmissions in weekly from all over the world. We've had people send in their transmission from Singapore."
His high-end, attention to detail and use of original BMW parts attracts a global clientele, yet his shop is also available to local riders needing basic maintenance.
"We work on new bikes, too. We service them. We do tires, oil changes. We strictly just work on BMWs, anything from 1923 to present. We have all the tooling for newer bikes, all the diagnostic equipment. We can reset your ECU," he said. "We have such a huge parts inventory with Wunderlich and Boxer2valve, even when a guy comes in for service, we knock it out quick because we have everything in stock."
Matt Hickson, 33, a former race technician for Ohlins, works with Eddie at Plam Werks, where Eddie is quick to praise his creativity and expertise. Hickson just completed designing and installing Plam Werks' custom suspension setup for the Meltdown Vintage Bike Show's raffle bike, a 1977 custom BMW bobber to be given away on April 25.
"I've known Eddie for a long time doing BMW shows together. We hit if off really well. I feel like we offer something different because we click on so many different levels. We collaborate and have that same vision of what we want and what we want to give to the customer. I just think we have a really unique place here," Hickson said.
Nearby, Eddie's father tinkers on a long-term project, a graceful-looking 1954 BMW R35. Its naked frame awaiting a rebuilt engine during this expert restoration. The father-and-son team enjoy a relaxed shop environment, something that dates back to the very beginning.
"He always loved hanging around in the shop growing up. At a certain point in time he started working there," his father said. "When we first started with Wunderlich, it was so in its infancy. It was very primitive in a way. The instructions were all in German. The parts were in a sandwich bag. It wasn't anything presentable, so we bought a packaging machine, and as a little kid, he would lay the parts out on a board and skin wrap everything."
Their Hendersonville showroom features a collection of restored machines. "I've seen bikes in museums in Germany that aren't as original as these," William said. "I was around these bikes when they were new, so I know the details that go into it. Every screw, every fastener, every clamp is correct and original to that period, and that's the way we like to do things."
In 1980, William Plam was studying in Germany to become a Mercedes-Benz technician. One fateful day a coworker rode up on a BMW R75/5. Forty years later, he stands next to a museum-quality restoration of an identical bike completed by Plam Werks for a Texas customer and reflects upon the moment when his changed.
"One of my buddies that I was in class with showed up one day on a bike that looked just like that, an R75/5, same color and everything," William said. "I'd never really paid any attention to them before, but holy-moly, that's really cool."
Impressed by the build quality and handling of the German bikes, he would soon buy an R80 G/S, the machine that gave birth to the adventure-bike genre. He brought it with him back to America to the curious inquiries of fellow BMW riders.
"I became a dealer in 1985 when I was 25 years old," William said. "Back in those days, the requirements weren't anything like they are today. I was able to pull it off on a shoestring in the back of a warehouse."
Fifteen years later, William met with an up-and-coming parts supplier called Wunderlich at the INTERMOT trade show in Germany. That led to him becoming the sole supplier for the U.S. and Canada with every order filled and shipped from their Hendersonville warehouse, which houses the largest inventory of Wunderlich parts and accessories outside of Germany. Customers can even visit the Wunderlich America showroom to test fit seats and windows before buying them.
"We really love what we do, and I think that is every one of us who works here," William said. "I couldn't think of a better place than Western North Carolina to be, and the very fact is that we're in probably one of very best motorcycling region in the whole country."