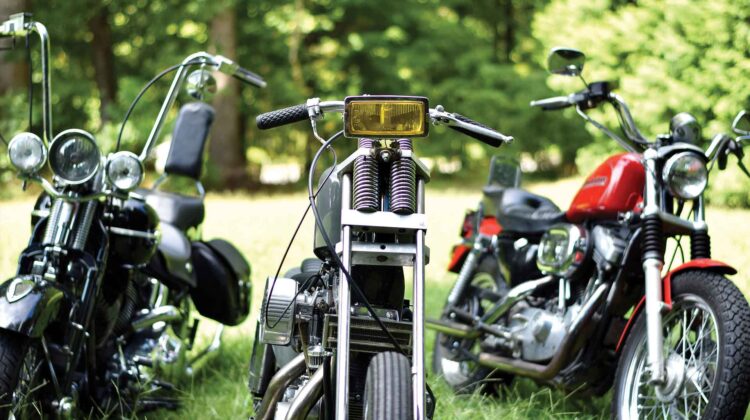 The entrance to R.J. Crumpler's unassuming bike garage sits nestled behind a typical family home in Durham, North Carolina. Once you enter the garage code and open the doors, you'll find a beaming handmade bike shop filled with a '74 Honda CB 550, a Harley Sportster, softail springers and ironhead choppers.
Wearing ripped grey jeans and an old denim vest adorned with patches and pins, Crumpler enters the garage and remarks how it first defined itself as a place to play poker with friends. In the last eight years, the garage evolved into a communal motorcycle toy room. 
"You can fit five cars in here, it's a hundred bucks a month. You can't find that. If I tried to rent this anywhere else it would be $2,000," he said running a hand bearing turquoise and gold rings through his slicked-back hair. 
The space started out as a hoarding closet from previous owners, but he and his friends coined their vision from the beginning of the potential it held. They cleared out trash and burned various materials. They reorganized and reworked it. It just grew and grew. 
"Next thing I know, friends we worked on bikes with would come over, so it became a hangout. We have a drum set and we still have a really good stereo, but half of the week we were in here after work working on bikes," Crumpler said.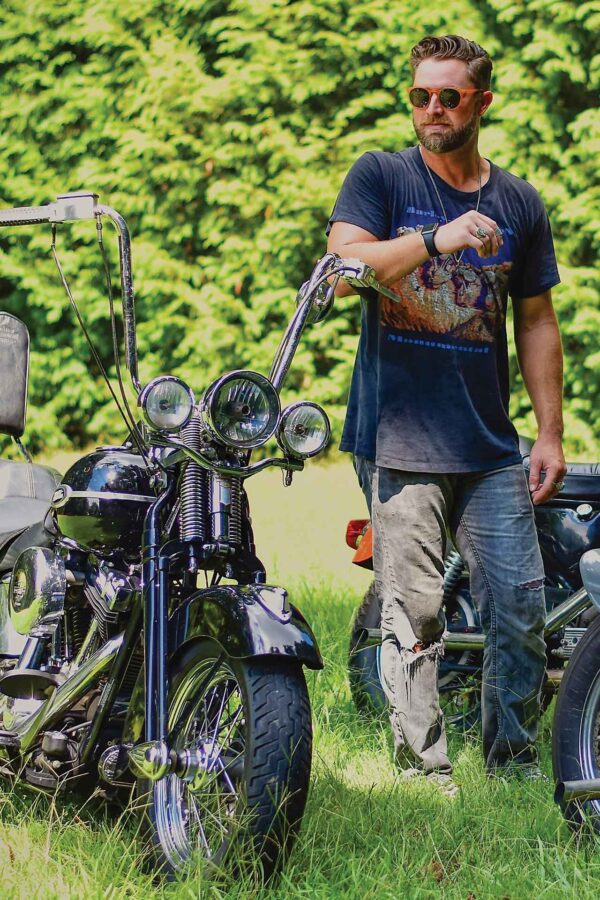 He doesn't go to the garage as much as he used to, but other guys have the code and can work there whenever they want.
"There might be more people that know the code than I know of, but that's kind of cool to have that trust in these guys and have the trust in people to know that no one is going to come in and steal your shit," Crumpler said. "After eight years, it's become a safe haven for a number of people."
His friends and fellow riders frequent the common space so much he knows who's arrived merely by the sound.
"You could hear people coming and know who it was. From half a mile away. You'd hear a bike, and you could tell by the way one friend shifted or how their exhaust sounded — there comes Tickle!" 
Crumpler worked in marketing for Harley-Davidson for a number of years. He flipped bikes that came in as trade-ins and resold them. When he became laid off due to COVID-19, he started doing freelance marketing from home for the city of Durham. His past features a variety of career paths, including artist, model and acting. 
"The guy that got me into motorcycles was this outlaw guy. He's this tattooed intimidating looking guy," Crumpler said. "Yet he's super educated, he's probably one of the smartest people I've ever met. I learned about the culture before I ever even knew how to ride a motorcycle."
This friend, a graduate of the Motorcycle Mechanics Institute, described a passion for riding that drew Crumpler into the sport. 
"Every chance I can get I'm going to bike shows, chopper campouts, rides with friends, bike nights, it's everything," Crumpler said. "It's a lifelong commitment now, I feel like I'm invested, and I enjoy it."
A favorite riding destination became the Blue Ridge Parkway. While waiting for the friends he was visiting in Asheville to get off work, he'd spend his time getting lost on the mountain roads. 
Crumpler laughs as he recalls the fickle weather along the Blue Ridge Parkway when once the temperature dropped from 75 degrees to below 40. This was early on in his riding days, so he hadn't bothered to pack gloves or extra layers of riding gear.
"I stopped at a gas station, and I got these deerskin gloves. They would dye my hands yellow every time I wore them. They were super cheap, but those were my motorcycle gloves, I wore them everywhere, I wore those things for like five years until I wore them out," he said.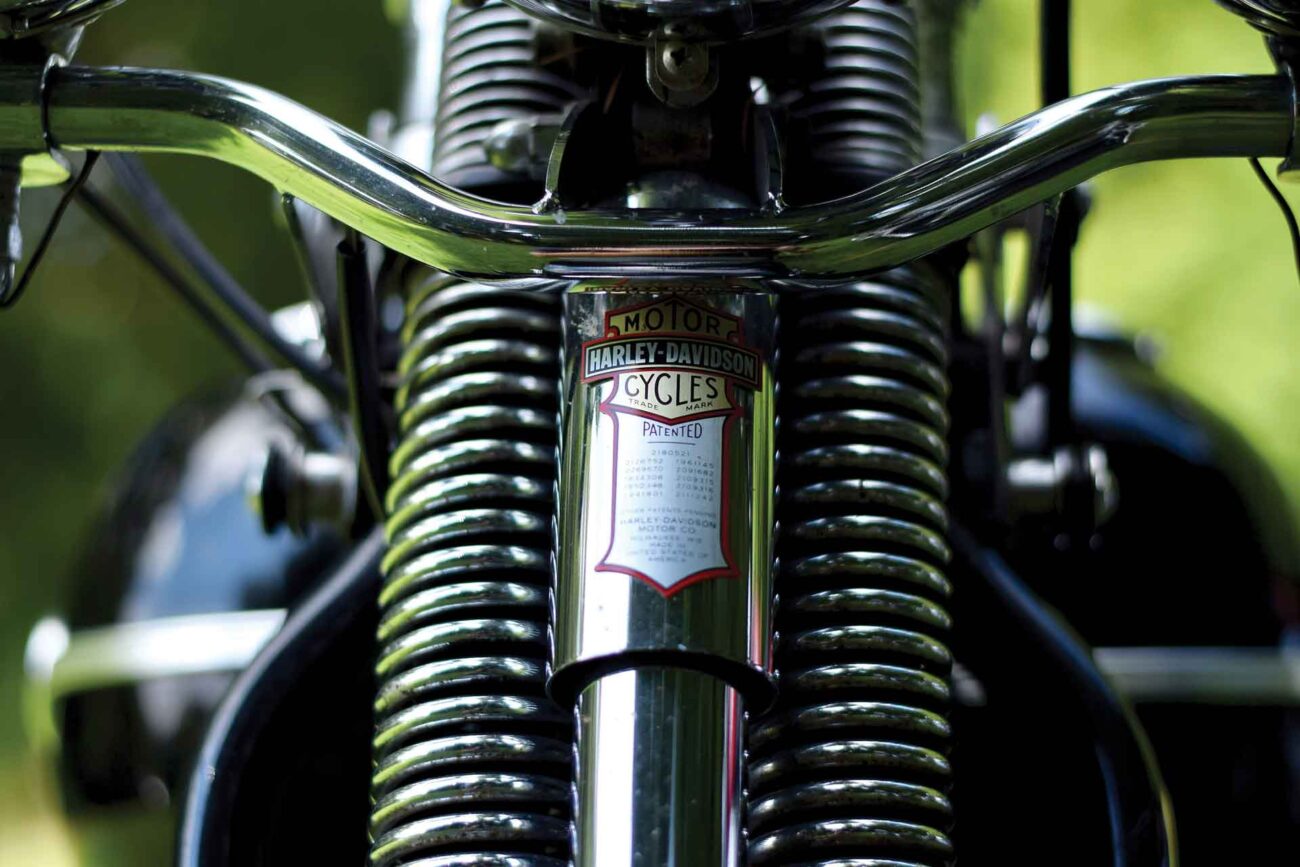 Near Blowing Rock, North Carolina, Crumpler stumbled upon the Twin Rivers Chopper Campout. It's located in the town of Crumpler, which coincidentally is his last name. It seemed meant to be and the bike event became one of his favorite memories. 
"It's a whole weekend of meeting really cool people and old Harleys — like 1950s panheads and even older. There were knuckleheads, shovelheads, custom bikes, really expensive bikes," Crumpler said.
To get to the camp, riders had to traverse some rocks through a river. 
"When the river rises it basically blocks off the path, but people still ride through it on these old, really expensive motorcycles," he said. "We all talk about motorcycles, get up, ride and come back. There's a mix of both van and bike people, but they all come together here."
A cacophony of music rumbles throughout the grounds as bands play during the event. Panhead Jim, Shop Rag (works for custom dynamics, lighting for Harleys) and Zack Gibbons (rides an old shovelhead chopper) devised the chopper campout. 
Crumpler reached out to Panhead Jim, who builds bikes for Lowbrow Customs, on a whim to ride up to the event together. 
"It was a guy I idolized, he's kind of a legend around here, Panhead Jim," Crumpler said. "He's a guy if you saw him on the street, you would not know that he's this motorcycle guru, so I rode up with him to the campout and a big part of that was riding on the parkway. Especially when you have an old, slower bike it's nice because it's never crowded."
He rode up on a 1953 Panhead to spend the weekend on the river, campout, ride, listen to bands, meet motorcycle gurus and tube down the river. 
"I would say it's my best memory on a motorcycle," Crumpler said. 
The final day of the campout, Crumpler slept in and was running late to work.
"I got on that bike (a Sportster 1200 built from scratch) and rode like 85 mph on the highway. And it's a tiny bike and it screams," Crumpler said. He had gear and tents strapped on the bike but he packed up fast so nothing was secured. "It's a memory, like I can feel it, I can feel it right now. I can see it."
Crumpler hasn't returned to the event for six years now, but itches to get back out there. 
"Still goes on, still in Crumpler, N.C., still awesome," he said. 
In the meantime, Crumpler continues his work restoring and flipping bikes. He and his friend just rebuilt a '74 Honda CB 550. 
"It's like meditation when you start working on a project that you really get into," Crumpler said.
The creativity and design aspect of the bikes runs through his blood. It's about the culture of the bikes and learning about them, working on them. 
"I consider myself a self-taught slash amateur mechanic and that has turned into this garage. It went from one bike to one time I had five, I'm down to four — I think," Crumpler said.
He learned how to ride and work on bikes at the same time. His first was an old Harley Sportster that came in scattered boxes. Usually manuals say something like "for 20 years everything is the same for this motor" with the exception of his 1200. He had to hunt down parts for what proved to be the hardest Sportster in 20 years to work on, but that was his first bike. 
"That was my learning experience. I learned from the school of hard knocks," Crumpler said. "No classes, I learned on the Sportster and an old dirt bike at a friend's house drinking beer."
He once spent 24 hours rebuilding a motor just to realize it was completely blown up.
"From there it took over my whole life for a while," he said. "It became an obsession, I learned for years how to work on a bike because I had to build it and rebuild it and it would break down and I would build it again."
Perhaps his favorite bike, though, is his ironhead chopper. He bought it from a trailer park in South Carolina.
"Cranked it up, it ran — kind of. It was purple, had this crusty old paint, but it was cool, you could see the history in it," Crumpler said.
It was an old bike he knew he could turn into a chopper. It has a big 12-over springer front end from a '70s Triumph. Crumpler says it's still a pain in the ass, but he loves it. It's a one-of-a-kind trailer park bike. 
 "It was goofy, and it was quirky, and it was backfiring, but it was probably the happiest moment I've ever had on a motorcycle. I was laughing riding it down the road. Because I was so happy."