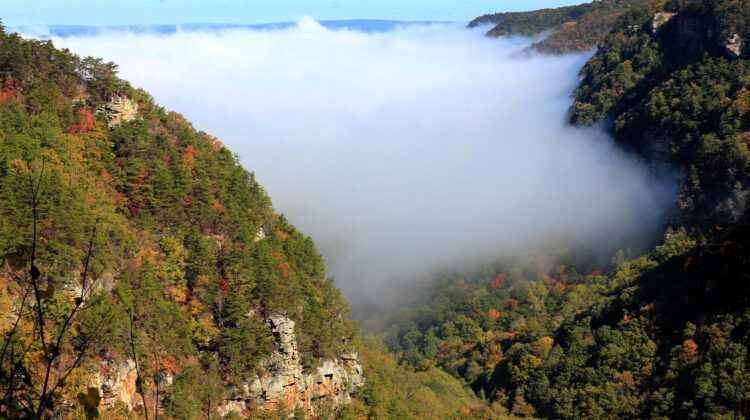 I left my home in Florida ostensibly to meet my youngest child for the weekend. She now lives most of the year in Wyoming and is only "back east" occasionally. However, my motives were duplicitous in that I convinced her to meet me at a destination that I have been trying to visit for at least 15 years, but never quite made it.
Throwing convenience aside, I rode the motorcycle because I do not want to experience the any part of the Appalachians riding in the proverbial cage. We planned to spend two days in the southern extremes of the Blue Ridge at two separate state parks in Georgia. In my experience, the state of Georgia has one of the finest state park systems in the United States. From the coastal plain to the Blue Ridge, Georgia has much to offer travelers that love the outdoors. This trip would visit two of Georgia's best offerings: Cloudland Canyon and Amicalola Falls State Parks.
CLOUDLAND CANYON STATE PARK: After six hours in the saddle, I was approaching the park northbound on GA 157. This highway piggybacks along a ridge that is the western boundary of a vast valley formed millions of years ago by geologic processes in timescales that are difficult to imagine.
At speed, the valley can only be glimpsed sparingly through gaps in the dense hickory and oak tree line. The split second glimpses are astonishing. My reaction is just, "Holy Cow" (or some similar phrasing). Little did I know that this was just the appetizer to a much more ostentatious visual feast.
Cloudland Canyon State Park is officially located in Rising Fawn, Georgia. This tiny town is 14 miles from the entrance of the park. This park is relatively remote. One of those "geographical oddities," it's 30 minutes from everywhere and an hour from anywhere larger than a small town. Isolation often has its charms. But, make sure you have supplies if you intend to stay the night. A late-night urge for snacks can become a mission. The closest big box store is a minimum of 30 to 60 minutes riding on twisty dark roads depending on conditions. I arrived about 90 minutes before sunset having reserved a yurt to stay the night. The after-hours check in process was effortless. My daughter arrived 40 minutes later with supplies and linens.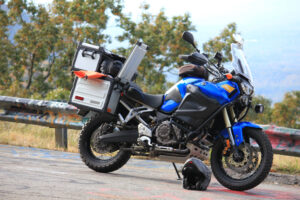 Camping in a yurt is a recent trend that seems associated with hipsters and "glamping." A traditional yurt is a centuries old design from the steppes of central Asia. In its basic form, it is a portable round tent. The modern version at the park is non-portable with comfortable furniture, heat and electricity. You will need your own linens. The bathrooms are a short walk to the clean and serviceable bathhouse. Staying in these yurts amounts to staying in a large comfortable, electrified tent — a far cry from sleeping on the ground.
The park also offers numerous tent and trailer sites or cabins. All facilities appear to be recent and in good condition. We were able to go to an enjoyable BBQ about 5 miles east of the park called the Trading Post Smokehouse, but they were near closing at 5 p.m.. I spoke to the owner, Marvin Kilgore, who said, "Riders flock to the Lookout Mountain Parkway and we welcome two and three wheeled travelers' business."
Kilgore shared a delightful story of how many of the recipes he uses were inherited from a pit master from the Kansas City, Missouri, area who brefriended him and then left some of his cooking secrets to him after his demise. Kilgore's Bruswick stew and cornbread are as good as any in recent memory.
After a fitful night's rest, a short hike took me the west rim of the canyon. The canyon itself was formed on a timescale measured in the hundreds of millions of years. A combination of plate tectonics and erosion created this inimitable geologic feature. I heard many testimonials over the years and viewed a multitude of pictures on-line, but I was not prepared for the views the overlook offered. In a word, EXTRAORDINARY!
On a clear day the west rim overlook is a Northwesterly facing auditorium and the canyon a proscenium that the audience peers through to a far stage offering a superlative vista of Lookout Valley and the Tennessee River Gorge some 10 miles distant. On this day, weather conditions created a temperature inversion that trapped a thick fog bank in the canyon with bluebird skies all around. The fog presented as a great floating lake of cotton candy. The only utterance I can manage is, WOW! Just spectacular. Worth every moment in the saddle to get here.
The park offers several well-marked trails which allow visitors to view the geology of the canyon and its surroundings. Four more extensive hiking trails, including one backpacking trail are also available. These trails are generally considered moderate in difficulty. The canyon is literally a geologic record telling a 200-million-year old story. It is a geologist's dreamland and a lay person's playground.
This park as a destination is arguably the most unique jewel in the Georgia state parks system. Roughly 26 miles south west of Chattanooga, Tennessee, it is disconnected from what is considered generally the Blue Ridge region but who cares? It is not to be missed.
According to the park's general manager, Brad Gibson, other nearby attractions worth visiting include: the hang gliding park atop the mountain on Ga 189, James H Floyd State Park, which is a 30 minute ride. Nearby Rock City and Ruby Falls are also worth visiting.
AMICALOLA FALLS STATE PARK: The ride from Cloudland Canyon to Amicalola Falls makes for a great day trip. The reward at the end of the ride is a stay at the Amicalola Falls Lodge. I left the canyon and headed east toward Amicalola. If you consult your GPS it will most likely try to push you toward the interstate and through the towns of Dalton and Chatsworth. DO NOT LISTEN to the lady in the navigation device! When I saw the proposed route, I replied in the local vernacular, "that dog don't hunt." Instead, ride east on Georgia Route 136 and force "the lady" to re-route.
GA 136 is a great road with less traffic, more twistiness and delicious eye candy. It will take you very near the park entrance. Alternatively, a fork in the road will present itself and offer a different path. In a few miles you can deviate from 136 and head north on U.S. 76 toward the charming town of Elijay. Among other things, Elijay has become a destination for mountain biking. Elijay also offers food and lodging that is rumored to be first rate. While I have not spent the night in Elijay in many years, it is still an attractive small town. More time needs to be spent exploring its charms on the next visit. Part of this alternative route is marked as the notorious path of the Trail of Tears. Retracing that route elicits somber thoughts of callous governmental policy and human suffering that should never be forgotten. Once you reach the intersection of GA 52, head east to the park. Either route is a pleasure for motorcyclists.
During a short segment of the trip, I followed an older Mercedes sedan and was struck by the powerful smell of French fries saturating the air in a valley for a couple miles with no fast food in sight. I realized that it must be a converted diesel engine running on reclaimed restaurant tallow (frying grease). I don't think I would have noticed this had I been driving in a cage. It is often the smallest things that make a difference in the way one experiences moments. There are few experiences that rival riding through the Blue Ridge Mountains.
After 105 miles of bliss, arrival at Amicalola Falls State Park appears. Upon entering the park motorists are presented with a very steep, paved climb up the mountain. Pinned atop the mountain is another jewel in the crown of the Georgia state park system, the lodge at Amicalola. This facility is definitely a step up from a yurt in terms of creature comforts.
Northeast of Dawsonville, Georgia, the lodge is perched on the southern tier of the Appalachian Mountain Range. Amicalola is a Cherokee word meaning tumbling waters. The park is named for its most prized feature, Amicalola Falls – a splendid 729-foot waterfall that ranks as the third-highest cascading waterfall east of the Mississippi River. Stunning vistas and spectacular sunsets await lodgers. Amicalola Falls State Park & Lodge tenders excellent accommodations and top notch recreation opportunities. In addition, the lodge has a full service restaurant that offers good, reasonably priced food and a dining area serving panoramic views of the surrounding Blue Ridge Mountains. I had both dinner and breakfast in the lodge and walked away satisfied. In the evenings, lodgers gather on the westward facing patio to take in the setting sun's contribution of the day's last light.
If I could channel telemarketing legend Billy Mays, I would enthusiastically proclaim, but wait there's more! Once you take in the truly stunning views of mountain and waterfall, get back on your bike because Amicalola is a preeminent gateway to great riding. Hundreds of miles of north Georgia highways, both paved and unpaved, are there for rider's enjoyment.
"It just keeps coming and never ends. It's among the best riding in the United States," said Elio Dimacali, a fellow rider I encountered. His pristine BMW GS 1200 Adventure, with Eurosport Asheville decals, takes him from Virginia to North Georgia and all points in between.
If hiking is another passion, an approach trail at the lodge takes you to the southern terminus of the Appalachian Trail. Adventurers can hike all the way to northern Maine if time and stamina constraints are not an issue. A less ambitious option is the Len Foote Hike-Inn lodge, which I visited on a different trip. The Hike-Inn, a backcountry lodge and a gateway to the Appalachian Trail, sits nestled in the Chattahoochee National Forest, only 80 miles from Atlanta. Its four main buildings offer 20 private guest rooms, hot showers, towels and home-cooked meals. It is a unique experience for people that enjoy camping and hiking. I recommend it to folks who like roughing it a bit or being off grid whenever possible and it all begins at Amicalola Lodge.
North Georgia offers motorcyclists just about everything they could want in terms of roads, scenery, food, culture, festivals, lodging and history. When traveling the Blue Ridge region don't neglect the bottom of the range. Some state parks offer great accommodations and outdoor experiences. If you have not been to this charming part of the world GO and discover what you are missing.
This article originally appeared in the Summer 2020 issue of Blue Ridge Motorcycling Magazine.