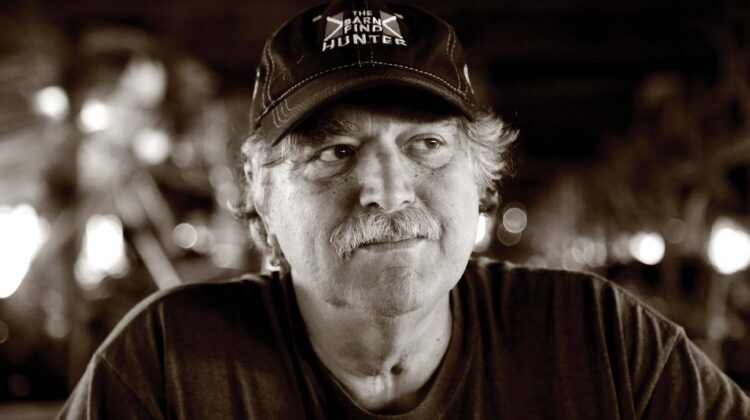 One of the things that keeps people coming back to North Carolina's motorcycle mecca Maggie Valley is the sense of mystery that seems to underlie much of the Smokies – what's around that next bend, or over that next hill. But sometimes, it's those nondescript buildings on the sides of the road that hold the true mountain magic.
In one such structure, barely noticeable from Soco Road, there's a veritable cornucopia of modern motorbike lore unlike any other collection in the United States, owned by a man so low-profile that many people in his own hometown don't even know they're there.
No, it's not the internationally known Dale's Wheels Through Time motorcycle museum. In fact, it's the exact opposite. If Wheels Through Time can be called "the museum that runs," this collection could be called "the museum that sits."
Wait, that's not right. It's not even a museum. It's not really open to the public, but if you can track down the man behind the machines, he might just pop the doors for you, revealing what's inside.
It all started back in the mid-1960s with $3 and an old lawnmower.
Nine-year-old Steve Davis borrowed the money from his father to fix it up, mowed yards, saved $100, bought three Honda 90s, sold one for $275, put $200 in the bank, took the remaining $75 and bought two more.
"And that just sort of snowballed through the years," said Davis, now 65.
Davis' father, Clayton, is a mountain legend. Clayton Davis worked his way through N.C. State University and became the county agricultural extension agent, started the Asheville farmer's market, and has a building at the Western North Carolina Agricultural Center named after him. At 90, he's still an active member of the Maggie Valley Board of Aldermen, but back in the mid-1960s, Clayton saw a valuable opportunity to teach a lesson about motivation, dedication and responsibility to his son Steve.
"There was no such thing as allowance or anything like that, so if I wanted it, I was going to work for it to get it," Davis said. "By the time I was in junior high, I had a pretty good business going."
One frosty Saturday morning, Clayton counted 14 motorcycles in the family carport, and roused his son from his slumber.
"We've got to do something," Clayton said. "I've been scraping ice off my windshield for a month."
Together, they fixed up an old barn that would become what Steve called his first true motorcycle shop.
"And then I started buying out dealerships and buying out inventory and that kind of thing. And now there's 12 buildings full of cars and parts and motorcycles," he said.
That's a bit of an understatement – there's all kinds of things in those buildings. A bicycle from the 1880s with wood wheels, canvas tires and cork handgrips. A birch bark canoe. A 1927 race car made by aircraft manufacturer Curtiss-Wright. Vintage luxury sedans from long-defunct brands. A unicycle that tried to kill him.
And then there's the motorcycles. More than 5,000 of them.
"I've put together a lot of collections of motorcycles and as I sold parts for years and worked on them, the pile got larger," he said, snaking his way through the dim, narrow aisles of one of his buildings, pointing out all manner of conveyance. "This is a 1959 Honda 50. There's the 65, the 90, the 150 and the 300. I have all of those in that paint scheme from that year, the same way with those Yamaha's right there. I have the entire collection of those from 1974, the 80, the 100, the 125, the 175, the 250, the 360 and the 500, just like they sat at the dealership."
There's clearly a method to Steve's madness. How can he keep track of everything in those buildings? He offers only silence and a piercing gaze, tapping his index finger against his temple a few times. He's got titles for all of them, too, and even remembers where he got them all, be it Australia, Ontario or right around the corner in Waynesville.
His predilection for imports can be traced to one Troy Muse, a local motorcycle dealer Steve says was the first man in the world to put Honda, Kawasaki, Suzuki and Yamaha under the same dealership roof, back in the 1970s.
"When my father was young, you had Harley Davidson and Indian. That was the extent of it. You had the Triumph and BSA and Norton from England, and we had a few of those, not many. With the Japanese market, people could afford them," he said. "Troy had all four brands, and he was selling them like crazy. Everybody and their cousin had one in the garage, and I came along and if they couldn't get them fixed at the dealership, they'd bring them to me. I'd fix them or buy them and resell them."
Steve's collection of hard-to-find parts is as impressive as his bikes, if not more so. Piles of cylinder heads. 40 cubic feet of carburetors. Exhaust pipes hanging like wind chimes from every available rail.
"Anything Japanese, I've probably got it," he said.
That draws people from all over the globe, whether they're looking for something, or just looking. Although Steve doesn't advertise, he does consider himself open to offers on almost anything he has.
"I had people here from Israel last week. I had people from Belgium. I had people from France. I had people from the Netherlands and Germany here last week," he said. "I had some Chinese people come and they pulled up out there and I said, 'Hey, great, what do you need?' And they said 'No, we just came here to see.'"
Over the past half-century, men like Troy Muse and Steve Davis fed and nurtured the local motorcycle culture, on a multi-generational basis. At a funeral the other day, Davis ran into a man who said that he, his father and his grandfather had all purchased bikes from Steve over the years, and all had those bikes worked on by Steve at some point.
All that time, Steve helped keep local riders in the saddle, but almost 20 years ago he was joined in Maggie Valley by another man who's had as much impact on local and regional motorcycle culture as anyone else.
Steve remembers clearly the moment a "little guy" in a Ford Taurus pulled into his shop.
"Everybody tells me I need to know you," the man said.
"Why's that?" Steve asked him.
"I'm moving down here and starting a museum," said the man.
"What kind of stuff you got?" Steve queried.
"I love old bikes — American bikes — and big cars," the man replied.
"Well," Steve said, "then we'll be friends."
That man was Dale Walksler, who founded Wheels Through Time Motorcycle Museum in 2002 after relocating his collection from Illinois to Maggie Valley. Walksler died in February after a four-year battle with cancer, but before doing so helped put Maggie Valley on the map as a bucket-list destination for any sensible motorcyclist.
"It's unique," Steve said. "I mean, you've got the Tail of the Dragon, you've got N.C. 209 (known as The Rattler), you've got the all of these wonderful places to ride motorcycles. Plus, it's biker friendly."
Indeed, many of the finer establishments in Maggie Valley feature biker-friendly amenities, like covered bike parking and expansive paved parking lots.
One of them is Teague's Grocery, located inside a Shell station not far from his collection. You won't always find him there, but if you're patient, and ask around, someone might just point you in the direction of Steve Davis and his collection of motorcycles. And if you're really lucky, he might just give you a peek.