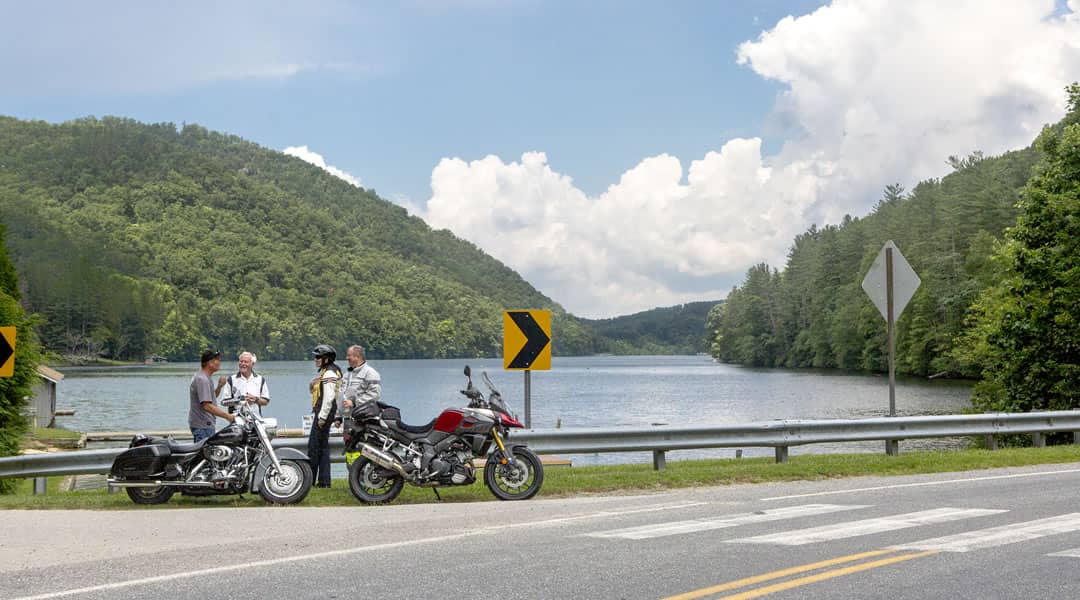 I gear down and gently roll out the mighty throttle on my black pearl 2007 Road King Custom. My eyes scan the shadowy apex and seek the end of the curve. I lean in and feel the sweep in my Levi's clad hips. The next sensation I'm aware of is the corners of my lips softly raising into a grin. There is nothing better than riding a motorcycle in the Blue Ridge Mountains and on an 800 pound Harley Davidson, every perfectly twisted stretch of pavement is an adventure. I've likened it to non-riding friends as owning a roller coaster where you control the pace and enjoy a much better backdrop.
On a pleasantly warm Saturday afternoon, I met Jeff Myron, Michael Gouge and Trent McGraw at Rejavanation Café in Candler, NC for a pre-ride coffee and route discussion. We referred to our plan as a test-ride for the magazine but we were all well acquainted with the invigorating jaunt to Lake Logan.
The coffee shop was chosen for its proximity to two entrances to the Blue Ridge Parkway. We opted to hop on by the North Carolina Arboretum off Brevard Road. I live 14 miles from the Parkway and ride it with enormous frequency. It never disappoints. Our steel horse party enjoyed gentle well banked curves, phenomenal long-range views, and breath-taking mountain vistas.
We took a short break at Cherry Cove Overlook situated at Milepost 415. Our two-wheeled posse had already reached an elevation 4327 ft and was rewarded with a glorious view of Looking Glass Rock. It's known for its sheer cliff walls that glisten when wet and reflect the sun like a mirror. I've warned many visiting motorcyclists not to stare at the majestic mountain landscapes. The panorama makes it's tempting to take your eyes off the road which is obviously dangerous. Jeff compared notes with a fellow Harley rider and Trent gave a young couple directions to Skinny Dip Falls before we resumed our ascent. The four of us enthusiastically motored to an altitude of 5300 ft. at Beech Gap where the Parkway intersects with 215.
State Highway 215 is a two-lane, scenic road with minimal traffic and lavish scenery in southeastern Haywood County. This course delivers dramatic waterfalls on the left and the flowing Pigeon River on the right. My brethren and I veered and swerved in blissful, staggered unison through hairpin turns, sweeping curves and treed straight-aways. The sun broke through the leaves to create an enchanting pattern on the road and the river provided a spectrum of sparkling reflections. The combination made for a magical tour down the mountain. Michael led us on his Maroon 2014 Suzuki V-Strom 1000 adventure bike. Surprisingly, it was almost as loud as our three cruisers. I followed Michael and Jeff followed me on his white 2006 Police Edition Street Glide. Trent brought up the rear in prismatic style. The black paint on his black and red 2016 Victory Cross Country Magnum, appropriately named "Black Crystal" is kaleidoscopic. The 800lb, 106 cubic inch cruiser is rolling, bejeweled masculinity (you'd have to see it).
Our captivating excursion on the picturesque and meandering road came to an end too quickly. We had reached our Lake Logan destination and disembarked. The lake is on private property but we found parking near the bridge. In typical post-ride fashion, my three riding buddies were all smiles as we reminisced about the sights and sounds of our journey. We laughed about referring to the last few hours as work and sarcastically lamented that we'd have to continue our research a few miles down the road in Canton. We'd heard there was a new brewery on Park Street and that the food at the Southern Porch on Main Street was exceptional. "Saddle up gentlemen, duty calls!"