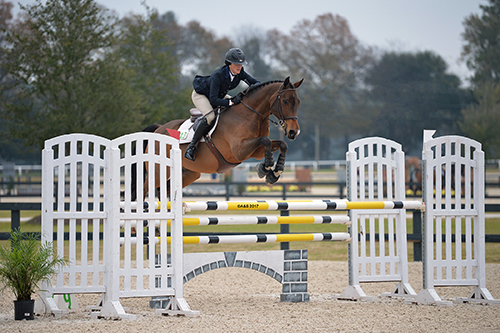 The white fences and green pastures of the southern Blue Ridge roll past as Lauren Bergrud navigates her way across the familiar terrain. She's in her element here, whether on two wheels or four hoofs. Her vintage black Yamaha hums along next to the tranquil fields where contented horses flick their tails as she motors past.
Which came first, her love of horses or motorcycles? "Horses, definitely. Almost from day one," says the 38-year-old artist and horse trainer. "My mom started riding when she was 13 and always had horses. It's just been in the family."
The Columbus, North Carolina, resident's interest in two wheels developed almost as early, fueled by her father's love of motorcycles and the perfect combination of a dirt bikes and farmland.
"I don't even remember what it was, a little Honda, a tiny little mini-bike. Just zooming around on that," Bergrud says of how her two-wheeled hobby began. "We would take them to horse shows, too. We would have them to go from ring-to-ring."
Her days are often spent dividing time between her two passions for riding. For most of her life, the two-wheeled steeds were strictly off-road machines, but three years ago she took the Basic Rider Course and finally got her motorcycle endorsement to ride on the street. Today, her stable includes a 2005 Kawasaki Ninja 636, a 1982 Yamaha Maxim 750 and a vintage Triumph.
"There's so many similarities," she says comparing equines with internal-combustion steeds. "Just being smooth on the horse, being smooth on the bike, riding-wise. They both kind of have the same attraction. You feel like it's a part of you. There is some sort of partnership. My most favorite thing about riding horses is the connection. It's kind of hard to have that 100 percent on a motorcycle, but there are similarities. There is a Japanese saying, jinba ittai, it means the horse and rider are one, but I can relate it to riding bikes, too."
Her brown eyes spark to life as she describes this magical connection, especially when she talks about Beloved Beetle, one of the horses on which she won several equestrian events last year. Bergrud competes in several categories, including hunter-jumper and all-around eventing.
"She's a unicorn, a badass unicorn," she says of the beautiful white horse. "I love her spirit. I love she is so athletic, so focused. That's my favorite thing about riding horses in general; they try so hard all the time. Sometimes I feel like we're not necessarily worthy to ride them."
Bergrud jokes she's been on horses since she was in the womb, inheriting her love of the animals from her mother, Toni. "My mom started riding when she was 13. Since she always had horses, it's just been in the family." She attributes her other riding interest to her father, Nic.
"My dad, who passed away in 2015, is probably the biggest push for me to ride bikes. Growing up, there was always a Triumph or Harley in barn covered up. He was in a bad accident, and after that he never really rode when I was a kid," she says. "Later on, he had a BMW sport bike, and he would ride a little bit. I still have the Triumph; it's a '75 Trident. I rode it a couple of times, but it just leaks oil so bad. It's so much fun to ride when it's actually functioning right."
Growing up in Farmingdale, New Jersey, she followed her father around as he did chores on the farm. "Dad was a mechanical genius and liked to work on tractors. He could fix anything. I would always help him," Bergrud says. "I didn't realize how much I liked mechanical work until he passed. I wish I had gotten to ride more with him. I always feel like he's with me."
Tinkering around the farm helped prepare Bergrud for becoming the diverse artist she is today. She studied at Moore College of Art & Design in Philadelphia, among other schools, and creates unique and stylish creations in such varied mediums as woodblock printing, drawing, woodworking, sculpture as well as functional furniture.
"I have a definite need to make things, whether functional or not. To me, art is functional, too. I was working in Asheville last winter, and I loved making tables. I love tables anyway, they're workspace and a piece of art."
She pulls back her dark, wavy hair while trying to describe her work — while hesitating to apply a label or confine herself to one artform— and reveals a tattoo on her inner right arm. It's a line drawing of compass arrows with north pointing to her elbow.
"I've always enjoyed direction and ways of navigating, having some sort of goal," she says describing the inkwork she designed. "A compass, to me, is about the destination. Mine are with arrows. I like the idea of getting to the destination instead of the actual destination. It's the journey."
Her journey often takes her across the scenic roads nestled against the Blue Ridge Escarpment along the border of the Carolinas. Her friend and fellow motorcyclist Roberta Heinrich sometimes joins her as they rumble through the rolling hills.
"There is nothing boring about Lauren. She shows her passion for all she is involved with," says Heinrich, a Realtor with Walker, Wallace and Emerson Realty in Landrum, South Carolina. "I think she gets her spirit from both her parents, but I would venture to guess that the love of motorcycles came from her dad's side."
Heinrich also shares the love for horses and bikes. She took up motorcycling 16 years ago and went on to explore parts of Canada and the western states by motorcycle.
"I started riding in spring of '02, and it was the most empowering and exciting thing I have ever done. I started with a Honda Shadow and in less than a year, I sold my horse after being a lifelong equestrian and bought the '03 Harley Davidson Low Rider I still have and ride today," Heinrich says.
Bergrud was among Heinrich's equestrian friends who inspired a dual interest in riding iron horses. "I have had other friends who had a love for both horses and motorcycles; however, none of them ride either of them anymore. Lauren is the only person I currently know who rides both. She's not afraid to try new things nor of hard work. I'm hoping we can get our schedules together to ride more this year."
After years of piloting dirt bikes around the farm, her internal compass finally pointed Bergrud to take her riding to the street. "I never got my endorsement in New Jersey because it was so crazy with traffic and my parents weren't thrilled with me riding on the roads." Since earning that "M" on her license three years ago, she's traveled to Sturgis for the annual bike rally, toured much of the Blue Ridge Mountains and now dreams of riding across the Alps in Europe. "I like riding the mountains, any mountains," she says. "If I'm going long distance, I prefer the Yamaha, but the Kawasaki is fun. I love going on big loops."
Recently, she attended a sport-bike riding school at Barber Motorsports Park near Birmingham, Alabama, where she developed her cornering skills on her Kawasaki Ninja 636. "It was amazing," she said. "I really enjoyed going to the track, having to be accurate. I like things that totally captivate you. You can't be worried about what happened that day or that morning. Whatever is going on in that present moment, you have to be 110 percent focused on what you're doing."
Coming from the world of horse competitions, the closeness of the motorcycling community at a track days and amateur races really impressed her. When she decided to do her first track day, she contacted another female racer whom she follows on Instagram and was surprised by the outpouring of information and encouragement.
"I've never seen a community be more supportive, especially going to the track as a girl. People come up to you and say, good job! People don't do that at horse events. They're not as into community at horse shows. It's more like you're on your own."