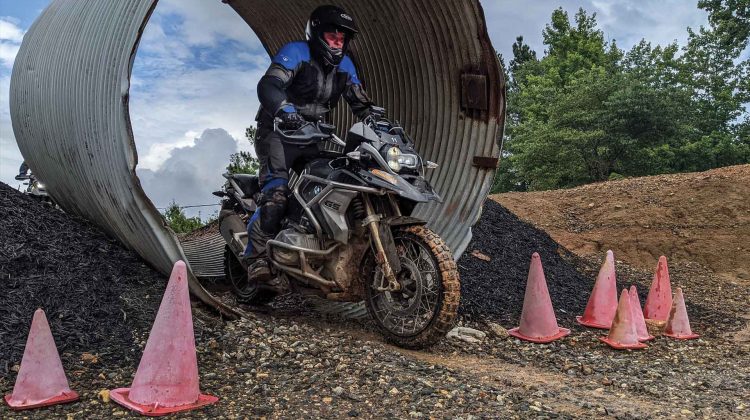 I am standing in a motorcycle dealership considering the purchase of a ridiculously expensive two-wheel conveyance. This purchase is irrational. I already own a 2020 KTM Super Adventure R. Conventional wisdom dictates the KTM is barely broken in. Rational thought and decision making would prompt my immediate exit from this den of crass consumerism. 
Yet my eyes involuntarily fix on the shiny new BMW flagship model, a R1250 GSA adorned with the patriotic themed red, white, and blue rally trim. The machine bristles with technology that I certainly do not need nor completely understand. No matter, I want it anyway. How did this happen? What events transpired to place me in this moment of doubt, indecision, and no small amount of self-loathing given my apparent lack of self-control and fiscal restraint? 
A few weeks earlier, my most eager moto-adventure partner Elio Dimacali, a dedicated BMW rider and GSA owner, suggested we attend the BMW U.S. Rider Academy in Greer, South Carolina. Since I was not a BMW owner, I had some reluctance. 
"Come on man, YOLO!" he urged.
Because my ability to resist peer pressure is somewhere south of ZERO, I signed up and soon found myself taking the two-day, off-road class at the BMW Performance Center.
If I invest the mental energy to think about it, this story begins 27 years ago on a mountain in northern California. In 1995, my friends invited me to go skiing. I enthusiastically accepted the invitation and soon found myself in the picturesque Sierra-Nevada mountains with feet and hands attached to skis and poles.
The next hours were humbling. I fell, cursed, fell more, cursed more and for the most part tumbled all the way down the mountain. I did not enjoy the thrill of downhill skiing like my friends. My experience was exhaustion, physical pain and humiliation. My buddy admonished me for stubborn behavior and advised (demanded) I go book a half-day lesson, so I went unenthusiastically to the ski school office and signed up for a lesson. I was able to correct several of the mistakes I had been making and every subsequent run improved. Proper professional coaching made such a difference that I signed up for another half-day lesson the next day. I was hooked. Those lessons and the remainder of the trip started a 20-plus year love affair with skiing. These days, I love motorcycles just as much and want to become better at riding them.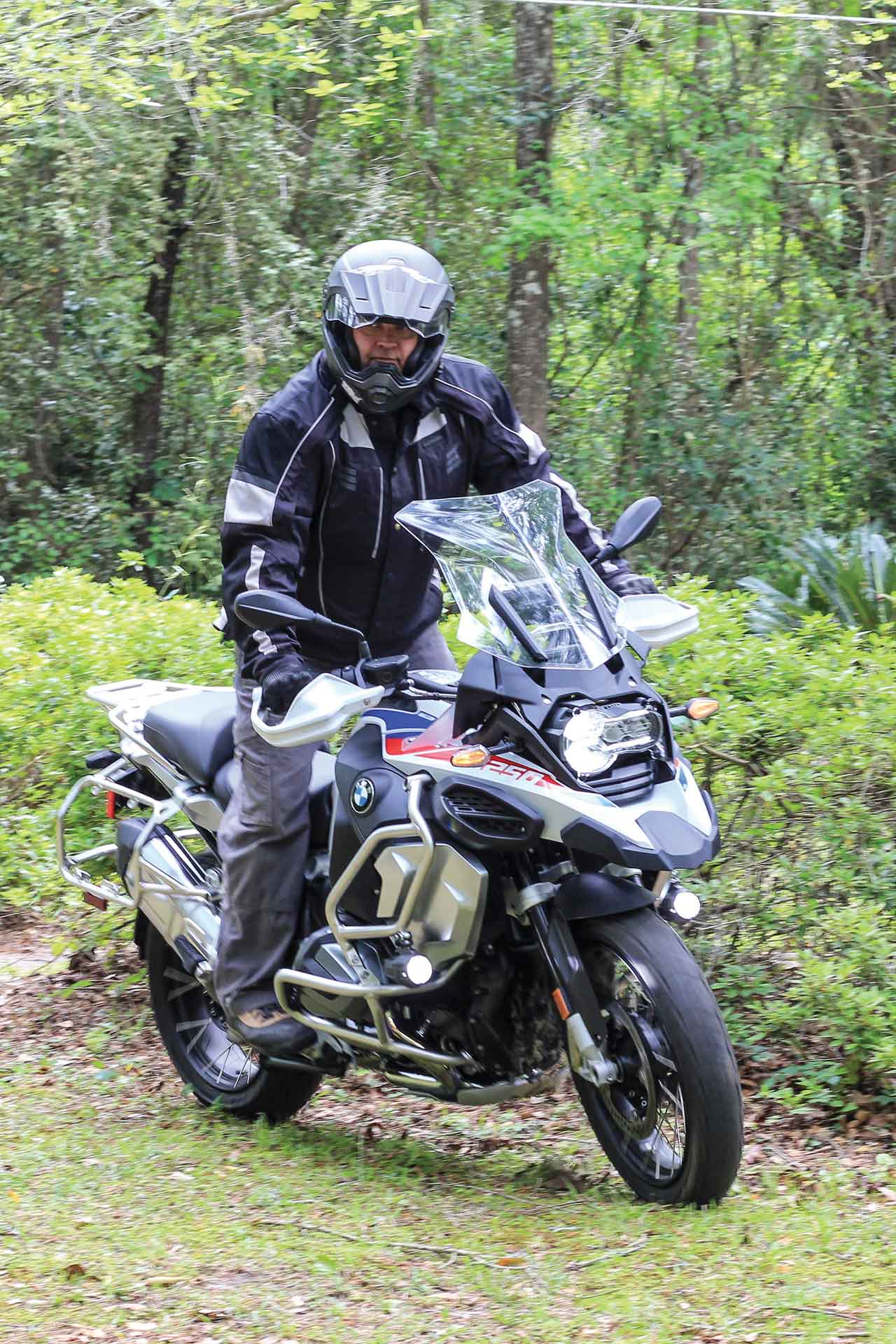 Lately, I have gravitated toward dual sport and adventure bikes where I'm not restricted to tarmac. After purchasing my third adventure motorcycle, the big KTM 1290 rocket disguised as a dirt bike, I felt obligated to push the boundaries of my ability by riding more difficult off-pavement routes. I not only wanted — but needed — to be better. Thus, I sought professional instruction.  
At the BMW U.S. Rider Academy, day one starts in the classroom. I was immediately impressed with the low student/instructor ratio — nine students and three instructors. The first part of the day was spent learning the goals of instruction followed by an orientation on the motorcycles we would be riding for two days. I especially needed this tutorial since I was unfamiliar with riding a BMW adventure bike. I was assigned bike No. 5, a 2021 R1250 GSA. While students have the option to ride their own bike if it is a BMW, don't — especially if you love your bike.
With bike basics complete, our merry troupe of soon-to-be-filthy moto monkeys follow the leaders single file to the skills course. Since we're there for adventure riding, most of our riding is done standing-up on the pegs. My butt rarely touched the seat during the 14-plus hours of riding. We ride side saddle, standing on one peg with the opposite leg, practice clutch control and counter balancing. We chug along like an old farm truck in creeper gear. This is counter to any riding I have done. 
As I look at the other students doing the same exercises, I am struck by the peculiar sight where we are all handling 560-pound adventure bikes like they are 30-pound mountain bikes. 
Next, seemingly impossible tight turns begin. So does the falling. Again, if you love your bike, don't ride it for the course. It's better to crash their bike than yours. Every rider who is not an instructor falls multiple times. 
All exercises are "challenge by choice," with no obligation to perform a task you feel uncomfortable doing. Challenge and improvement are why I signed up. I kept going even when I felt uncomfortable with what was being taught. There was never external pressure to be unsafe. The mental challenges become as rigorous as the physical. In the early going, I dropped my GSA more frequently than I care to admit, but that is expected. Pick it up and drive on.
To break up the skills exercises, instructors take groups on enduro rides. The BMW Performance Center has miles of single-track trails and constructed obstacles I would normally associate with a mountain bike and not a 500-pound GSA. 
The first enduro ride was intimidating. It had been raining for days. The trails were slick and narrow with tight switchback turns. Throw in plenty of mud, slippery wooden bridges, tree roots with ruts everywhere and you get the picture. To my surprise, the bike chugged its way through woods and swamp with no complaint. Before taking the course, I would have never attempted to ride a big bike in such tight challenging quarters. NO WAY!
The first day ended with more turning exercises, clutch control practice, enduro rides and frequent reminders to KEEP YOUR EYES UP! 
Instructor Brian Bryson, whose day job is riding a BMW with the motorcycle unit of the South Carolina Highway Patrol, repeatedly reminded me, "Shawn where are your eyes? Look up!"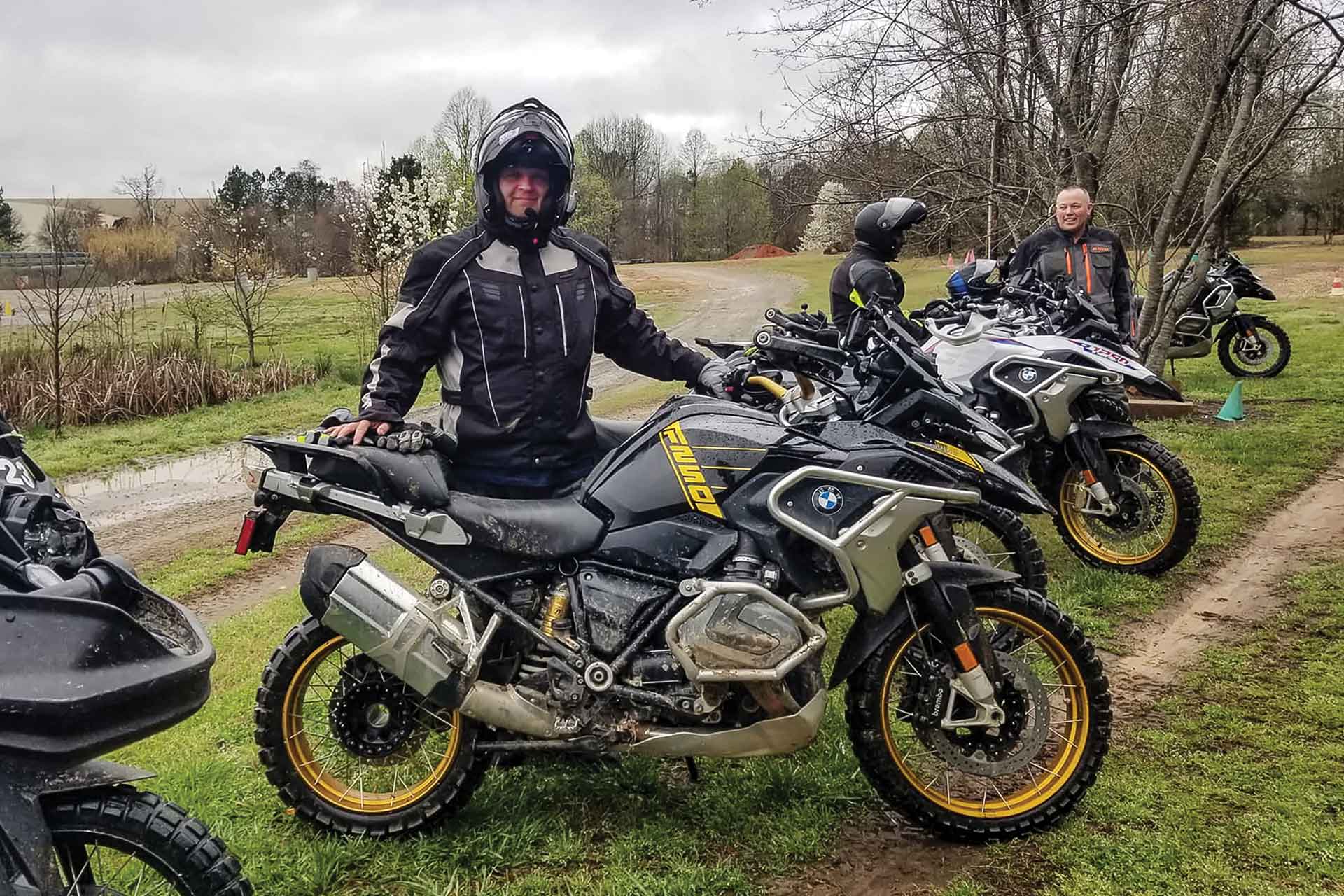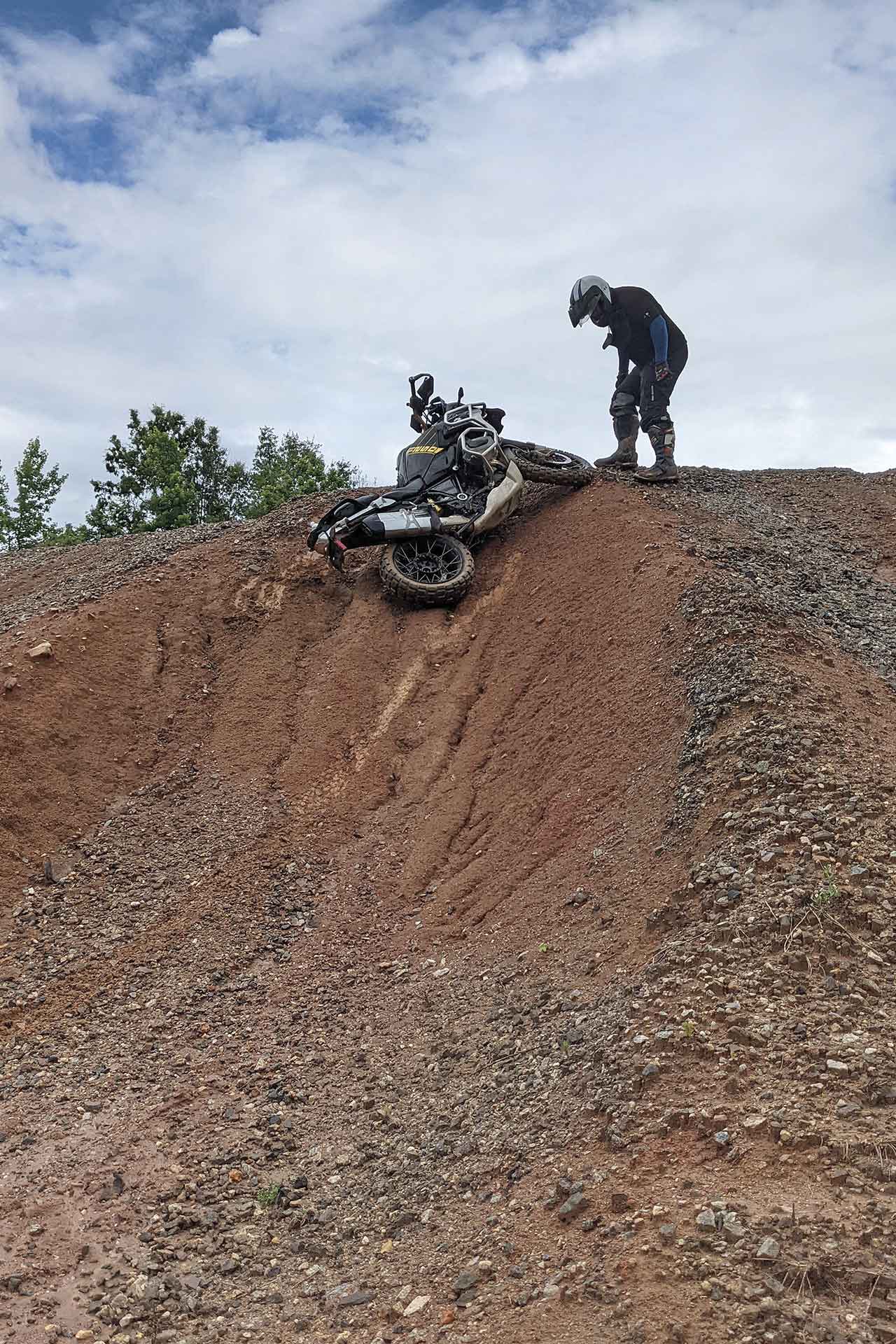 I left for the hotel tired, a little banged up and happy. I made a note to follow Bryson's advice about regular practice when I get home since these are perishable skills I'm learning.
Day two's challenges include negotiating emergency stops in sloppy mud, camel hump hills, balance beams, railroad ties, concrete culverts, bridges, deep gravel, deeper sand, and steep hills that you see in motocross races on TV. 
The enduro rides get more technical as we explore the diverse, well-sorted and fun terrain.  Instructors coached out our bad habits and encouraged us to push the boundaries of our abilities without fear of destroying an expensive motorcycle. By mid-day, I realized my riding confidence feels magnitudes better than before. 
My fellow classmate Shawn Mengistu and I both agreed the most important takeaway from the course: building confidence. 
"I bought a new GSA and tried riding it off-road, and I realized I was unsure what the bike was capable of, and I needed to be more comfortable on it," Mengistu said. "Now that I see what these bikes and riders can do I feel far more confident to ride something like the MABDR (Mid-Atlantic Backcountry Discovery Route)."  
As our dirty moto-monkey troupe shuffled back to the classroom exhausted, battered and smiling, a final debriefing stressed the essential lessons of eyes up, throttle control and practice at home. 
"Look where you want to go, for your hands will follow," Lead Motorcycle Instructor Ricardo Rodriguez said. "By the end of the class students should have a strong base of tools needed to make adventure riding successful. These skills, however, are perishable and need to be practiced if you want to be proficient." 
Rodriguez said the Rider Academy taught more than 1,000 students last year as the adventure motorcycling segment gains popularity. 
"If we stay at the current pace in 2022, we will likely double that number," he said.
The three instructors I met were all accomplished technical riders. They were patient, professional and their experience has just as much or more value as say an aftermarket exhaust or custom seat. 
"You must invest in yourself," said Instructor Richie Few. "There are two halves to a motorcycle, top and bottom. Riders are good at investing in the bottom part with gadgets across the handlebars, but they often neglect the most important half, the rider."  
I returned home with my expectations exceeded — a better rider both on and off road. I also learned a few lessons about the durable Bavarian machines we rode after witnessing several harsh crashes and being responsible for a couple of them myself. 
There was much abuse dealt to the bikes, and they absorbed every ounce of punishment without fail. Bikes plummeted off slippery wooden bridges into creeks, were dropped abruptly on rocks, ridden into trees or other bikes, immersed in deep water, launched 4 feet in the air like an insane Evel Knievel stunt only to smash to the ground and be picked up and ridden away. Impressive durability. 
I watched those wide, heavy bikes ride single-track trails that prior to the training I thought were only suited for much smaller bikes. More importantly, I RODE the GSA on those trails. 
The BMW Performance Center facility is absolutely first rate with sparkling clean buildings. Participants receive an excellent breakfast, lunch, and riders always have access to water and electrolyte drinks. Just in case of an emergency, there is an adjacent medical facility
If you go, you will crash. You will get dirty. You might be injured. You will be tired. You will get better at adventure riding. You will have loads of fun.
Now I find myself standing in a dealership looking at a very expensive BMW motorbike. It would seem choices made on a mountain nearly a quarter-century ago unintentionally led me this moment. Two days of challenging riding on a BMW convinced me that I want — no, I need — one. So, I traded the KTM for a 2022 R1250 GSA. 
Irrational? Maybe. Fiscally irresponsible? Without question. No regrets so far.