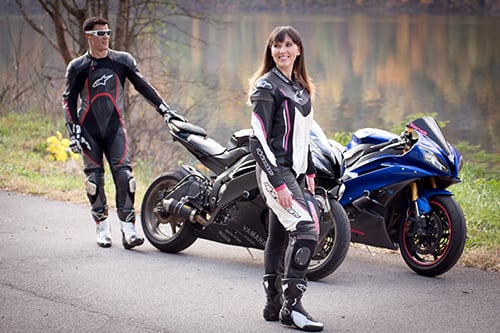 You'd never know Sarah Merrell once lacked confidence as a motorcycle rider seeing her walk up with all the poise and grace of a runway model with a pink-accented helmet and wearing a shirt emblazoned with the phrase "Motorcycles and Mascara." The stunning brunette with soft blue eyes now rides track days and routinely runs the famous Tail of the Dragon on her Yamaha YZF-R6.
"I actually rode on the back with my husband at first," said the 35-year old marketing/PR director. "He took me on a ride to Deals Gap, and I was extremely uncomfortable. I'm 5-foot-8, and he rides a sport bike, so my knees were up to my chin and I was miserable. He stopped on the way back because my legs were just killing me and he said, 'You know, you can get your own bike.' It had never really dawned on me that it was something I could do."
Now, a decade later, she owns three bikes and serves as a role model for other women hoping to take up motorcycling. Her husband, Jud, works as the general manager at Deals Gap Resort, where Sarah frequently races her pit bike in the resort's parking lot. Her two-wheeled journey all began that fateful day crammed on the pillion of her husband's bike.
"Once he said that, it kind of got into my head that, hey, I can do this. I signed up for the first MSF course I could find. Before I even took the class, we went ahead and bought a bike, A DRZ supermoto Suzuki, and I still have that bike."
At first, motorcycling was not an easy journey for her. With time, training and concentration, she grew more confident as a rider. "I think maybe there are some people who are just naturals and pick it up and they are great at it. For me, it took a lot of work to get to where I'm at and a lot of tenacity. There were a lot of times when I thought I was never going to get out of the parking lot," she says with a laugh. "I did a lot of classes, workshops. I did MSF, Total Rider Tech and spent a lot of time at track days in the novice class getting instruction. It really took years, and I had some fall-downs. It's not easy when you get scrapped up and try to get back on. I think it taught me to keep trying. I don't think anything that is worthwhile comes easy. I think you've got to work at it."
When she's not carving corners on her 600cc supersport, Merrell works at a Knoxville public relations firm and also directs fashion shows and photoshoots. She started out modeling and transitioned to work more behind-the-scenes in recent years, coordinating shows and coaching other models. She credits the years of hard work in the cut-throat fashion industry to helping her stay tenacious in her desire to become a better rider.
"In a way, modeling did set me on the path to be a better motorcyclist in a way, because I had to really fight and scratch my way in the modeling industry, and I had to have a lot of patience and tenacity to get there with modeling. Maybe that has transferred into motorcycling," she said. "I think it's hard to stick with something when you feel like it's slow progress, but even slow progress is still progress."
"What I love about motorcycling is that it takes a lot of concentration," she said. "You have to be focused on the road, and on the bike, and what you're doing. Because of that, when I'm out riding, it makes you be in the moment and present. I'm not worrying. I'm not thinking about work. I'm not stressing. It's just me and my bike. I really value that time and cherish it because it clears my head and creates a calmness and serenity. It's my happy place. Early on, when you're learning to ride, you don't really have that serenity yet, but it will come."
One thing that impressed her and helped build her confidence in the early years was the tremendous outpouring of support from other female riders. She's always mindful of her journey and works to make other women more comfortable in the motorcycling world.
"When I was learning to ride, it was really other female riders that gave me that encouragement and showed that I can do this. They encouraged me to keep going with this, not to give up. Now I try to do that for other women riders. Just be out there encouraging them, trying to get them on the road and the track. Just try to build their confidence, because I know what it's like."
Today, she's able to turn around and help other people becoming a more confident rider. She plans to lead rides for the women's sport bike rally this month. To her, the motorcycling community is a special, supportive and great group of people. "Nobody judged me when I was learning to ride, and I'm the same way especially with the female riding community. They've become some of my best friends. There's never been competition; there's never been judgment; there's never been trying to one-up each other."
"I just did a track day at Virginia International Raceway. I think I counted maybe three or four girls at the entire track day. What was really cool was I was getting off my bike after my session, and this girl who had been out there with me pulls up on her bike and stops. Normally, you would think, 'Oh, man. I cut her off or I passed her. She's got a bone to pick.' It wasn't that at all. She was new, just starting out. She just wanted to say, 'That was awesome, seeing you passing people gave me motivation and I'm glad that you're out there.' You know, that's such a cool thing. That's how it's been with the women's motorcycle community. It's supporting one another, encouraging one another because we need more women. We really do."
With her spouse working at Deals Gap Resort, she's come to know the Tail of the Dragon well and considers it one of her favorites. "It's a very special road," she says. "It's a place where a lot of motorcycles come to congregate. You meet people from all over the world, and the locals are also great. Just talking to people and sharing that experience."
The nearby Cherohala Skyway also tops her list of good rides and generously shares one of her secret spots to enjoy while out for a day's ride. "I think the Skyway is one of my favorites. Off the Cherohala Skyway is Indian Boundary. It's kind of hard to find. There's not really a lot of signs for it. You head down this dirt road that goes for a couple of miles and there is the most gorgeous lake surrounded by mountains. There's a picnic area, a beach. If you pack a swimsuit or wear one under your leathers, it's the perfect spot to cool off."
In Western North Carolina, she recommends U.S. 276 from Waynesville across the Blue Ridge Parkway and down to Caesar's Head, S.C. It's a great route to stop and enjoy the waterfalls and peer off the Blue Ridge Escarpment at the unfolding Piedmont below.
The sight of the Merrell roaring up on her R6 Yamaha can make quite an impression on others. "I meet little girls when I'm out riding, and they just think it's so cool that there's this chick in pink on a motorcycle. I think it's important for little girls to see that it's not just a man's sport. It's one they can do, too."
Whether she's in a little black dress or a full Alpinestars leather riding suit, she knows she's become something of an unofficial ambassador for the sport of motorcycling. She feels a responsibility to help other female riders and put forth a positive and supportive image of today's motorcycle rider.
"I get a lot of weird looks sometimes because people don't think I look like a motorcyclist. It's almost they have an idea in their head of what a motorcyclist should look like," she said. "I think it's cool to show that motorcyclists come in a lot of different shapes and sizes and looks. You can still be girly and ride a motorcycle."