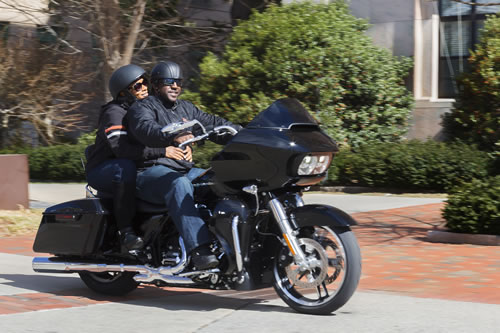 Normally, Lamont Bellamy might not complain about an attractive young woman squeezing him a bit. But, when you're on a fairly high-powered sport bike on a winding mountain highway, and you left the speed limit behind a few miles back, fingernails in the flesh are not a welcome sensation – even if it's the future mayor of Asheville exerting the pressure.
Sitting in an Asheville barbecue joint on Patton Avenue, Lamont Bellamy recalls the early days of when he started dating the former Terry Whitmire, who would go on to become an Asheville City Councilwoman and two-term mayor, taking Bellamy's name along the way. Terry Bellamy recalls the first time she got on a bike with Lamont, while they were still dating. She gets the make and model wrong, though, and Lamont quickly corrects her, saying it was a Yamaha YZF 600. "At that time we were dating, so she was willing to get on anything," Lamont Bellamy says. "I got up to 100 mph with her on the bike." "Yeah, I didn't like that," Terry Bellamy quickly chimes in. "Now that's something I can clearly remember."
"And I remember clearly, she's squeezing me, holding me," Lamont says. "I got off the bike and I said, 'Look, you are not in control of this bike, and you squeezing me and holding me and pinching me is not a good thing when I'm on a bike.' And then I learned, you know, just to calm down a little bit when she's on the bike." Having reached a détente on bike etiquette, the West Asheville couple, both 44, have been riding ever since, even while Terry took a deep dive into politics. She won a seat on Asheville City Council in 1999 and then became the city's first African-American mayor in 2005, winning re-election in 2009. In 2013, she declined a third-term, opting instead to run for the U.S. Congress. That bid, in a district that had become overwhelmingly conservative, proved unsuccessful for the Democrat. While Terry put her hat in the ring for a Buncombe County Board of Commissioners opening in the fall of 2016, she didn't get it. But she's OK with that.
The Bellamys' lives are pleasantly hectic, and both keep schedules that would make most people crave a good nap. Yet they still find time to ride together, these days on Lamont's 2011 Harley-Davidson Street Glide. Terry Bellamy is director of communication for the Housing Authority of the City of Asheville, and she's also finishing up her doctoral degree in educational leadership at Western Carolina University, with the ultimate career goal of becoming a college president. Lamont Bellamy, who has a degree in electronics from Kean University in New Jersey, owns his own limousine service, Diamond Executive Limousine. They also have two children, Seth, 13; and Imani, 11. As Lamont says, they do a lot of juggling, and they hold family meetings in the mornings and afternoon to keep everyone on the same page.
Riding keeps Lamont sane, and Terry has never stood in the way since they married in 2000. "That was one of the negotiating tools for my marriage," Terry Bellamy says. "We talked about two things: he would always have a motorcycle, and I would always have the opportunity to be in politics." "She never gave me any gripes about my bikes," Lamont Bellamy adds. "That's one thing I loved about her – she let me have my bikes; she let me do what I needed to do with them. Never complained about where I was going with the bike. Just make sure — 'Text me, call me, make sure you're OK.' Other than that, 'Have fun with your hobby.'"
Lamont Bellamy started riding 17 years ago. Growing up in Jersey City, New Jersey, he'd driven a stick shift car but never a motorcycle. One ride on the back of his friend's bike as an adult, though, and he had the bug. He learned to ride on the first bike he bought, a Kawasaki 600 Ninja, which he thought he mastered in the parking lot of the east Asheville apartment complex where he lived. While his skills were improving, he really wasn't ready for Interstate 240 near Asheville Mall, even though he thought he was. He vividly recalls that first scare he had, heading into a curve too fast and realizing, too late, he'd exceeded his skill level. "I started coming onto the shoulder, and the shoulder was maybe two feet wide," he says. "I just knew I was going to go into the grass. I already in my head was planning on how to get off the bike. You know – keep the bike off me, flip, spin, hit the grass so I wouldn't get hurt."
"But then the road straightened up and I was able to catch it," he says. "I went home a little nervous, a little shaken up." But it also made him a better rider. He talked to his riding buddies about what happened, and they told him about counter-turning, essential in sport bike riding. He practiced on Route 9 in Black Mountain, and he rode with his friends – a lot. Looking back, that close call was a great learning experience. "With riding a motorcycle, you never want to get overconfident," Lamont Bellamy says. "You always want to have a little fear in you. When you get over-confident, that's when the accidents start happening. You get a little too aggressive, start to feel invincible, that nothing can happen."
Terry Bellamy, who grew up in Asheville and didn't ride motorcycles before meeting Lamont, said she was not opposed to him riding, per se. "I was just opposed because he didn't know what he was doing," she says, and they both laugh heartily. He got better and better, picking up skills with the hours on the bike, but he also kept picking up speeding tickets. He gave up the sport bikes, opting for a cruiser, a big, comfortable Suzuki VL 1500. "We went up on the Parkway, and the bike was so comfortable she almost fell asleep on the bike, and I caught her because she was sliding off the back of the bike," Lamont Bellamy says. Terry Bellamy maintains it was just a "comfortable, relaxing ride." "And it was one of the first long rides I had taken that wasn't 100 mph an hour," she added. "So it was more enjoyable than it was anything else."
When their children came along, they rode a little less, but Lamont always kept a bike — until he needed a cash infusion for the limousine business. By this point, he owned a Honda VTX 1800, which was worth a fair penny, so he sold it. "I went two years without a motorcycle," Lamont Bellamy says. "I guess that was the longest two years, in terms of social engagements, because I didn't realize that was my hobby and that was everything – that was the only thing I was doing." He was going to the gun range a lot, but that didn't satisfy him. He tried hunting, but he had no interest in killing or gutting the animals. Slowly, dejection and irritability started creeping in. "I picked up…" Lamont starts to say. "Weight," Terry finishes for him. "That was because of the stress." That was 2011, and Terry Bellamy, as mayor, had to take a trip to Chattanooga, Tennessee, in part to work on wooing back the Southern Conference basketball tournament to Asheville. Lamont went along, in charge of the kids while mom worked. "They went to the museum, they went down to the River Walk – and then they went to a Harley dealership," Terry Bellamy recalls. "On the way back, he kept talking about this flat black bike, a Harley. He just kept talking about it, and I said, 'Lamont, is that what you want?" and he said, 'Yeah, I really do.' So, I said, 'Then get it.'" He said, 'You serious?'" She was. And so was Lamont.
He called the dealer over the phone, price in mind. They met it, so he went back the next day with his trailer and picked it up. It was the day before Daytona Bike Week. Lamont got the bike insured, brought it home on the trailer, backed it into the garage and called the fellas. "I'm going, too," he said. It's a Street Glide, the bike he still rides today, although he's had it painted and customized. "First time I ever rode the bike was in Daytona," Lamont says, still grinning at the memory. "I broke it in in Daytona." Terry Bellamy said the change in her husband's demeanor was immediate. "Things shifted for him, and he was a lot more stress-free, happier," Terry Bellamy says. "He could balance work and play. He was able to reconnect with friends. It helped with his communication. It helped him think about things in business." "If I'm stressed, she knows it," Lamont Bellamy adds, explaining how a ride can clear his mind. "I do come back happier." Terry Bellamy can tell when her husband needs some bike therapy. "This sounds crazy, but he'll start rubbing on the bike," she says. "You can tell when things are bad, because he'll start polishing the chrome. When it gets really bad, he takes the little nuts off the top and it gets a thorough cleaning. When he's really stressed, that chrome gleams like it's off the showroom floor. Now, can I get him to clean a room like that?"
"You watch me like that?" Lamont Bellamy says with a laugh. "You not supposed to be telling all that." They're not much on riding in cold weather — strictly recreational riders, Lamont says. He rides as much as he can, but not in the cold. "If it's not 60 degrees, I don't crank it," Lamont says. "But he does touch it," Terry quickly adds. "He may not ride it, but he'll go talk to her and crank her up to make sure she purrs still." Lamont knows he's been busted, again. But Terry has one more surprise in store. Asked if she wants to learn to ride, she tells a little story. "So, my daughter and my husband were talking about riding, and my daughter came home saying, 'Daddy said I could ride and he would get me a little bike,'" Terry says. "She told you that?" Lamont interrupts. "So, if my 11-year-old daughter can do it, the answer is, 'Yes,'" Terry Bellamy says about learning to ride.
"We were talking about a dirt bike," Lamont says sheepishly, explaining that his parents live on 14 acres and there's nothing for the kids to do when they go down there. Terry insists she's serious, saying it's just "a matter of making time for it, with school, work, and working 10 hour days." "Now this is new," Lamont Bellamy says, his eyes wide. "This just came up. This is not something we've discussed- her riding." Terry Bellamy notes that she already has a Harley jacket and helmet, and Lamont allows he would have to start her out on a Harley Sportster. Unlike Lamont, who learned to ride on his own, Terry wants to take the Rider Safety Course at A-B Tech Community College, preferably in 2017. It could shape up to be a big year for the Bellamys.
"Right now, these are our 2017 family goals: I'm going to learn to play guitar; he's going to learn to play saxophone, because our kids play instruments," Terry says. "We make them practice and we listen to them for 30, minutes or 20 minutes day. So, he put down the rules that 2017 is the year of Band of the Bellamys." They joke that Asheville should look out for them busking on downtown street corners. The year may also hold another big development, if Lamont has his way. He just put a massively loud stereo on his Street Glide, but he's fallen in love again, with another bike. Asked if he'll keep the 2011 for a while, both Bellamys bust out laughing. "He's got the bug already," Terry Bellamy says. "I'm going to sell it and get the 2017 or '18 Road Glide," Lamont Bellamy says. "I'm sold on that bike." Terry is OK with the purchase, because the sale of the older bike will defray the cost. What worries her is all the extras – the gear, the accessories, the chrome parts. That's every Father's Day, birthday and Christmas for her husband. She knows he's obsessed, but it's a good obsession.
Lamont, he just knows he's lucky. "We're blessed," he says with a broad smile. "The Bellamy family is blessed. I have no complaints."