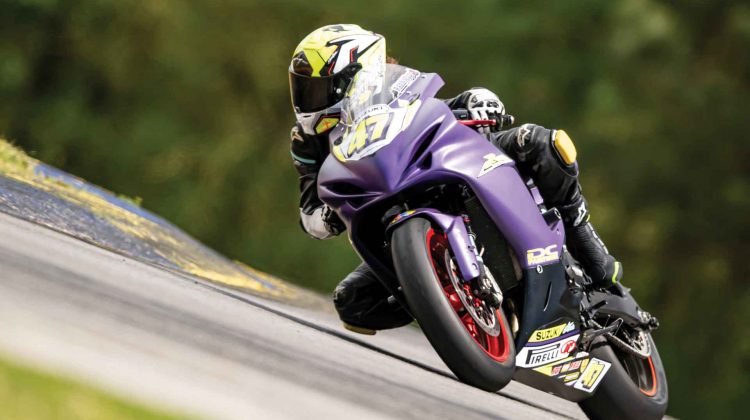 Quoting the Red Queen in Lewis Carroll's novel "Through the Looking Glass" directly reflects the evolution of a track day rider. Day one birthed as a baby duck leaving hot pit for the first time to becoming the Red Queen, screaming "off with their heads" in the braking zones on our strongest days. As Alice explains her experiences in the "real world," I equate it to my days riding twisty mountain roads and the exquisite Blue Ridge Parkway: "very fast for a long time." In the track world, one would be inclined to follow the advice of the Queen. "You must run at least twice as fast as that."
We grow into our own versions of strength and success through trial and error, good (and bad) advice from friends and strangers the like, and a brawniness that can only come from within. First we overcomplicate, then we simplify. 
I had jitters simply lining up for the "duck walk." This is a smaller group of first-time novice track riders guided by a coach (Mama Duck) with little baby ducks in a row following behind. Throttling to my place in line while equally adhering to the rules, I peered through a poorly fitting helmet and ill-fitted rental suit.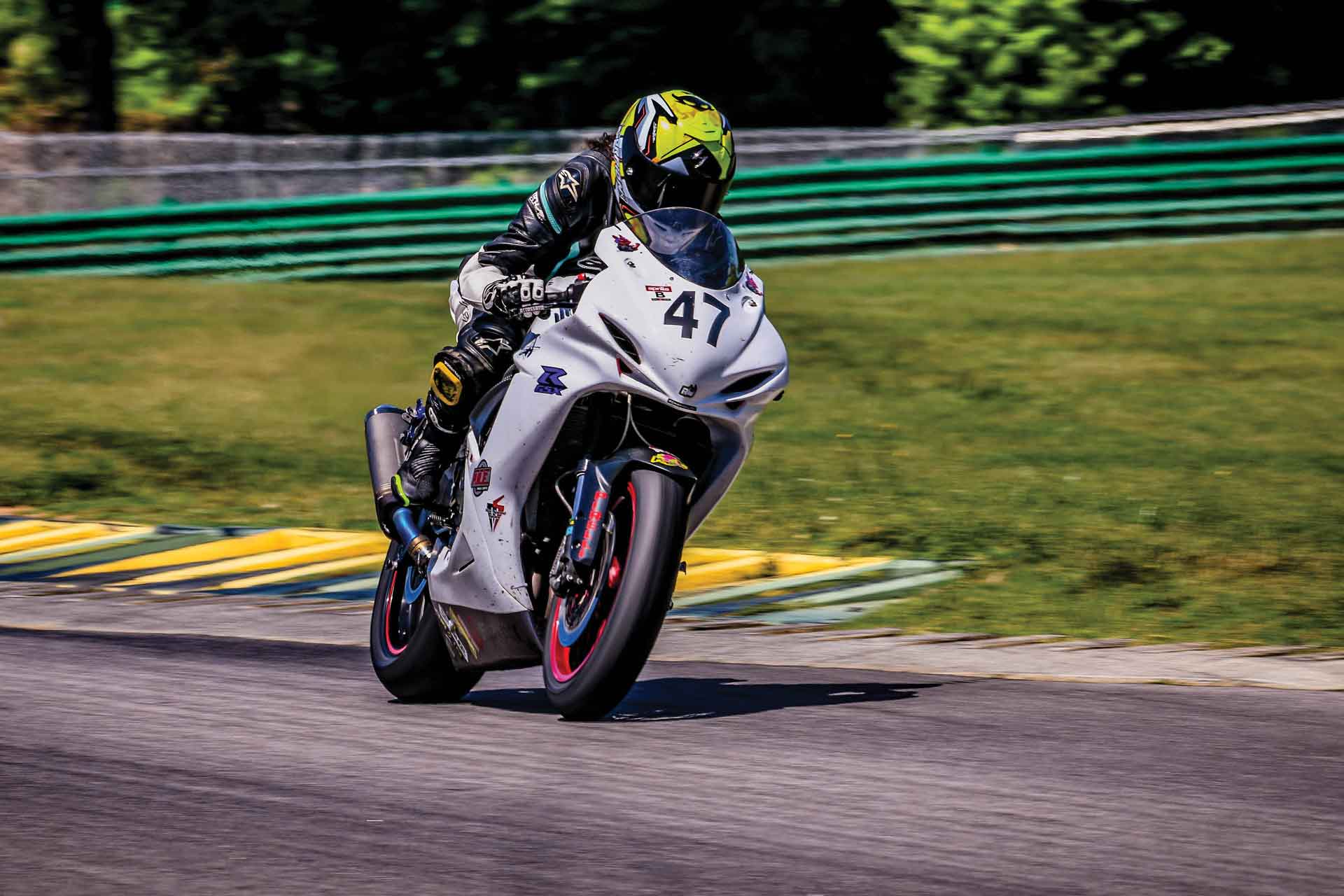 One by one I bought the gear and protection pieces needed. I went through a couple of suits finding one to fit and too many helmets to count. I started collecting pit area items such as front and rear stands, a canopy for shade, pit table, tire warmers. It's completely possible to do track days while packing light, but I personally like to have more than I need. I enjoy a hanger style suit fan, a minimum 40-foot extension power reel and a high velocity utility fan in front of my camping chair for added grandeur. It's remarkable the items, big and small, I've collected that add value to my days spent at the racetrack. 
I started with an open trailer, and we sprung for a pit lane room at Virginia International Raceway overlooking the front straight. I highly recommend reserving one of these rooms, at least once. When my husband joined in on track days, we graduated to a 6-foot-by-10-foot enclosed trailer with air conditioning unit and air mattresses. We now wield a 29-foot toy hauler camper with all the opulence of home. It makes the hot summer days tolerable, the rain and cold more pleasant and has offered us so many new trackside luxuries.
I quickly learned fast was fun, but fast is an arbitrary term, ever changing. 
"The faster you go each lap you change the world you're in," said Taylor Wells, a control rider with Performance Riding Experience. 
Learning to meld your own two-wheeled talents with the control rider guidance is a feat within itself. Every rider has their own style much like a signature, and the coaches are no different. My biggest piece of advice is to be attentive to what every coach says and find what works for you. If you don't mesh well with a control rider or an organization, branch out until you find an approach that works for you. 
The Indian yoga guru Sadhguru once said, "What works comes with constant observation and evolution of who you are. Life is involvement. Where there is no involvement, there is no life."
The most important part in honing your craft — on the street or the track — is seat time. The more miles you put on your bike, the more comfort and confidence you'll develop. Cornering, braking, smooth inputs and hard acceleration will all become second nature.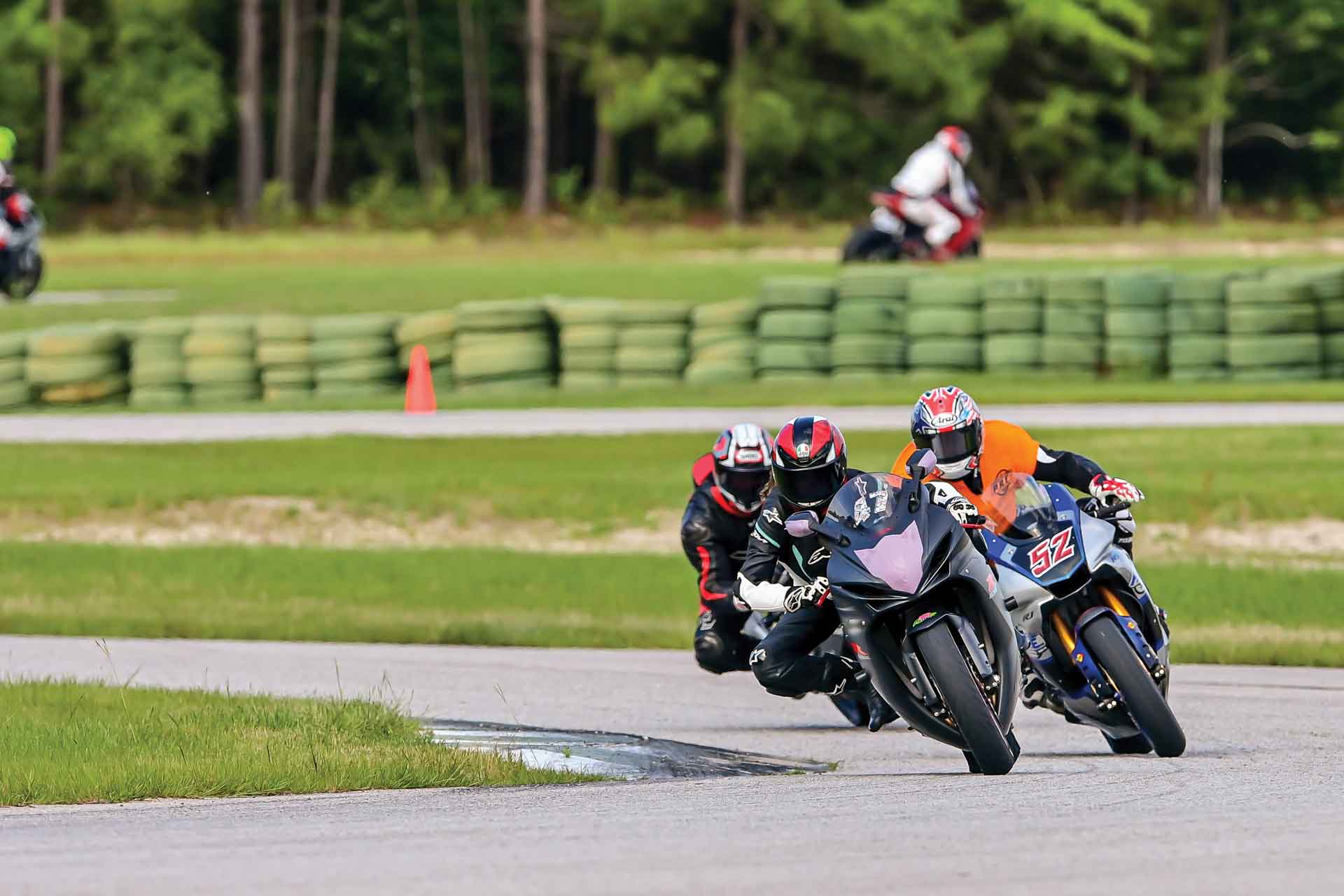 "Don't waste money on tons of parts and bling prior to learning your motorcycle, your capabilities and how far you want to go on your journey. Expensive parts don't make you fast, seat time does," said Burch Wadewitz, an advanced track rider.
Your first few times on track, maybe even the first couple of days, you'll be deciphering heaps of data that will sharpen your technical skills. There will be an overwhelming amount of information thrust upon you. Soak it all in, take notes if you must and ask the right people questions. Work on one or two things at a time, master them then move forward. Above all, have fun. 
Walk the track at dusk the evening before you ride to familiarize yourself with conditions, elevation changes and corner angles upon entry and exit. This will give you a leg up in the morning for your first hot lap. This applies to those new to the sport and advanced riders alike. 
I recently had the pleasure of spectating a kids dirt bike day. A friend built an enduro track in his backyard, clearing away a path for the youngsters to sharpen their two-wheeled abilities. The five youth, ages ranging from the tender age of 6 to a burgeoning 11 years, anxiously followed one of the dads around as he explained the technicalities of the new trail further highlighting the importance of a track walk. 
Every time you ride on the track, you'll have a technical inspection of your bike and depending on the organization, your gear as well. Prepare your bike in advance, the night before your track day is too late. Look over your machine with a cold beverage, polishing and inspecting it the week before. Sometimes you'll need to order a part that will be unavailable trackside.
"Clean your bike. Maintain your bike. I've seen some bikes trying to get through tech that I wouldn't feel safe riding around the paddock," said John Allen, president of Performance Riding Experience.
If you fail tech, you've wasted your day, your time, and your money. Most organizations will have their tech requirements listed on their website. Don't be afraid to ask questions during your inspection. These guys and gals are here to help you and keep everyone safe. Maybe you're unsure of your chain tension or what tire pressure to run? Ask, no question is futile. 
Once you have the basics down, it's merely lather, rinse and repeat. It's about seat time, repetition. That is how you find your way, that is how you evolve. 
There will be bumps in the road the more laps you turn. You might fall down. Sometimes it's minor, occasionally you'll be injured. At times you'll have mechanicals. The track community has an exceptional ability to produce parts trackside. Many folks carry a bin of spare parts. You can walk around the paddock searching a bike similar and simply ask the rider. Often an announcement can be made over the intercom and voilà, you are back on track.
By my second track season, I began my first track bike build. Installing full race bodywork with professional paint and graphics, a full exhaust and expert tune, aftermarket rear sets, full front and rear suspension custom tuned to my weight and riding style, you name it. The works. It took over two years to complete that build, and I never got a full strong day on her once she was buttoned up. 
During the build process I put thousands of track miles on my 2017 GSXR 600. Miles turning some hot laps and some not so hot laps until I successfully roasted my first transmission. Shifting between third and fourth gear was difficult and required multiple attempts. I pursued every adjustment I could think of until conversations in the paddock continuously reverted to "what else could I try?"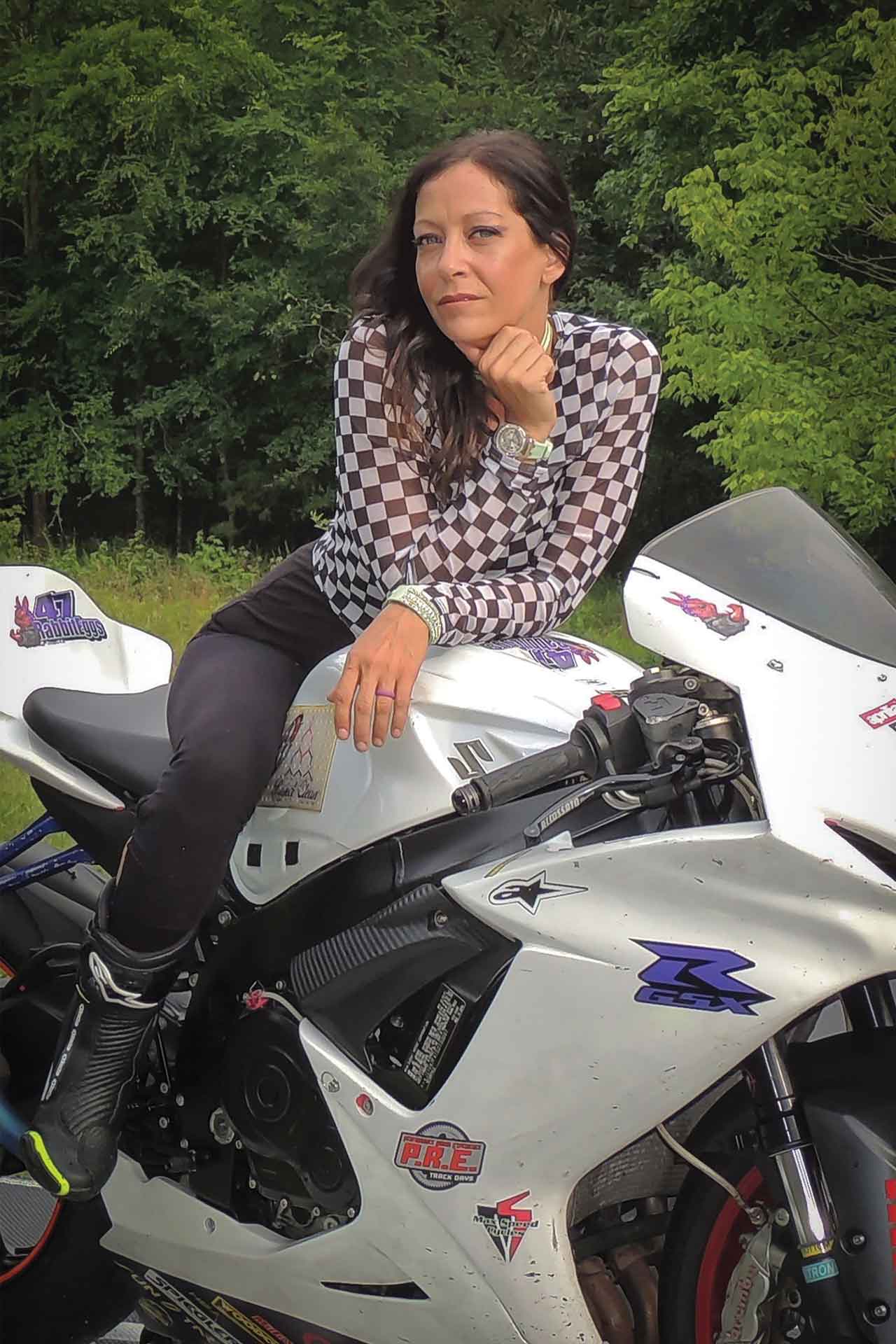 At one point I was convinced I forgot how to ride a motorcycle. Was I shifting correctly and deliberately? What angle is my foot? Am I too far off the bike? Should I switch to GP shift? Maybe it's the oil I'm using. 
Eventually the problems progressed, and the bike was no longer rideable on the track. Seldom was I able to get out of second and third gear. I became a rolling chicane. After speaking with a few professionals, I got confirmation my problems were internal. The transmission would need to be rebuilt. I had a few options. I could find a motor that fit and swap them out. I could have my current transmission rebuilt but miss track time. I could buy another bike, preferably one that could share parts with my current bike. Foregoing riding was never an option for me. 
That's when I bought my B bike. A 2013 GSXR 600 that was leagues below my primary machine. Despite essentially being the same bike, I had to get seat time to get to know it. It took months and multiple track days of fine tuning and swapping parts to find my legs on that bike. Taking time to work out the kinks requires patience, commitment and determination. 
Getting "slower" is not for the faint of heart, particularly when you feel you are running twice as fast. Minimize changes while putting seat time and miles in. Stay present. During the trying times and the times of joy. 
At some point we all find our rhythm. We abridge the newbie to seasoned veteran gap through involvement and seat time. There is no wrong answer, just get out there and ride. Just have fun.