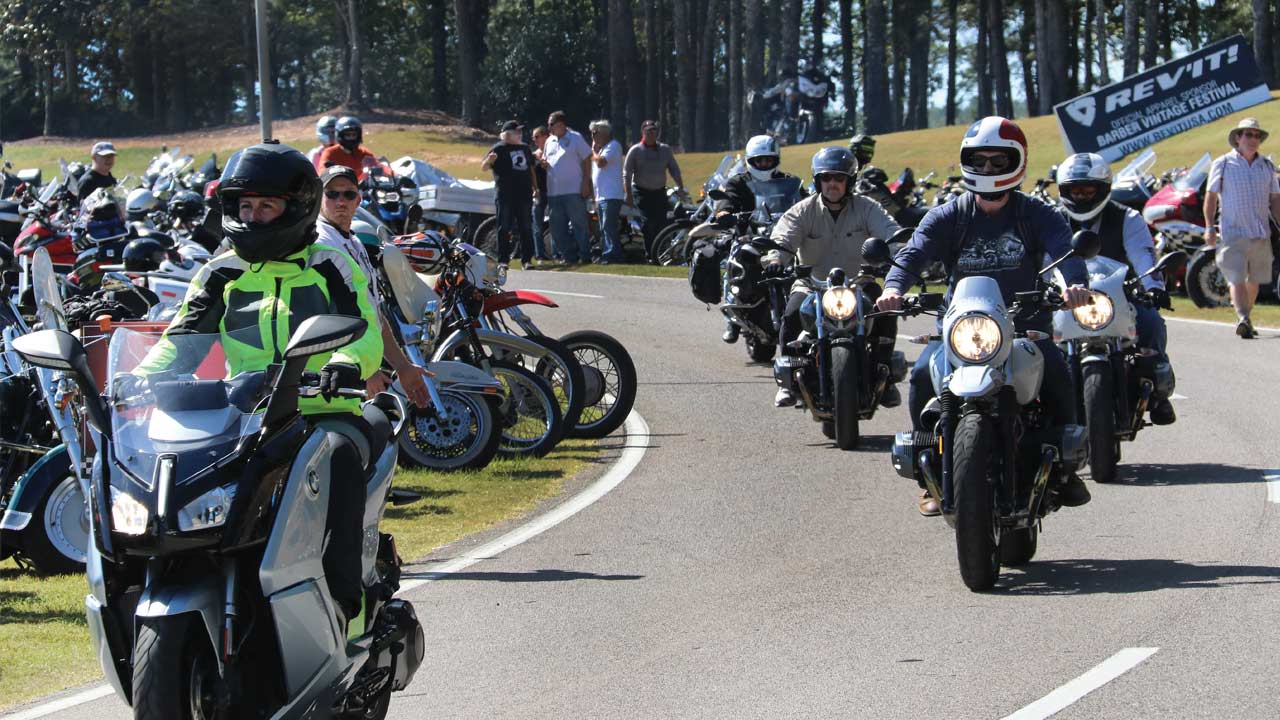 Vintage motorcycle enthusiasts will gather up their goggles and waxed-cotton jackets this October to attend the annual Barber Vintage Festival at the Barber Motorsports Park near Birmingham, Alabama.
"It's probably one of the most unique vintage motorcycle events in the country right now," said Jeff Ray, executive director of Barber Motorsports Museum. "This will be our 15th year."
About 75,000 people attend the three-day weekend, which takes place Oct. 4-6 at the expansive motorsports park just east of Birmingham off Interstate 20.
The festival encourages people to get their own bike out of the garage and enjoy a ride to the event, as well as celebrate the great motorcycling era of the 1960s and '70s, Ray said.
"Those were great times, and it's good to relive those memories and share those memories," he said. "And if you have children or grandchildren, it's great to bring them out and reminisce. There's a very strong culture from the '70s still out there. If you look at it as a whole across the country, it's waned a little bit, but then when you come here to Vintage Fest, it's alive and well. It's refreshing to see it, and that the enthusiasm for the sport is alive and well."
This year, the legendary John Penton will serve as grand marshal. Penton, an accomplished enduro racer, developed a race-winning lightweight motorcycle in the 1960s and '70s in partnership with KTM, convincing the Austrian firm to build a bike to his specifications and sell it in the United States under the Penton name.
---
---
"Barber rules!" said Daniel Huggins, a vintage motorcycle enthusiast from Hendersonville. "Dad and I have been going for years. There's so much stuff to see, the museum, the auction, the swap meet, the racing — and all the friends and food."
Huggins, whose father operates Triumph on Broadway in Hendersonville, often joins members of the vintage riding club Ton Up Highlands to ride their antique machines from the Blue Ridge Mountains to Barber Motorsports Park for this premier vintage motorcycle event.
"We have made the trip on old bikes a number of times. Last year I rode my hard tail Triumph, because it's more comfortable than my cafe racer," Huggins said with a laugh. "We do two-lanes and avoid interstates. It's a beautiful ride, cotton fields and forgotten towns."
Motorcyclists rule the day at the festival, as it has become a two-wheel-only event. Cars and trucks must park in an outer lot with spectators riding a shuttle bus to the show. Other attractions include demo rides of new motorcycles and shows by the American Motor Drome Company's "Wall of Death," with daredevils riding vintage Indian and Harleys on the vertical walls of a giant barrel.
Another highlight of the festival is Ace Corner, a partnership between Ace Cafe London and Dime City Cycles dedicated to cafe racers and custom bikes.
"Ace Corner is awesome, designed to be reminiscent of the cafe racer days in England. It's an epic event and easy to get overwhelmed pretty quickly," said Doug Good, a member of Ton Up Highlands along with Huggins. "You literally see bikes there, you never have seen, and never will see again, and this is the case with the private collection of Barber, as well as the rare and very special bikes that show up."
For more information, see www.barbermuseum.org.