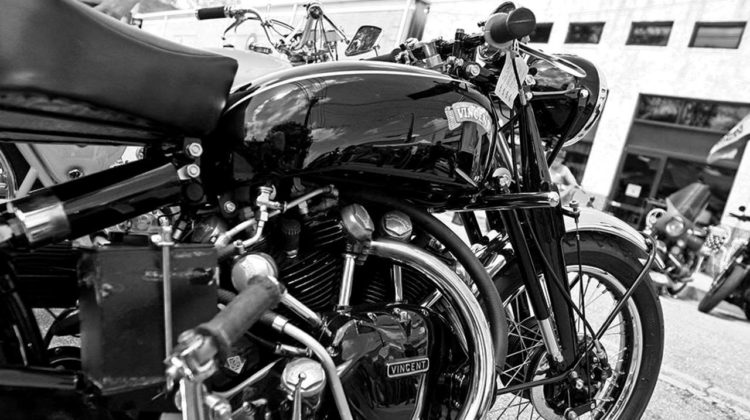 Each April, vintage motorcycle enthusiasts gather for the annual Meltdown vintage bike show in Hendersonville, North Carolina, where hundreds of riders and spectators coming together to celebrate old bikes in a street festival atmosphere.
This year's event takes place April 25 at the usual venue, Southern Appalachian Brewery on Locust Street in Hendersonville.
"I've been to a lot of vintage shows in North Carolina. I tried to hit every vintage show I could last year, and I think between the Bull City Rumble in Durham and the Meltdown, they are the best shows I've been to," said Eddie Plam, whose Plam Werks shop is building this year's raffle bike. "They bring in the crowds — a lot of cool bikes and a lot of cool people for such a small town. They have a really great place right at that brewery. Everyone's bringing out their best bikes. It's a really cool atmosphere."
The Meltdown features vendors, food trucks and live entertainment. The motorcycle show is open to pre-1980 bikes from any country of origin. Seeing what the spectators ride to the show is almost as impressive a display as the actual show.
The event, organized by Ton Up Highlands, a non-profit group that celebrates vintage and café motorcycles, begins at noon and concludes at 5 p.m. when a customized 1977 BMW R60/7 will be raffled off for charity. Plam Werks, also an event sponsor, built the BMW especially for the event.
The low-mileage bike, once abandoned in a basement by a previous owner, underwent a complete restoration and customization. Plam Werks rebuilt the engine and drivetrain, upgraded the suspension with high-end components and powercoated the frame.
"We gutted it all the way down," Plam said. "We came up with an idea, kind of more of a bobber-style bike. We broke it all the way down, added a custom Ohlins rear suspension built in-house." All the parts for the bike come from Boxer2valve, Plam's other company that supplies original parts for airhead BMWs.
"It's going to have a black engine, black transmission and new bearings throughout the entire bike. It's essentially going to be a new bike, but a custom bike. We lowered the bike substantially. All the parts used are BMW parts and a majority of them coming out of our cache of used parts," Plam said. "It's going to have a white frame. Essentially, it's going to be white and black. It's going to turn heads."
Plam said he hopes the custom BMW, and its impressive build quality, will draw Motorrad fans and others to the Meltdown this year. Previous raffle bikes have usually been British marques.
"BMWs are coming out. There's a huge cult following for them," he said. "There are a lot of people who like customizing them because they just look really cool customized. There's always going to be that segment of customer out there with the old BMW or Moto Guzzi. A lot of people like European bikes. The cool thing about old BMWs is you can work on them yourself for the most part. They're fun to ride, easy to work on and really reliable."