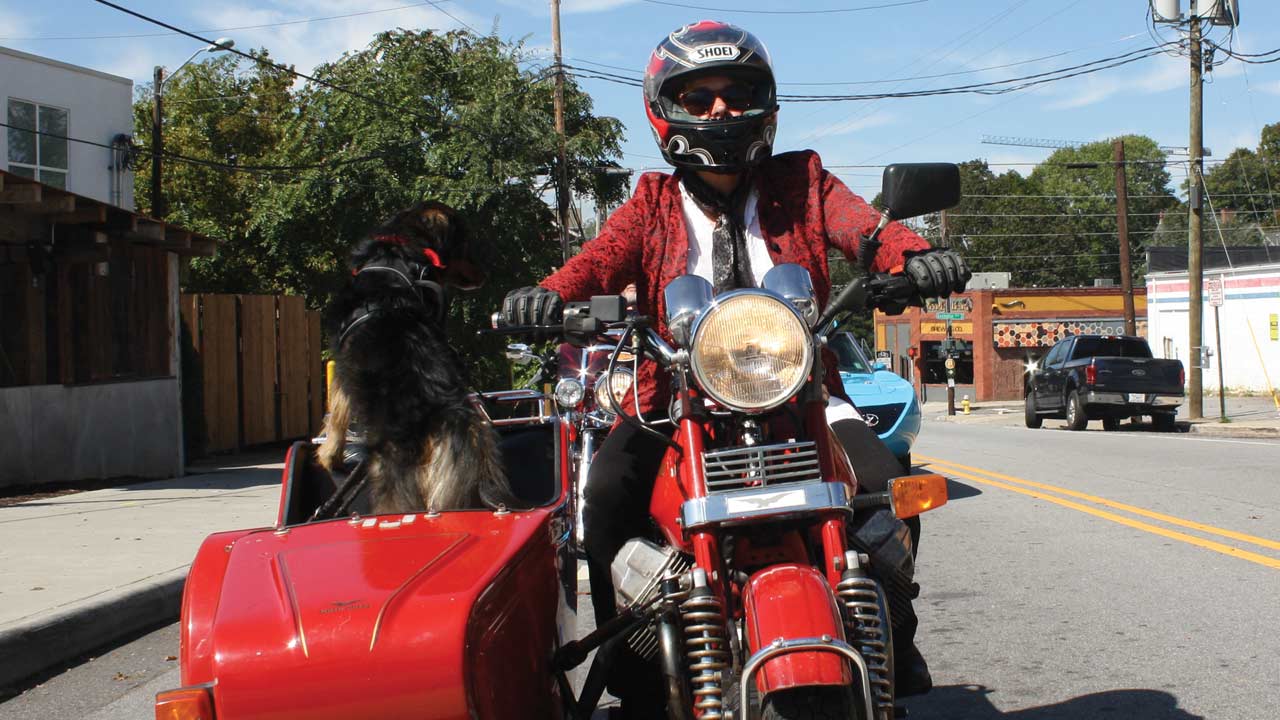 Of all the sensations felt while riding a motorcycle, perhaps the oddest was the flapping of my sport coat and necktie as I rumbled my way to the start of the annual Distinguished Gentleman's Ride. The gleaming white-pearl and chrome Victory Kingpin, borrowed from a friend just for the occasion, rumbled happily down the autumn highway to the staging area as I wrestled to keep my tie tucked into my white dress shirt. There's a dress code for both rider and motorcycle at this event, and I wanted to enjoy the full effect of dressing up for a great cause.
Each fall, the rumble of vintage iron and the glint of antique chrome combines with flapping neckties and sport coats as classic-motorcycle riders fill downtown streets in cities around the world to raise awareness for men's health issues. The Distinguished Gentleman's Ride, always held on the last Sunday in September, sees participants firing up their vintage café racers, standards, bobbers or customs and donning a jacket-and-tie on a group ride through the heart of their city.
"Of course, everybody dresses to the nines, which is a big part of the fun of doing it," said John Gustafson, a member of the board of directors for Dale's Wheels Through Time vintage motorcycle museum in Maggie Valley. "I like it a lot. I have an ensemble that I only wear once a year for this thing."
For the last two years, between 140 and 170 riders join the cause in Asheville, North Carolina, one of nearly 700 cities hosting the Distinguished Gentleman's Ride. (To register or find a ride near you, visit www.gentlemansride.com).
"This will be our sixth year running here in Asheville," said host Ed Carroll, a member of the Beer City Blazers, which organizes the local ride. "It's going to be Sept. 29. Last year, because of the rain, we had a little lower turnout. We had 140 riders. The year before we had 176. So far, we've raised about $9,000, so it's been good and it's been a lot of fun."
The annual DGR raises funds to improve the lives of men through prostate cancer research and suicide prevention. They encourage men and women who ride classic motorcycles or scooters to dress dapper and parade through the heart of their city to raise funds and public awareness. Last year, the group raised $4.85 million worldwide with rides in 92 countries. This year, the goal is $6 million
"I think as we go along, more and more people are going to know what it's about. Particularly we want to get more women riders involved," Carroll said. "We want to be all inclusive if we can. We're not going to turn anybody away. We ask them to ride something appropriate, chopper or café racer or vintage bike, anything like that is great."
---
---
They say the suit makes the man, and certainly dressing dapper can put confidence in your step. That feeling combined with riding a custom or vintage bike makes attending this charity ride a fun and different experience. After my first year, I vowed to return for each ride after seeing how much fun the participants and myself were having. You can't help but grin when surrounded by all the cool bikes and the interesting collection of plaid sport coats and waxed mustaches. Dressing to impress and riding vintage-styled motorcycles helps the group ride stand apart from the average fundraising rides most motorcyclists attend.
"Really, people try to bring out their best iron when they do this ride. It's the biggest motorcycle ride in the world. It last 24 hours and goes all around the world," Gustafson said, adding Dale's Wheels Through Time has been a longtime sponsor of the Distinguished Gentleman's Ride in Asheville. "I think it's a great idea. It really sets the ride apart from any other ride there is. It's kind of a unique requirement. Dressing in your best for this kind of ride. It really does define it. And we have a lot of women who dress up and ride or ride as passengers."
At the Asheville ride, vintage bikes and dapper clothes lead the group ride. Modern bikes and participants in less formal attire form a separate group at the rear. They tour downtown Asheville as volunteers direct the way at the corners. The sight of these unusual riders, many in vintage helmets, goggles and apparel, help make a statement to the curious onlookers that this is all for a greater cause.
"It started for me because I had prostate cancer from Agent Orange," said Carroll, a Navy Seabees Vietnam veteran. "The VA took good care of me. I was very fortunate, but I saw this organization, that how they started out first with prostate cancer research then they went to men's mental health. That's what got me involved."
DGR helps fund the Movember Foundation, an international charity helping prostate cancer, testicular cancer and suicide prevention efforts.
"The other thing is the ride," Carroll said. "Coming out of Asheville and going on River Road by New Belgian Brewery on out to Marshall is a super ride. It's a slow pace. It's not fast. Some of these people are on vintage bikes and don't want to go over 50 mph."
The DGR began in Australia in 2012. Organizers say it was inspired by a photo of the "Mad Men" character Don Draper astride a classic Matchless. "Movember has a great reputation. One of the good things about this, having to register online, we won't ask for money up front from people coming in," Carroll said. "No need for cash, register online. It makes it a lot easier. It's a lot more private for people."
The Asheville ride took the line of classically styled bikes along the French Broad River. The well-dressed group stopped in the small town of Marshall to enjoy lunch and even raise a pint at Mad Co. Brew House.
"Globally, three-quarters of all suicides are men, which is something I didn't realize," Carroll said. The response in Asheville, as in cities across the world, has grown swiftly, creating the need for more community involvement. "We need more volunteers. The more volunteers we have, the more we can offer."
Take Part:
This year's Asheville Distinguished Gentleman's Ride took place Sept. 29. www.gentlemansride.com.