By Michael E. Gouge
The mysterious stone silences the onlookers. Captivated by the lines, cupules and figures carved into Judaculla Rock, the boisterous group of riders grow calm as they catch sight of the sacred Cherokee landmark, wondering — as all visitors do — about the meaning behind the ancient petroglyphs located just south of Cullowhee, N.C.
"One of the stories is Judaculla leapt down from the mountaintop and left his print, his maker's mark," said Scott Ashcraft, director of the Rock Art Project and a state archaeologist with the Pisgah National Forest. "He drew a line across the rock with his finger, and that line represented the boundary between his world, the spirit world, and the world of the Cherokee."
The mountains of the Blue Ridge hold many ancient and mysterious places for motorcycle travelers to explore. Judaculla Rock, an hour's ride from Asheville, sits in a peaceful meadow not far from the Tuckasegee River. The weathered stone is covered with thousands of carvings, including one said to be the seven-fingered handprint of the slant-eyed giant Judaculla placed there when he jumped from his perch high on Devil's Courthouse.
"Generally, as far as the overall meaning of the rock, it is many things," Ashcraft said. "We think that it is a cosmographic representation. It is a map in some sense, and it may not just be a map of this world, but connecting worlds. It may be a dimensional map. Some of the beings indicated or some of the glyphs that look like beings are probably some of their spirit beings."
For the last 20 years, the archaeologist has worked to locate, record and preserve Indian petroglyphs and pictograms in North Carolina. His nonprofit Rock Art Project brings together academic researchers, the national forests and the Cherokee tribal historical office to identify and protect these sites before erosion, development, theft or vandalism wipe them from history.
"My guess would be that much of the glyphs began during the Woodland and Mississippian period," Ashcraft said. "Our estimate is between 500 B.C. and all the way up to contact with Europeans and afterward."
A onetime motorcycle rider himself (of an admittedly ill-running early Honda), Ashcraft began his survey of the region's rock art in 1995 with only seven known sites.
"We now have close to 70 historic and prehistoric petroglyph sites we've recorded. Most are hard to get to, hard to see, but there are a few that can be visited."
The archaeologist clearly holds a deep respect for the indigenous people who created the carvings. He stresses the difficulty in trying to equate a literal meaning to something that was a spiritual expression.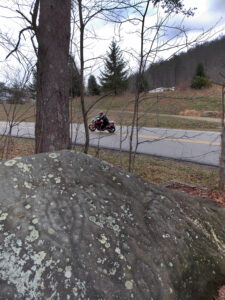 "What's important to know is that we think petroglyphs, at least in these cultures, are types of gateposts – boundary markers almost. In the case of Judaculla Rock, we definitely think that is the case. It's not necessarily a physical boundary that separates one tribe from another, but from spirit lands from occupied lands. Once you pass the rock, pretty soon you're in the domain of Judaculla," he said.
If Judaculla Rock does serve as a spiritual boundary, a motorcycle always serves as a perfect vehicle for transcending space and time. Every biker knows two wheels move the soul. This spirit journey begins — to the roar of several motorcycles — from Judaculla Rock along some of the best motorcycling roads in the region to nearby Nikwasi Indian Mound and onto Track Rock Gap in Georgia.
From Judaculla Rock, N.C. 107 heads north where we turn left on Cullowhee Mountain Road, which will become Tilley Creek Road then Ellijay Road. This little-traveled road passes through a dense forest as it crosses the mountain, adding to mysterious and timeless nature of the region. This scenic country road emerges onto U.S. 64 just east of Franklin. Along East Main Street., the Nikwasi Mound still towers amid the surrounding shops and businesses.
The Cherokee descended from the Mississippian mound-building culture. There may have been hundreds of mounds across the Blue Ridge, but today Nikwasi remains one of the few and best-preserved examples. The inhabitants here built less grandiose earthworks than those in neighboring states.
"It's a smaller rendition of Mississippian culture. There's not necessarily as many mounds or as big a mounds," Ashcraft said. "Most the mounds were destroyed early on in Western North Carolina. Some were excavated. Some were plowed flat by farmers."
A thousand years ago, this mound stood even higher and featured a townhouse on its summit. Historians say the Cherokee hosted a delegation of British officers on the mound in the early 1700s. Today it sits anonymously next to a tire store and gas station. When my fellow riders ask why I've stopped, I point to the mound behind them and watch their surprised reaction to find such an ancient and spiritual site hiding in plain sight. Even with traffic rushing past, the mound near the Little Tennessee River still stirs the spirit of those who recognize its significance.
We press westward from Franklin on U.S. 64, which serves as the upper loop of the scenic Southern Highlands Trail. This designated scenic highway forms a circle of roads along the mountains of the Carolinas and Georgia.
A left turn onto N.C. 69 just past Chatuge Lake dips us into Georgia and the lower half of the Southern Highlands Trail on U.S. 76. Just west of the town of Young Harris, Track Rock Gap Road leads to the ancient site where several rock carvings of animal tracks and other symbols await the curious traveler.
The Track Rock site in the Chattahoochee National Forest features more than 100 carvings on several boulders near the top of a mountain pass. The carved stones are literally along the roadside, and a gravel parking area just south offers easy access.
Archaeologists say Creek and Cherokee Indians made the artwork more than a millennium ago. Along with petroglyphs resembling bird and animal tracks are circles, crosses and ovals. The surrounding national forest also holds extensive stonework sites deep in the woods that experts say were built by Native Americans.
"That region is another place were the densest amount of petroglyphs are in the Hiawassee River and up Brasstown Creek. They're fantastic, beautifully rendered designs," Ashcraft said.
The glyphs at Track Rock Gap adorn six boulders and differ greatly from those on Judaculla Rock, but Ashcraft said there are some loose ethnographic ties between the two sites.
While pondering the enigma of the strange petroglyphs and the mystery of ancient rock sites for most the day, we continue our mystical journey. Heading west on U.S. 76 through the Georgia towns of Blairsville and Blue Ridge, the southern end of the Appalachians looms dark and foreboding just off our right shoulder. Strange tales and incredible sightings of a creature known only from folklore sometimes emerge from those hills. Nearly 40 miles from Track Rock we arrive at Expedition Bigfoot, a roadside attraction and museum focused on the legend and hunt for the elusive cryptoid.
Inside we're greeted by the owner, Bigfoot researcher David Bakara. "We're part museum, haunted house, Disney World," he says with a smile.
Bakara, who also works as a field investigator for the Bigfoot Field Researchers Organization, said he first became fascinated with stories of the creature as a child.
"When I was 12 years old, I went to see 'The Legend of Boggy Creek' with my brother, and that was what really kicked it off for me," Bakara said. "I'm as fascinated now at 55 as I was when I was 12 years old."
Now he shares that enthusiasm with visitors to his museum just east of Ellijay, Georgia, where visitors can examine footprint castings, life-sized Sasquatch mannequins, informative displays and videos from eyewitnesses to skunk apes, wooly boogers, yowies and yerens.
"I know they're real. The fact that they are real, really changes things, your whole reality," Bakara said. "I've seen two on investigations in Altha, Florida, in 2013."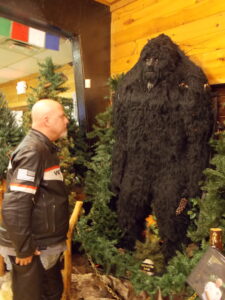 With clouds threatening rain, Expedition Bigfoot starts to fill with curious travelers and a handful of bikers. Bakara said attendance keeps growing since they opened in 2015.
"We did over 24,000 visitors in 11 months. We thought we'd do OK, we had no idea there was this much interest in it. We're always adding things. You're never going to come back and see the exact same thing," he said.
Expedition Bigfoot also hosts lectures and presentations by Sasquatch hunters from across the country. Several artifacts on display are on loan from researchers in the Pacific Northwest and elsewhere. In addition to the museum, Bakara and his team actively investigate sightings here in the Blue Ridge.
"I'd probably say we get a 100 reports a year. That's speaking conservatively."
For Bakara, the evidence for the creature's existence continues to mount, and the mystery surrounding the stories of sightings may someday be revealed.
"I'm in the middle of four or five investigations right now. One lady supposedly has some video she's going to send me of footprints she found right here in Ellijay."
This article originally appeared in the Summer 2017 issue of Blue Ridge Motorcycling Magazine.