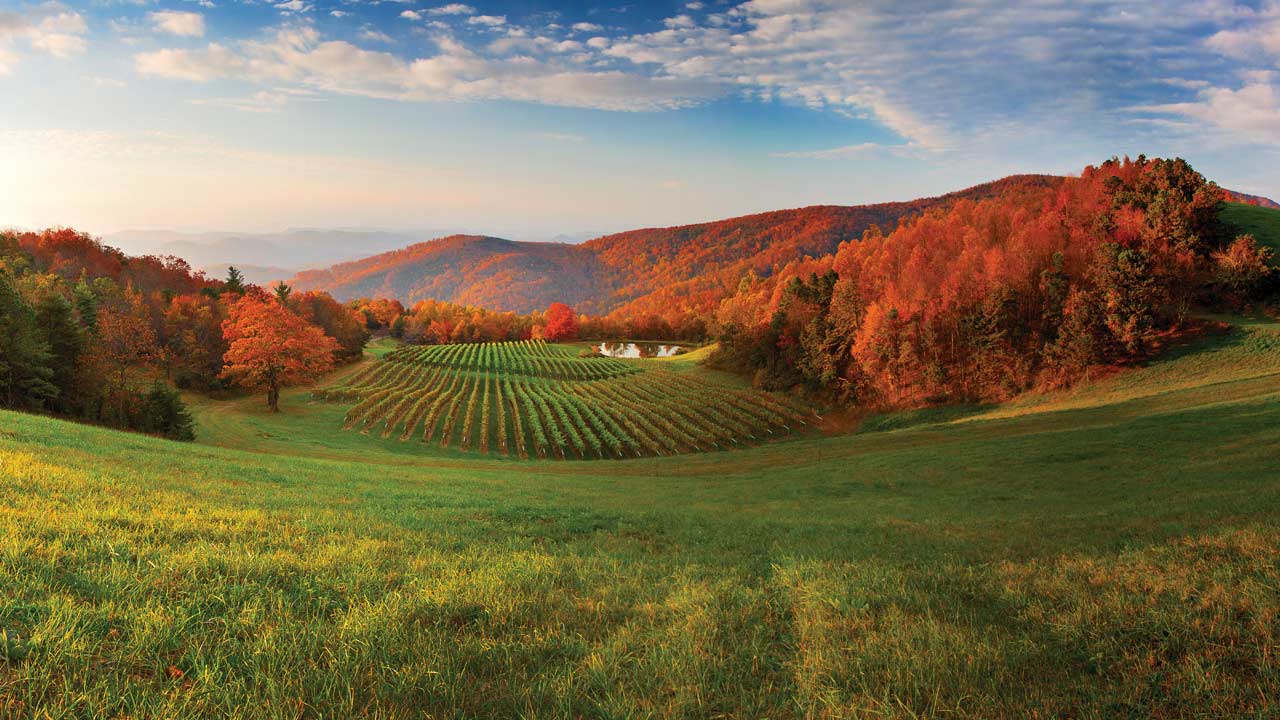 By Michael E. Gouge
The Eastern Continental Divide in the Blue Ridge Mountains features some of the best motorcycling areas in the country. It reaches its highest point in North Carolina, home to one of the newest federally recognized wine-growing regions — and an excellent destination for those leisurely harvest-season rides.
Heading south of Asheville along U.S. 74A, riders wind their way up a staircase of switchbacks to the divide next to Little Pisgah Mountain and down into the Hickory Nut Gorge and Henderson County, selected as the newest American Viticultural Area. Dubbed the "Crest of the Blue Ridge" by local winemakers, the region earned federal recognition for the distinguishing features in Henderson County, from the warm days and cool nights to the soil conditions and geology. All of this makes for a unique combination for growing grapes and winemaking, not to mention some of the best countryside to explore by motorcycle.
A trip to explore this nearly-hidden winemaking region of the Blue Ridge, rewards riders with a variety of terrain to enjoy, from tight twisting hairpins, to rolling apple orchards. Dirt roads venture deep into the forest, and tourist-heavy main thoroughfares head to popular Lake Lure and Chimney Rock State Park. Across the street from the giant granite monolith Chimney Rock, Burntshirt Vineyards recently opened a spacious tasting room and bistro. It makes for a perfect stop while motorcycling through the region.
"It's amazingly gourmet for a wine-tasting room," said Dr. Laura Ellis as she enjoyed stone-ground grits with pimento cheese, fried eggs, bacon and a toasted French baguette. Ellis, a vein surgeon who specializes in aesthetics, anti-aging medicine and athletic development, tackled the twists of Hickory Nut Gorge on a supermoto Yamaha 250 along with her son, Mark Gilbert, on a Ducati 848 Evo before stopping for lunch.
Ellis and her riding companions dined on Burntshirt's open-air covered patio with impressive views of the state park and Hickory Nut Falls and a nearly as impressive décor and menu.
"It's beautiful. I love all of the exposed beams inside and out," said Brent Evans, a nursing instructor at Asheville-Buncombe Technical Community College who rides a BMW F700 GS. "It's breezy and airy on the porch with a lovely view of the waterfall and the mountains. I had a Rueben sandwich with fries. It was a good, a classic Rueben."
Leaving the elegant bistro and quaint shops near Chimney Rock State Park, these riders headed up the curvy roads to the grape vineyards and apple orchards at the top of the continental divide. Henderson County has three major wineries, and officials say four more are set to open in the coming years in this new AVA.
To become an AVA, at least 85 percent of the grapes used in the area's wineries must come from this region, giving customers a way to differentiate it from other winemaking regions. Other famous AVAs include the Napa and Sonoma valleys in California and North Carolina's own Yadkin Valley. There a fewer than 250 such viticultural areas in the country, and less than 10 in the Blue Ridge Mountains, according to U.S. Treasury Department's Alcohol and Tobacco Tax and Trade Bureau, the agency that regulates AVAs.
The Crest of the Blue Ridge viticultural area covers nearly 215 square miles almost exclusively in Henderson County along Eastern Continental Divide and Blue Ridge Escarpment. The vineyards in this region are easily with an afternoon's driving distance from each other.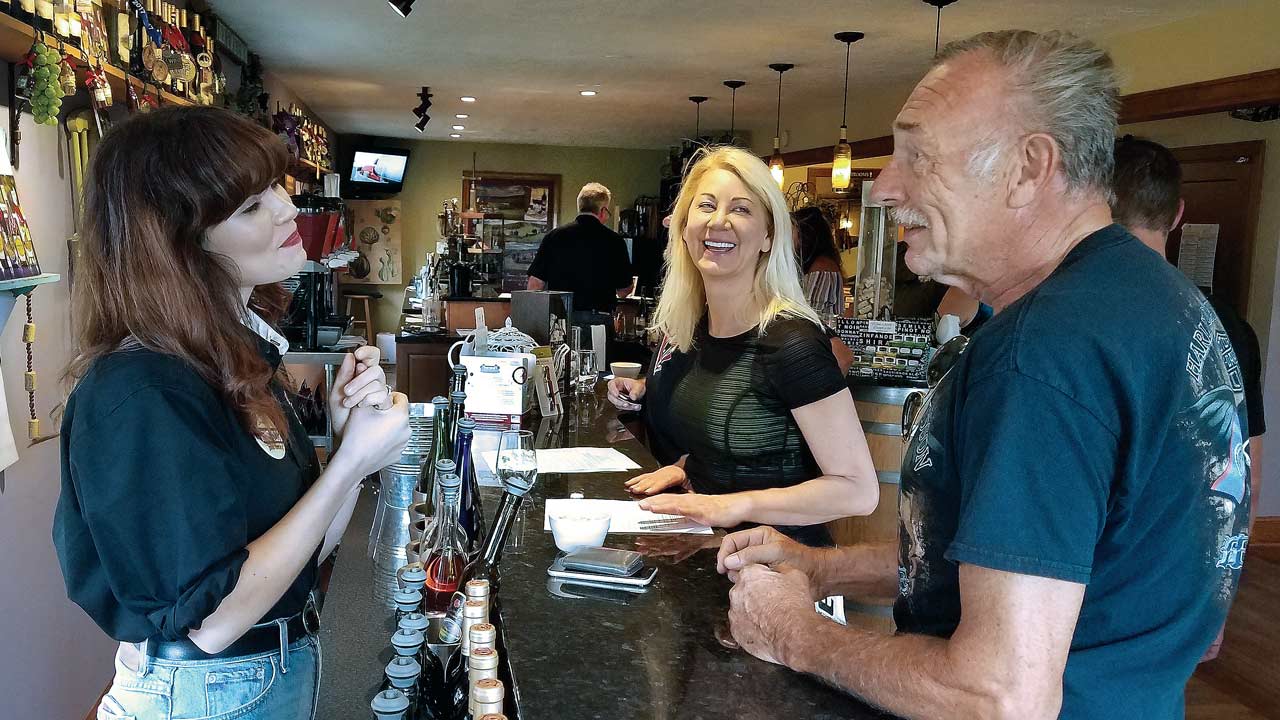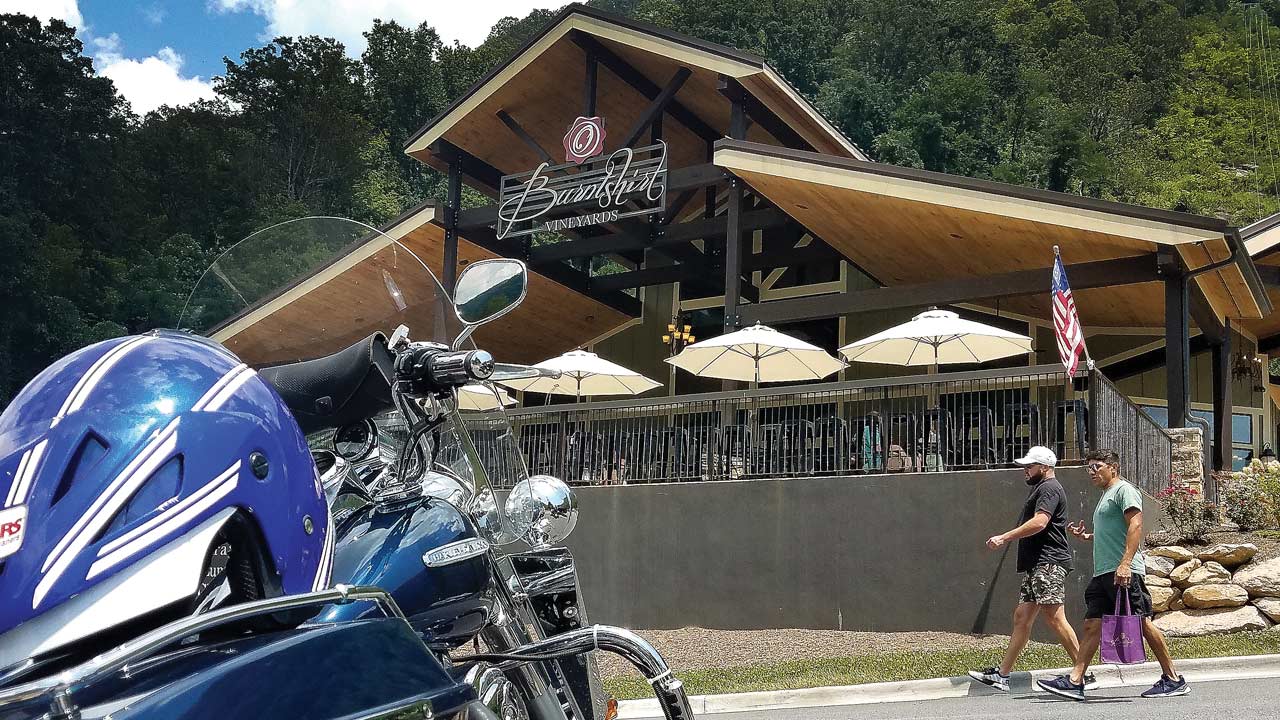 Burntshirt Vineyards
"There's a tale that farmers used to throw their shirts in the fire for a plentiful harvest," said Emily Burke, sales and wine club manager at Burntshirt, as she explained the name of the region's major winery. "Also, there's a Burntshirt Mountain near Bat Cave."
As motorcyclists ascend the Hickory Nut Gorge on U.S. 64, they enter a high valley atop the Blue Ridge Escarpment. Ringed by mountains, the backroads roll casually through farm country. Once this region was one of the country's top apple producers, but today some orchards are transitioning to grapes and winemaking. In addition to the tasting room in Chimney Rock, Burntshirt's main vineyard, owned by the Oates family, welcomes visitors to the farm, which has been named North Carolina Winery of the Year numerous times thanks to its award-winning wines.
"We're known for being all estate grown. Everything you drink here is estate grown, either at the vineyard across the street or atop Burntshirt Mountain," Burke said. "Our Chimney Rock location opened with the intention of being a tasting room, but now it's also a full-service restaurant.
She said their most popular wines include the Meritage and the Altitude 3400, which is named for the altitude of Burntshirt Mountain. "Our Meritage is a Bordeaux style. Since we're not in France, we can't actually call it a Bordeaux," Burke said. "It has five different varietals. It's really soft and smooth, a medium-bodied red, and the Altitude 3400 is the closest thing we have to a pinot noir."
At the peak of tourism season, the vineyard sees more than 300 visitors a week and serves as a beautiful event center.
"We do anything from baby showers to 200-person weddings. We've had anniversary parties, birthday parties, bachelorette parties. We have a lot of venues on the property," she said. "We have our barn, which is a smaller venue space with a terrace. We do ceremonies in the vineyard, which is cool because you're among the vines. We have an indoor space called the Summit. People do ceremonies on its terrace. The Chimney Rock location has a barrel room, and you can rent out the entire restaurant."
The tasting room at both Chimney Rock and the main vineyard on Sugarloaf Road open at noon every day. Ellis and her riding companions lined their bikes up outside the main building next to a large artificial tree made from blue wine bottles. The nearby Vintner's Table Food Truck serves fruit, cheeses and other fare to complement the wine. The grounds are filled with flowering trees, statues and wine-bottle artworks spread among several gazebos and the large main covered patio.
"I was surprised by the Riesling," Ellis said. "I'm not a Riesling lover. It's usually too sweet, but this one was pleasantly fruity and smooth with a little bit of oak." And adventure rider Evans enjoyed the Grüner Veltliner. "I liked it. It was dry and not too sweet. I'm not too crazy about sweet wines," he said.
Ed Carroll, who rides a Suzuki Bandit 1200, vowed to bring his wife back to Burntshirt after being impressed by the facilities. "I liked the Reserve Chardonnay. It's very good. It almost has that taste you get with a red wine. The oak, that's what it is."
Point Lookout Vineyards
Following a nearly 1,000-foot climb up Gilliam Mountain Road, along some wonderful twists and switchbacks, riders will arrive at Point Lookout Vineyards, poised impressively atop the ridge in an area the locals call World's End.
Beneath a new log-cabin-inspired pavilion, guests can relax in the shade and take the long-distance views of the Blue Ridge Mountains. The walls retract to create an open-air wine-tasting room and event center. Groups both large and small cluster with their chairs pointed outward, taking in the panoramic landscape.
"We've been open for a little more than a year," said owner Michael Jackson. "I think people come up here and do like people are doing right now: spend an hour, four or five hours, or an entire afternoon to hang out and have a glass or wine or a glass of mead. It's very much a place to relax and be with family and friends."
Point Lookout offers an award-winning Riesling and other popular wines, yet it's unique contribution to the Crest of the Blue Ridge wineries is its creative meads. "A lot of people aren't familiar with mead. It's actually honey wine. It's made like wine in stainless-steel tanks. It has about the same alcohol content as the wines. We have the historic versions of traditional mead, we also have the fun ones with apple or raspberry. Raspberry is our most popular one. It has the tartness of the raspberry with the sweetness balanced off the honey."
On a pleasant afternoon, Hilda Hamilton of Alexandria, Virginia, who also has a home in nearby Hendersonville, relaxed in the shade while enjoying the raspberry mead with a childhood friend.
"You cannot find a better view, really of all the wineries around here," she said. "I like their wine, but the view. Even if you maybe like the wine better somewhere else, you would come up here anyway because it's just so gorgeous."
Point Lookout can seat 300 for events and routinely hosts weddings. charitable events, fundraisers, and corporate gatherings. They offer a catering kitchen, dressing rooms for wedding parties, live music and, of course, a great selection of wine and mead.
"I think our motto best says who we are: 'Thirty Mile Views, Even Longer Memories.' We've had weddings, anniversaries, birthday parties and even life celebrations," Jackson said. "Sometimes you get married at a place, and it's just a wedding place. This is a place where people get married, but then they keep coming back. They come back, bring their families. This is a place that's an ongoing part of their life. It's a longer memory. We like being part of that."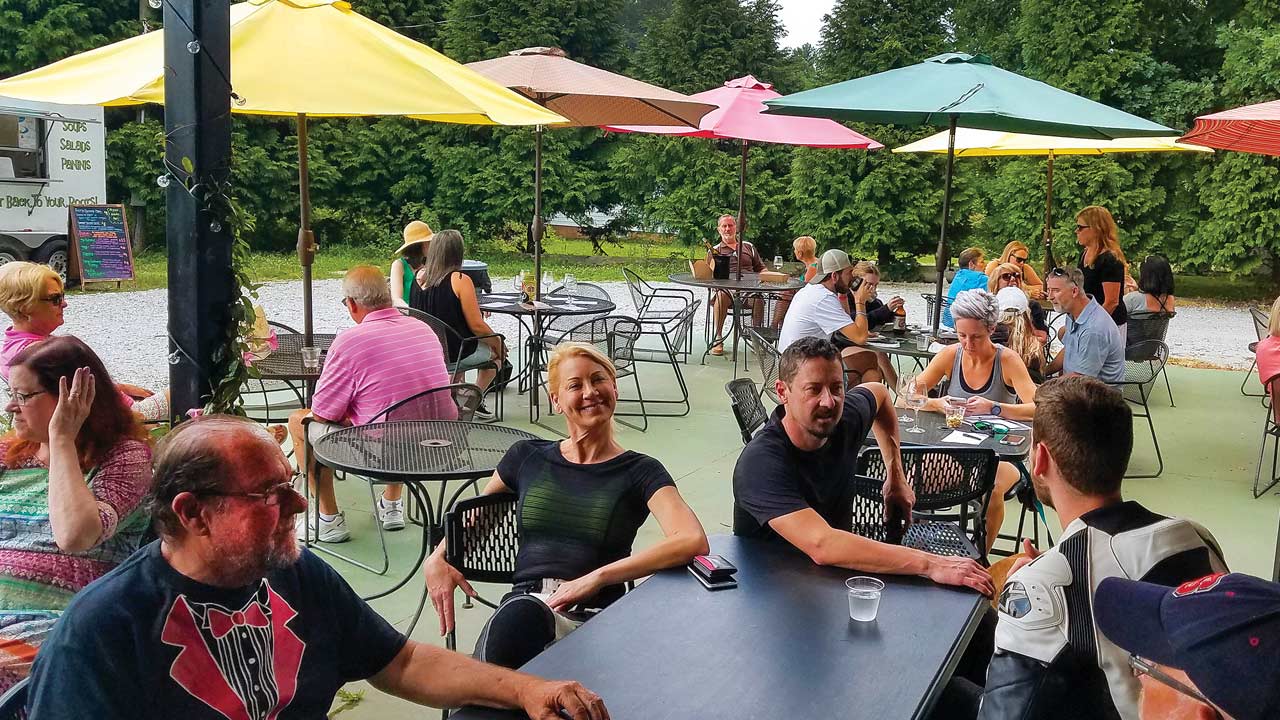 Saint Paul Mountain Vineyards
Back down in the valley, Saint Paul Mountain Vineyards offers a more laid-back experience for visitors stopping in to sip some wine next to the vines.
"We try to not be pretentious. We want everyone to feel at home," said Saint Paul's manager Barbara Walker. "We do seated tastings here, which is completely different. You don't go stand at a bar for tastings. You can sit outside on the deck and spend all afternoon with us, do your tasting in the vines, almost. We pride ourselves on people coming and spending the day with us. We get a lot of motorcycle clubs that come through. If they call ahead, we do private tastings, group tastings. We've had the BMW club and a lot of car clubs come through."
The vineyard routinely wins Governor's Cup awards for its dessert and fruit wines. It's cozy tasting room features a large fireplace and welcoming atmosphere.
"The only thing you really need to know about wine is, I tasted that and I liked it," Walker said. "We do some blackberry wines that have won best dessert wine in the state. It's made from locally grown blackberries."
Saint Paul Mountain Vineyards also offers a food truck and live music each weekend and is open every day of the year. "We even open on Christmas Day for people who don't have anywhere to go," Walker said. "Last year on Christmas Day, we had about 120 people. It's become some families' tradition to come here on Christmas Day."
At Saint Paul, there are no event centers to host weddings or anniversary parties, just a relaxing patio outside the tasting room where you can watch the breeze flutter the leaves on the vines. Walker said they prefer to focus on what they do best, making wine.
"Ours are French grapes grown from American root stock. We grow the Chardonnays, Rieslings, cab savs, the normal grapes you'd find in France. If you look on the map, we're at about the same latitude as Burgundy and some of the other areas of France. With our altitudes, we can grow the same grapes, which is unique in North Carolina. A lot of times in North Carolina, scuppernong and muscadine are all they can grow. That's what makes us different."
Seeing Henderson County recognized as a viticultural area is especially exciting for all the area's winemakers, she said. It tells the public a lot about the qualities and pedigree of their product. "Wine people call it terroir. Really, it's what's in the soil where you're growing. It's the rain, the acidity in the rainfall. It's all the conditions around you that makes the same grape taste different depending on where's it grown. Plus, there's the difference of the winemaker," Walker said.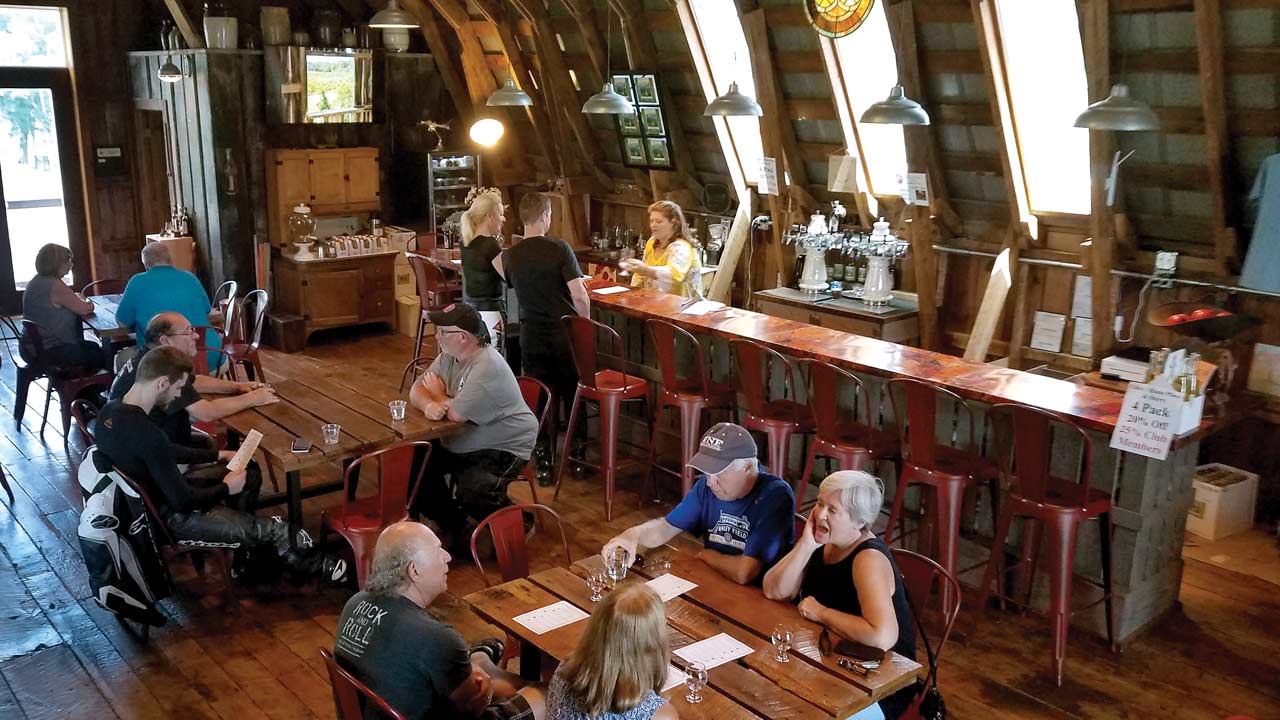 Appalachian Ridge Artisan Cidery
Across the sleepy country lane from Saint Paul's Vineyards sits its sister operation, an apple cider tasting room in a renovated barn beside the orchard.
"Henderson County is the perfect place for hard ciders. It's the largest apple-growing alcohol industry in the country," Walker said. "By the way, hard cider is a wine. It's not a beer, though beer companies have tried to take it over. It's fermented. It's not brewed."
Appalachian Ridge produces artisan ciders, expertly crafted and sold in wine bottles. "They're what is called Normandy style, which means they're blended," Walker said. "We use seven different apples. They're slightly carbonated. Just a little bit of bubbles to it."
The cidery offers six different ciders. Just like wine, the blend of the apples is different to give it a different taste, Walker said. Some taste sweeter, some tarter, some more acidic.
"Wow, that's really good," Evans said while enjoying a taste of the Saint Paul Mountain cider. "Fizzy, without it tasting like apple juice. You can taste the apple, but it's not overwhelming and not too sweet."
Appalachian Ridge's tasting room is an almost 100-year-old restored barn with modern touches but vintage décor. Tables and bar tops feature reclaimed wood. Saw marks from a bygone era are visible in the rugged floor. Outside, an expansive deck and patio overlooks a mountain orchard.
"What makes this place unique is we imported 5,000 trees from Normandy, France, 14 varieties of apples not found in the United States that they use for ciders in Normandy, which is where ciders originated," Walker said. "Nobody else in the country has these trees. It's just like grapes, the varieties you use in the juice is going to make the ciders different. We also do an apple brandy where we blend 70 percent cider with 30 percent brandy for a drink the French call pommeau. It brings the alcohol level down to a level we can serve here. We have to be under 24 percent, which is 48 proof, which is plenty. But it's so smooth. It's not a harsh drink."