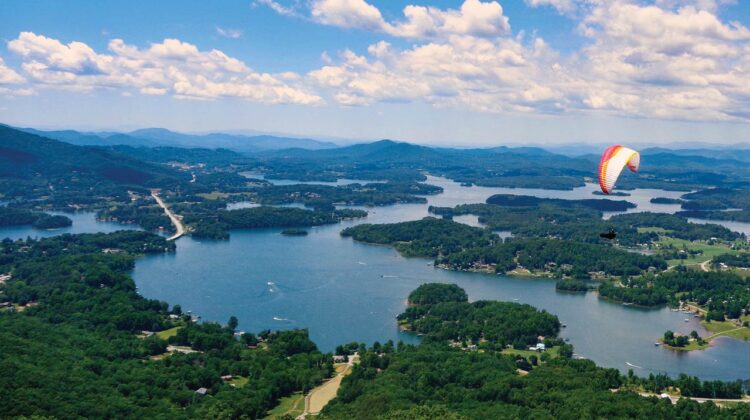 Almost by instinct, I looked for a shady corner of the parking lot to escape the sun climbing higher over the mountains of north Georgia. I arrived in Hiawassee a bit earlier than I planned, largely due to my excitement to ride with a high school friend I hadn't seen in decades and my penchant for carving up the roads tumbling down from the Blue Ridge Escarpment to the Peach State.
At the pre-arranged rendezvous time, I heard the rumble of a Harley-Davidson Sportster 48 approaching and the grinning face of my friend, Jamie Dimon. Funny how motorcycles can take you back to being 18 years old again, and I could still picture him rolling through campus on a motorcycle so many decades earlier.
Although I hadn't seen him in person in 15 years, I vicariously hang out with him via his popular YouTube vlog, where Dimon has become an influencer with 76,000 followers and nearly 9 million views on his Enigmatic Nomadics channel, which focuses on the van life, RV and traveling lifestyle. He now lives wherever the road takes him in a small converted school bus with two motorcycles and a dog.
"I've always had the traveling spirit with my father owning a Winnebago and different campers. We'd go to Myrtle Beach two weeks out of the year. We'd go the Pisgah National Forest. Growing up in Asheville indoctrinated me into what was out there available to someone with a sense of adventure and a traveling spirit," Dimon said.
For the last eight years, he's traveled the country, mostly staying on public lands in the Southwest and making a few ventures into Mexico's Baja Peninsula. This summer he packed up and headed east to the mountains outside Blue Ridge, Georgia, where he currently is working to construct a van/RV venue for gatherings, concerts and charitable van builds.
Soon, we jumped on our bikes, and I led the way to one of Hiawassee's best scenic overlooks, Bell Mountain. This rocky mountaintop, covered with graffiti, offers a stunning view of Lake Chatuge and Brasstown Bald in the distance. My first visit here was ruined by dense fog, but blue skies prevailed today as we stood on the wooden observation deck and soaked in the panoramic vista.
We hear a murmur from the crowd behind us and turn to realize a guy with a parasail intends to leap off the cliff next to us. The wind catches him and he soars above the mountaintop and works the air currents coming off the lake below. The additional excitement only adds to the wonderous view in the distance.
"What I like best is the lush landscape," Dimon said. "When you can see a mountain, and then behind it another mountain range, and then behind that a third mountain range, and it's all lush. Nothing had to be done but nature taking its course for it to look like that. Coming from the desert, I feel like I'm in Pandora. I love it. I love the trees, the mountains, the elevation changes."
The freedom of the open road is one of the main pleasures of motorcycling, and Dimon's combination of riding and full-time RV life allows him to hop on one of his bikes, explore new areas and live almost anywhere. With envy I thought of all the motorcycling trips I didn't want to end as I turned back toward home. What if home could come with me to serve as basecamp on these journeys? Hemingway thought Paris was a moveable feast. To me, a well-equipped rig carrying a small motorcycle could make every day a new feast of adventure, especially in the Southern Appalachian Mountains where the climate is often mild and civilization can be as near or as far away as you desire.
"I have been to six countries and many states," Dimon said as we relaxed in The Sand Bar & Grille, a popular stop for motorcyclists in Hiawassee. "I've dirt-biked for thousands of miles and many years and this is where I chose to end up — where I could've chosen anywhere. I picked here because of all that it has to offer. I think it's a privilege to live out a good part of my life here."
Dimon's bus features a wheelchair lift, which he uses to load the Harley for transport, and a rear rack for his Honda XR400 dual sport. His home on wheels features large solar panels and a bank of coach batteries so he doesn't need shore power to run his electronics and a low-draw air conditioner. A propane furnace keeps things cozy in the winter. A small trailer towed behind the bus serves as extra storage and a mobile workshop.
"I have the ability to scout better places to camp," he says of carrying a motorcycle on his RV. "Sometimes I'll camp someplace and take the bike out and go, 'Oh, this place is way better. I can get the van in here,' so I go and move."
"I got my first motorcycle for Christmas in 1979. This last Christmas marked my 40th anniversary of basically having a motorcycle consistently the whole time. There might be three or four years in that 40 years that I didn't have a bike," he said.
After lunch we ride to see the ancient Indian petroglyphs at Track Rock Gap a few miles away. The mysterious carvings along an old Native American trail are a short walk from a small parking area. While not as impressive as those of the Southwestern native tribes, the carvings make for an interesting detour while riding in north Georgia.
Viewer of Enigmatic Nomadics on YouTube get a glimpse at more of Dimon's travels to scenic parts of America, offering armchair adventurers the chance to daydream about such mobile freedom obtained while combining RVs and motorcycles.
"I've got a street bike and I've got a dirt bike. That dirt bike is about as close as a human being can get to flying. You can point it in any direction and it will do it. You're not relegated to asphalt," he said. "I can be gone on that bike for 3 ½ to 4 hours just exploring. I don't have to race around. I listen to this calming, almost meditative music on those rides sometimes. Other things, too. But that ride in Baja, I'll never forget. Riding around Zion, riding around Lake Havasu I'll never forget."
A few days later, I ventured down to Suches, Georgia, to meet up with fellow Blue Ridge Motorcycling Magazine contributor Shawn Lewers, who was taking a cross-country motorcycle trip on his Yamaha Super Tenere around the Southeast.
"I met a couple of buddies and they were on their way to the upper peninsula of Michigan from Florida," Lewers said. "They kept going, and I came east through Ellijay to Suches."
They call the roads in this region Six Gap or "the Gauntlet," and they feature several great mountain passes enjoyed by motorcyclists. I meet up with Lewers on the front porch of the famous Two Wheels of Suches motorcycle campground for an afternoon of riding some of my favorite Georgia backroads.
"It's rustic. I like it," said Lewers, who spent an evening in one of their small cabins. "The thing about Suches is there aren't a lot of amenities, but I didn't go there looking for that. It's near Dahlonega, which I think is one of the best towns in Georgia. I like the mountains. Other people like the beach. I don't need to go to the beach."
Bill Johnston, owner of Two Wheels of Suches, was a regular guest at the campground for years. After the resort closed a decade ago, he purchased it and renovated much of the facilities.
"It was the original motorcycle-only campground in the United States founded around 1982 or '83," Johnston said. "I actually started hanging out there in '92 and was there virtually every weekend."He moved to north Georgia from Atlanta in 2008 and two years later, the resort closed. He couldn't stand to see one of his favorite places simply disappear.
"The whole reason I moved up here was to be near that place," he said. "I was able to buy it and do some renovations. It was in pretty sad shape when I got it."
An avid motorcyclist, Johnston owns a BMW GS 1200, a KTM for off-road riding and Honda Grom for zipping around the campground. During the riding season, several motorcycle groups make pilgrimages to the small resort located at the end of "The Wolf" — Wolfpen Gap Road — a twisty backroad between U.S. 19 and GA 60.
"I've traveled 49 states on a motorcycle, so I knew what people looked for in a campground oriented for motorcycles. That's what I tried to create. I've got a good staff that keep it clean and try to give people a pleasant experience. As you can tell, I'm a true enthusiast. I get a great deal of satisfaction seeing people enjoy it. I was a passion for me."
From Suches, Lewers and I ride part of the Gauntlet over to Helen, Georgia, a quaint Bavarian-themed town popular with tourists year-round. A little light rain and some road construction prove minor annoyances, but the U.S. 19, 129 and GA 75A reward us with flowing curves and little traffic.
"The scenery is just beautiful. The pavement is in good condition," Lewers remarked. "I've been up here when the roads weren't in good condition and there were a lot of tar snakes. When it's hot, those can be treacherous."
The rain increases as we arrive in downtown Helen. A row of motorcycle-only parking outside the Two Tire Tavern tempt me to stop. The covered patio proves prefect for people watching along Main Street and soon we strike up a conversation with owner Dan Terlizzi.
"What's nice about here is you can come out on the deck and see the bikes. I'm a rider, too," said Terlizzi, who rides a 2018 Harley-Davidson CVO. "I like to go out here to Alternate 75, the scenic loop. I'll go up to Hiawassee, go out to Blairsville and come back down to Helen. Brasstown Bald is a nice place to stop."
I nod in agreement between bites of my Bavarian pretzel having just traversed some of those same roads. The tavern has plenty of free parking — something rare in Helen — and hosts live music on weekends.
"Helen is a very unique little town. If your favorite thing is chocolate, there's the chocolate shop. If you come to a German town, you want some German beer, some pretzels and some German music. It's a nice little town, very friendly and welcoming to bikes. That's how I fell in love with it. I'm originally from New York and had restaurants up there. I came down here and fell in love with the town."
As the rain eases, more bikes pull in the tavern. The patio makes a great place to relax and plan the next leg of a motorcycle tour.
"It's a family business. We don't stay open late," Terlizzi said. "When I opened this, I said it's a biker bar, but it's not a 'biker bar.' It's middle-aged guys on touring bikes. We're all married and have kids, just going out to ride and have a good time. Most guys who come in here that ride, they want to go home and go to bed to get up early tomorrow and ride."