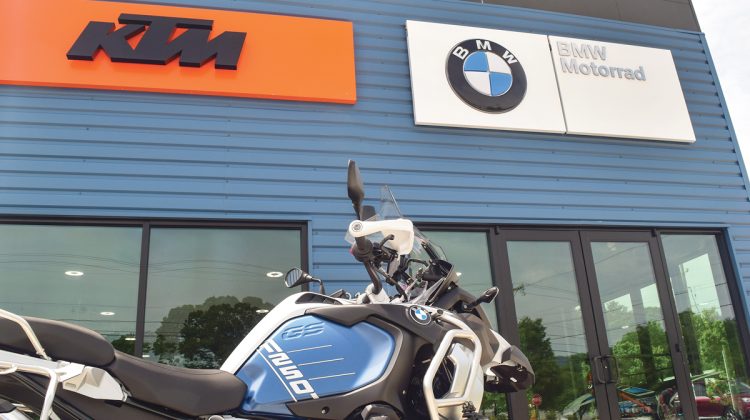 Eurosport Asheville, the exclusive BMW and KTM motorcycle dealer for Western North Carolina, recently moved into its spacious new showroom near the Asheville Airport.
Having outgrown their previous location in Biltmore Village, the dealership's newly constructed building offers several advantages to its old location, making it worth the short trip to nearby Mills River.
"The ride out to the building is much more enjoyable, and it makes for a good starting point for group rides with access to great roads, both on road and offroad, in the area," said Thomas Montgomery, owner of Eurosport Asheville. "Another advantage: The larger showroom is going to be instrumental in the expansion of our dirt bike sales and apparel offerings. We are in talks with Troy Lee Designs and SEVEN Apparel with plans to add them to the building by the fall season."
The reaction to the move from Biltmore Village to the more pastoral location on Old Fanning Bridge Road, just two miles behind the Asheville Regional Airport, has been mostly positive, Montgomery said.
"The new location has several advantages. For starters, our customers aren't risking their lives getting in and out of the parking lot anymore," he said.
Eurosport Asheville's old Biltmore location sat in a blind curve where heavy traffic made it difficult to enter and exit. The new location is a more pleasurable ride along a country lane with rolling hills, all while being only a block from the four-lane New Airport Road/Boylston Highway (N.C. 280).
"It also allows for better efficiencies in the service department," Montgomery said. "Now we know exactly where our service techs are and when they'll be back during test rides, whereas before when they pulled out of our parking lot, it could be 20-30 minutes before they returned due to tourist traffic, an accident or road work."    
The showroom features both new and used motorcycles and a wide selection of riding gear and accessories. If they don't have an item, the staff is happy to special order it for customers. The new location will help expand their inventory and add new off-road models to meet the growing demand across the region.
A spacious new parking lot and customer lounge can accommodate more visitors as the dealership often sees traveling adventure riders and long-distance tourers pull in seeking parts, service or just to say hello. While many motorcycle riders know about the famous roads here in WNC, there are hundreds more that offer beautiful scenery, twisting corners and a wonderful riding experience for visitors. The friendly staff will often share a few of their favorite backroads with visiting motorcycle travelers looking for a scenic route.
Eurosport Asheville celebrates its long history of supporting charity rides such as the High Pass Boogie, the Tail Chaser 250 and others. Rider clubs like the BMW Motorcycle Owners of America or the BMW Riders Association often work with Eurosport Asheville when organizing area rallies and events in the area. The dealership sees itself as part of a motorcycling family and works to create the best experience for their customers.
A grand opening ceremony is planned for the fall in conjunction with the BMW Motorrad 100-year anniversary. Eurosport Asheville is located at 2133 Old Fanning Bridge Road, Mills River, N.C. 28759.