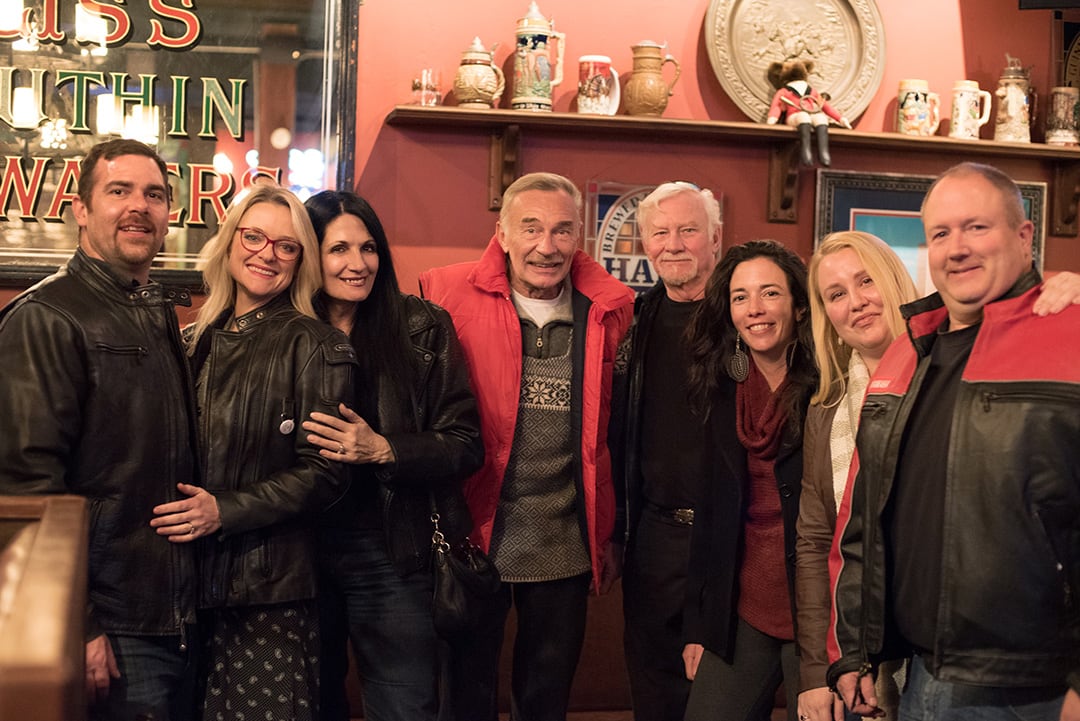 At the end of a row of charming antique shops and art galleries in downtown Landrum, South Carolina, awaits an eatery guaranteed to satisfy the culinary tastes of most any motorcyclist, whether you just want a beer and a burger or Szechuan duck paired with a fine wine.
The Hare & Hound Pub at the intersection of U.S. 176 and S.C. 14 features traditional pub fare along with great seafood and steaks. Riders exploring Upstate South Carolina will find it conveniently located to some of the area's best motorcycling roads.
Inside, the walls feature an equestrian motif, a nod to owner Patty Otto and her late husband's passion for horses which drew them to this area from Hilton Head two decades ago. A well-stocked bar with impressive craft beer offerings welcomes visitors popping in for a quick pint while the dining area makes for a more cozy setting.
"Even though it's a pub and you can get your favorite pub-type food, we really can make you happy with a good steak or prime rib or pasta dish. We have very talented chefs so we're very proud of what they can do," said Otto, who's owned the restaurant for the 15 years. "We're a big motorcycle destination. A lot people take that ride up to Lake Lure. They're headed up to the mountains, and we're right in the middle."
The Hare & Hound also features and outdoor patio, enclosed and heated during the cooler months, which can be reserved for larger groups of bikers. They also cater for area weddings and equestrian events.
"I'm really proud of what we brought to a small town we have good food, a great staff that has been with me for the entire 15 years," said Otto, who previously owned a restaurant in Hilton Head. "I think it has become a cornerstone for the town. We're a pub, so we have great fish and chips. And people from Charleston come here for the shrimp, because they say it's better than anything they get on the coast. We also cut our own steaks and do baby-back ribs and prime rib on the weekends."
The owner's Lowcountry roots certainly enhance the pub's outstanding seafood offerings, which include fresh mussels, shrimp, flounder, salmon and other offerings depending on the season.
"We do a lot of really good seafood," said Chef Shawn C. Shell, who's worked at the Hare & Hound off-and-on for more than 10 years. "Our seafood is probably my favorite to cook."
The staff of Blue Ridge Motorcycling Magazine invited a few of the riders profiled in this issue to join them for dinner. A selection of their comments:
"It's an amazing location with a true pub vibe — intimate but fun. The calamari was awesome, fresh and delicious with the perfect sauce," said photographer Cami Calnan of Asheville. "The apple pie was just like grandma's, if my grandma was a baker."
Motorcycle mechanic Jesse Gray of Hendersonville said, "The mussels were very fresh, and the flounder was like eating at the beach. The atmosphere was friendly and the service was great."
His new bride, Heather, also praised the fresh, flavorful taste of the mussels before savoring her entree. "My first thought when she brought out my pork chop was, 'Oh my gosh!' It was delicious. What a warm comfort-dish."
Accomplished equestrian Lauren Bergrud of Columbus seemed right at home amid the horse-and-rider décor as she sampled from fish and fowl. "The sashimi tuna was perfectly seared, loved the spices. The duck has an excellent glaze and was very tender," she said.
Retired motorcycle and sports car racer Roland Linder of Tryon table-hopped to enjoy a wide selection, choosing the "Mile-High Meatloaf" for the main course. "I love meatloaf, and this is amazing. The presentation is top form," he said, also praising the wait staff. "It's very friendly, and they made us feel at home. Great service without any pressure."
"I was delighted with the Szechaun duck. Literally, half a duck. Crispy, juicy and tender," said Star Broadnax, a Realtor from Asheville. "The Hare & Hound has a great atmosphere with a wonderful and attentive wait staff. The crispy shrimp was fried to perfection with a delicious sauce. "
"It's nice that they offer fresh popcorn instead of bread. If you're going to eat a burger and fries, this is the place," said Carla Myron, the ad director for Blue Ridge Motorcycling Magazine. "I love that they offer options on the wine pour, 6 ounces or 9."
Blue Ridge Motorcycling Magazine Publisher Jeff Myron recommended the clam chowder, describing it as the epitome of what New England chowder should be. "Smooth and creamy, LOADED with clam pieces, and a nice hint of spice to accent the Clam flavor." He was also impressed with the whole flounder with apricot glaze, which he followed up with a slice of sea salt caramel cheesecake.
"They take great pride in the operation and have offerings for any palette," Myron said of the Hare & Hound. "It's a great place to explore their culinary expertise and experience the caring service."