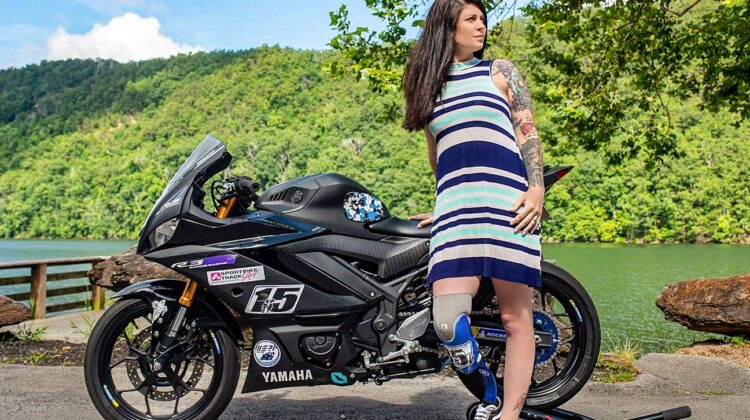 Eons ago, in a different lifetime before motorcycles, I attended a film festival. One of the films was a documentary that still standouts in my mind to do this day. The subject was base jumping—a risky sport where dauntless people jump, with a parachute, not out of a plane but from mountain sides or buildings. During an interview one of the women base jumpers, when explaining the danger associated with the sport, likened it to this: You have a luck jar and an experience jar. When you first begin, the luck jar is full of tokens and the experience jar is empty, but with each base jump, you take a token from the luck jar and place it into the experience jar. Eventually, you'll find your experience jar is full—but you've run out of luck.
Motorcycling is similar. We fear the inevitable. There are those who have had an accident and those who will have an accident. Thus, an inherent risk exists that must be accepted when throwing a leg over a bike. Yet we still do it, just like the base jumpers, because we possess passion for it. We love the sport, and it makes us feel alive.
Yet any rider that has had an accident, or even a close call, may have experienced a myriad of emotions. It gives confidence a hard hit and often leaves riders feeling uncertain, fearful or perhaps even questioning whether to continue riding. The psychological storm, especially for crashes causing serious injury, can be intense and lead to doubt. A crash doesn't have to be the end of the road though. It's possible for motorcyclists to come back from a crash not just physically but mentally and rediscover their passion and love of riding. Since it may seem easier said then done, we turn to several riders who experienced their own accident, and share the story of how they overcame the mental barriers to find their way back to life on two wheels and their love of the sport.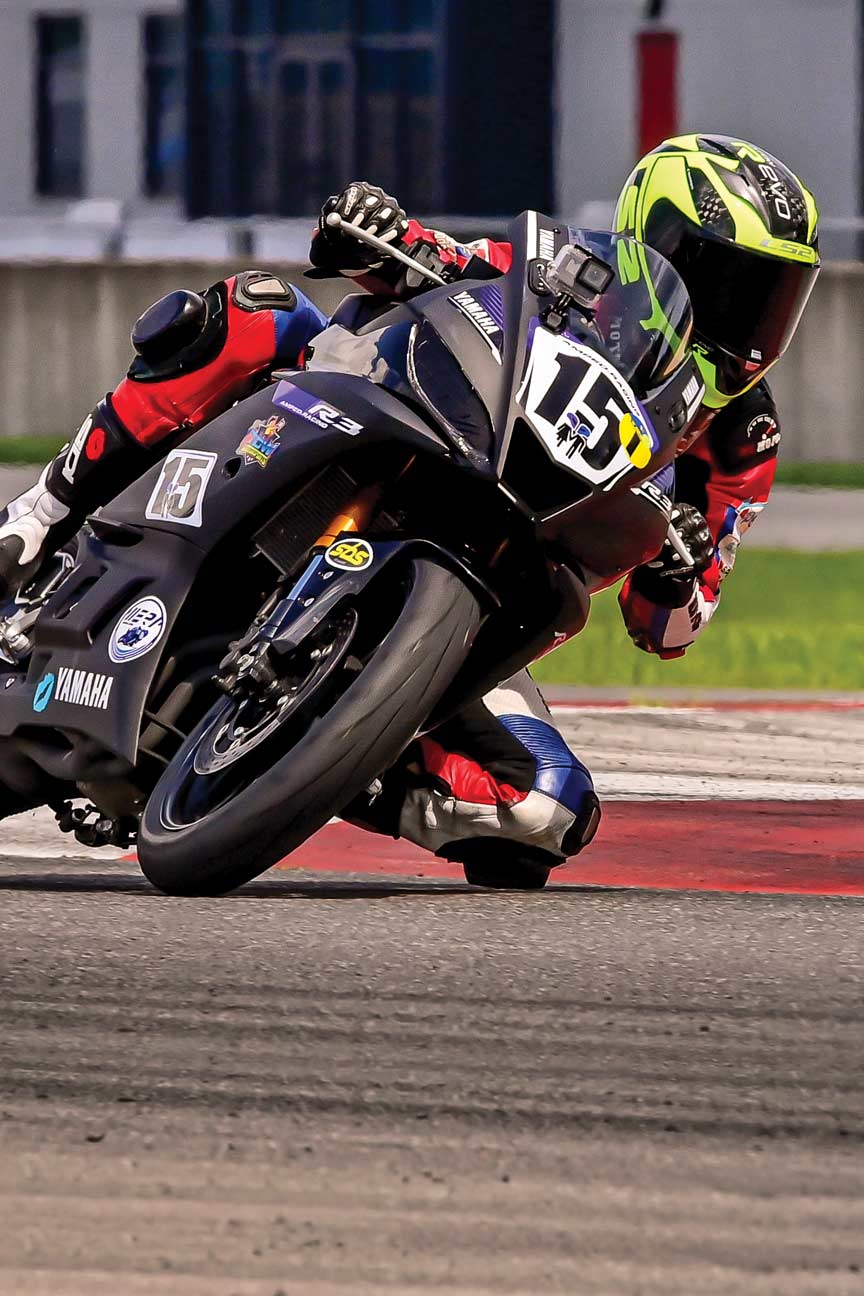 Brittany Nitzband
These days Brittany Nitzband, a mother of three from Maryville, Tennessee, zips along both The Dragon and track with ease on her Yamaha R3. Her enthusiasm for the sport is infectious and she has big dreams as she looks to transition into racing. Anyone who doesn't know her would have no idea she does it all with one leg. On Aug. 12, 2015, Nitzband crashed on Foothills Parkway, a stretch of scenic road that sweeps through the Smoky Mountains. Her bike went airborne and flipped and she slammed into the mountainside feet first.
She went through several surgeries where doctors attempted to piece her foot back together, but she eventually underwent an amputation a year later. She was wheelchair bound for two years.
Despite the accident, Nitzband refused to let it define her. Instead, she found that it taught her valuable lessons that she brings to her riding to this day.
"I had to live life being confined to a wheelchair, it makes you thankful for the moment you are able to get back on the horse and continue on," Nitzband said. "I handle (the risk of riding) knowing that we all die. There is no escaping death. I was faced with death and knowing that I had not lived my life before that, I made a promise to never stop living."
And living is exactly what Nitzband does. Since the accident, she's become an accomplished rider and can be found carving the mountain roads. But she admits the journey wasn't easy. The advice she gives others is to stay positive throughout the process.
"Struggles are all mental," Nitzband said. "My motto is 'a positive mind leads to a positive life.' No matter the situation ahead of you, you can overcome it all by mentally preparing yourself. Always remind yourself where you came from. If you set your mind to it and only think positively, you will succeed. And always remember to do what you love."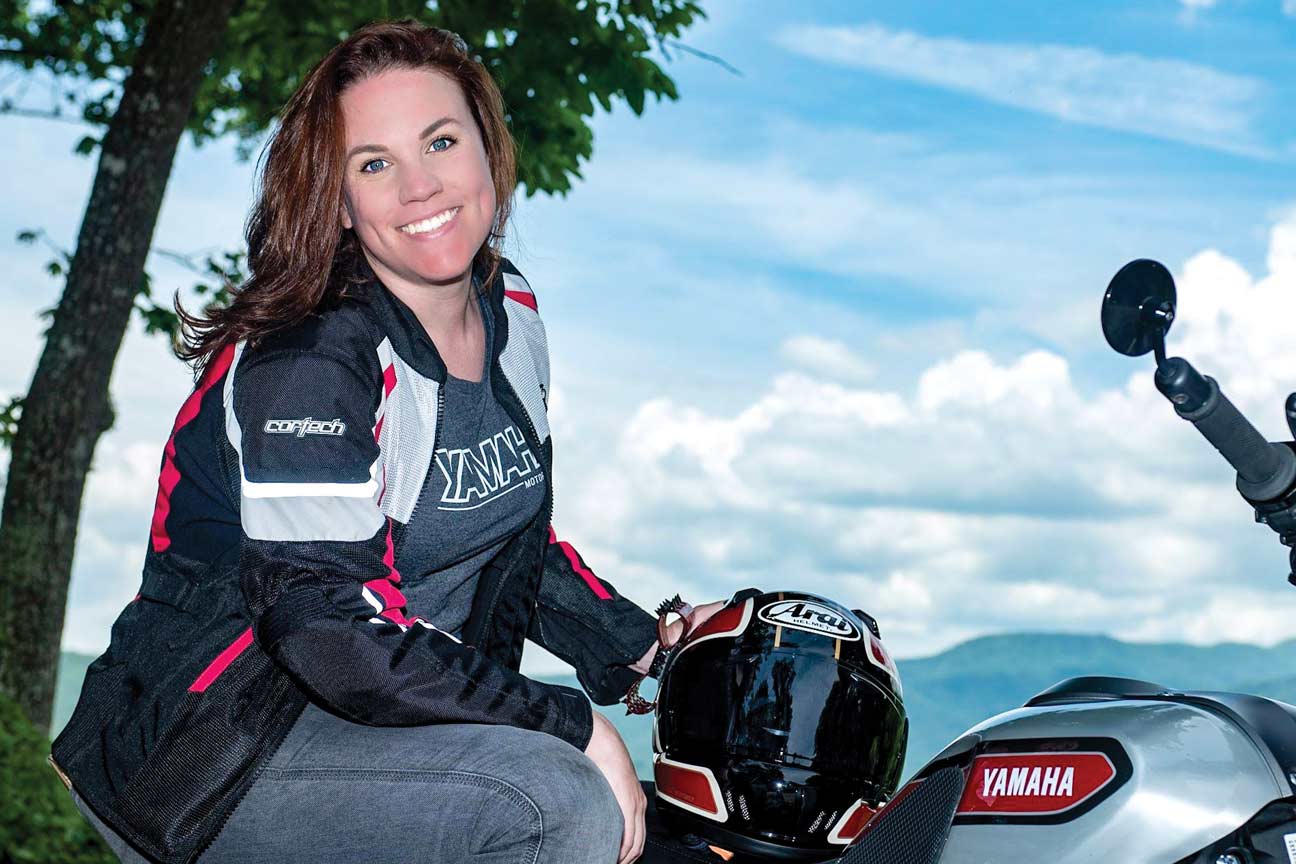 Brittany Hughes
If one word could sum up Brittany Hughes' approach to riding it's diligent. She diligently reads educational books about riding, practices her skills in parking lots and on the road, watches videos and receives coaching at track days. She strives to be a good, safe rider. Yet on June 20, she found even the safest of riders can crash from situations outside their control.
While riding Blood Mountain in the North Georgia mountains with friends, her tire hit oil on the road. The next thing she knew she hit the ground and went sliding into a ravine. Her feet caught the ground and sent her into a front flip. When she landed, her back compressed and she felt a searing pain. Worried that no one would find her in the ravine, she managed to climb out.
Hughes had an unstable burst fracture in her T8 vertebrae and many compression fractures on top and bottom of the T8. She also had fractures in the T11, T8 and T7 processes. Her lungs and ribs were also severely bruised. She was lucky she wasn't paralyzed. The unstable fracture meant her spinal cord was exposed and she easily could have never walked again with the wrong movement. The doctors were surprised it wasn't severed while she climbed from the ravine.
But while in the hospital one of the nurses asked her if she would ever ride again. And Hughes confidently told her, "Yes, I am."
The road to recovery has been difficult for Hughes. She had surgery to fuse the T7 through T9 vertebrae. This meant being bed ridden and then having to use a walker before finally being able to walk on her own again. Just like her approach to riding, Hughes remained diligent in her path to recovery and worked hard at physically therapy. Although she still has a long recovery before getting back on a bike, she feels encouraged with each passing week she's one step closer to being reunited with her bike. Through the process, she's also learned some valuable lessons.
"Before the accident I thought nearly anything can be avoided by the rider—and if you just put a ton of practice in you can reduce the risk," Hughes said. "But I never fully comprehended that word. Reduce. Until now. There's always a risk and the experience has humbled me."
Because of this risk, protective gear is paramount, she said.
"Full leathers 100 percent saved my skin," Hughes said. "But I'm not getting back on the street without an air vest."
For Hughes, coming to terms with what she believed happened during the accident and she could have done different—such as wear an air vest—helped her obtain closure.
"Simply knowing that I'll still be able to ride after recovery has helped me move forward," Hughes said. "There will always be risk, and I know that risk only increases when I'm on the bike. But I will have to overcome the PTSD, the fear and responsibly manage my risk. I can't let fear rule my life. I can't let fear stop me from doing something I love, the only thing that makes me feel alive."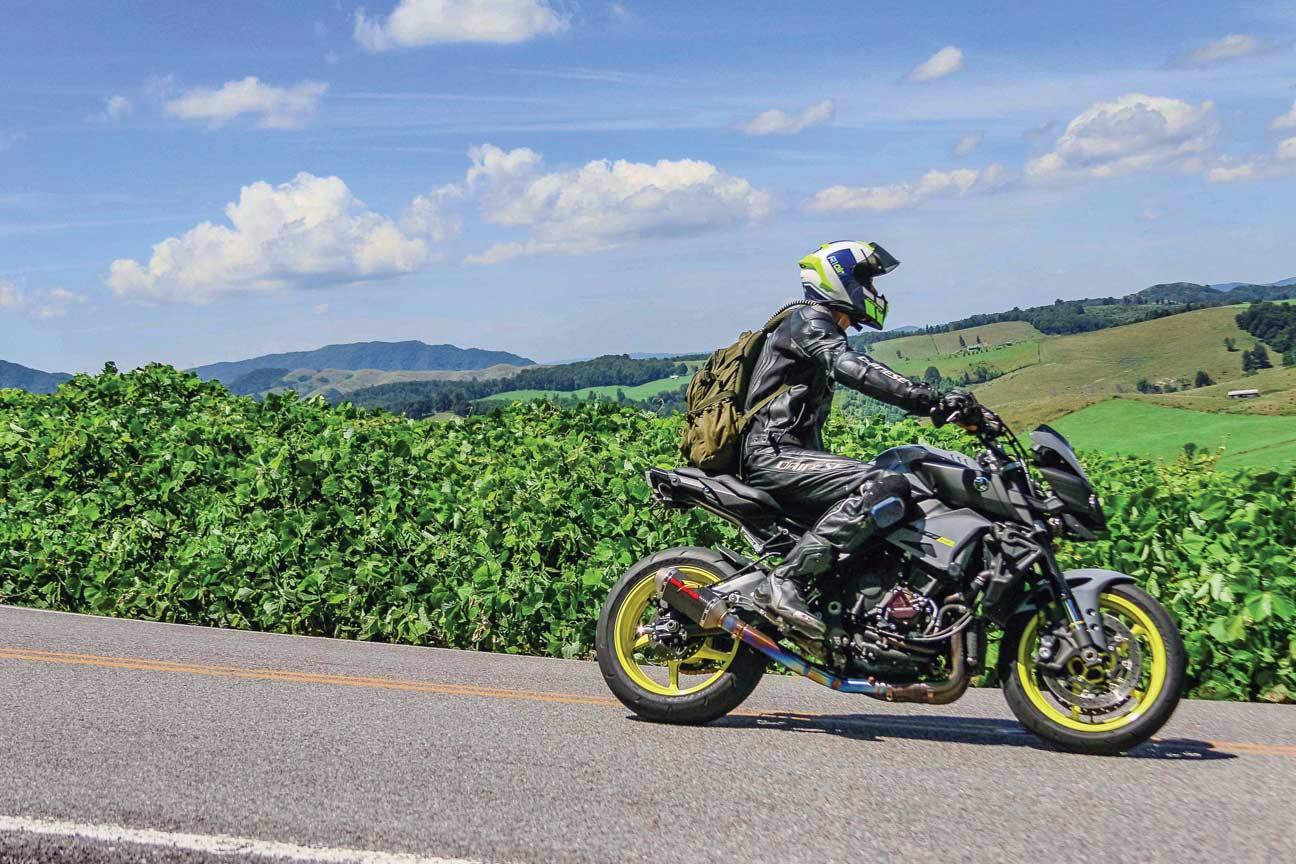 Eric Frye
On a cold Sunday in March 2019, Eric Frye of Bristol, Tennessee, took his FZ09 out for a ride along Highway 421 and South Holston Lake. Knowing the importance of wearing protective motorcycle gear, Frye had just recently purchased a leather suit online and he was waiting for it to arrive. As his grandfather had told him, "No matter the cost of gear, it's the cheapest life insurance you can have." But sadly, Frye's suit didn't come soon enough.
After a full day of riding, Frye was tired from the ride and made a mistake. When he hit the asphalt his first concern was his bike and assessing the damage. But he quickly realized he couldn't get up. The doctors found he had broken the neck of his femur bone and he was rushed into immediate surgery to correct the damage as it could result in blood loss to the head of the socket and hip and would require a full hip replacement.
For weeks Frye experienced the result of the crash with painful road rash and scrapes in the most uncomfortable areas in addition to the plate and multiple screws in his leg.
"The process was slow and humbling as I required a lot of aid and help doing normal functions," Frye said. "During the time I sat in the hospital I thought, would this have happened with my suit on? Would this serious of an injury have happened if I were properly protected?"
Despite months of recovery and physical therapy, Frye's passion and goals for riding never subsided.
"Family and friends around me saw the struggle and pain and would often question my decisions," Frye said. "But I knew my riding days were far from finished. There were many sad days sitting alone and in pain, which could easily be viewed as an obstacle to returning to riding along with plenty of negative comments from others. It didn't matter to me. I enjoyed riding before, and I would enjoy riding after my accident."
Frye took the lessons he learned from his accident to heart. Today, Frye wears protective riding gear from head to toe and has been honing his riding skills on the track. In 2019, he participated in track days at NC Bike with Evolve GT and their You Vs. You School that he says helped him tremendously. He also did a track day at Talladega GP Raceway.
"A year and a half later, I still feel pain and fatigue in my hip, which I'm sure will be forever lasting," Frye said. "However, I never let doubts or questions waver my determination. Never."
The common theme
For those who have experienced accidents and mishaps on two wheels and may be struggling and allowing fear to overshadow their enthusiasm and passion for the sport, a quote comes to mind. "Life is either a daring adventure, or nothing at all." The common theme with Brittany Nitzband, Brittany Hughes, Eric Frye and so many other motorcyclists who have experienced the result of risk is this: Their accidents have taught them life is short and therefore there's little enjoyment or satisfaction in bubble wrapping your life.
As humans, we come face-to-face with risk every day: Driving to work, walking across the street or climbing a ladder for a home repair. Although both Nitzband, Hughes and Frye would all agree that it's important to mitigate the risk through proper gear, a solid skill set and safe riding, they also all share the common thread that riding makes them feel alive. And what better way to feel alive than the sense of freedom, exhilaration and happiness that motorcycling can bring.