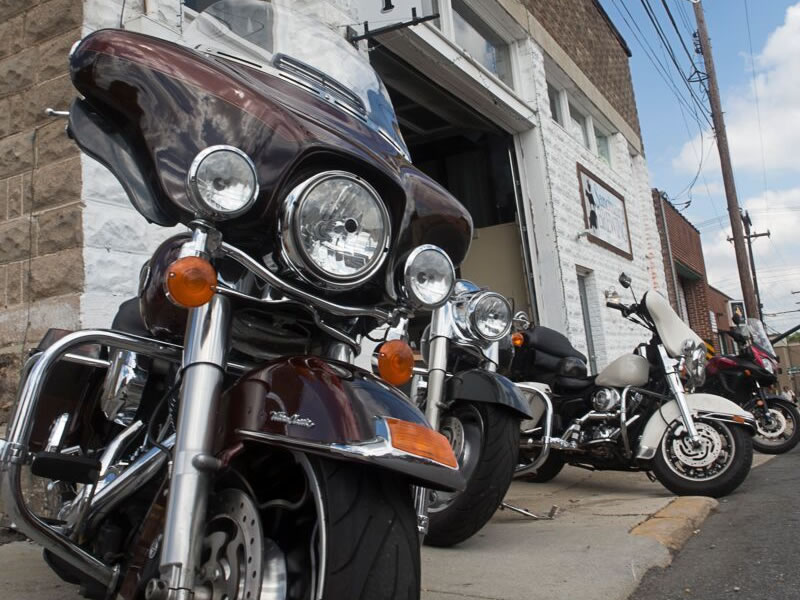 We arrived at Sanctuary Brewing Company in groups of two on warm Saturday afternoon. Not exactly Noah's Arc; two Harleys, two sport bikes, and two by car- but when the puppies showed up in pairs, we noted the resemblance. The Brewery was hosting an adoption day for Blue Ridge Humane Society. The dogs and volunteers were enthusiastically greeted by the lively assemblage of brewery guests. Several dogs were already in attendance, including a sweet, one-year-old Great Dane, named Hodor. I assume in honor of the colossal Game of Thrones character. We were amused by adoptable puppy, Charlie's antics and reaction to the horse size Dane. The gentle giant was patient and tolerant of the puppy's persistent attention. There were two black puppies, one mostly lab and the other a tiny Cocker Spaniel mix. They were ridiculously cute and I have a hard time saying no to my wife, so I was quite relieved that they were not added to our herd of five. This, I discovered was another upside to traveling on two wheels.
Hosting adoption days and fostering animals is standard operating procedure for Sanctuary Brewing Company. They work with a dozen local animal groups; rescues, shelters and sanctuaries. On Saturday mornings they offer ͞Yoga with Cats.͟ You pay five dollars for the class which is donated to the Blue Ridge Humane Society. Stretch, breath and meet some of their fantastic adoptable felines. OnWednesdays one of their rescue partners brings in adoptable animals. The socialization is excellent for the pets and makes them more adoptable. Sanctuary Brewing donates a portion of their Wednesday income to the rescue group on hand AND they always pay half of the adoption fees for those who meet their new best friend. Once a month they partner with Southern Appalachian Brewery for a ͞Pup Crawl͟where adoptable puppies strut down Main Street to meet and mingle. Their philanthropic procedures are not limited to animals in need, every Sunday they offer a ͞Community Meal.͟Food is offered freely to all.
Their kindness to animals is what caught my wife's attention and directed our happy group to Hendersonville. Lisa McDonald, our convivial host and co-founder of the Brewery placed a pint of beer in my hand immediately following introductions. Its rich color signaled the subsequent depth of flavor, it was excellent. Lisa and her partner Joe Dinan moved to North Carolina to buy a small farm so they could rescue animals. Mission accomplished. They currently have seventeen animals in their care at their home slash micro-sanctuary; cats, dogs, pigs and chicken. All are rescues and their care is entirely funded through Sanctuary Brewing. They foster ten to twenty animals per year and the brewery is credited with assisting in the adoptions of over one hundred animals in its first year. They're currently working towards building a pasture enclosure so they can add rescue goats, donkeys and turkeys to their rescue and foster family.
Back to the beer; Joe started home brewing a decade ago and refined his skills working at the renowned Wicked Weed Brewing in Asheville. He uses fresh local ingredients to craft a truly superb beer. I appreciate quality over quantity, particularly on two wheels. All of our imbibers had favorable opinions of their ale offerings. Our graphic artist and beer aficionado, Krista Gargano praised their unusually large selection of light beer. Her hands-down favorite was the Apple Pie Saison, saying it was ͞very crisp and refreshing…it was perfect.͟ Her boyfriend, Tommy LaMorte, said their Bobby Brown Dr. Kolsh was a light and refreshing compliment to the sunny day.
As the afternoon progressed, we were joined by more friends and at three o'clock we were serenaded with live music. With a warm breeze and abundant sunshine provided by the open garage door, we lounged in Adirondack chairs with friends and magazine contributors. Blue Ridge Motorcycling Magazine contributing writer and UNC Asheville Professor Michael Gouge particularly enjoyed the Pilsner and the friendly staff. I overheard him discussing the best tires for adventure touring and the great selection of beer with Jeff Noland who rode up from South Carolina to join us for a brew. We were amused but not surprised to discover that our photographer, Matt Rose goes to Sanctuary Brewing once a week. His daughter has a harp playing engagement in Hendersonville and Matt walks over for what he refers to as ͞the best beer around.͟ Sanctuary is a short stroll off Main Street in Hendersonville. They indulged our parking in front for the photo shoot but there's a municipal parking lot just a half a block away for our next visit. Ride in for great beer, to meet new friends and to help save lives. See you there.