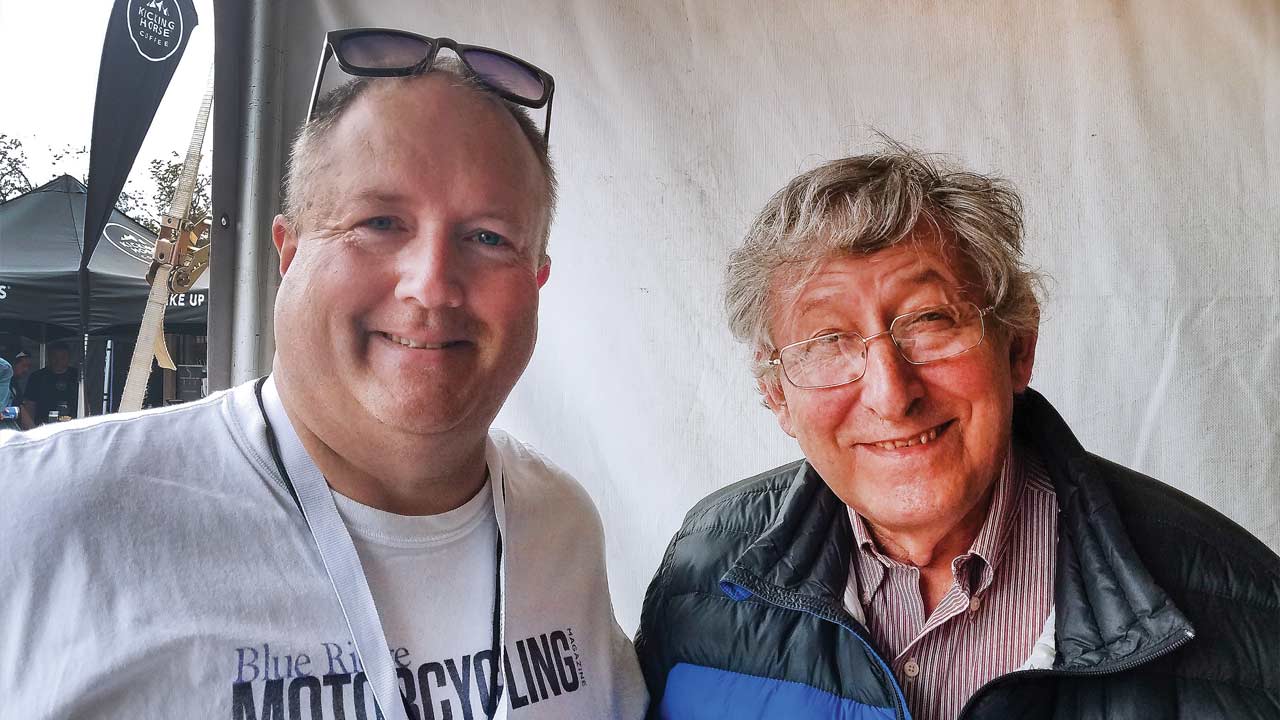 For 350 miles, my well-worn copy of "Jupiter's Travels" bounced along in my tail bag. I'd smile during gas stops as I fiddled through the bag and saw it there. Soon I would finally meet the man who wrote my favorite around-the-world motorcycle travelogue and hopefully score his autograph.
My journey to central Virginia and the Overland Expo, featured in this issue, held the bigger attraction of meeting author Ted Simon, one of my literary heroes for his famous book documenting his historic journey on a Triumph Tiger in the early 1970s. During the previous week, I reacquainted myself with "Jupiter's Travels," marveling at the descriptive prose and chuckling at the idea of a 42-year-old journalist who could barely ride a motorcycle setting off alone to explore the planet in 1973 with minimal gear and no support team.
He's smaller than I imagined, especially for a man nicknamed Jupiter. The mustachioed, long-haired adventurer from the book's cover, the fearless rider who crossed six continents on a British street bike all alone, the man of heroic proportion found within every page of his famous book, now sat alone behind stacks of his books at his booth — a thin octogenarian quietly reading.
He rose to greet me with a warm smile and a soft British accent, as if we were having a quiet discussion in a wood-paneled library instead of next to monstrous 4x4s and huge displays of outdoor gear. His genuineness impressed me as he spoke to me and other fans as if we were old friends, not strangers. It's that charisma, evident in his books, that made his travel encounters so memorable, so I dared to ask if his adventures ever took him into the Blue Ridge Mountains.
"The trouble is I don't remember it," he said with a laugh. "I was there in the '90s. I came over from California, rode the Blue Ridge Parkway. Lovely, lovely. I'd love to do it again."
For those who've never read "Jupiter's Travels," the best-selling book chronicles Simon's four-year journey around the world, touring 64,000 miles and 45 countries. He repeated the trip in 2001 at the age of 69 for his book "Dreaming of Jupiter."
As an offering to Jupiter, I handed him the fall issue of this magazine, hoping he might read it, secretly hoping he might see the influence his work has had on me and countless other motorcycle travel writers. He happily inscribed my copy of "Jupiter's Travels," carried solely for this pilgrimage, and I inquired if he still rode a motorcycle.
"I do ride. I'm not really very energetic at it anymore," Simon said. "I don't go too far. I've got the same old BMW I've been riding around Europe. I'm 88. A lot of people think I shouldn't ride. Funny thing is, the bike does all the work, so I don't have to be very fit."
He lives in the south of France, where he still takes his '90s-era BMW Funduro, a Rotax-engined single, on backroad jaunts through wine country. You can read about his current adventures on his website, jupitalia.com.
Michael E. Gouge
Editor-in-Chief