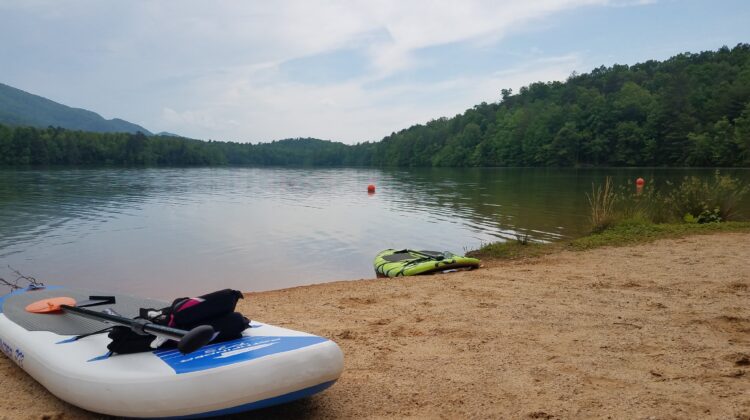 By Sarah Merrell
Summer often means sweltering, afternoon temperatures. If you find yourself dripping in sweat and cursing the heat during a ride, a nice cool, respite does exist — swimming holes. These gems range from crisp mountain lakes to chilled pools of water at the bases of waterfalls to fresh bubbling rivers. It's the perfect way to enjoy a summer ride and cool off during heat waves. Simply throw a swimsuit on underneath your protective gear and pack a towel. Luckily, swimming holes are abundant in the Blue Ridge region and the journey to them makes for a fun, exhilarating ride.
Indian Boundary
Considered a top motorcycling road, The Cherohala Skyway runs from Robbinsville, North Carolina, to Tellico, Tennessee and boasts breathtaking, panoramic views of the mountains with sweeping curves. Many motorcyclists are familiar with the Skyway, but few know there's a 96-acre lake with a beach surrounded by mountain vistas. Indian Boundary Recreation Area is located about 10 miles across the Tennessee side of the Skyway before Tellico Plains. In addition to the lake, it has bathrooms and shelters which make for an ideal lunch stop and stripping down to swimsuits for a dip in the lake.
Bald River Falls
Also located along the Cherohala Skyway, Bald River Falls gives motorcyclists another swimming hole option. This 90-foot high waterfall can be accessed through Tellico River Road off the Skyway, just past the Osterneck Overlook. Visitors can bask in the cool waters at the base of the waterfall before continuing into Tellico Plains.
Looking Glass Falls
U.S. Highway 276 into Pisgah National Forest in Brevard, North Carolina winds through the mountains with curves ranging from tight to wide sweepers. Just minutes from the entrance to the forest lies Looking Glass Falls, a stunning, 60-foot waterfall that cascades into a pool of water. The base of the waterfall makes for a perfect swimming hole and travelers can wade into the water and enjoy the view before riding 276 to the Blue Ridge Parkway — another fantastic riding road.
Sliding Rock
Further along Highway 276, as the road begins to wind through dense forest, sits a natural water slide and swimming hole: Sliding Rock. Located seven miles from the Blue Ridge Parkway sits this slick, 60-foot high boulder. Nearly 11,000 gallons of chilly, water cascade down the rock, making sliding down and plunging into the eight-foot deep pool an invigorating experience.
Cheoah River Foot Bridge
Along U.S. Highway 129 in Robbinsville just past Tapoco Lodge, lies a wire rope foot bridge open to pedestrians that crosses the Cheoah River. It's a nice stop for motorcyclists riding the Highway 129 and Highway 28 (also known as Moonshiner) loop when visiting the Deals Gap, North Carolina area. The bridge is a popular stop for photos, but underneath the bridge sits a swimming hole. The water is shallow and offers a splendid stop to sit in the tranquil, flowing water and enjoy a break from the heat while riding.
Parson's Branch
Riders enjoying the infamous Dragon with 318 twisting curves in 11 miles can find a cool recess at Parson's Branch, located near mile-marker four. Although the Parson's Branch Road is closed, there's a creek that pools with with cold, clear water at this turn. Motorcyclists can take a break from The Dragon to soak their hot feet and legs and enjoy the shade while watching other motorcyclists go by.
Magazine Branch Boat Ramp
For a truly cold plunge to beat the heat, the Magazine Branch Boat Ramp is a good choice. Located on U.S. 129 going southbound past Deals Gap Motorcycle Resort and before Tapoco Lodge, the Magazine bids a beautiful river view shaded with trees. There's a boat ramp to wade in and enjoy the frigid, slow-moving water.
Lake Lure
U.S. Highway 64 traveling to Lake Lure, North Carolina, offers a fun ride into the quaint downtown area with amazing views of famous Chimney Rock. A relaxing getaway and escape from the heat, Lake Lure Beach provides an ample beach where visitors can wade into the water or swim. Those looking for a bite to eat after can grab delectable sandwiches or burgers from the Bayfront Bar & Grill.
Swim and Slay Tips:
When wearing a swimsuit underneath protective riding gear, it's helpful to wear base layers over top of the swimsuit. Otherwise, on a hot day, trying to pull off a sweaty jacket or leather suit is a challenge. Or, pack the swimsuit and put it on when you're ready to take a dip.
A large towel may be difficult to carry on a bike unless you have bags on your bike or a backpack. Instead, a small, micro-fiber towel is much easier to pack.
Don't forget sunscreen. Even though some of the swimming holes are located in shaded areas, it's still possible to get sunburned.