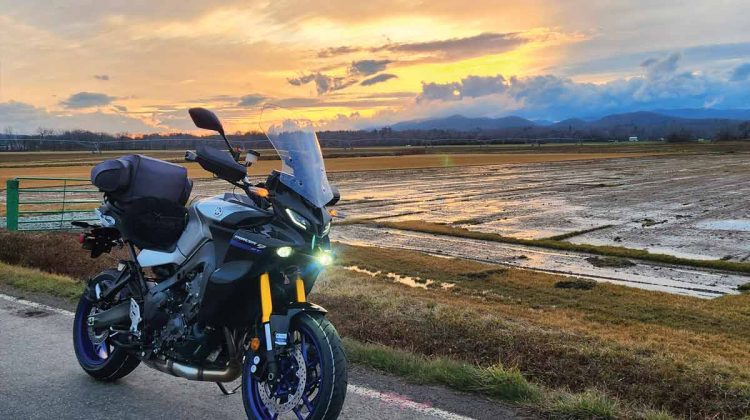 Part of what I love about motorcycling is those moments when man, machine, earth and wind stir something inside yourself. Such blissful motoring moments were few during the dreariness of winter.
On a mild day, as I made a routine commute home on my new Yamaha Tracer 9 GT, that old sensation of serenity returned. A warm breeze snuck under my face shield. A few scattered white clouds filled an azure sky. I lingered, taking back roads to avoid my destination and stopping to admire a sunset. It's the start of another riding season and I'm eager for many more days like this ahead.
Many of my fellow riders pack away their bikes over the winter, and they slowly emerge each spring, much like the greenery of the mountains. Friendships rekindle as they join this lone winter rider at motorcycle gatherings as warmer weather becomes more abundant.
Seems like each week brings my attention to new motorcycling events set for this spring. Here in Western North Carolina, the annual Meltdown Vintage Bike Show in Hendersonville tops my calendar. I've come to see the April 29 event as the official start of the summer riding season. This year, the popular event will move to the Hendersonville Airport, a small airstrip east of town with plenty of room for show bikes, vendors and spectators.
The same last weekend in April, Eurosport Asheville hosts the annual Tail Chaser 250, a fun adventure bike rally featuring paved and gravel routes from Brevard, North Carolina, and looping through the mountains bordering the Carolinas.
Then there is the popular Thunder in the Smokies Rally May 5-7 in Maggie Valley, an event that draws hundreds of mostly cruisers to the mountain town for a weekend of touring the area roads, concerts, vendors and bike shows.
Another favorite spring event of mine is to ride out to the Iron Horse Motorcycle Lodge in Stecoah for the annual Suzuki V-Strom rally, held this year May 18-21. Riders come from all across the eastern U.S. (some even from Canada) to enjoy a weekend of riding in the Blue Ridge Mountains. Having owned two of the popular Suzuki adventure bikes, I always like to stop in and chat with my fellow Stromtroopers.
Worldwide, riders will gather May 21 for the annual Distinguished Gentleman's Ride, a global fundraiser benefiting men's health. There are several local rides across the southeastern U.S. Just visit their website to register. For the last few years, I've joined the one here in Western North Carolina as both a participant and volunteer. It's such a thrill to be part of a ride that takes place in 900 countries all on the same day.
A quick search online or via social media should turn up some other events near you in the next few months. Rallies, bike nights, and motorcycle shows are all a celebration of our two-wheeled enjoyment. It's a new year and time to make some new motorcycle friends. Whether you're a lone wolf who rides solo or you stick close to other riders of the same brand and style, venturing out to a spring motorcycle event can only broaden and enrich your enjoyment of our hobby.
Michael E. Gouge
Editor-in-Chief