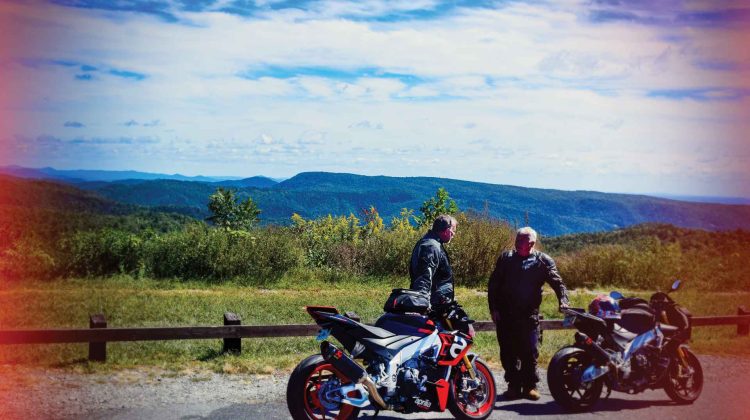 As mountains go, it doesn't look very impressive, yet the lore surrounding Brown Mountain keeps visitors to the busy overlook on N.C. 181 staring at the squat, rectangular ridge.
The high-pitched shriek and low rumble of passing sport bikes and cruisers fill the air as the overlook's visitors seem to ignore the more dramatic peak of Table Rock behind them and stare in wonder at Brown Mountain, hoping for a glimpse of the mysterious lights. 
Brown Mountain's fame comes from the unexplained multi-colored lights seen by people for centuries. Theories regarding the luminous orbs or clouds range from the mythical to the scientific — ghostly apparitions, ball lighting or just distant headlights.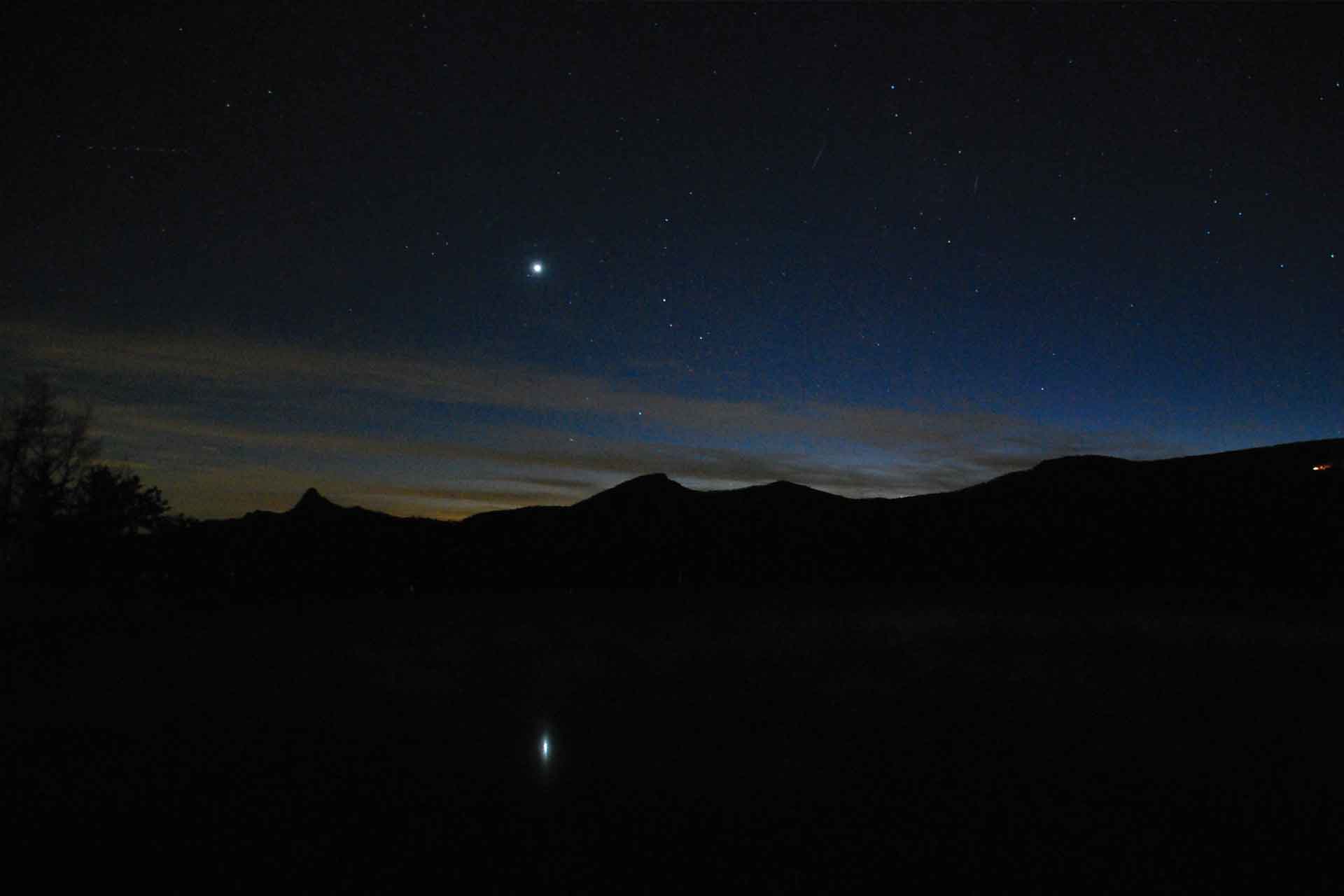 Linville Gorge and the surrounding areas of McDowell and Burke counties sit on the Blue Ridge Escarpment, where the ancient mountain range drops off to the piedmont. From here, motorcyclists are rewarded with some of the region's best routes. N.C. 181 features fast sweepers up from Morganton to the Blue Ridge Parkway. N.C. 226A, nicknamed the Diamondback, climbs from Marion to Little Switzerland. And dirt road adventure types will love old 105's ridgetop route up from Lake James.
I invited a riding buddy, Trent McCraw, along to do a loop of this network of great roads. He'd just bought a low-mileage Suzuki V-Strom 1000, the same model I own, and was eager for an adventure. After a ride-to-get-to-the-ride, we paused at a boat ramp on the north shore of Lake James, a hydro-electric reservoir along the Catawba River, before heading toward Brown Mountain.  
On past trips to the lake, I've headed north on Old 105, the dirt road through the Pisgah National Forest along the western rim of Linville Gorge. Today, I wanted to make my way along an intriguing line on the map — Fish Hatchery Road — to connect with N.C. 181, a favorite riding destination in these parts. Normally, I'd follow N.C. 126 to Morganton and begin the climb north, but the shortcut shown on the map seemed worth a spin. 
To our delight, Fish Hatchery Road was full of undulating dips and turns with no other traffic to impede our fun. We arrive at 181, a road I've enjoyed many times when my travels take me to this area. I ride most of the way with one hand while waving to all the bikes on this scenic route, which features fast turns and slow-vehicle lanes for overtaking the cagers. Keep alert for the Brown Mountain overlook. The entrance is slightly hidden behind the trees as you exit a fast left-hander.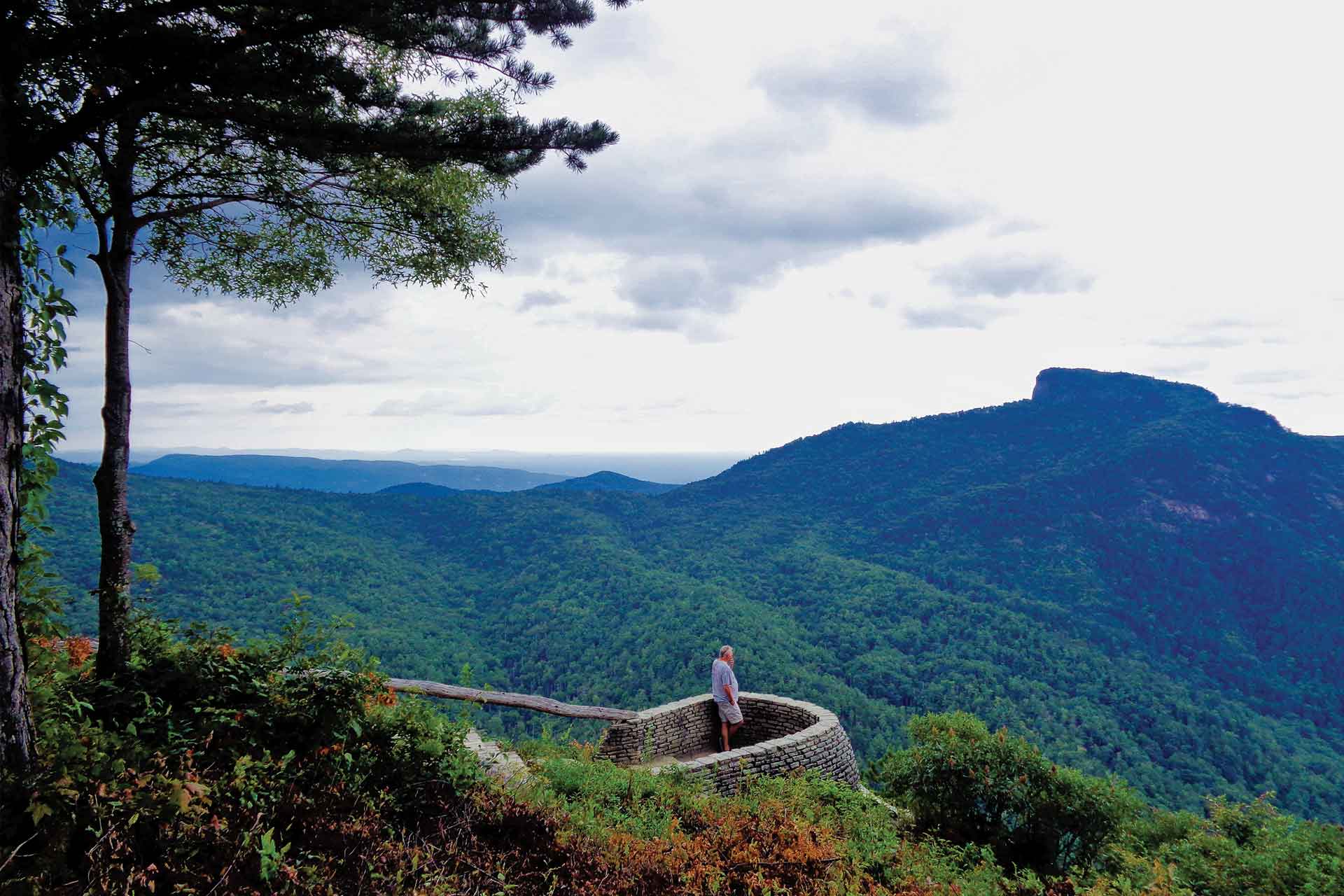 McCraw and I back our bikes into a spot near several other bikes and dismount with grins on our faces from our ride up from Lake James. While discussing the Brown Mountain lights as we looked upon the opposite hillside, McCraw surprises me with a confession that he's witnessed the phenomenon himself.
About four or five years ago, McCraw and his son spent the day riding their Polaris RZR in the nearby Brown Mountain off-highway vehicle area, which offers a playground of 34 miles of designated trails for dirt bikes, ATVs and 4-wheel-drive vehicles. 
"We came down here to ATV ride on the Brown Mountain trail, and as we were leaving that night just after dusk, we got back down to the pavement and looked back," McCraw said. "I'd heard a lot about them, but never seen them. That night as we were leaving, the next ridge over, you could see this kind of greenish hue and in another area a bluish hue. It was like they were lit up. Almost like steam rising out of the mountain, but lit."
He pulled his truck over to grab a picture, but the lights dissipated before he could capture an image of them.
•••
"They'd be better called the 'Linville Gorge lights,' but that will never change," said Daniel Caton, a physics and astronomy professor at Appalachian State University who has extensively studied the Brown Mountain lights. "I get emails from people. A few of them were very intriguing because they weren't looking a thousand feet across the gorge, they were looking 20 feet across the parking lot of Wiseman's View. They had no reason to lie. They saw something."
Brown Mountain sits adjacent to the stunning Linville Gorge, where Caton spent years monitoring 24-hour, time-lapse cameras to try to capture the ethereal phenomena.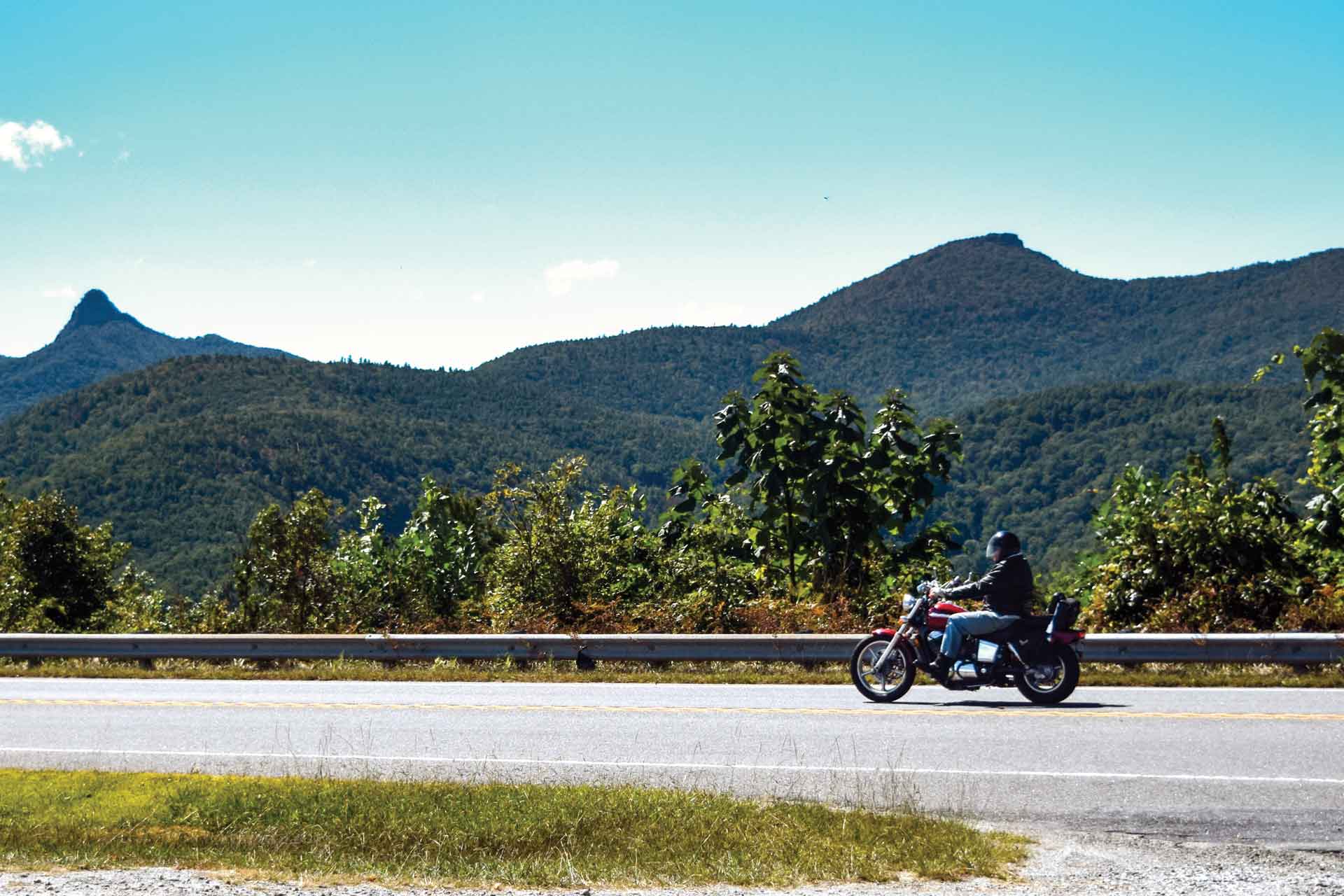 "I've been working on this for more than 20 years. I've gone through periods of cynicism and hope. I went out a lot looking for them visually and saw something odd one time. I ran a couple of cameras for four or five years, and we really didn't catch anything except on July 16-17, 2016, there was an anomalous light that both cameras at one location caught. We just haven't seen a lot, so this is in contrast to some people who claim they see them every time they go, which is clearly not the case."
As a scientist, he dismisses most of the mythical, paranormal tales surrounding the luminous apparitions. Most sightings, Caton says, are manmade or natural lights seen by people unfamiliar with viewing the night sky away from city lights.
"I think the big problem is people are just unfamiliar with the nightscape. They're inside watching TV or online or staring at their phone. Even outdoors, people are out of touch with their environment," he said. "We had a symposium on the lights several years ago, and they took us out to the 181 viewing area. This lady looked up and thought she was seeing them, and it was a cell phone tower light."
Caton and fellow researchers conducted a series of tests to simulate what people might be seeing, including driving ATVs at night and observing campfires from a distance.
"You can see a camping lantern easily across the gorge. We did tests. It's just nothing really came out of it. We explained away everything except the few percent that's unexplained," he said. "One of our group's wives had been out at Wiseman's View once on a girl's night out and had seen one of these things, a sportsball-like glob of light float up from below the pulpit."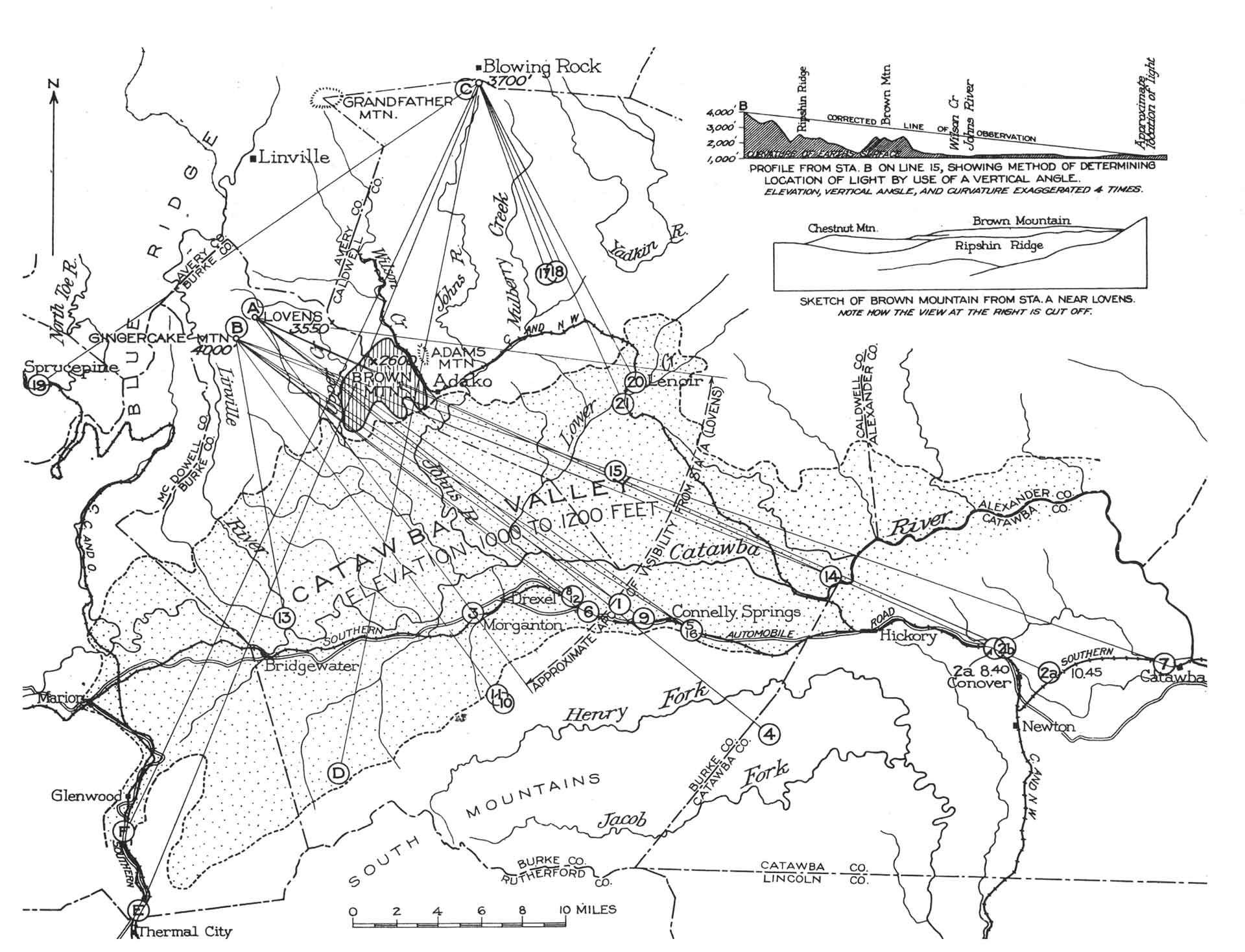 The rarity and randomness of the lights makes studying them difficult, Caton said. Plus, eyewitness testimony often proves unreliable.
"You can't say their correlated with fall weather or some time of the year or night because 95 percent of the sightings are bogus. How are you going to separate out the real sightings? That doesn't mean the 10 percent left are ET, it just means we haven't explained it." 
Some of the more rational explanations for the lights include "earthquake lights" produced by tectonic movement or ball lighting, a rare electrical display.
"The geologists affirm there is not enough plate-tectonic activity in that area to produce lights by a piezoelectric effect. We just don't have enough movement there to do it," he said. "I think it could be ball lighting."
Ball lightning has been reported for more than a century. Scientific texts describing the subject seem very similar to what people say they observe, Caton said.
"There are old wood-cut drawings that predate photography," he said. "If it's an ionized gas, why doesn't it dissipate immediately? It forms even indoors and floats horizontally for several, say 10 feet or something, and disappears. This has been reported, and that's probably the most possible explanation."
•••
At the Brown Mountain overlook, a steady stream of riders enters and exits. A pair of sportbikes with a distinctive V-four howl arrive preceded by their tailpipe symphony. It's a pair of Italian-made Aprilias. 
"181 is my favorite road up here. It's the closest thing to a racetrack you can get," said Joe Osbourne of Sugar Mountain as he and fellow Aprilia Tourano rider Steve Phillips paused at the overlook between runs up the mountain. "It's wide and you can get some speed up. The tight stuff like 221, 226A is also fun."
Neither had seen the mysterious lights, being only daytime visitors to this mountainous area. Determined to visit the spot where most of the sightings occur, we mounted our Suzukis and turned east on N.C. 183 from 181 at Jonas Ridge. This road runs parallel to the Blue Ridge Parkway as it heads toward the town of Linville Falls. We turn off on Old 105, a favorite route of adventure riders, to make the four-mile climb up to Wiseman's View on a bouncy dirt road.
The traffic along this Forest Service road seems heavy today. Instead of choking on the dust of slow-moving cars ahead, I gun the big adventure bike and overtake them one by one. What's an adventure bike for if not conquering such terrain with ease. Soon we reach the summit and the must-see spot that serves as the destination of today's trek.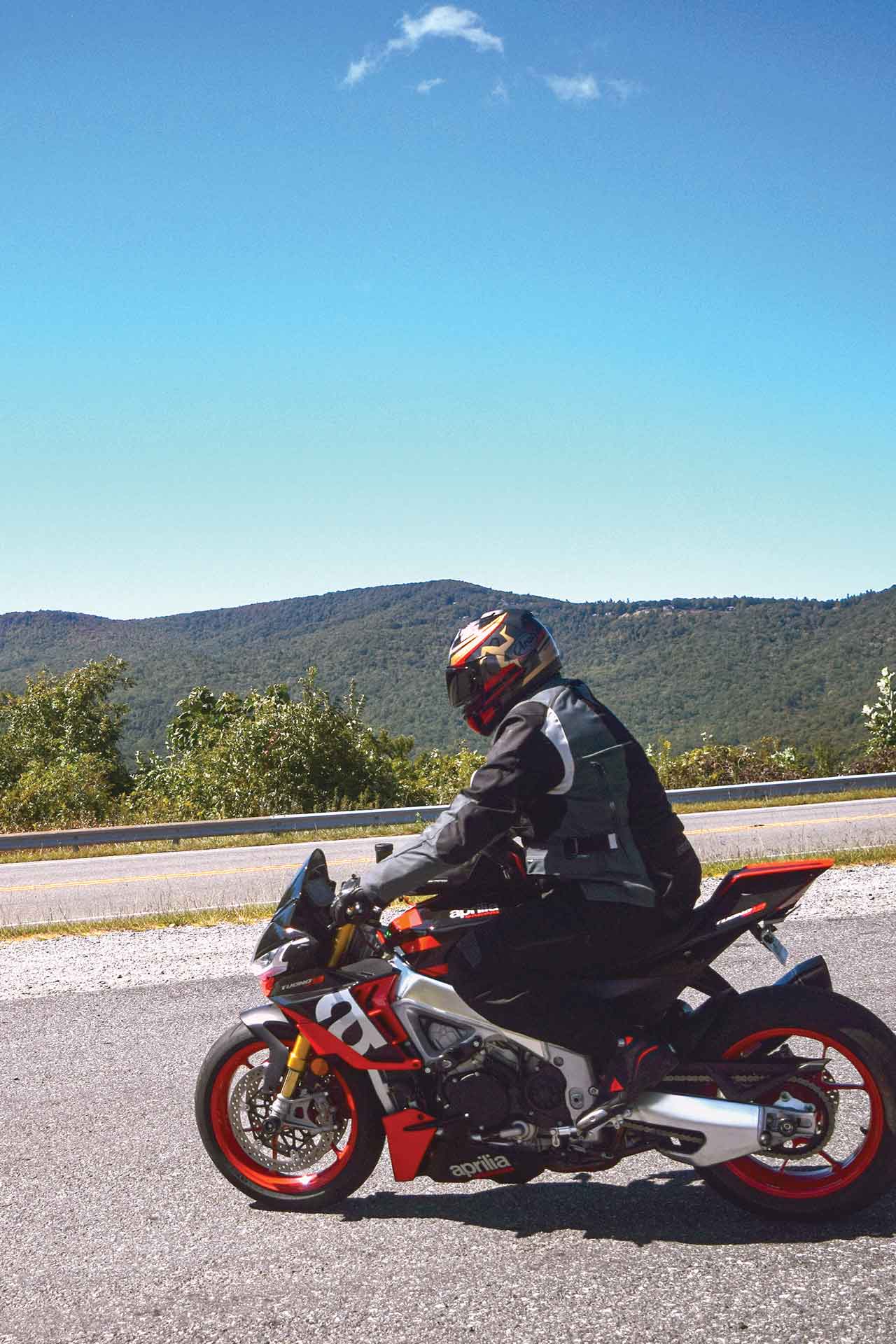 At Wiseman's View, an easy to access, well-maintained paved trail takes you to the overlook and its stone pulpits. Here visitors can lean over to see into the 1,400-foot-deep Linville Gorge. This federally protected wilderness area features one of the most stunning views of eastern Blue Ridge Mountains, with the rocky outcrop of Table Rock towering opposite the overlook and the sound of tumbling waters of the Linville River rising from below.
It's early afternoon, so no chance of seeing the mysterious lights. The only lights to catch my attention were the traction control warning light as I gunned it up the washboard road. Standing on the edge of the gorge, we snap photo after photo and marvel at nature's grandeur.
"That's a gorgeous view. Even if you don't see the lights, that's a thrill," Caton said during our interview days later. 
My riding companion and I headed back down the steep, gravel road and eventually make our way back to the nearby Blue Ridge Parkway. A 20-mile cruise on the famed scenic highway takes us to Little Switzerland. We pull into one of my usual stops, the charming Switzerland Inn, and I find my favorite seat at the patio bar. Across from us the folds of mountain ridges recede toward the gorge. 
The only mystery we struggled to unfold as we sat reflecting on the day's ride is why we hadn't ridden the wonderful roads from Lake James to Linville Gorge sooner.