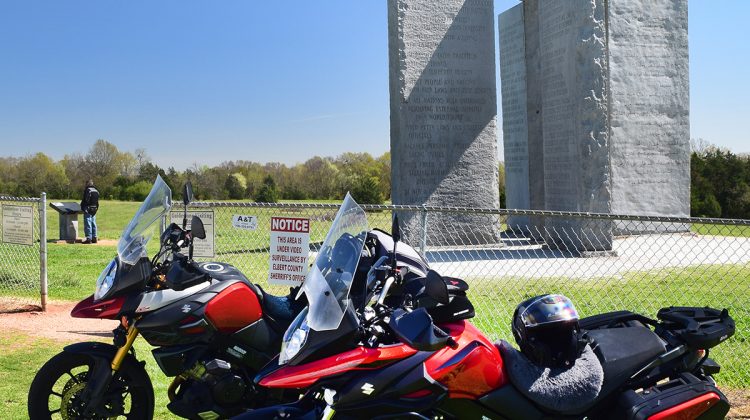 In the last issue, we featured a travel story on a popular riding destination, the Georgia Guidestones in northeast Georgia. A few weeks later, an unidentified person detonated a bomb against one of the four main pillars, shattering it into rubble.
Authorities in Georgia deemed the controversial and mysterious monument to be unstable and quickly smashed the remaining stones and hauled away the pieces, removing one of the most popular visitor attractions in rural Elbert County. I was heartbroken. 
It's not just the loss of one of my favorite roadside stops. It's the knowledge that someone hated the display so much they wanted it eradicated as violently as possible. 
Regardless of whether you agree with the enigmatic statements that were carved into the 19-foot-tall granite stones, I find it deeply troubling someone resorted to using high explosives to protest ideas they found offensive. The guidestones were on a quiet two-lane road in the countryside. It certainly wasn't in a high-profile spot, and no one had to accept their philosophy.
I've taken several motorcycle trips with friends down to see the guidestones over the years. Some found the statements to their liking; some found them ominous and foreboding. We could still stand in this remote cow pasture together and express our views without violence or hatred. Afterward, we happily rode off together into the distant mountains.
Motorcycling, like every aspect of society, has its divisions. My adventure bike and Hi-Viz gear toss me into one stereotype, as does my British-inspired café bike and string-back gloves. One of the most enjoyable aspects of writing for this publication is I get to travel with other riders and attend rallies and events with every sort of motorcycle rider. 
I'm happy to socialize with sportbike track-day warriors, mud-splattered off-road enthusiasts, hearty long-distance tourers and sleeveless-vest-clad cruisers. We may disagree on many topics — politics, religion, sexuality, helmets, motor oil, best pizza toppings — yet we still embrace the common bond we all share: motorcycling.
Seeing the Japanese supersport rider in the one-piece leather racing suit having a friendly conversation with the half-shell wearing Street Glide pilot always makes me appreciate our hobby. Conversely, I cringe when a fellow rider gets snobbish about attending a group ride or bike night because they don't want to mix with people who ride something different than their make or style. 
I'm not above peer-pressuring my friends to attend such events that might fall outside their normal circle of riding partners. In almost all cases, they end up enjoying the experience and meet new people with which to share our interests.
This fall, I encourage you to form a bike night or group ride and invite riders different from yourself. Break out of the cliques we often form and reach out to that person on the Harley, BMW, Gixxer or other two-wheeler that's not like yours. We can have our preferences and differences and still be a community of riders. Ask them about their bike. You may not like it, but they do, and asking someone about their interests can start to build some much-needed understanding in this world.
At the very least, be kind enough to wave (or return the wave) when we pass on the road.
— Michael E. Gouge, Editor-in-Chief