He arrives in the sparkling motorcycle showroom like a beloved elder statesman, greeted warmly by employees who emerge from all corners of the Harley-Davidson dealership to welcome their founder, Dile Brown Sr.
The 81-year-old returns their admiration, knowing success in the business takes more than just making sales, but building a community. With a full mane of silver hair, Knoxville's largest motorcycle dealer sits back at his dealerships' headquarters to reflect on his half-century career and a life built around two wheels.
"The best thing that I can think of about motorcycles is when you get frustrated and tired and irritated and yank-stringed at everybody and their brother, just go for a ride," he said.
For seven decades, Brown's love of motorcycles helped shaped his life, his family and his business empire. They served as basic transportation, as a sport during his racing career and as a successful business enterprise. An instantly recognizable H-D shield adorns his neatly pressed shirt, but Brown can enthusiastically muse about other makes. He's ridden them all. He's sold them all.
"Motorcycles first, brand second. If you don't ride a motorcycle, to hell with the brand," Brown says illustrated by his variety of marques lining Clinton Highway. Starting in the late-1960s with a Harley-Davidson dealership, Brown and his sons now sell and service most of the Japanese brands as well as Indian, Victory and Triumph.
"He's sold a lot of product in his life as far as Honda, Yamaha, Suzuki. He's got a lot of dealerships, but as he says, it's all about the sport," said Thane Johnson, who works at Brown's Honda dealership.
Every motorcyclist remembers that first taste of two-wheeled freedom, even if it was a scooter.
"I started off buying a Cushman scooter in 1951. In '52, I bought my first motorcycle and my mom had a fit," Brown said of the old 45-cubic-inch Harley-Davidson WLA. "I saved. I mowed grass, delivered papers and brought it home."
From there, a lifetime of bikes would follow and lead to a long and successful career.
"I've had some favorite motorcycles. I guess the one that sits apart more than anything else was a '49 Harley FL. I had that as a kid in high school," he said.
The memories flood back, including a long-ago road trip with a buddy from his home in Ohio to Laconia, Georgia, and back. His pal rode a brand new bike and carried a rope in case Brown's old Harley FL needed a tow. Turns out the new bike's motor froze up on the return trip and ignominiously needed a rescue from Brown's trusty '49.
"That was an old-faithful bike to me. Go out and turn the switch. It started every time — spring summer fall winter. It didn't make any difference. I rode it and rode it and rode it. I still have a picture of that motorcycle, that old '49."
The memory-filled years of riding bring a smile to his face even if they've taken a toll on his body. He reaches down and rubs his knee. He would rather be riding than remembering.
"I had a knee operation a year ago — can't fully bend the knee, but I would if I could," the almost octogenarian said. "I still want to. I've even thought about getting a three-wheeler and see if I could modify the brake pedal. I just don't have the confidence that I could react in an emergency."
Brown opened his first dealership in Ohio in 1966 when the local Harley franchise went under. He worked two jobs to make a go of it. His wife opened the shop and he took over after 5 to handle the evening hours.
"I'd been into motorcycles for so long. My wife and I were living in Ohio and the motorcycle dealer in the town we lived it just closed the door. She and I had a talk and took it on part time," Brown said of his first commercial venture. "We liked motorcycles, and she encouraged me to do it. Pushed me and pushed me until we did it. We never looked back."
As his success grew, Brown had the opportunity in 1968 to open a dealership in Knoxville. Harley-Davidson was still a family-owned company then, but soon the venerable motor company was sold to sporting goods giant AMF.
"AMF bought it and it went from bad to worse," Brown recalls. "We survived. We struggled, and we made it."
Today, his two sons — Dile Jr. and David — operate the various dealerships and face the challenges of the industry. Yet even in retirement, Brown retains his keen business sense and experience. Next door, his Indian dealership moves its remaining stock of Victory motorcycles to new buyers. Polaris announced the death of the American motorcycle line last winter to shock of many enthusiasts, but not to Brown.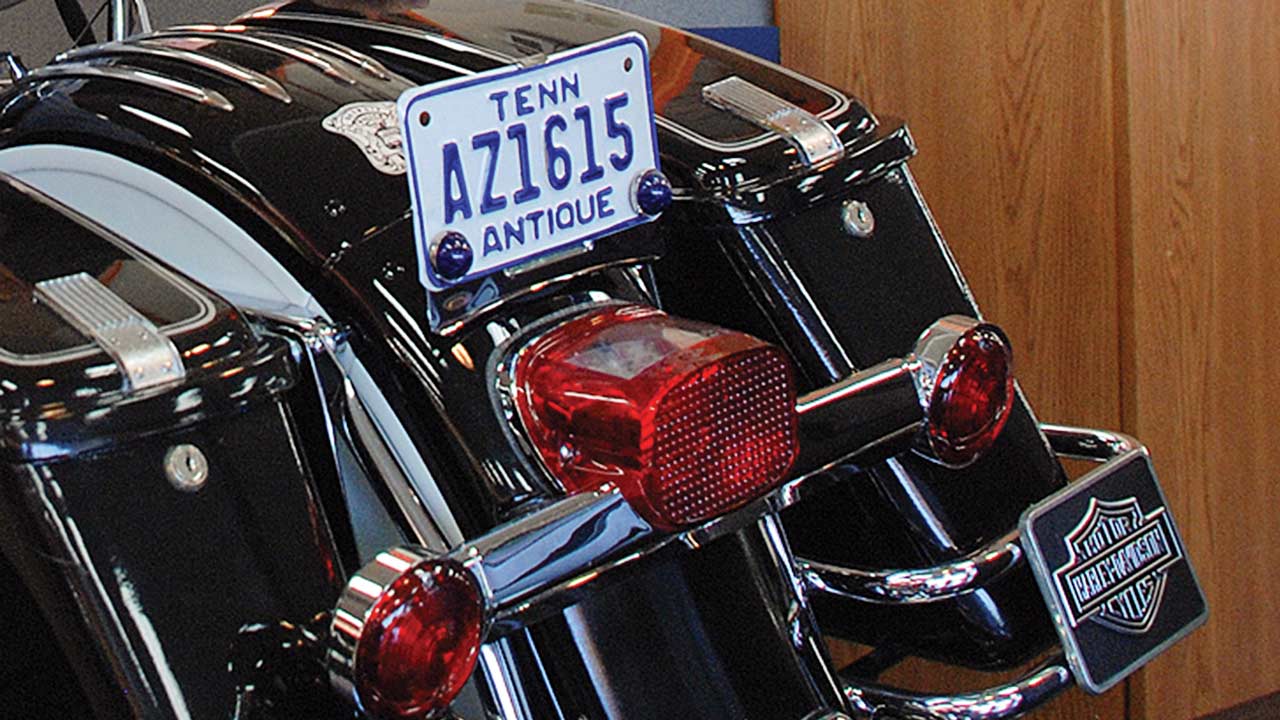 "I saw it coming. I didn't think they would kill the whole line, but Polaris was more focused on developing Indian," he said.
The death of Victory draws a parallel to the death of Harley's own Buell lineup in 2009. Brown said he and other dealers often expressed frustration in how Harley handled the Buell brand.
"Buell is a forward-thinker. Harley is a conservative thinker. Buell had bulletproof engine. They had some great ideas," Brown said. "Forward thinkers don't cut in the motorcycle business anymore."
During business hours, motorcycles provided Brown a living, but the weekends they fueled his passion for the hobby. From the early '70s to early '80s, Brown rode motocross, enduros and hare scrambles.
"I loved that. I worked Monday to Saturday, raced on Sunday. Took my two boys with me," he said. "I started off on Harleys, then Husqvarna and KTM, it was Penton in those days before it became KTM. I did that for quite a few years. Won my fair share of races. I enjoyed that. It was very relaxing. The wife enjoyed it, too. She was my pit crew and had to travel everywhere."
From this lifelong love of motorcycle racing, Brown makes a pilgrimage each year to watch the famed Springfield Mile in Illinois, a race he proudly announces he's missed only three times since he was a teenager. Town of Springfield banned the race from the Illinois State Fairgrounds for 15 years due to crowds of rowdy bikers and motorcycling's image problem during the late 1960s and 1970s, according to the Illinois Motorcycle Dealers Association, which convinced civic leaders to reinstate the race in 1981.
Today, Springfield and other towns openly welcome motorcyclists, realizing the economic impact they bring. Brown remembers the days — not long ago — when motel clerks turned him away after glancing at his hog outside. But more often today, he says people will stop to talk and help motorcyclists, such as the trucker in Montana who went out of his way to warn him to avoid a chewed up section of road under repair, or the rural farmer who helped him acquire gasoline for his fuel-starved bike, or the diner operator who gave a group of bikers a 20 percent discount.
"You don't get that in a car," Brown said. "People will accept you now on a motorcycle. There's still a small segment of the population that has a dim view of motorcycles, but overall, there's no problem. In certain parts of the country we see more acceptance than others."
For riders across the Blue Ridge, that acceptance proves bountiful.
"There's a lot of beautiful motorcycle rides in a 100-mile radius. And people realize people come down here on motorcycles and they spend money. A lot of businesses cater to motorcyclists now. Fifteen years ago, you didn't see that."
Having ridden motorcycles over seven decades, Brown's perspective on the future remains bright, but tinged with concern.
"I think you'll see more people riding motorcycles, but I don't think you'll have the serious, dedicated riders like you had in the past. You've seen the guys that get dressed up, and they don't care how cold or how wet it is."
If you look at the number of miles that the average motorcyclist rides now, it's probably down 2,000 miles a year, he said. It used to be 10,000-to-11,000 a year, now it's down to around 7,000-8,000 miles.
"I call them TT riders — tavern-to-tavern," Brown says with a laugh.
Building a motorcycling community, with events for motorcyclists, and attracting more female riders would strengthen the hobby.
"The manufacturers should focus on giving riders something to DO once they buy a motorcycle, rather than just focusing on selling motorcycles," Brown said.
Sponsoring more events and road rallies, hosting more clubs and encouraging new riders all benefit the motorcycling community as a whole, he says, and helps to stir the desire for bikes. The freedom, the romance and the allure of two wheels require fuel to maintain that spark.
"Motorcycles are not a need. It's a want."