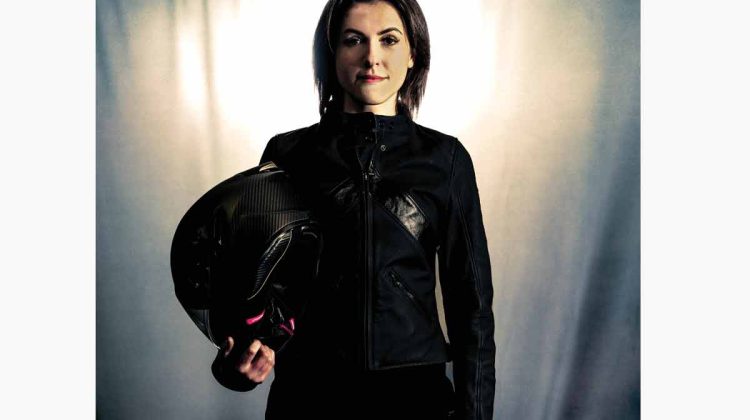 Ekaterina Goncharuk arrives at her local bike night on a gleaming Moto Guzzi V7 Racer. Removing her helmet reveals a silky head of straight, raven hair and piercing dark eyes. Then you hear the accent in her soft-spoken voice. It's as if a Russian villainess from a James Bond movie just rolled up to join the boys for wing night.
Kat, as she prefers to be called, now makes her home in Asheville, North Carolina, where she works as a project manager for a growing construction contracting firm. Originally from Vladivostok, Russia, the petite brunette began riding motorcycles as a teenager and soon after followed her then-boyfriend to America.
 "I normally say, an airplane," she jokes when asked what brought her to the United States. From Russia with love, as it turned out. "I started by getting my motorcycle license in Russia a year before I left. I borrowed various bikes because I didn't have my own. My ex-partner rode."
That relationship took her to India and Nepal on motorcycles before landing in the New World.
"Nepal. It was crazy. India was totally nuts. There are no rules. One time, I finally got to a divided highway, and there were people driving on both sides of the highway — two ways on both sides. I guess the locals don't know why they built two roads right next to each other," she said, flashing a warm smile that lights up her face.
She made a loop of the Indian subcontinent, riding to the southern end and back up on a Royal Enfield Himalayan. Pressed for details of her adventures, she smiles nervously and offers up only general statements. Her Russian reticence only adding to her mysterious aura. "You forget about stuff, because it's just routine for you. What I see as normal, other people go, 'Wow!'"
Years later and now unattached, she would show up for a job interview in Asheville atop a Suzuki naked bike.
Contractor J.T Black was looking for a project manager. A resume arrived that stood out from the usual applicants he sees.
"Her resume was very intriguing," Black said. "She worked on ships, has two college degrees. She worked for a large shipping company in Vladivostok, Russia. She was in charge of purchasing and other things, fleet management for a big shipping company."
They arranged to meet for an interview at a local coffee house.
"She pulled up on her motorcycle. I thought, 'That's fucking cool.' It was her only form of transportation, a SV650," he said. "I hired her. We had an instant connection. It was December when I hired her, and a motorcycle was her only form of transportation, so I started picking her up for work."
Going without a car in an Appalachian winter didn't seem to bother her. A heated vest helped fight the chill. She is among about 20% of motorcycle riders in the U.S. who are women, a figure expected to increase with younger generations, according to the Motorcycle Industry Council.
"The freedom is the most basic answer," she said about the appeal of motorcycling. "I get a lot of attention. I feel like it's different for women, especially street riding. You have people following you all the time. Sometimes people don't realize how creepy they're being, rolling their window down, people staring at you."
Another issue female riders struggle with is finding the right jackets and pants, she said.
"As a female rider, it's a nightmare to find the right gear. You end up looking like you're training police dogs. This jacket took me five-to-seven attempts," she said, eventually getting the Dainese jacket custom tailored to fit her feminine figure. And don't ask her to try on anything pink.
On a spring day, Kat and J.T. made a run up Town Mountain Road, a popular twisty road that connects downtown Asheville to the Blue Ridge Parkway. Kat pulled away quickly as the turns tightened.
"Going fast around the corners is heaven," she says while waiting for her riding companions at the top of Town Mountain. "(I ride this) a few times a year. It's an easy route. I go there a lot."
J.T., who rode dirt bikes as a kid, didn't pick up riding again until he met Kat. That has given Kat the desire to do more off-road riding, even dreaming of tackling the famed TransAmerica Trail.
"I didn't really ride a bunch of street bikes until the last couple of years," J.T. said. "I've just been working and didn't have anybody to ride with. We got together and starting riding a lot."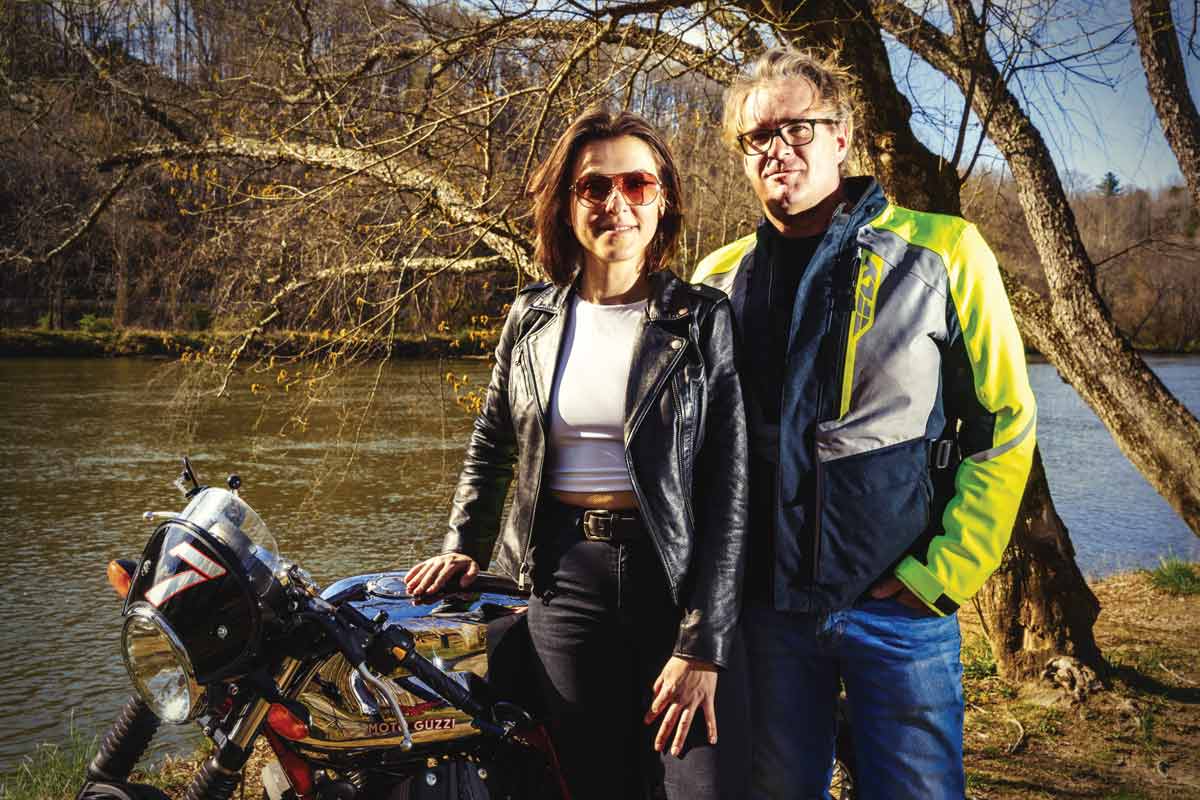 As their romance grew, so did their stable of motorcycles.
"We went from four (motorcycles) to 10. I bought a Triumph Bonneville, a Triumph Tiger 800. I always wanted that (Kawasaki) ZRX 1100, bought one of those. That V7 Racer was her Christmas present. We just keep buying more," he said.
Vladivostok is the largest Russian port city on the Pacific and has an active motorcycling community, according to Kat. Finding motorcycling friends became one of the challenges when she arrived in the Blue Ridge Mountains.
"I didn't have a lot of friends in Asheville, but I've found a strong group of friends. I've been struggling for a couple of years to find other female riders. I'd see girls in motorcycle gear, but then see them get on the back of a bike. Where I'm from, Vladivostok, we have a huge female motorcycling community, 250 people. Here, before finding our group, I couldn't meet anyone."
Kat soon discovered other female riders in Western North Carolina and frequently meets up with a group of about seven other women. They're always looking for other women to join them and to spread the word — a woman's place is not exclusively on the back of a motorcycle.
"I love riding with Kat. It's fun," said Zoe Kelly, one of her female riding friends who owns a Triumph Bonneville T-100. "There's something about riding with women that is empowering. We have a really good time. It's a nice change of pace from riding with a bunch of men. We do our own ladies rides. We started our own charity ride, the Ladies First ride. We all appreciate each other and respect each other for being women riders. It's kind of a cool little community we've created."
After meeting Kat, who J.T. describes as an amazing, funny and badass rider who rides really fast, he began to discover the motorcycling community in ways he never did before his relationship with her. She opened up a world he didn't realize was right in front of him.
"When we started hanging out, she was going to bike night. I've never really hung out at any of these. I found out there's a very cool group of people, very cool community in this town with motorcycles. I've met a lot of really interesting, cool people," J.T. said.