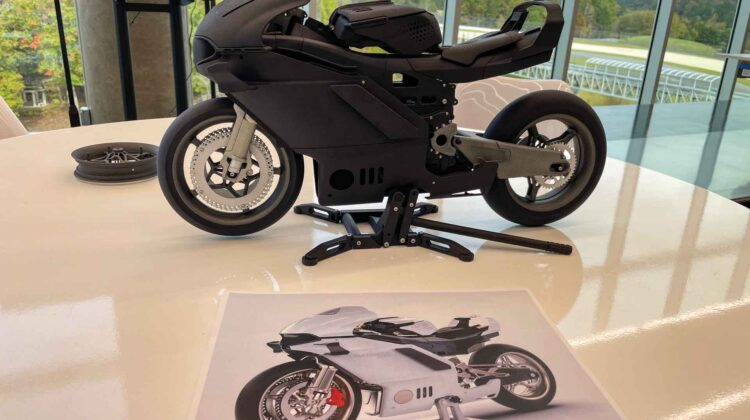 "A beautifully restored motorcycle on display at the Barber Vintage Motorsports Museum in Birmingham, Alabama, is the full stop on the life of that particular machine. But look closely and listen …."
The words of our new Advanced Design Center video echo in my head as I prepare to write about the most exciting thing to happen in my motorcycle world in more than 20 years. I've enjoyed a career that let me ride motorcycles in more than 50 countries around the world and do an assortment of wild adventures — from breaking the 200-mph barrier for a land speed record, to riding an incredibly rare one-of-a-kind 1936 Harley Davidson along the Blue Ridge Parkway. I've been able to test ride dozens and dozens of new motorcycles before the world has had an opportunity to see them, and even taken a few laps on Valentino Rossi's world championship winning Yamaha M1. From television shows to videos, magazines to Internet sites and from radio to podcast and social media, in some way shape or form I've been communicating to you, my motorcycle peers, the whole time.
Today though it feels just a bit more special, as the threads of my motorcycle life are being pulled a little tighter as the tapestry they are weaving begins unfolding. All these motorcycle events have taken connections, and these connections have created each adventure and each adventure has shaped my life. They have all led me to here, about to tell a story about George Barber's latest vision.
I'm sure Mr. Barber needs no introduction. To ask any self-respecting motorcyclist if they've heard the name Barber is like asking if they know where the side stand is, and the same goes for the museum he and his team have given to the world. A museum that comes accompanied by America's finest racetrack, both of which are a must-see for motorcycle enthusiasts. 
Well, throughout my career, no matter what far-flung corner of the globe I've found myself in, I always end up back at the Barber Museum. I've done too many track days to count, too many stories and videos to remember, but what I will never forget is my time with Mr. Barber. Demand for his time is high, and any time spent with him is always such an amazing honor. It speaks volumes to me about why our motorcycle world is just the most amazing place to reside. 
We, the great unwashed motorcycle masses, can pull up to the museum, pay our $16 to walk in and potentially end up in a conversation with him, something unheard of in any other hobby. As we have talked over the last few visits it's become clear Mr. Barber understands each of these amazing motorcycles is a physical testament to dreams, hopes, world records and more, and he doesn't want them to be viewed as just inanimate objects on a box, even if they are displayed in the most incredible museum in the world.
When I got the call from my dear friend Brian Case, ex Motus Motorcycle designer and co-founder, a couple years back that he was going to be working with Mr. Barber on his latest vision, you can imagine my delight. I've been traveling back and forward to Birmingham for the last two years to keep abreast of this latest project, and am so happy to announce this vision Mr. Barber has for the future. And interestingly, it's not adding any more motorcycles to the collection — for now — or putting in any new buildings or racetracks; it's the future. Tasking Case to help him with this vision, a new Advance Design Center now exists on the museum's fifth floor, a 9,000-square-foot facility dedicated to design. 
To answer what exactly this new center is, you need to step inside, look around and take a few moments to reset your thinking. Inside the starkly modern facility you are greeted by a large, slightly elevated platform with two motorcycle lifts. This is the clay modeling station and will house projects for students and designers alike who want to learn and study the art of clay modeling. This process still exists today as designers bring us the latest greatest motorcycles to the world. 
The custom-built studio area, co designed by Pierre Terblanche of Ducati fame to be exactly what a designer would dream of in their ideal world scenario, will be the most modern clay modeling studio in the world. 
Take a stroll into the 3-D printing room and watch as parts for one of the first projects come to life. Here, in this room, parts are made, parts are scanned and more importantly, rare, unobtainable parts from the restoration department are scanned and inputted to the computers so new parts can be printed or reverse engineered: This is a first for the world's finest restoration department, to be able to use the future to preserve the past. This thrills Chuck Huneycutt, the lead restoration expert, to no end. 
There is an education area for design students from local universities to attend classes and seminars. It features a fully functioning photo studio with multiple backdrops, a green screen for video and a 16-foot-wide video wall for demonstrations, conference calls with designers around the world and virtual reality displays. To the far end of the Design Center is a lounge area set up for podcasts, video interviews, or just a chill area to read, research or relax. Case's office overlooks the racetrack and another workroom sits to the side for model making.
As a first project for the world to be introduced to the new Advanced Design Center, Case is in collaboration with Terblanche to re-imagine his iconic Ducati Super Mono from 1993. If you are not familiar with this fascinating and extremely innovative single cylinder race bike, give it a Google. Now, 30 years later, the pair is using the project to show the world how motorcycle design works with our new technology as they design the new Mono project virtually with Terblanche in South Africa and Case in Birmingham, Alabama. 
To further demonstrate how this process works, and to show off the Advanced Design Center technology, Case is 3-D printing a full-size Mono for people to see. It's a very basic overview, and I hope it will serve as a teaser for you to put it on your to do list next year to further explore the new Advanced Design Center and see just what Mr. Barber's new vision looks like. 
Keep your eyes open, you might just run into Mr. Barber, and I can guarantee he'll be pleased to see you.