The BMW adventure bike Kathleen Crocker maneuvers across blacktop and gravel roads in and around her farm in Lake Lure really delivers — both literally and figuratively.
"I'm so fortunate," Crocker said one early spring day as she stood next to her 2017 BMW R1200 GS in the middle of a fenced pasture on her farm. Several full-grown hogs and their young piglets standing in newly sprouted green grass grunted. "Even the end of my road is great."
Crocker and her husband, Larry, own and operate Vandele Farms, a pasture-raised pork farm that includes about 60 acres in the Cedar Creek area of Lake Lure.
The Crocker's farm includes pastures where pigs are allowed to roam in relative freedom and a processing facility now under expansion thanks to help from a COVID relief grant from the government. The farm supplies both restaurants and wholesalers with whole hogs and specialty cuts including bacon, sausage, ribs, roasts, pork chops and just about any other part of the hog a customer might need.
Crocker handles many of the deliveries in a large truck emblazoned with the farm's name.
But for smaller orders, she wraps up and loads various cuts of meat in two saddlebags on either side of her BMW. Sometimes a cooler containing even more meat is strapped to a rack on the back of the bike. In all, Crocker said she manages to carry about 30 pounds of pork on her motorcycle.
Once loaded up, Crocker heads out riding through many of the curvy, winding back roads in Lake Lure to make her deliveries. Her route often takes her to restaurants near her farm including the Hickory Nut Brewery in Chimney Rock where she drops off a sausage Vandele Farms makes especially for the brewery. The banger is made with a brew from the business and with a recipe unique to the brewery. Crocker also delivers other prime cuts of pork on her bike to restaurants outside of Lake Lure including Buxton Hall and Benne On Eagle in Asheville and Sierra Nevada in Mills River.
Crocker said she began making deliveries on her bike when chefs would call from time to time with an emergency request for pork for one recipe or another. She found it was easier to run the small orders out quickly on her bike than to take the big delivery truck.
"I would occasionally get a call from a chef who needed something right away," she said. "I thought, 'I could do a lot more of this.'"
  Taking the motorcycle for smaller orders also allows Crocker to enjoy a ride on her BMW while making her rounds from restaurant to restaurant.
"I incorporate a little enjoyment in the workday," she said.
The dual-sport bike's off-road features also mean Crocker is able leave the blacktop when she wants or needs to travel off the beaten path. She heads out for a bumpy ride up a makeshift gravel road marked with deep ruts in her farm's pasture to occasionally check on the animals and tries, sometimes without success, to not get too attached to the pigs destined for market.
Crocker, 62, mostly leaves the slaughter and processing side of the business to others.
"I never thought I'd be in this business. I do get attached," she said. "My side is deliveries and orders."
On the days she's not working, Crocker takes her bike out every chance she has just to have some fun outdoors.
"When you get on your motorcycle, that's all you're thinking about and everything else falls away. When they're cutting hay in the fields, you smell the hay. You feel like you're outside," she said. "You have to ride defensively. It makes everything else disappear."
Crocker's passion for motorcycle riding took a long and slightly complicated route to the BMW she currently owns.
She lived in Europe with her parents as a child and remembers being fascinated with the women she saw in Switzerland who traveled to and from work on Vespa scooters.
"I always wanted a Vespa," she said. "It was very cool that these professional women were riding scooters. It seemed really big."
Crocker put her fascination with the scooters on hold for a time. She tried out a few bikes with friends as a teenager and even bought a 450 Honda after college. She sold the bike after owning it for only a short time when her husband's brother died in a motorcycle accident. The idea of riding her bike was too painful at the time.
Still, Crocker's dream of a Vespa always lurked in the back of her mind. About six or seven years ago, she stopped dreaming and bought a candy apple red Vespa of her own. It was exciting to finally own the scooter she had admired from childhood.
But the reality of Vespa did not live up to the image Crocker carried in her mind all those years and before long she was dreaming again.
The scooter was fun but it did not have the power or a big enough gas tank for the adventures Crocker wanted to take.
"I was riding in the mountains," she said. "If you want to go for a distance up on the parkway like what I was doing, you really need a bike. I realized what I really wanted was a motorcycle," she said.
Crocker eventually took a motorcycle safety course and then bought a BMW 650, a single-cylinder bike that she thought would bring the horsepower she craved.
And it did until a 2019 trip to Ireland caused Crocker to change her mind and bikes once again. Crocker and Marie Rapisarda, a friend and coworker at the farm, spent two weeks on what she called the trip of a lifetime touring Ireland on rented motorcycles.
The two booked the trip through Celtic Rider, a motorcycle rental and self-guided tour company near Dublin. The company offers motorcycle rentals and self-guided tours using GPS in Ireland, the United Kingdom and the Isle of Man. Tours range from three to 21 days.
Crocker and Rapisarda booked an 11-day tour of the Wild Atlantic Way, a tourism trail of the west coast and parts of the north and south coasts of Ireland.
They explored the Emerald Isle on the mostly paved cart paths along the Wild Atlantic Way during the day. They recovered from the long days of riding at bed and breakfasts and hotels in several villages and towns. Along the way, the two visited pubs, restaurants, cathedrals and many ancient castles dotted throughout the Irish coastline.
Their journey was unforgettable.
"It was phenomenal," Crocker said of the Irish countryside. "The scenery is unbelievable. It's so beautiful, so green. It was like in the 70s every day."
The self-guided tour also allowed for more freedom to explore and ride at their own pace, Rapisarda said.
"Every two days, we were in a different place," she said. "It wasn't like a tour bus. We got to stop where we wanted for as long as we wanted."
Rapisarda said she enjoyed the thrill of navigating her way across the Irish countryside on the rented motorcycle.
"It was the adventure of it. It was neat to ride overseas," she said.
Rapisarda rented a 2017 Honda Rebel for the trip while Crocker tried out a 2017 BMW 750.
It only took a moment for Crocker to fall in love with the BMW.
"I was like, 'Oh, my goodness. The difference is unbelievable,'" she said.
The 750 offered a much smoother ride than her bike back home. Crocker described her 650 as a stripped-down motorcycle with no gas gauge and a problem that caused it to clunk when she changed gears.
"It was just so much harder to ride. It was a motorcycle that was made for off-road," she said.
As soon as she returned home, Crocker began looking for a new bike similar to the one she toured Ireland with despite the fact that replacing her car, a Grand Marquis, might have been the more logical choice for an upgrade.
"Instead of getting a new car, I got a new motorcycle," Crocker said.
She found the BMW GS at Eurosport in Asheville. The bike's ability to handle both paved and gravel roads were ideal for Crocker's interests riding around her farm and in taking longer trips on the pavement.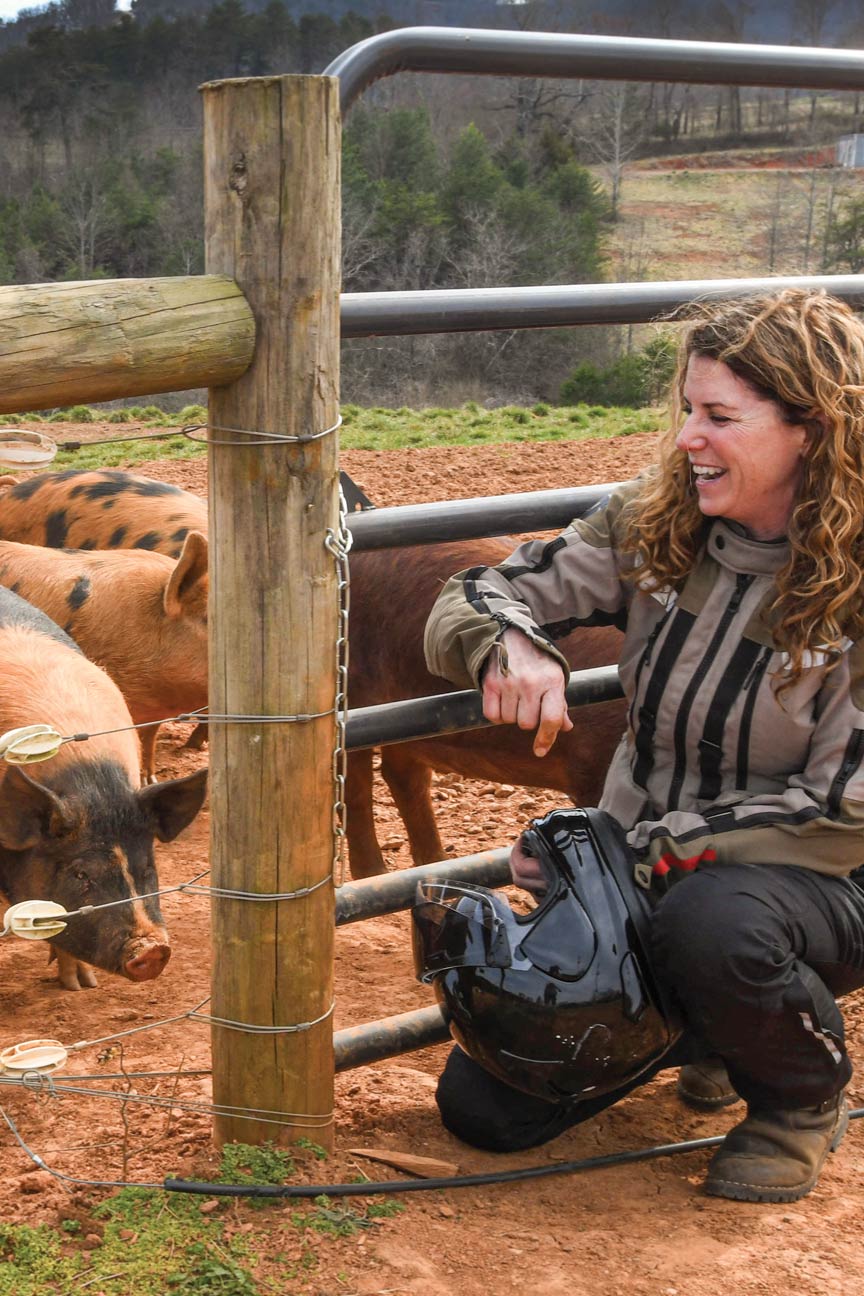 A trip with a friend to the BMW Performance Center in Greer, S.C., also sealed the deal with Crocker that the adventure bike was for her. The performance center offers riders the chance to learn skills on both on- and off-road courses.
"It was so much fun. I really like this bike," she said. "The most intimidating part is the size. I haven't been riding a motorcycle my whole life."
Crocker faced her fears by adding crash bars for protection just in case she has a mishap while driving either on pavement or off road. In addition to the saddlebags for hauling pork and the precautionary crash bars, Crocker's BMW includes heated hand grips, a plug for heating her riding jacket and a plug for her phone.
Now that she finally has the perfect bike for both work and fun, Crocker is dreaming again. This time, she is imagining all the other locations that might make for a fun motorcycle riding vacation.
A road trip with Rapisarda to Savannah, Georgia, or possibility out west to California might become part of her long-range plans. And another overseas motorcycle tour isn't out of the question either.
Wherever she ends up, it's a good bet Crocker will find freedom on as many back roads and maybe even some dirt roads along the way.
"That's why you ride," Crocker said. "No one wants to go on the interstate." 
Vandele Farms: www.vandelefarms.com
Celtic Rider Motorcycle Touring Company: www.motorental.ie. The company is also the subject of a documentary available on Amazon Prime.