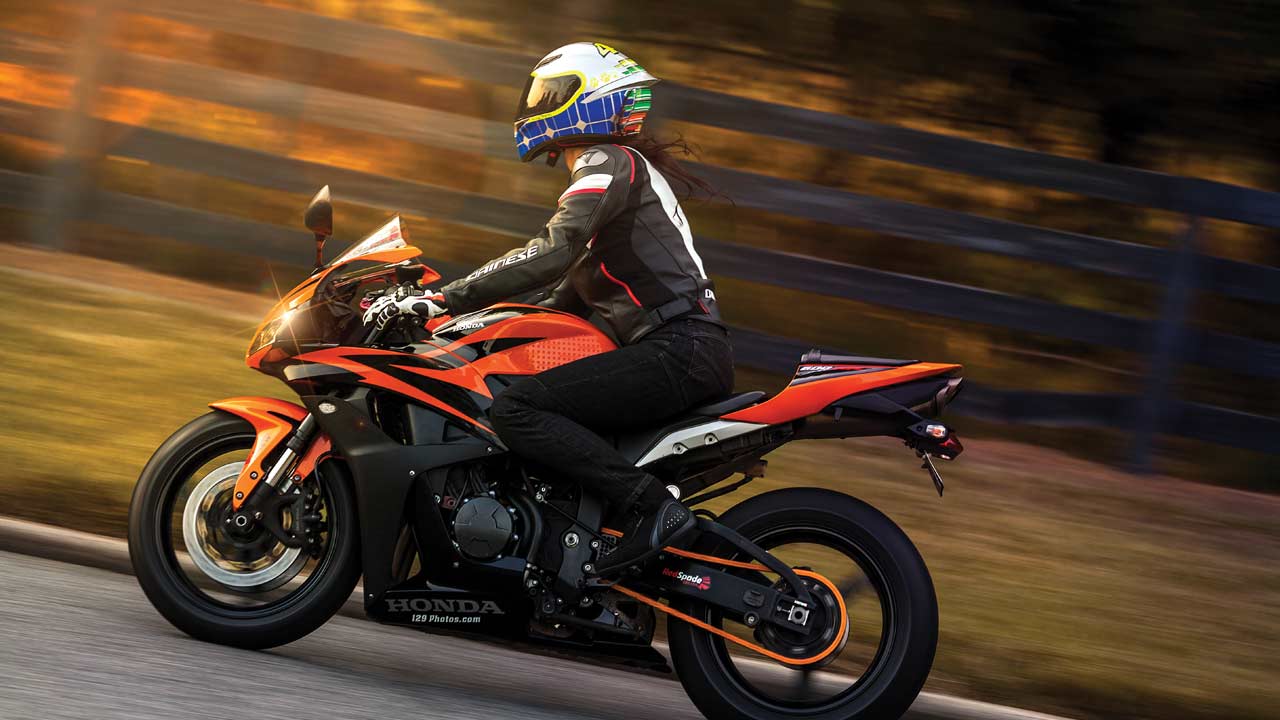 Famed MotoGP racer Valentino Rossi once described riding as an art form — something you do because it makes you feel something inside. When it comes to bringing heart and soul into riding, Anna Rigby displays an infectious enthusiasm for the sport, which may be why she's amassed a following of nearly 200,000 on Instagram.
She's best known as RedSpade, after the name of her company, RedSpade Racing. And through the RedSpade Instagram account, she shares her journey as a motorcyclist and avid participant in the sport, giving motorcyclists a glimpse into the industry and inspiring other riders.
Despite the social media fame, sponsorships with major brands like Dainese, AGV, Pirelli and Motul and invitations to collaborate with major companies like BMW, Kawasaki and Yamaha, Rigby remains surprisingly humble. In her posts, the olive-skinned red head with piercing blue eyes brings an honesty and authenticity to what it means to be motorcyclist — sharing her passion, but also sharing her struggles.
Rigby's motorcycling began when her husband, Steve, began riding, but an unfortunate medical diagnosis would eventually lead to a decision to make motorcycling a bigger part of her life. When Rigby turned 30, she developed severe neurological issues, which caused so much pain she could barely walk.
"The pain in both my feet and lower legs was excruciating," Rigby said with a grimace. "Over a few months, the doctors found a concoction of medications that allowed me to function somehow. During this small reprieve I decided to take the MSF (Motorcycle Safety Foundation) course and learn to ride. Because I felt if I didn't do this now, I may never have another opportunity. My husband and I were worried my condition was worsening."
Following the course, Rigby bought the smallest available sport bike at the time, a Honda CBR 250R. For the first few months, she had to shift by kicking the shift lever with her heel due to the pain and her muscles seizing. She weathered the agonizing cramps and the difficulty of riding with a medical condition. Despite that, she said the sensation of happiness she felt while riding made it all worth it.
"For the first time, I felt a sense of freedom," Rigby said, her eyes lighting up. "I was able to move about through the world. Riding gave me a second chance at life during a time when I was about to give up and was in my most painful state. It gave me something good to focus on."
As Rigby managed the pain and progressed as a rider, she transitioned to a Honda CBR 600RR and began enjoying her local mountain roads in Georgia and the Blue Ridge Mountains. She participated in track days with her husband and added a track bike to her fleet — another CBR 600RR. When her husband transitioned to racing, RedSpade Racing was born.
Rigby found her bachelor's degree in graphic design and experience as an illustrator and photographer aligned well with motorsports. She began doing freelance design and photography work for races and for MotoAmerica racers. This gave her a new respect and admiration for the riders.
She said she began to document her journey as a rider through her eye-catching photography and design work, and her Instagram account quickly drew new followers. In a sport that is typically ego-driven and a competition to be the fastest, Rigby remains open with her audience about her struggles as she sought to improve as a rider.
"I'm not kidding when I say I have zero talent for this sport," she said. "It took me two solid years of riding to even begin to understand what was happening under me. That was extremely frustrating. But eventually something clicked, and the switch turned on."
And turn on it did.
A regular at track days — more than 100 and counting — Rigby picked up speed and confidence. Through the help of coaches at the track, she said she worked hard to develop her skills and it paid off. She was eventually bumped to the advanced class, zipping along. Her skill set on the track has translated well to the road where she cuts through curves with the buttery smoothness of a knife and safely and expertly navigates technical mountain roads.
Her husband, Steve, is proud of how far she's come.
"Anna's passion for riding far exceeds my own," he said. "She's always pushing herself and I see just how strongly she wants to improve, only to be denied by her condition. And it's due to this condition that I think Anna works harder than most any other rider I know. Anna often downplays her ability to ride — and often claims she doesn't have the skill of an advanced rider. The truth, however, is Anna IS a very capable and knowledgeable rider. To say I'm proud of her accomplishments on a motorcycle would be an understatement. I don't know if I can really put into words how proud I am."
Her hard work shows in her Instagram account, too. Thrilling photos show her pulling wheelies over a hill or drilling through a challenging corner with her head and knee down. Rigby' posts also provide insightful commentary on everything from tires to motorcycle events to testing out different types of bikes, which has won her some respect in a male-dominated sport.
Last year, she appeared in a national commercial for Kawasaki, and this year was invited to the 2020 BMW S1000RR press event. She also went on a promotional ride with Yamaha in California and attended the 2020 R1 unveiling at Laguna Seca during World Superbike race. Her frequent attendance at races and other events also provides a consistent female presence in the overwhelmingly male world of motorcycling and hopes more women will consider riding.
"I love seeing ladies in the industry, and I'm definitely seeing more and more women getting involved in the sport," Rigby said. "There are distinct companies that are reaching out more and being more receptive to women, especially on the general consumer side. I see manufacturers coming out with a plethora of entry-level machines which are incredible. Gear companies are providing more styles for us women, but also safer and sturdier gear compared to what was offered five years ago."
As for RedSpade Racing, getting a taste of life in the motorcycle industry has only inspired her to accomplish more within the sport.
"I feel I have a unique outlook and voice when it comes to motorcycles that can appeal to a certain audience," Rigby said. "Perhaps I can somehow bridge the gap between pro and consumer. That's always been my wish. And on the racing side, I want to see my husband back on the grid — he is the racing side of RedSpade Racing after all."
Her advice for riders?
"If you aren't having fun then it's not worth it."
She didn't quite grasp that concept at first, but said learning isn't always fun. At times, it's frustrating, but there has to be a balance.
"If you're stressing to the point that you've lost your way and it's making you sad, then maybe it's not meant to be," Rigby said. "You can't force your way through life up a hill. It's important to know when to step back, take a break and reset your mindset. I've done this a couple times now and come back stronger because I have a new perspective on things."