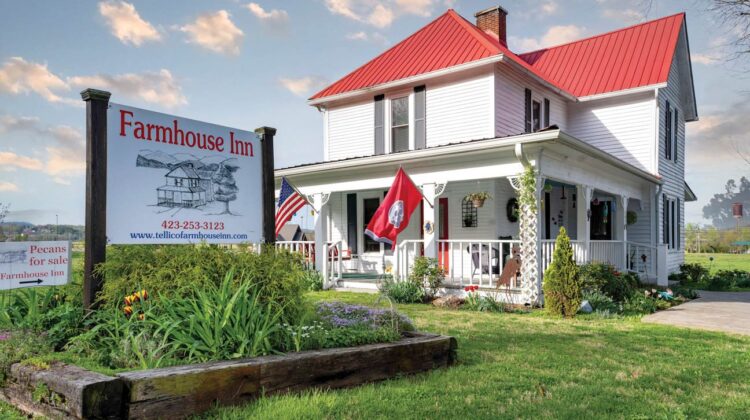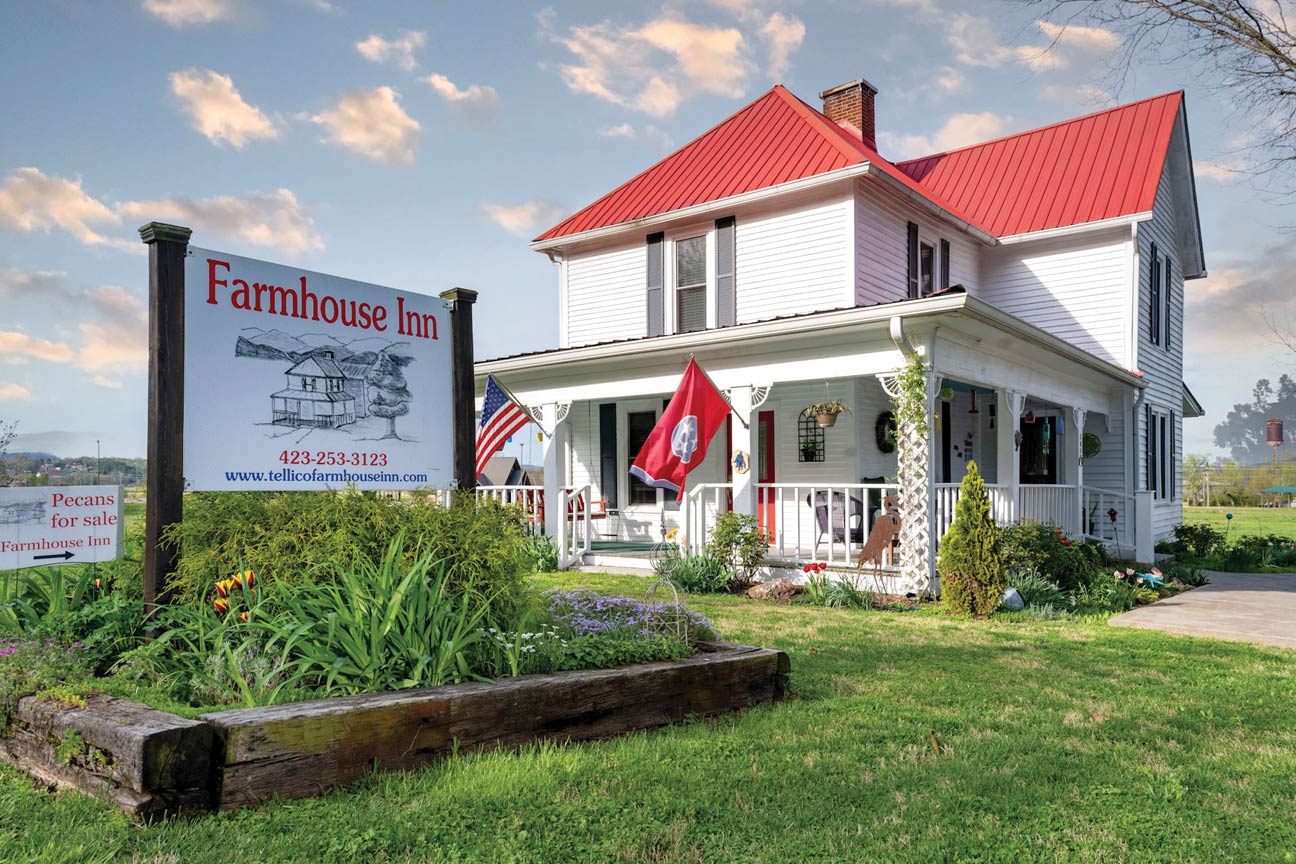 The early evening sun light creates a soft glow emphasizing the bright whites of the dogwoods and colorful red buds along the scenic commute to Tellico Plains, Tennessee, a small East Tennessee town bordering the Cherokee National Forest. Though the town may be quaint, it's big in character as it welcomes motorsports enthusiasts traveling to enjoy the thrilling Cherohala Skyway and surrounding mountain roads.
Traveling State Road 68 through Tellico and then turning onto the Skyway, it's difficult to the miss the Farmhouse Inn. With a bright red roof and white siding dotted with contrasting black shutters, the two-story inn is equal parts stunning and homey. The wrap-around porch and expansive property with beautiful flowering plants provide a welcoming feel — like you could picture yourself sipping lemonade on the porch swing on a breezy summer day.
Owners Kyle and Laura Kirschenmann — like many travelers who pass the inn — were first attracted to it during a trip to the area and were pleased to see a for sale sign. They purchased the historic house, originally built in 1920, in 2014 and transformed it into a bed and breakfast. The welcoming vibe of the Inn translates when meeting the Kirschenmanns. The laid-back couple exudes friendless and it's refreshing to hear their talkative enthusiasm for the inn, their guests, the Tellico Plains area, and their other passion, motorcycling. In fact, you could say the story behind the Kirschenmanns purchase of the Inn all began with Kyle's introduction into motorcycling as a child.
At the age of six, Kyle's grandfather bought a Honda Z50 Mini Trail bike. Enthralled with the bike, it sparked a lifelong passion for motorcycling. This desire for riding continued throughout his life, and although he kept the Z50 until 1998, he's owned a wide variety of motorcycles. These have included a 1984 Suzuki G550OES, a KTM 640 Adventure, an MZ Baghira, a Husqvarna Svartpilen, a Ducati Multistrada 1200S touring bike and a Honda Monkey 125 — and that's just to name a few. Kyle's background is as interesting as the bikes he has owned.
A geologist, Kyle works for the Tennessee Department of Transportation and serves as the hazardous materials section manager for the environmental division and possesses an impressive resume. He holds a bachelor's degree in marine science and geology from the University of South Carolina and a master's in geology from the University of Texas at Austin. He was once deployed with the Texas National Guard Agribusiness Development Team 6 as one of two hydrologists on the team to Ghazni, Afghanistan. With Kyle being a groundwater geologist, he fit the role well.
Kyle's ambition crosses over into motorcycling. He mapped out and developed the Tellico Adventure Trail: a route with eight GPX tracks with over 1,100 miles of forest roads, trails and local backroads. The routes are mainly gravel crossing through Tennessee, North Carolina and Georgia, with some being paved and elevations ranging from 600 to 5,500 feet boasting breathtaking views along mountain tops, overlooks and creek crossings with ample wildlife making an appearance along the way.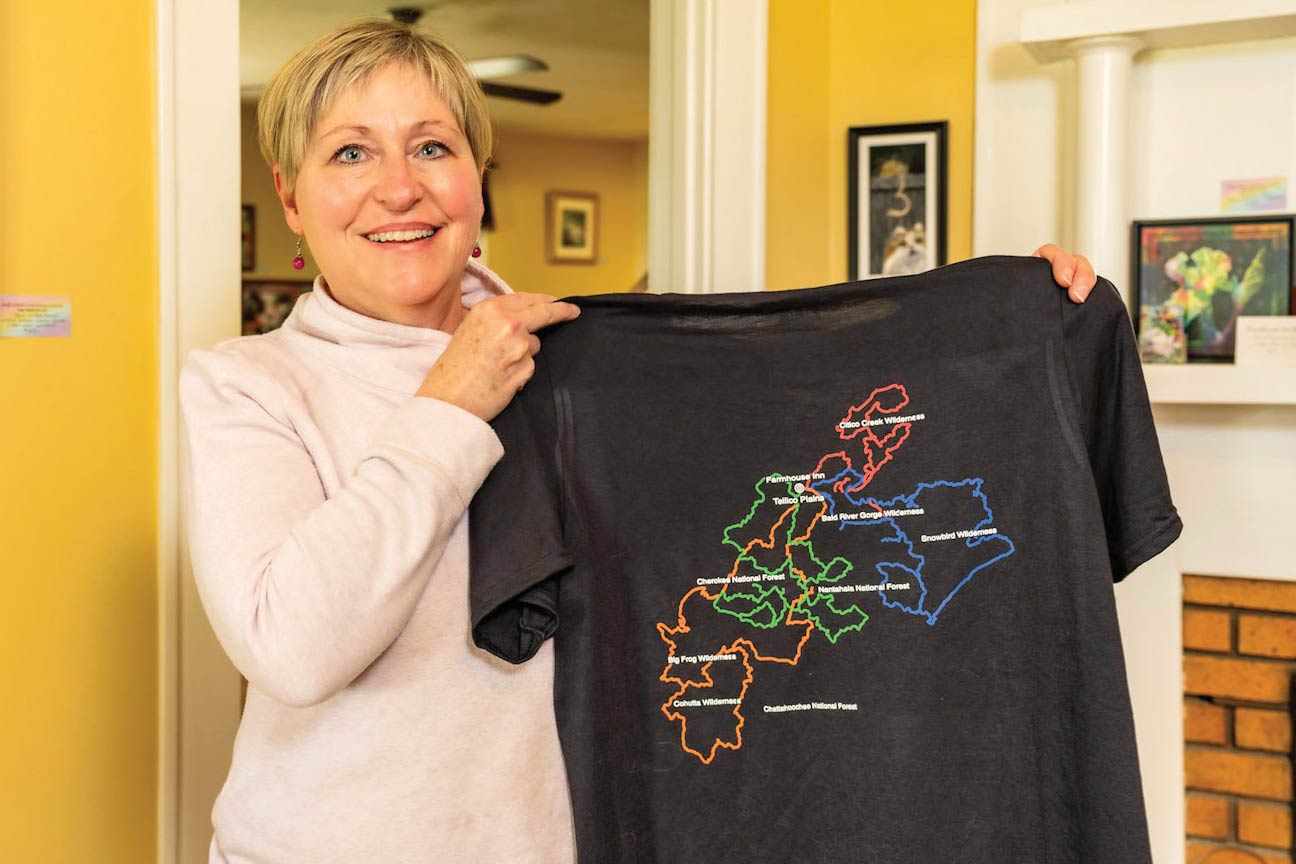 In addition to the Tellico Adventure Trail, Kyle completed a revision to the popular Smoky Mountain 500 track better suited for small and medium dual sport-friendly bikes that offers less highway and a bit of a technical challenge. He added an additional track between Iron Horse Lodge in Robbinsville, North Carolina, and Tellico Plains, Tennessee, called the Blue Ribbon track, and a day-ride loop centered around Suches, Georgia called the Ranger Loop. He also added an extension of the Mid-Atlantic Backcountry Discover Route to the south with the Damascus to Augusta Trail. The Smoky Mountain 500 file is six tracks totaling 877 miles.
Kyle's future plans include tracks for minibikes, like his Honda Monkey. People on bikes as small as a 50cc Honda Ruckus can enjoy them.
Riders can obtain the GPX files for these routes which can be easily imported in GPS devices and the Kirschenmanns provide these GPX files to their guests. Kyle also works with guests to figure out where they should ride based on their preferences, skills and type of bike.
This is helpful for the numerous motorcyclists passing through the area to enjoy the Tellico Adventure Trail — and the Inn serves as the ideal place to stop and rest during the journey.
"It's been an interesting way to meet a lot of people," Kyle said. "We meet people from all over the world. Australians are often regulars, and we have Germans, Russians and people from New Zealand, South Africa and Greece."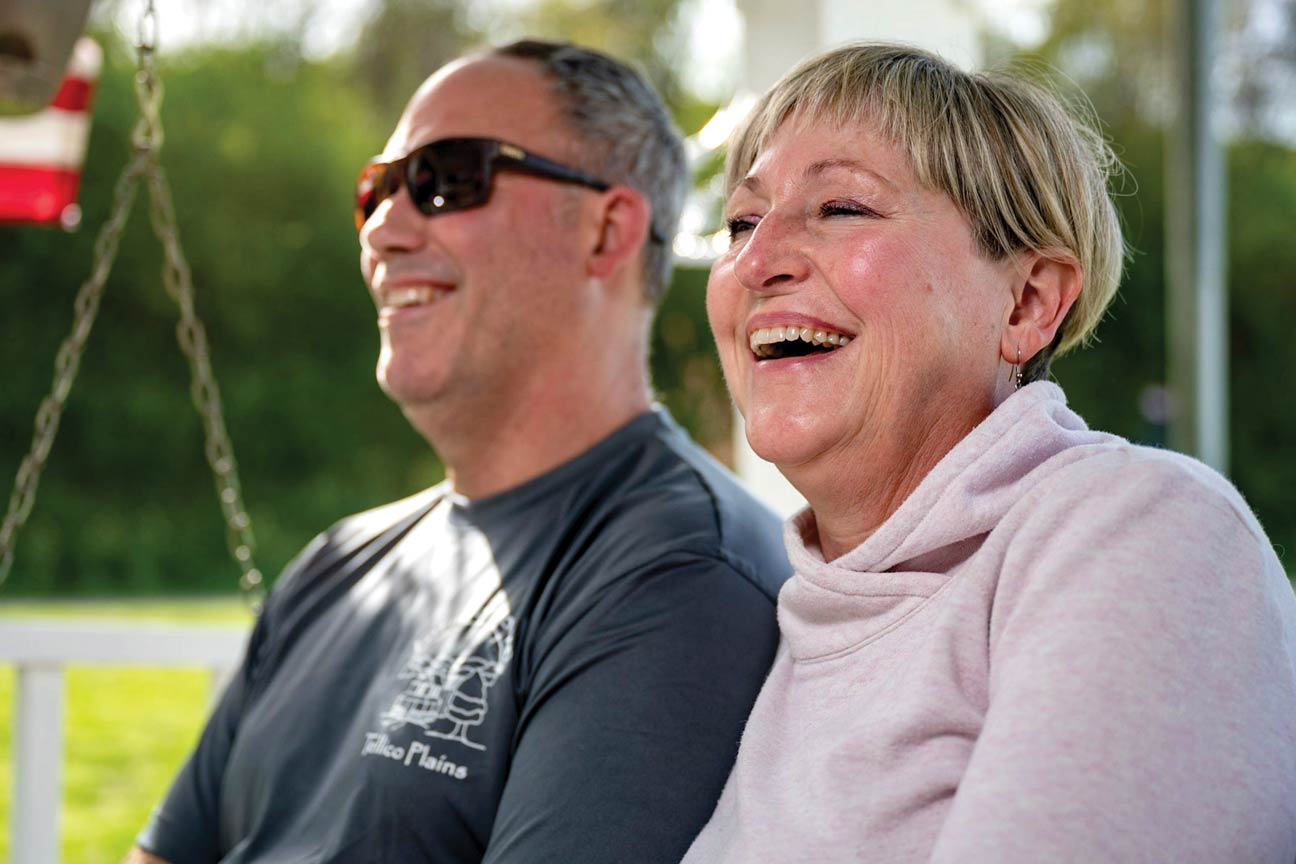 Kyle also notes the Trans America Trail attracts guests from across the globe. At roughly 5,000 miles, it stretches across the U.S. and provides a way to travel using a minimum number of paved roads. Traversed primarily by dual-sport motorcycles, off-road vehicles and touring bicycles. Part of this trail crosses into East Tennessee where guests at the Farmhouse Inn can enjoy it.
This is a great fit as Kyle and Laura, who originally met and married in Cedars Falls, Iowa, enjoy two-wheeled adventures together riding two-up and traveling all over the world.
"We love riding in Europe," Laura said. "There's so much history. We were originally going to Greece, but then COVID hit. So, we're doing a riding trip to the Outer Banks and visiting Appomattox, Kitty Hawk and Wilmington."
When the Kirschenmanns aren't traveling, they're pleased to call Tellico home and run the Inn together.
Open year-round, the Inn offers three rooms all with their own bathroom and a home-cooked breakfast, made by Laura, is served every morning. She utilizes produce from her own garden like berries, tomatoes and peppers. The property also has many pecan trees that the Kirschenmanns work into their menus. What they don't grow themselves they pick up from a Mennonite Farmer's Market.
Guests at the Inn will not only enjoy the delectable meals and beautiful property, but also the recreation room over the garage. Lined with captivating motorcycle photos and memorabilia, it offers a billiard table that's perfect for relaxing and partaking in a beverage and game of pool after a long day of riding. So, it's no wonder guests speak highly of the Inn.
Brad Guice, a motorcyclist from Jackson, Mississippi, applauds Kyle's knowledge and the tracks he's mapped out, but also shares his positive experience at the Inn.
"Kyle and Laura are always very accommodating and willing to help out with the navigation, sights to see and history of the area," Guice said. "Both Tellico Plains and Inn are located in a great area if you want close access to both excellent on-road and off-road riding. The Inn is very clean and quaint and exactly what you would expect of a bed and breakfast at a farmhouse. Plus, Laura is a great cook and there's always a tasty breakfast and some good, sweet treats to eat."
For the Kirschenmanns, the Inn is the perfect set up.
"We like being in Tellico and closer to all the great riding roads," Kyle said. "We didn't plan on owning a bed and breakfast, but it's home."
Information: tellicofarmhouseinn.com