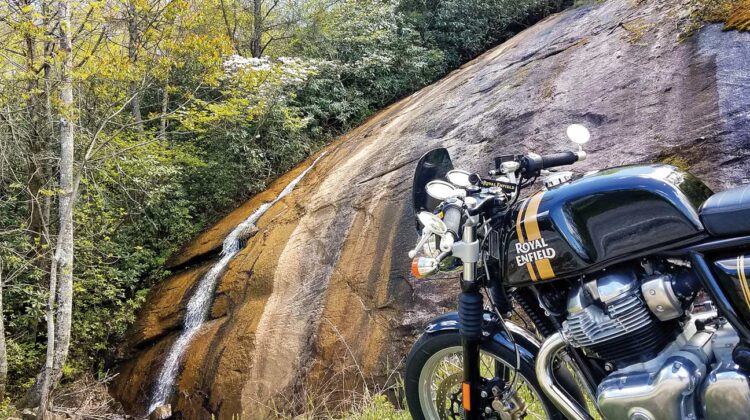 I've come to appreciate the surprised looks on people's faces when I tell them my Royal Enfield Continental GT 650 isn't a vintage British bike. The funniest reaction was when an admirer at a gas station yelled, "They don't make them like that anymore," to which I replied: "Yes, they do! It's a brand new bike."
Earlier this year, I celebrated one year of ownership just as I logged my 9,000th mile on the little café racer. I've become quite the Royal Enfield historian and ambassador as I usually get a lot of questions about this little Brit-bike from the Bay of Bengal. If you aren't familiar with the marque, they began in England in 1901, two years earlier than Harley-Davidson. By 1970, they were out of business in Britain, but production continued under license in India, as it still does to this day. I love surprising Harley and Indian owners by telling them Royal Enfield is the oldest continually produced motorcycle brand.
I've always had a fondness for café bikes and the culture that surrounds them, a nostalgic fantasy of doing the ton to the Ace Café, donning well-worn leathers and white neck scarves.  So much so, I hand-painted the RE logo on my leather jacket and bought a '60s-style full-face helmet. I attended what few bike nights I could find in 2020 looking as if I just fell out of 1965.
My love of British steel does have its limits. I'm neither a good enough mechanic nor have the zen-like patience as a rider to coexist peacefully with a real vintage British bike. A modern retro bike offers me the vintage style without the vintage problems. My Continental GT 650 reliably starts each time thanks to modern Bosch fuel injection, but it is still simple enough that I can check and adjust the valves myself with a few common hand tools. That helps when the nearest dealership is two hours away.
During the last year, I've ridden the bike in all sorts of weather, from summer's heavy thunderstorms to winter's bone-chilling cold. I often take it to some of my favorite places, where it always looks photogenic against the wonders of the Blue Ridge Mountains. It's best suited as an urban bike, zipping through city traffic, garnering curious glances out front of the coffee shop. Some days I just want to hear the pipes echo off parked cars. Of the seven different bikes I've owned, this one gives me more smiles per mile than all of them.
At almost every stop, someone inquires about the bike, something that almost never happens when I ride my more utilitarian Suzuki V-Strom. I bought it, in part, for that very reason. I wanted a bike that wasn't something you see everyday. Often my answers to people's questions seem absurd to them. But to me, it's all part of a cafe racer's charm.
•••
"Do those low handlebars make your back ache?"
— Yes. I'm a flabby middle-aged man. Of course it does.
"Does that tiny flyscreen help with the wind?"
— No, it actually throws bugs right into my face, but I think it looks cool.
"Is that yellow headlight legal?"
— Absolutely not, but it looks vintage and European, so it's worth getting a ticket.
"Looks sporty. Is it very fast?"
— Nope. Slowest motorcycle I've ever owned, but she will do the ton (wink, wink).
"Royal Enfield? Never heard of them."
— Buy more motorcycle magazines. Have you heard about Blue Ridge Motorcycling ….
•••
These good-natured interactions with fellow riders really demonstrate what makes our hobby so special. I doubt that camaraderie exists as strong with bicyclists, 4×4 off-roaders or boaters. When you're on two wheels — be it a café racer, cruiser, sport bike or dual sport — every rider is a friend you haven't met yet.
Michael E. Gouge
Editor-in-Chief