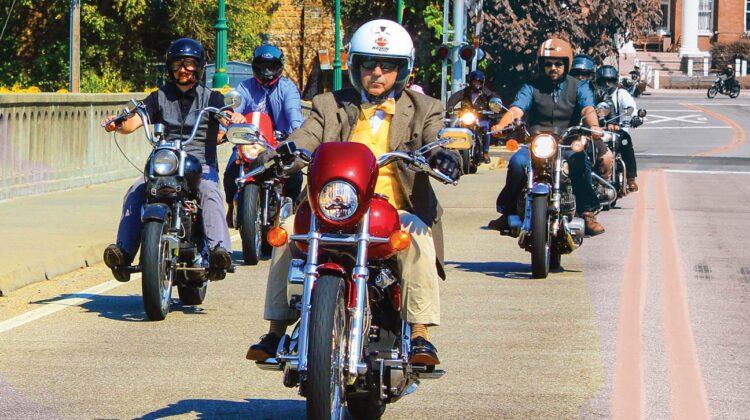 After a very long year of event cancellations and COVID restrictions, the summer riding returns along with larger motorcycle gatherings, rides and rallies. One of my favorite charity rides returns this May — The Distinguished Gentleman's Ride.
The DGR looks like no other charity ride. Participants are encouraged to dress up and look dapper in suits, ties and other formal attire. From the first time I showed up as a reporter to cover this unique event, I became an ardent participant. Last year forced the event to go switch to solidary riders raising funds online. This year, the option of COVID-safe group riding has returned.
Now celebrating its 10th year, the DGR raises funds and awareness of men's health issues, namely prostate health and suicide prevention. The event organizers point out 3-out-of-4 suicides are by men, and more than 500,000 men die of suicide each year. Most of us recognize the mood enhancement and therapeutic value of riding a motorcycle, but for many men it simply is not enough. Your help is needed.
The Distinguished Gentleman's Ride is a worldwide event, taking place in hundreds of cities across the globe on Sunday, May 23. Riders of vintage bikes and retro-styled motorcycles are encouraged to join, but anyone on any type of motorcycle may participate. Despite the name, women are welcome and encouraged to join in the festivities. The charity ride has raise more than $27 million since 2012.
The fun of getting dressed up and fighting to keep your necktie and blazer from fluttering in the wind only adds to the charm of this gathering — the more outrageous the clothes, the more fun. Some riders go for a vintage look to match their vintage bikes. Others go for comedic effect with loud jackets that look like they just fell off the back of a 1970s used car salesman.
I plan to join the Distinguished Gentleman's Ride in Asheville, N.C. (I've already purchased a checkerboard tie to go with my café bike just for the occasion). You can find a ride near you by visiting gentlemansride.com. Get dapper and ride for a good cause. I promise you'll have a great time.
Other events I'm happy to see returning this year include local bike nights and manufacturer demo days, where anyone with a motorcycle endorsement can test ride a fleet of new bikes. I never realized how much I enjoyed those gatherings until 2020 robbed us of most of them.
In June, Thunder in the Smokies returns to Maggie Valley, N.C. In August, the BMW RA national rally rolls into Waynesville, N.C., after being canceled last year. October brings the return of the Meltdown vintage motorcycle show in Hendersonville, N.C. As other events return, be sure to let us know on social media.
No matter what kind of bike you ride or what kind of event you like to attend, get out and join your fellow motorcyclists this summer, if only to celebrate our ability to reconvene safely as the pandemic fades.
— Michael E. Gouge, Editor-in-Chief