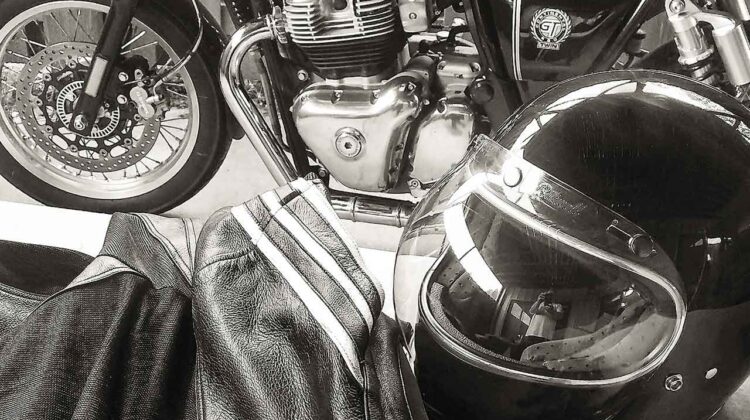 Daylight fades quickly this time of year, making my evening motorcycle commute a dark and chilly one. My Royal Enfield Continental GT 650 seems to like this season, with the denser cold air giving the parallel twin a bit of extra responsiveness to the throttle. This winter, it will be two years since I purchased the little café racer. The odometer shows 12,000-plus miles, and any fears I might have had about its origins from India vanished long ago.
I can't walk away from it without turning to look back, a sure sign you've bought the right motorcycle. And I love the odd-ball factor of having a bike you don't see very often. The bike is conversation starter, and I often take it to motorcycle events where we give out complimentary copies of this magazine. Perhaps I chatted with you next to it at such gatherings this year.
One of the things I love most about the motorcycling lifestyle is the ease at which people can express their personalities with bikes and apparel. You could say I have multiple personalities given the way I alternate from hi-viz adventure rider to a leather-clad ton-up boy — sometimes in a single day. 
On a winter's evening shortly after getting the Enfield, I took an old leather jacket and decided it emulate those café riders from 1960s England. I printed a RE logo on office paper and cut it out to form a template. With patience — and some trial and error — I hand-painted the words Royal Enfield across the back. The results were pleasing, and I found myself walking with a bit more swagger when I wore it. There's a reason Harley-Davidson sells more clothing than motorcycles. 
Proudly displaying your brand of choice only adds a nice variety to our shared love of two wheels. Some see it as tribalism, and I've encountered some riders who snicker at other motorcyclists' brand loyalty. For me, there's enough division in the world today that we don't need to further fragment what sets us apart from mere motorists.
Another reason I find riding my Continental GT in my Royal Enfield jacket — and accompanying vintage-styled helmet — so appealing is the way it seems to transport me to another time and place. Gone are the headaches and strife of the 21st century. When I explore a lonely winter's backroad, free from SUVs and hybrids, I find myself living in a fantasy where just ahead I will find a café lined with Brit bikes out front and women with beehive hairdos watching to see who's beneath the helmet and googles. My Enfield seems eager to take me there, even if such a place only exists in my imagination and old movies.
My other motorcycling personality sends my daydreams to thoughts of crossing the Picos de Europa, the Dolomites or Black Forest when I don my adventure helmet and thigh-length riding jacket. I nod and wave to other adventure riders outfitted for exploration, even if they're probably just making a run to the coffee shop. 
The holiday season is a good excuse to buy you that jacket or motorcycle that fills your daydreams. We may never realize them, but chasing a dream can be more fulfilling sometimes than reality.
Michael E. Gouge, Editor-in-Chief