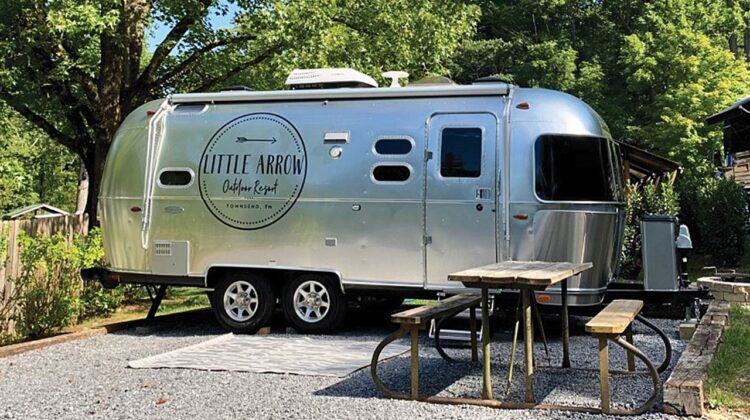 At the gateway to the Great Smoky Mountains National Park, tucked in the foothills of the mountains and surrounded by lush forest, sits a resort that's a little bit different. Luxury meets rustic at Little Arrow Outdoor Resort, a former campground lovingly restored with fresh accommodations including glamping tents, tiny homes, airstreams, RV sites and cabins.
For motorcyclists, Little Arrow is situated in an ideal locale in Townsend, Tennessee, just minutes from the entrance to scenic Foothills Parkway with panoramic mountain views that connects to U.S. Highway 129, known as The Dragon, with 318 curves in 11 miles. Each season, motorcyclists make the journey to Townsend to enjoy the motorcycle events and rallies in the area or to meet up with friends for thrilling days riding the ample mountain roads. After a long day of riding, motorcyclists need a relaxing place to kick back and enjoy tranquility before a good night's sleep, and Little Arrow is a prime place to do it with accommodations that offer a luxurious take on traditional camping.
Camping, after all, surrounds Little Arrow's history. Two couples, Brad and Carmen Simpher and Kevin and Chelly Clayton, now own the resort. The Simpher family has always had a love for camping and started with tent camping before graduating to RVs. This passion and experience for camping is what inspired them to purchase and restore what used to be Treemont Campground. The campground presented itself as the perfect locale since it already had RV sites and cabins. The Simphers always wanted a tiny home community and partnered with the Claytons and their well-known organization, Clayton Homes.
Although small, the elegant tiny homes feature amenities like queen-size beds, a full bathroom, an opulent kitchen and a spacious deck. They even have wood flooring, ceiling fans, sleek stainless steel appliances and cable TV. The homes range in size from 394 to 399 square feet.
In addition to the tiny homes, the roomy glamping tents — short for "glamor plus camping" — provide all the comforts of home but in a tent with generous amenities like plush bedding, a bathroom and heat and air conditioning. The Luxury Glamping Tent even has the added feature of wooden walls separating living spaces and a small kitchen. Little Arrow provides a more primitive option as well that has similar amenities without the bathroom. Both options provide a covered deck where guests can enjoy the great outdoors.
Another distinctive lodging option is the Airstreams. These "silver-bullet" RVs can accommodate up to four guests. The renovated interiors feature hardwood floors with cable TV, a full bathroom and queen size bed. The outside living space includes an outdoor couch, covered picnic table and a fire pit with cooking grate.
Those who prefer traditional camping are still in luck. Little Arrow offers sites for RVs and tent camping.
On top of well-appointed living quarters, guests can also take pleasure in the in-ground pool with splash pad, horse-shoe pits, basketball court, community fire pit and coffee lounge.
Cassie Simpher, who serves as marketing director for Little Arrow, says the resort is motorcycle-friendly and she and her family welcome motorcyclists who come to the area.
"You can experience more than just camping at Little Arrow Outdoors Resort," Simpher said. "We have so much to offer and we're always looking for fun ways for our guests to experience the outdoors."
Simpher said many motorcyclists visit with groups or events. Little Arrow offers lodging accommodations that are ideal for groups in addition to meeting spaces like their club house that can seat up to 24 people or their pavilion that includes picnic tables, a projection screen, fans and lighting. In fact, the Resort offers a discounted group rate.
For motorcyclists who bring their four-legged friends along for the ride, Simpher noted that Little Arrow is dog-friendly and even offers pet sitting for $35 per day for motorcyclists who wish to leave their dogs in the care of the resort while out for a ride.
Those who visit the resort have positive experiences to share. Misty Causby Preston of Morganton, North Carolina, finds the Little Arrow staff very helpful while keeping the cabins cleaned and well stocked.
"They (the cabins) have all been recently updated and are beautifully decorated," Preston said. "It's so quiet and peaceful yet only five minutes from Cades Cove and 45 minutes from Gatlinburg. Our family loves it here."
While guests speak highly of the accommodations and amenities, the passion of Little Arrow's owners also shines through.
"I've camped in Townsend at this location for many years and the new ownership and rebranded Little Arrow is phenomenal," said Daryl Grantham of Lenior City, Tennessee. "The owners and staff do all they can to make the mountain vacation experience the best. My one word of advice to the owners is to keep this your passion. I see that passion and it is what makes this place a premier camping and resort location. Townsend's new crown jewel."
As for the future, it looks bright for Little Arrow. The resort has 20 undeveloped acres for future plans. They recently added two new hiking trails — one that meanders to a mountain top and the other that borders the national park. They also plan to expand the clubhouse and pavilion and other areas of the resort as the number of guests have grown.
"Later this year or next year we're adding two more glamping tents since guests love to glamp," Simpher said. "We also plan to re-do some of the RV sites to make them more premier."
To book accommodations or events at Little Arrow Outdoor Resort, motorcyclists can visit       their website, camplittlearrow.com. Depending on the season, accommodations range in price from campsites for as little as $42 per night and RV sites for $52 per night. Glamping tents start at $115 per night, tiny homes at $170 per night, the airstreams at $135 per night and cabins start at $112.
Between the unique twist on camping, natural beauty of the Smoky Mountains and amazing motorcycling roads, Little Arrow Outdoor Resort and the Townsend community are certain to satiate any motorcyclist's wanderlust.