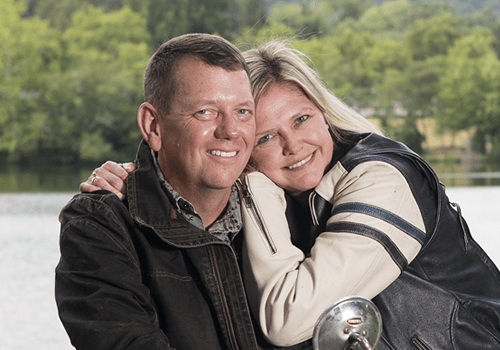 Larry Offill had heard stories of an amazing motorcycle that had been abandoned. A farmhand had ridden it for years around the property he worked. The farmhand died, and the machine was parked amid tools and hay bales, all but forgotten. In 2005, a friend of Offill's connected him with the dairy farmer who had inherited the bike. They made a deal, and Offill and his friend pushed the motorcycle out of the muck and into the light. "It was the quintessential barn find," Offill said.
It was a 1948 Harley, and it needed a lot of love. "I was a car guy at the time, but I knew the motorcycle was special," he said. "I knew I wanted to fix it up." So he started. Then stopped. Started again. And stopped again. His family, his career and life in general had a way of intervening. In all, it took Offill six years to get the motorcycle back on the road. Since then, Offill has owned a number of antique motorcycles, including a 1938 ULH Flathead Harley Davidson and a 1941 FL Knucklehead Harley Davidson.
Offill grew up riding dirt bikes in Hickory, North Carolina. He left to attend NC State, where he got a degree in pulp and paper engineering. He went into chemical sales, then co-founded a water treatment company in 1998 that took off. "We did the design and build of wastewater equipment and mobile sludge dewatering," Offill said. One of his company's innovations was to build the equipment into tractor trailers so it could be easily moved. Offill's company drudged paper mill ponds, municipal and factory ponds and handled fracking fluid. He and his business partner sold the company in 2010 to a multinational company based in Houston, Texas.
In March, Offill went to work for an industrial hydro-blasting and cleaning company. The company employs six hundred people and has staff offices from North Carolina to Louisiana. He's developing a new division with that company to do mobile sludge dewatering. Offill enjoyed a three-year sabbatical before taking on the new job. He brought more old motorcycles during that time and he and his wife, Leslie, relocated to Asheville. (They have two daughters: Alli is a freshman at UNC Wilmington; Sarah is a junior at Reynolds High School.)
When he's not working or riding motorcycles, the couple get outside. They have hiked sections of The Appalachian Trail and are planning to thru-hike from Harper's Ferry to Kataden, Maine. Offill also hiked sections of the Pacific Crest Trail during his time off.
The local chapter of the Antique Motorcycle Club of America will host a national road run in Asheville this Fall. It's an event that Offill is helping to organize, and one that he's revved about. He's hoping for about two hundred people ad one hundred and seventy-five bikes to turn out for the event. "Generally, these motorcycles will be Indians and Harley Davidsons form the 1930's, '40's and '50's" he said. The event will include a kickoff party at Highland Brewing, a ride through Maggie Valley, and Asheville beer tour and a closing party at The Orange Peel.
"Anybody who owns a motorcycle likes to talk about their bike," Offill said, "so expect a lot of hanging out and talking about bikes."