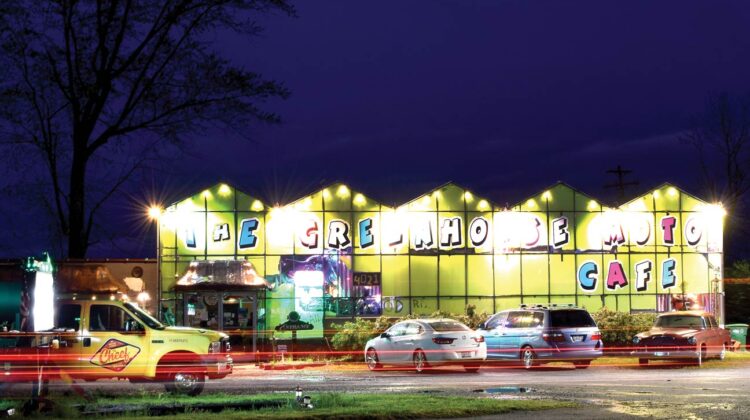 Not many venues have classic BSAs, Triumphs and Moto Guzzis hanging from the walls as décor. For fans of classic bikes and live music, the Greenhouse Moto Café in Mills River, North Carolina, feels like the ultimate man-cave hangout, a welcoming place that makes the perfect summertime stop.
"I needed a place to put my motorcycles, and I saw this. I liked it and I decided we would sell some beer and play some music and see if we can cover the nut," said owner Jeff Herold, "I started out collecting BSAs, a few Triumphs, some Moto Guzzis."
Part of his collection of classic bikes now fills the glass-walled space. As the name implies, this tavern and music hall fills an old greenhouse that once was known as one of the area's largest suppliers of roses.
Inside, every wall and some of the floor space features classic British and Italian bikes They even serve as a backdrop on good-sized stage. There's even room to dance in the space between the ample seating and the spacious bar with 26 taps of local craft beers. The bar features a glass top with recessed cases filled with motorcycling trinkets, vintage parts and other memorabilia. The Greenhouse also serves cans and bottles of popular domestic beers.
"We've been closed for 14 months. We had a great reopening St. Patrick's Day," Herold said. This year, a food truck will serve up barbecue every Friday and Saturday. Live music hits the stage every Friday, Saturday and Sunday.
A side courtyard offers a quiet place to sit in the shade. A pool table and a few carnival games to add to the charm. Located about 6 miles south of the Asheville Regional Airport, the Greenhouse is just a short ride from Asheville, Hendersonville or Brevard.
"You don't have to drink craft beer to come here. Come out and have a good time," Herold said. "It's got a cool vibe. A lot of great stuff to look at hanging up."
— Michael E. Gouge