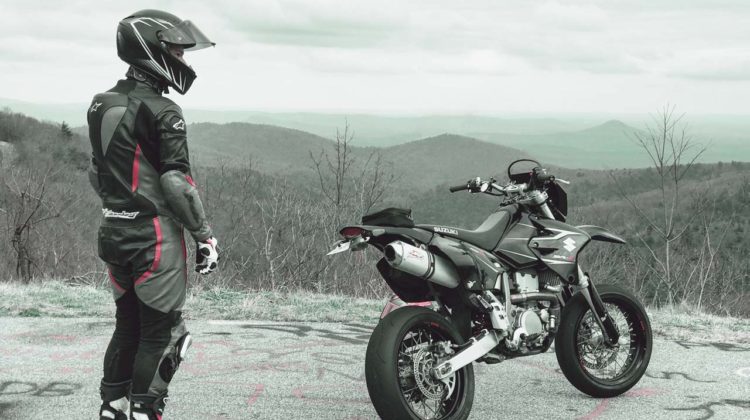 I first learned of Blood Mountain through thrilling photos posted to social media by my North Georgia-based riding friends. After seeing them carving up the mountain roads combined with the stunning beauty of the area, it soon moved to the top of my list of roads to ride in the Blue Ridge. The stars aligned and local riders Steve and Anna Rigby and Emily Prince and Vaughn Balter, based out of Cumming, Georgia — a short ride away — agreed to serve as guides for me and my husband, Jud Merrell. 
The sixth highest peak in Georgia, Blood Mountain boasts breathtaking panoramic views of the Blue Ridge Mountains. According to historians, the violent-sounding name finds its derivation either from a bloody battle between the Cherokee and Creek Native Americans or for the reddish color of the lichen near the mountain's summit. Despite the name, the area is nothing but peaceful. The surrounding Chattahoochee National Forest offers a serene and tranquil vibe. It has long been a popular destination for hikers as it's located along the Appalachian Trail — and Blood Mountain is the trail's highest point in Georgia.
As attractive as Blood Mountain is for hikers, according to the Union County Chamber of Commerce, Blood Mountain serves as a destination drastically growing in popularity among motorcyclists. The Chamber's Director of Tourism and Membership Services, Jen Rushing, says the beautiful roads are a draw.
"We have a lot of motorcyclists that come through especially during the spring and summer," Rushing said. "It's the ride of your life. You can take in beautiful waterfalls, foliage, breathtaking mountain views and meet some friendly folks along way."
Knowing we would be navigating curvy roads, I chose my favorite tool for the twisties: My Suzuki DRZ Supermoto. I would soon find it was a good choice as it leans effortlessly in turns. However, many bikes will do the trick. Jud, Steve, Anna and Emily chose sport bikes riding a Yamaha R6, Honda Blackbird, Honda CBR600RR and Triumph Street Triple, respectively, while Vaughn rode a KTM Super Duke.
We began the ride in Dahlonega, Georgia, and headed north on Route 60 to Suches. Upon arrival, we stopped at Two Wheels of Suches in an iconic red and white building. Although we were merely taking a break for photos and the restroom, Two Wheels, open from March through November, offers ample lodging for travelers including camping, cabins and lodge rooms. According to the Rigbys, their on-site restaurant serves a mouthwatering breakfast and coffee that's ideal for energizing before a long day of riding. Motorcyclists often gather in the newly paved parking lot before relishing the abundance of fantastic area roads. During prime riding season, riders on all types of bikes can be found.
From Suches we picked up Route 180, also known as Wolfpen Gap Road, and enjoyed the twisty curves and views before turning onto US Highway 129.
Starting near DeSoto Falls Recreation Area, the real fun began: We were about to ride the much-anticipated Blood Mountain. The ride up the mountain along U.S. 129 toward the summit is everything I had hoped. The road winds through forest with heart-thumping twists, turns and elevation. And the curves vary. Some are wide, sweeping turns similar to the Blue Ridge Parkway or Cherohala Skyway while other turns are horse shoe-shaped, sharp or decreasing radius that conjure images of the infamous Dragon along the Tennessee and North Carolina border.
Unlike these similar mountain roads, Blood Mountain has two lanes running up the mountain allowing motorcycles to safely navigate their way through slower traffic. This aspect of the road is a definite plus. It provides a lane for those looking to go at a more leisurely pace to do so without holding up motorcyclists seeking exhilaration.
Once reaching the crest, we stopped to take a break at Mountain Crossings at Neels Gap. The stone historic building, the Walasi-Yi Interpretive Center, dates back to 1934, the same year the Appalachian Trail was completed. Although Mountain Crossings offers a hostel, restrooms and outdoor gear shop for Appalachian Trail hikers, the respite is also a gathering place for motorcyclists.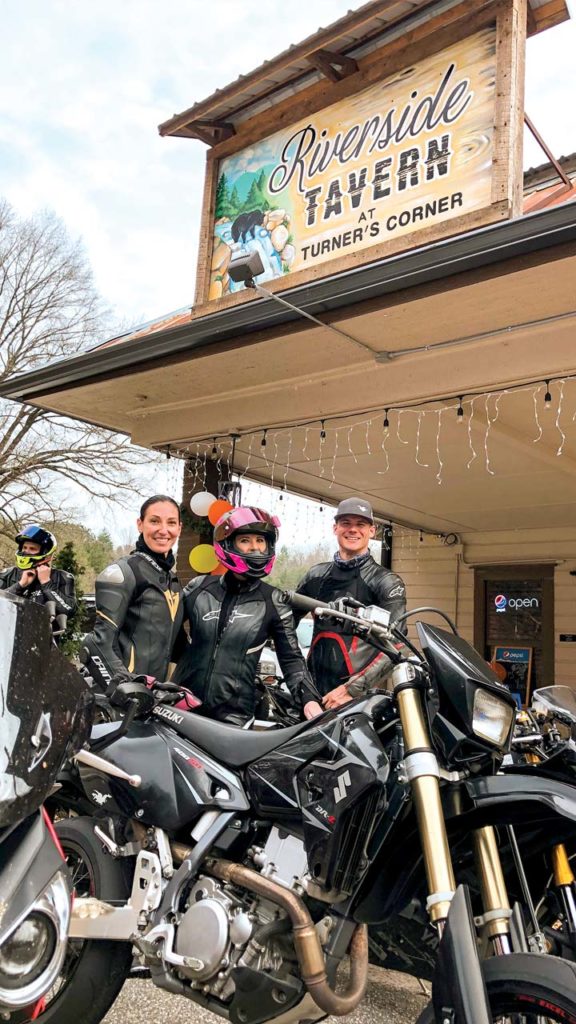 It was cool day and windy, yet the parking lot was still chock-full of a variety of different motorcycles. I even spotted a few fellow riders on supermotos. Some were locals who ride Blood Mountain every weekend whereas others traveled from outside areas to experience the road. Whether meeting other motorcyclists and sharing ride notes or taking in the views at Mountain Crossing's lookouts or grabbing a snack or restroom break, it serves as a delightful place to convene.
The ride up Blood Mountain proved too much fun for just one pass, so we made multiple runs from Mountain Crossings to DeSoto Falls to enjoy the thrill a couple more times. Anna Rigby served as a helpful lead. Watching the lines and lean angle of a local with ample experience and knowledge of the road was extremely helpful.
Riding Blood Mountain works up an appetite. Luckily, Riverside Tavern at Turner's Corner offers yet another popular interlude for motorcyclists but with delectable food and beer. Originally built in 1928, it cooks up down-home comfort food like pulled pork sandwiches, ribs, trout and fried mac'n cheese bites or fried pickles. Visitors won't leave hungry. The chicken tenders were a favorite among our group, but Jud Merrell enjoyed the chicken wrap.
"The food is really good, and I also recommend the sweet potato fries and sweet tea," Merrell said. "The patio seating is nice because you can enjoy the nice weather and a view of the flowing river."
As riveting as Blood Mountain may be, it's far from the only superb riding road in the area. After lunch, we made our way to the renowned State Route 38 known as Richard B. Russell Scenic Highway—which our riding buddy Emily Prince noted is one of her favorites.
"Any time I ride the North Georgia mountains, I make sure to include Richard B. Russell," Prince said. "It's a well-paved road with lots of really good sweepers, not to mention the view at the top which is perfect for beautiful photos with my bike."
Although it's only 23 miles long, this meandering road near Helen, Georgia, is well worth riding with views of the Chattahoochee Forest and rolling mountain vistas that reach a 3,644-foot-high elevation. Like Blood Mountain, it also traverses the Appalachian Trail and boasts a plethora of hiking trails and waterfalls.
Emily was spot on about the view. We stopped at the first expansive overlook with a broad, sweeping view of the peaks for pictures. Even though it was rather barren with spring leaves not yet on trees, we couldn't help but ogle the sight of the painted backdrop of forest and mountains. No matter the season, the Blue Ridge lives up to its name with smoky hues of blue and purple. With our motorcycles lined up against this jaw-dropping background, we remained at the overlook for a while. The sun began to dissipate in the sky and it was finally time to head out.
We made our way back to Wolfpen Gap and then south down to our starting point for the adventure near Dahlonega before darkness began to set in. Altogether the ride — including our lunch and stops along the way — was about 6 hours and 150 miles. Once arriving in Dahlonega, the ride can certainly be done in far less time, but there is so much to see and experience that I recommend budgeting enough time to fully enjoy the sights and make stops throughout the trip.
Many motorcyclists enjoy the shorter Suches Loop, known as Georgia's Dragon. This 42-mile route also starts in Dahlonega, picks up Route 60 to Suches and then Wolfpen Gap Road. It deadends into Highway 129 and back into Dahlonega.
For motorcyclists seeking a much longer trip, Highway 129 can be ridden through Blairsville, Georgia, to Murphy, North Carolina, and on into Robbinsville where the North Carolina and Tennessee version of The Dragon resides. Although all the roads we rode during our North Georgia excursion had something to enjoy and appreciate, I have to admit Blood Mountain tops the list as my favorite. If you're looking for a blood-pumping, invigorating ride, this is it.