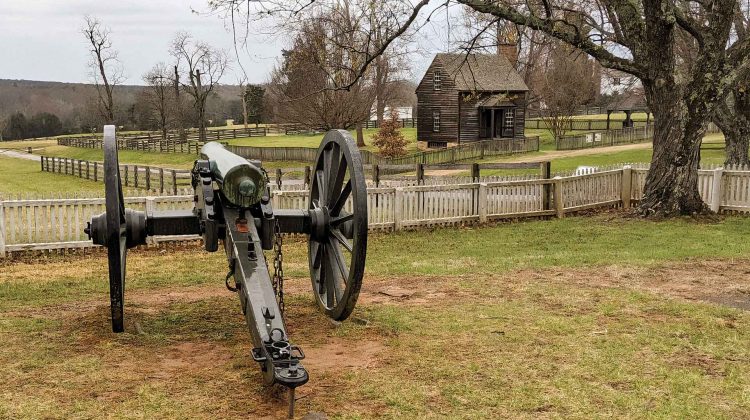 Your mind's eye will get a workout at the Petersburg National Battlefield Park. Or it should, because let's be honest, although it was a consequential place in American history, there's not much to look at.
My mind's eye took me back to July 30, 1864, when Union troops detonated 8,000 pounds of explosives in a 551-foot-long underground tunnel they'd dug under Confederate lines, killing 278 soldiers instantly and leaving a massive crater. The situation deteriorated quickly for the Union, and Confederate counter-attackers killed more than 500 of them in a debacle we call the Battle of the Crater that commanding Gen. Ulysses S. Grant called, "The saddest affair I have witnessed in this war."
On an unseasonably warm March afternoon this spring, the still-visible crater was not even realistic, as Confederates quickly rebuilt much of their trench system in the ongoing siege that would be the longest in American history. It lasted from that July until the following April when Confederate commander Gen. Robert E. Lee, facing overwhelming force, was compelled to retreat westward to his eventual surrender at Appomattox, some 100 miles to the west.
My quest was to follow the route of Lee's and Grant's armies on that fateful journey. While Lee's men were exhausted and starving and Grant's were only marginally better, I would breeze along effortlessly on my Honda NC750X. I was guided by a free brochure, courtesy of the Commonwealth of Virginia called "Lee's Retreat, The Final Campaigns," part of its Virginia Civil War Trails tourism initiative. 
My mind's eye saw the explosion, the carnage, and the ensuing battle that left so many in both armies dead, blood pulsing from severed arteries, pooling on the ground. I heard in my mind's ear the percussion of the cannons and rifles, and the excruciating cries of the scores of wounded, many who within hours would expire in the blistering sun.
While so many of our Blue Ridge Mountain rides are blessed with endless curves, stunning vistas, and places of scenic and culinary interest, this brief tour for me was an exploration of the history of our nation, and frankly my own personal values. Indeed, the Siege of Petersburg and Lee's retreat and ultimate surrender of his Army of Northern Virginia, provided an inflection point in the trajectory of a nation then a mere four score and nine years old. Because of the actions of Lee, Grant, and their men at the surrender at Appomattox, we now enjoy a nation that is more perfect, and one giant step closer to the ideals of our Founders.
I sat in my silent reverie, warm sun on my Cordura riding pants, with red-faced turkey vultures kettling overhead.
It is said the Confederacy never needed to win the Civil War, but instead to simply not lose. Its goal was to stymie the Union long enough to give up, something Lincoln would never allow on his watch.
I hopped aboard my trusty, thrifty Honda and rode to the park office where I spoke with Park Ranger Tracy Chernault at the Petersburg National Battlefield about the park and his work. 
 "This is the site of the longest military siege in American history, stretching 292 days from June 1864 until April 1865. People often think about Lee and Grant as primary adversaries during the Civil War, but they only faced each other for 11 months and nine-and-a-half of them were here." Chernault said. "The nature of the battle was that Lee was fighting defensively and Grant was somewhat hampered by it being an election year."
Grant's army had suffered horrific casualties in the Overland Campaign in the months prior at battles like The Wilderness, Spotsylvania Court House, Cold Harbor, and other places along the way. He lost more than 50,000 soldiers before arriving here. His objective was to destroy Lee's army and he was relentless. Grant understood that in any war of attrition, he would win because he could replace his losses and Lee couldn't. But if Lincoln had lost to his opponent, then the new president might have ordered Grant's abandonment. 
"A negotiated peace would have meant the Confederacy would have endured. Lincoln would not accept that," Chernault said. "The states in the Confederacy were agrarian societies that relied on slave labor."
Petersburg was the second largest city in Virginia, a prosperous rail center with five railroads and major industries. It was strategically important to the Confederacy, the park ranger said. Grant's mission was to destroy Lee's army and Grant felt this was the place to do it. Lee had a third of the men Grant had. 
"One battle fought here ended when a freezing rain began falling and wounded soldiers were freezing to the ground. The ground and trees became covered in ice. Guns wouldn't shoot and fires couldn't be built. How barbaric is that?" Chernault said. "Petersburg has never been a sexy place to visit like Gettysburg or Antietam or Appomattox. It was hellish trench warfare; the armies slogged it out for months. It's broiling hot here in the summer. Imagine what it was like for a soldier in a wool uniform."
The park ranger encourages visitors to simply walk the fields and reflect. Don't expect to be wowed here. Take away a piece of what the men endured here. 
"Civil wars are wars of the people. They affect everybody. Nobody should romanticize this war. If there's an upside to all the pain and suffering, it gave us the greatest country on the face of the earth," Chernault said.
Lee flees Petersburg
By March 1865, Grant forced Lee to retreat, badgering him, nipping on his heels, through a series of skirmishes, until the end at Appomattox. It took the armies six days to go the 100 miles. I could do it in two hours.
I began my trip westward, generally following the route of these massive armies. There's a four-lane highway, U.S. 460, that goes from Petersburg to Appomattox. But the armies took more scattered routes. I followed a bit of both. Most of the Civil War Trails roads were quiet, undulating, sparsely populated country lanes making for pleasant, relaxed riding. There was a mix of farms and forests of hardwoods and pines. There were brick anti-bellum homes with white picket fences, railings, columns, and trimmings. 
Five Forks was a strategic junction in 1865, but now no more than a five-way intersection with a couple of interpretive signs and a cannon. 
At Sailor's Creek on April 6, 1865, Lee lost the services of almost a quarter of his army. Desertions were rampant, as his surviving soldiers could sense the end was near. Today Sailor's Creek Battlefield Historic State Park has a smattering of reconstructed homes and picket fences, with more cannons, left to the weather.
I stopped at the majestic High Bridge railroad bridge, centerpiece of the High Bridge Trail State Park near Farmville. The original bridge was constructed in 1853 as part of the South Side Railroad, and with a length of 2,400 feet and height of 125 feet above the Appomattox River, at the time was considered one of the largest bridges in the world. It is now a pedestrian trail some 31 miles long, bringing tourism trade to the area, with the eastern portal of the bridge a quarter mile from the nearest parking access.
Retreating Confederates destroyed enough of the High Bridge to prevent pursuing Federals from using it, but it was rebuilt after the war and was back in service in September 1865. The current steel-tower bridge was completed in 1914. After the last Norfolk Southern train crossed it in 2004, it was acquired by the Virginia State Park system and opened for non-motorized traffic in 2012.
Farmville is a pleasant town, home of Longwood University and county seat of Prince Edward County. It's also home to one of the greatest civil rights battles in the nation. 
The Robert Russa Moton High School was constructed in 1939 as a segregated school. Designed for 180 black students with only six classrooms and no cafeteria, by the 1940s, it was populated by over 450 kids. When the students there went on strike to protest conditions in 1951, the case became part of the landmark Brown v. Board of Education that ruled against the prevailing principle of "separate but equal" and mandated integration. The county took a novel approach to the integration order by simply cutting all funding to public education and dismantling its entire public school system. There were no public schools in the county whatsoever from 1959 until 1964 when the federal government intervened. The school was decommissioned in 1993 and now houses The Moton Museum, a National Historic Landmark. 
While in Farmville, don't miss the fun and funky restaurant, Charley's Waterfront Café. The building was built in 1850 and used for decades as a tobacco warehouse. In past years, farmers would grow their tobacco and bring it in on carts during market days. The cigarette, cigar, and pipe tobacco manufacturers employed brokers to go to the various warehouses like it throughout the area to make their purchases and grade the tobacco.
Several walls still had faded images of advertisements for downtown stores painted on them, dating back to the 1870s and 1880s. Advertisers looked to reach the growers who had money in their pockets from selling their crops. Market days were big days for downtown retailers. 
Charley's has a nice patio for outdoor seating overlooking the nearby Appomattox River. 
I spent the night with an old friend and former business associate in Buckingham County, his house down a mile-long unpaved driveway. I managed to keep the Honda upright over dirt, mud, and loose gravel. Later, on a four-wheeling tour of his property, he showed me a long earthen berm that he suspected was constructed by Union soldiers to ambush retreating Confederates. It had become overgrown with brambles and trees that he was working to clear. 
As I spoke about my quest, my friend, a retired octogenarian who grew up in Richmond, said he was livid about the dismantling of the statues of Civil War legends on Monument Avenue. 
"Most people don't know anything about the human beings being honored. People have bought into the false idea that putting up the monuments was to push the 'Lost Cause' (a mythology claiming the cause of the war was heroic and justified, rather than centered on slavery) rather than to honor those who fought to repel the invasion of the South. I'm still angry," he said.
It's complicated, isn't it?
Onward to Appomattox
The next day dawned cloudy and cooler, with rain in the forecast. I rode 30 miles to the Appomattox Court House National Historic Park and strolled the cinder trail to the reconstructed village, containing the courthouse, jail, general store, and the McLean house where on April 9, 1865, generals Lee and Grant met for 45 minutes to sign surrender documents that would ultimately end the Civil War. A ranger let another guest and me inside and showed us the parlor where the two great men of American history sat to place their signatures. 
Beth Parnicza, chief of education and visitor services at Appomattox Court House National Historical Park, shared the significance of this hallowed place. 
 "It's peaceful and quiet. Part of what I love here is the diversity of stories," she said. "There's a military story, the surrender story, and many others. Even if people come with one story in mind, they find many others. There are many paths they can go down. The village. The courthouse." 
At the time, this was the county seat of Appomattox County, Parnicza said. The McLean House, where the surrender happened, sits not far from the battlefield. 
"Lee and Grant actually met twice, on April 9 and 10 (1865). During the second meeting, Lee asked Grant to give him parole passes so his soldiers could go home. Grant offered generous terms," Parnicza said.
Grant could have imprisoned Lee and his top aides but didn't. They were bitter enemies who saw thousands and thousands of deaths. Instead, Grant forced Lee to dismantle his army and send his men home. 
"In the eyes of United States law, Lee had committed treason," she said. "Treason has dire consequences. We should appreciate the kindness Grant and his high command showed. Our job is not to say what's right or wrong, but merely to teach what happened."
Parnicza said her goal is to help people get information, and competing narratives and perspectives, to make up their own minds and move forward as a community and a nation. 
"I love doing ranger talks and seeing the thought wheels turning in people's heads. There is much to contemplate," she said. "The world changed here at Appomattox in so many ways. It brought the war to an end and gave our nation a rebirth."
"As historians for the federal government, we don't comment on current events. But we are still having conversations about voting rights, states' rights, racial issues, Confederate monuments, and federal government power," she said. "All those things we see here at Appomattox. This keeps us very, very relevant."
On the long walk back to the lot where I'd parked my Honda under ominous, overcast skies, I looked over the adjacent fields. It was springtime; trees were budding and the grass was turning green. It was the same time of year where on the morning of when Lee's and Grant's army exchanged their final volleys that left still another 360 soldiers dead, mere hours before the surrender. For me, it was a scene of bucolic, abiding beauty. 
I tread over hallowed ground.
I fitted my rain gear over my riding suit and headed for home, two hours away. Rain pelted me for most of the trip. My gear kept me mostly dry, but my visibility was impaired. I had much to contemplate.