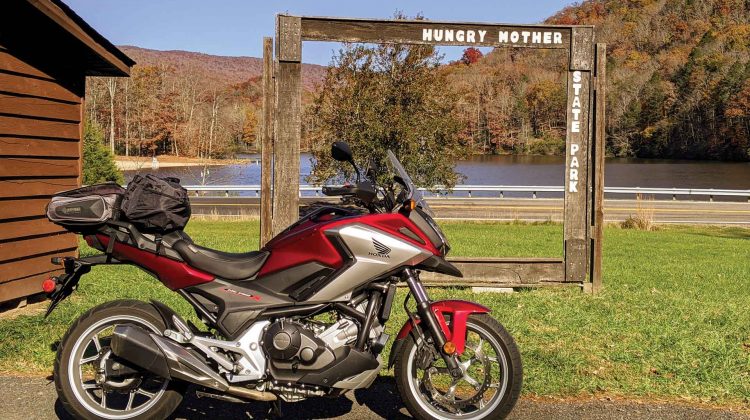 Sooner or later, another motorcyclist will ask you if you've ridding "the other Dragon — the Back of the Dragon." Exiting Interstate 81 in Marion, Virginia, The Back of the Dragon begins its 32-mile, 428-curve journey north to the motorcycle-friendly town of Tazewell.
Officially known as Virginia Route 16, this popular motorcycling destination features all the challenges and less of the drama and traffic of Tennessee's similarly named roadway. It crosses three mountain ridges before easing into the small former mining town of Tazewell. From here, several interesting natural and cultural riding destinations await motorcycle travelers.
Here you'll find a large and inviting Back of the Dragon Welcome Center complete restrooms, food trucks, souvenir shop and even a dragon sculpture perfect for a photo op. Tazwell makes a great base camp to explore several motorcycling roads in this region, many with colorful names such as the "Saltville Slither and the "Claw of the Dragon," which take a scenic route to the neighboring towns including Burke's Garden and Wytheville.
Burke's Garden
 

Historic District

This bowl-shaped valley was formed when a massive ancient limestone cavern collapsed. The fertile soil attracted pioneer farmers and the area still retains its country charm. This hidden valley attracted George Vanderbilt, who considered it as a potential site for an opulent mansion, but instead constructed the Biltmore Estate in Asheville, North Carolina, in 1895. A loop road makes a scenic tour around the valley, but adventure riders may want to explore County Road 63, an unpaved road with plenty of switchbacks.
Hungry Mother State Park
Heading west on Route 16, one of the first popular stops is this roadside state park complete with 108-acre lake with sandy beach. Swimming, hiking and boat rentals are available for some enjoyable off-the-bike recreation. There's also a campground, visitor's center and cabin rentals. Bike clubs can reserve the Hemlock Haven Conference Center for events.
Cavitt's Creek Park
On the other end of the Back of the Dragon, a short detour from Route 16 north of Tazewell brings you Cavitt's Creek Park. This 300-acre park makes a convenient stop for motorcycle camping when heading north to explore the heart of Appalachia. There are full-service RV spaces, primitive sites for tent camping, bath houses, picnic shelters, and a 54-acre lake stocked with bass and trout. Fishing is free but requires a state fishing license.
Historic Crab Orchard Museum and Pioneer Park
History buffs touring this area of southwestern Virginia will enjoy a stop at this museum, archeological site and cultural heritage center west of town on U.S. 460. There are numerous exhibits of Native American and pioneer history, along with even older exhibits that feature mastadon tusk and molars, fossils and other natural history wonders from this region.
Pocahontas Exhibition Coal Mine
 This National Historic Landmark, opened in 1882, provided coal for the steel industry and both world wars before mining ceased in 1955. Located northwest of Tazewell near the border with West Virginia, the mine features guided tours recounting the history and importance of mining in Appalachia.