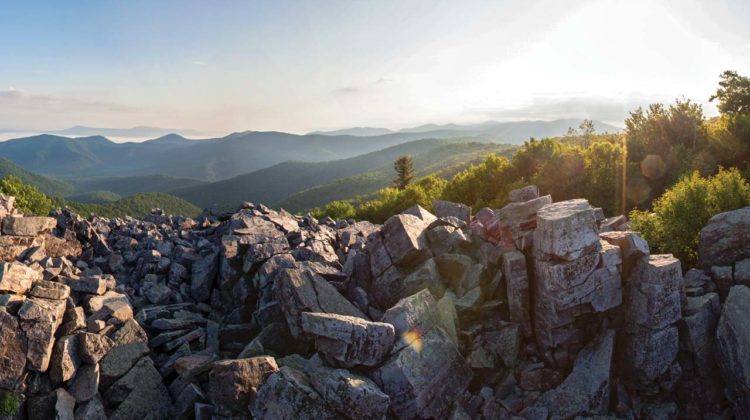 By Michael E. Gouge
At the northern end of the famed Skyline Drive on the western edge of the Blue Ridge Mountains, the historic town of Front Royal, Virginia, offers riders exploring the Shenandoah Valley the perfect place to stopover during a tour of Virginia's Blue Ridge.
Front Royal holds plenty of riding destinations, accommodations, restaurants and natural wonders. Riders can follow the Shenandoah River from the base of the valley or far above atop the parallel mountain ridges leading surrounding the town. Along Main Street, visit some of the many boutique shops and dining establishments as you plan which of the following destinations to visit next:
Ride the sky
Skyline Drive picks up where the Blue Ridge Parkway ends. For the next 105 miles, this National Scenic Byway follows the ridgetops of the Shenandoah National Park northward to reach Front Royal. The views are among the best in this area of the northern Blue Ridge with plenty of scenic overlooks. The surrounding 200,000-acre national park features abundant hiking, back-country camping and wildlife viewing. Lodging along Skyline Drive includes several lodges and rustic cabins, perfect for an overnight stop before completing this must-ride motorcycle road.
Several waterfalls can be accessed from Skyline Drive, but change out of your motorcycle boots first since they require a round-trip hike between 3 and 7 miles depending on which cascade you decide to explore. Other moderately challenging hiking destinations include Shenandoah National Park's highest peak, the 4,050-foot Hawksbill Mountain (milepost 45.6 and 46.7) and Mary's Rock (milepost 33.5), which both offer stunning views of the valley below.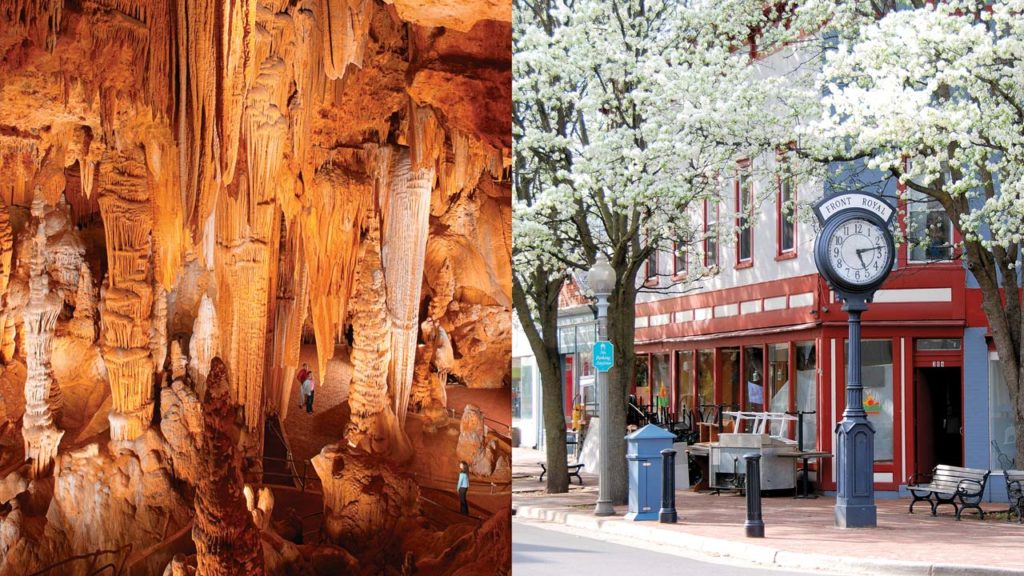 Explore underground natural wonders
The Shenandoah Valley hosts several spectacular cave systems within an afternoon ride of Front Royal. Skyline Caverns just south of town hosts rare formations of anthodite crystal that seem to bloom like white icicles in all directions. Along with three underground streams and a 37-foot waterfall, visitors can ride the Skyline Arrow, a one-fifth scale streamlined miniature train.
Luray Caverns (25 miles from Front Royal) features one of the state's largest caverns along with an antique car and carriage museum and garden maze. Don't miss gazing into the cave's Dream Lake, where the water from an underground spring create a mirror reflection of the stalactites. It looks bottomless, but is actually less than two-feet deep. Shenandoah Caverns (43 miles away) houses a unique attraction of antique department store window displays and the exhibit American Celebration on Parade, a collection of former parade floats from inaugurations and holiday celebrations. Endless Caverns, (50 miles away) makes a great spot for those wishing to do some motorcycle or RV camping after exploring an underground world.
Follow the Civil War Trail
Confederate Gen. Thomas "Stonewall" Jackson earned his reputation as a brilliant military commander by engaging Union forces in 1862 near Front Royal during the Civil War. His series of bold maneuvers diverted enough Union troops to spare the Confederate capital and keep northern troops from controlling the Shenandoah Valley.
The Battle of Front Royal Driving Tour features 10 stops at historic sites during the military campaign. A handy brochure available from the Warren County/Front Royal Visitor's Center, located in an 1885 train depot.
The driving tour begins at the visitor's center. Follow the Virginia Civil War Trails signs for a 16-mile excursion. The tour takes about 3 hours.