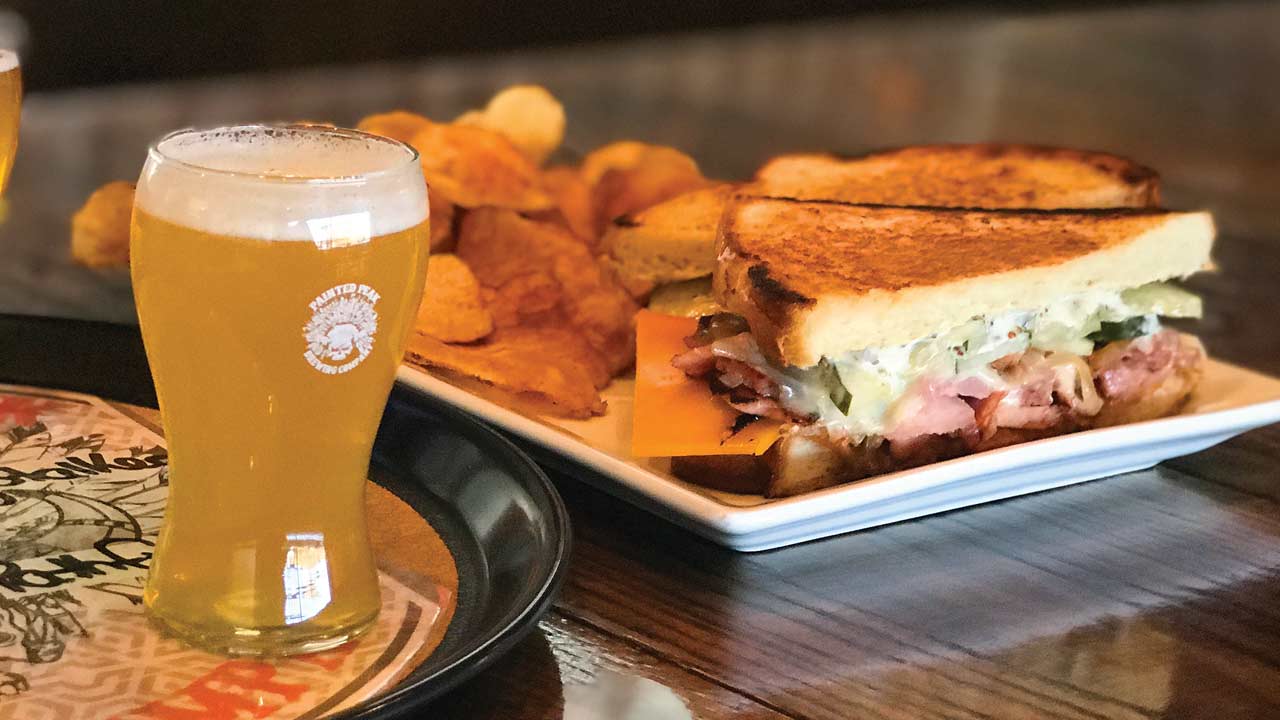 Tazewell County, nestled in the mountains of Southwestern Virginia, boasts three of the state's highest mountain peaks with breathtaking scenery. The area attracts motorcyclists from across the country to its infamous stretch of exhilarating curves along Virginia Highway 16 from Tazewell to Marion, known as the Back of the Dragon. The 438 curves make the area a destination for a variety of motorcyclists, and for those visiting the area, Painted Peak is a not-to-miss respite for riders and locals alike.
Nestled in charming and bustling downtown Tazewell on Main Street resides Painted Peak — a restaurant and brewery known for its craft beer and delectable southern-inspired cuisine.
Painted Peak's logo incorporates a Native American headdress and the walls are adorned with Native American décor. The imagery harkens back to the heritage of Tazewell County, with nearby Indian Paintings recognized as a historic archeological site. The pictographs on a rock face on Paint Lick Mountain feature a series of images representing thunderbirds, human figures, deer, arrows, trees and the sun, all painted in a red medium using iron oxide. Among the tribes that occupied this area in historic times were the Lenape, and the Iroquoian-speaking Cherokee and members of the Iroquois Confederacy.
"We're paying homage with the name Painted Peak to those folks," said Dave Blankenship, owner of Painted Peak Brewery. "There is also a local aspect which is somewhat comical. The mountain directly in front of our brewery is called Wynn's Peak. If you grew up in our little town, you climbed the peak and spray-painted your name on it. That was almost a right of passage."
The brewery and taproom, housed in a former truck dealership, now appears bright, sleek and modern with an ample bar area, large windows and a long beer menu on the wall featuring over a dozen beer options.
Painted Peak makes a perfect stop to satiate post-ride appetites with a refreshing beer. The brewery features two flagship beers, the Fog Stalker and Weed Splitter IPA. According to brewmaster Jarrod Whited, the IPAs are their signature beers, but they often release new craft brews.
"We just released Spirit Horse Sour, and a seasonal we do each year called Cocoa Curry, which is coming out," Whited said. "It has curry seasoning, local butternut squash and cocoa nibs and ginger. This beer is a collaboration with our chef who makes the seasoning."
Whited said Painted Peak takes their brewing process seriously.
"We try to keep the process close to authentic," Whited said. "It's hard work, but what we produce is something to be proud of."
He said he's partial to the Copper Head Red. It's a malty beer with a little citrus hop flavor and aroma.
"It's got a great color to it," he said. "It's a real vibrant red. Not too sweet and not too bitter. It's a good beer to finish a meal with."
The brewery also aims for a more mainstream beer-drinking crowd with its selection of lighter beers.
"Our local crowd, we're light beer crowd here. That sounds kind of weird being from a craft beer world, but most of what we sell here, most of what our local crowd likes our cream ale, likes our kolsch likes a blonde ale. We're very much a lawnmower beer community if you could call it that," Blankenship said.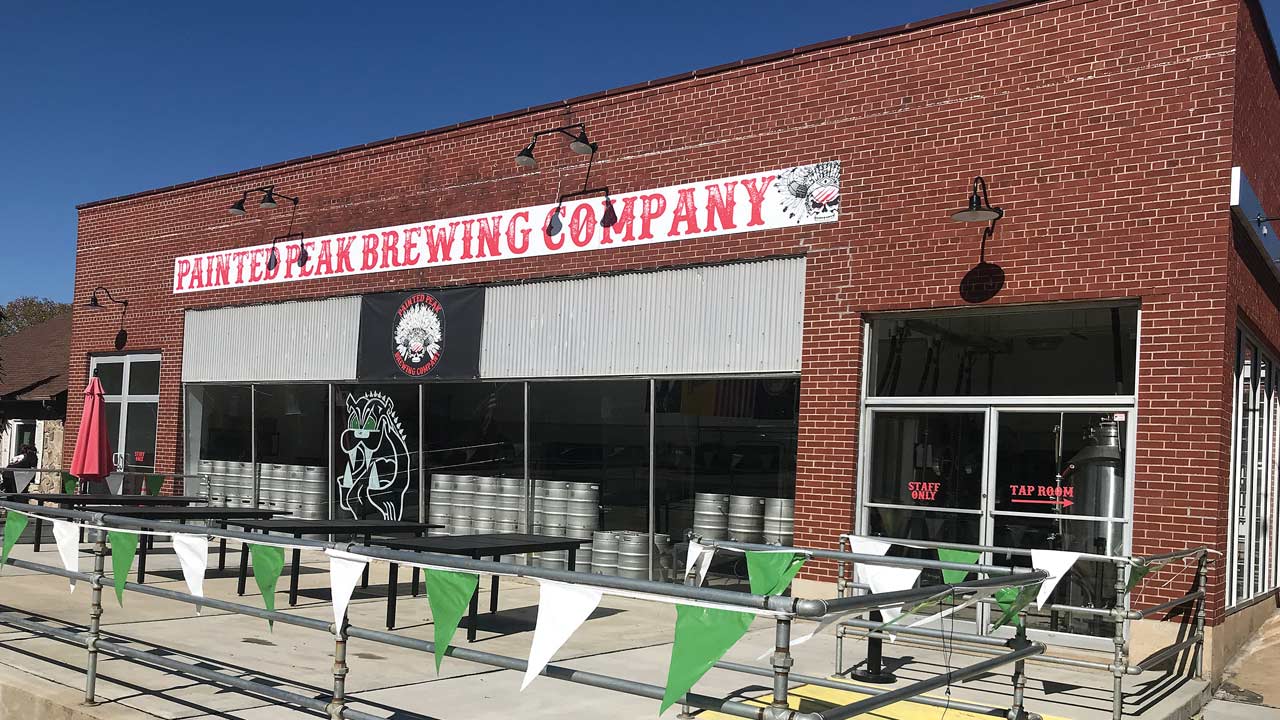 Painted Peak is part of a downtown revitalization for the small Virginia community, which now attracts thousands of motorcyclists each year to explore the Back of the Dragon and other area roads. Four different restaurants on Main Street — Painted Peak Brewery, the Front Porch, Seven and Sharina's Wings — welcome riders looking for a lunch or dinner break.
"Three or four years ago, if you were to drive down Main Street in Tazewell, there would be very few lights on," Blankenship said. "You would not have been able to get a soft drink, much less a malted beverage or spirits. Now we've got four restaurants on Main Street, we've got shopping."
The establishment partners with Clinch Mountain Motor Works, a company that builds small displacement, lightweight motorcycles and restores vintage motorcycles. Painted Peak often features one of their motorcycles in their front window.
The new Back of the Dragon Welcome Center, set to open in May, is nearly walking distance from Painted Peak. When it opens it will feature beers, a gift shop with Back of the Dragon merchandise and even a yogurt shop.
"We have major plans for 2020. It will be huge," said Jamie Cartwright, events coordinator for Back of the Dragon. "We will be in our over 5,000-square-foot building. We will have a coffee bar, a yogurt bar; we will have beer taps, our welcome center, our store and a lounge area. It will be the starting and stopping point for our riders to come in and get a cup of coffee and get ready for their ride or come back to get some souvenirs."
The new center will serve as a gathering spot for motorcyclists, both for local and out-of-town riders. It will be place to relax, plan your next route or just hang out for a cup of coffee and swap riding stories with friends.
"The camaraderie is what we want. We want folks to have a common, fun thing to do and that they get out and ride. That's what their looking for — that ride, that exciting exhilarating rush of these curves and the beauty of the mountains," Cartwright said.
The region's popularity as a motorcycling destination is starting to attract a global following, she said. The Back of the Dragon is Virginia's only designated motorcycle and sports car scenic highway.
"We had a couple from South Africa in there a few weeks ago," Cartwright said. "This is not just your southern states or northern states hearing about us. This is global. People are really starting to pick up on these roads."
Flux and Tamara Neo, a couple local to Tazewell who run Neo Law Firm, are regulars at Painted Peak and they shared their favorites.
"I come here in the evenings all the time. There isn't anything I've had that I haven't liked. We think it's awesome. This is our favorite restaurant in town," Flux Neo said.
For the holiday season, Painted Peak plans to bring back its popular Tomahawk Ribeye, which is a 36-ounce ribeye steak shaped like a tomahawk. In addition to burgers, cheese steaks and comfort food, patrons can also find healthy salads and vegetarian options.
"The Mountain Gypsy is my favorite because I'm a vegetarian," said Henry Miller, a Tazewell local since 1997. The Mountain Gypsy sandwich includes braised greens, pepper jelly, swiss cheese, crispy onions, garlic aioli on toasted sour dough. "I like that Painted Peak accommodates vegetarians."
Blankenship said they try to keep the menu simple, with beer cheese, beer-battered onion rings and other pub fare. The large space allows for live music, making it a hub for the local music scene.
"We're trying to share the natural beauty that we are blessed with and feel like if we can get people to come here, give them a good time, good food, and show them the unbelievable beauty we have around us, eventually they are going to want to come back," Blankenship said.  y
BRMM editor Michael E. Gouge contributed to this article.