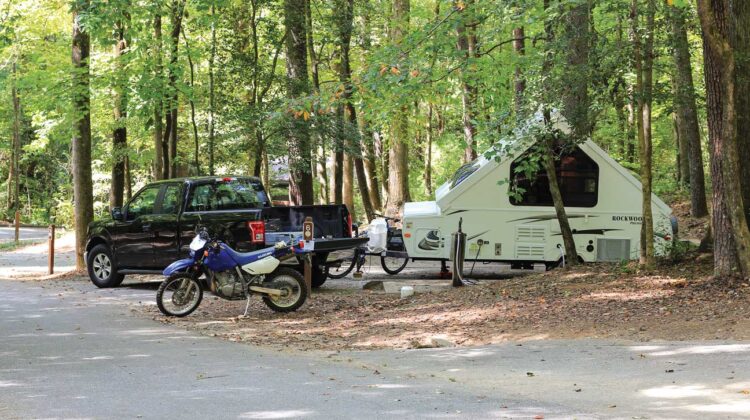 Just north of Helen, Georgia, Poplar Stump Road runs northwesterly shadowing the west bank of the Chattahoochee River toward its headwaters. On this cool, nearly perfect September day, my Suzuki DR650 and I snake along the river's edge, mind wandering considering how the narrowing waterway winds and tumbles southward over the fall line to the coastal plain some 430 miles distant. This vast 770-square-mile river basin starts in the southern Blue Ridge Mountains creating ecosystems and regional culture in three states.
Thump, thump, thump reports the single piston wonder that is the powerplant affixed to the DR650. The low-tech design of this engine conceived by engineers at Suzuki in the 1980s has been in production since 1990. Thirty years of thumping around the world. Somewhere, there should be a large glass case with a ready to ride DR650 inside and a sign that says, "In Case of Apocalypse Break Glass."
If civilization ends, the DR is likely to be my transportation weapon of choice. Tough, reliable, simple, proven, inexpensive, lightest in its class, the DR is with little doubt one of the best all-around dual sports. The best machines are ones that are simple, reliable and do what they are designed to do often beyond their expected duty cycle. For me, the DR is such a machine. Riding a DR in the wilds of the Blue Ridge Mountains is one of life's great pleasures.
The Chattahoochee provides life sustaining water, hydro power and irrigation for millions of people in Georgia, Alabama and Florida. During its long journey, the Chattahoochee's water comingles with the Flint River where both flows get temporarily detained by an Army Corps hydroelectric dam impounding Lake Seminole near Bainbridge, Georgia. The outflow from Lake Seminole becomes the Apalachicola River, ultimately ending the hydraulic odyssey at the Gulf of Mexico in Apalachicola Bay. Upstream three states compete for this precious resource. The challenge of sharing this water has been repeatedly litigated in federal court by all three states and environmental lobbies for three-plus decades. As the DR thumps, the river's flowing life blood reminds me of a quote often attributed to Mark Twain, "whiskey is for drinking, water is for fighting over."
The ride reaffirms everything in nature is connected. The reverence I have for the Chattahoochee's story is no small thing. The story is epic. It is indeed personal, as the river's 430-mile journey ends less than 50 miles from my home in North Florida.
Thirty years ago, I made my first motorcycle trip to Helen, Georgia, with an old friend. Back then I was riding a much beloved GS1100e. My buddy rode a Honda V-65 Magna. I occasionally have vivid technicolor dreams about riding those bikes. Ah, devil nostalgia, it makes you behave in strange ways. I have returned to the area a dozen times or more since that first trip.
In the mid-'90s, I lived and worked in Georgia. Native Georgians more than once proclaimed that Helen was not "the real Georgia." Their opinions referenced touristy inauthenticity regarding the alpine theme. Being an erudite open-minded guy, I would nod in polite agreement all the while trying to comprehend their irrational bias against the quaint little hamlet. To be honest, I understood their reasoning. But, I didn't then or now abide by it. I enjoy Helen and its faux Bavarian branding. Helen is also the esteemed alpine gatekeeper to nearby Unicoi State Park offering visitors just about everything necessary to have a grand time.
Helen's formative years were spent as a logging town in the early 20th century. In the late 1960s, as the local timber economy declined, the city reinvented itself as a Bavarian alpine a town, in the Appalachians instead of the Alps. In 1969, the city adopted land use regulations mandating the alpine theme be incorporated into every building in town. It may seem inconsequential, but I speculate that adoption of a zoning ordinance and associated design standards of this sort in 1960s Georgia would have been terrifyingly progressive to most local residents. Arguably, the gamble in progressive design and land use policies has paid off as Helen has become a popular tourist destination for riders and non-riders alike.
Many local governments have tried to reinvent themselves to promote economic development in the wake of decline. Given recent economic woes many more local governments will face similar challenges. Arguably, some achieve that end more easily than others for many reasons. The phrase, geography matters, is an unassailable truth. Helen's ability to draw visitors to its geography is undeniably facilitated by the characteristic natural beauty of the surrounding Blue Ridge Mountains. A ride through Helen's central business district taking in the panorama of the surrounding terrain, confirms that people would visit even without the quaint alpine village themes.
Driving this point home, perched to the north of Helen is yet another example of the outstanding Georgia State Park System, Unicoi State Park and Lodge. In September, I spent three days moto-camping in the park. I trailered a camper, mountain bike and the DR650 from my home in Tallahassee, Florida, to set up a base camp at the Little Brook Spur. The sites have shore power, water, picnic tables, fire rings and access to comfort stations elevated the experience to glamping level. The 60-room lodge and conference center are a short bicycle ride or walk away.
In the lodge, visitors will find a good restaurant, tavern, large open areas inside, comfortable Adirondack seats outside, strong stable WIFI and friendly staff. Every morning I was able to enjoy a nice cooked to order breakfast and connect to my office accomplishing necessary work before play could begin. The dining room is spacious, clean and social distancing is easy.
The first morning, I arrived at the lodge restaurant a little after 10 a.m. to find an empty dining room. The young lady who greeted me indicated that breakfast was over, and the kitchen staff were on break before starting their lunch prep. I gave her an apologetic, "no worries" then asked if I could have a seat and do some work. She graciously obliged while offering coffee. She then asked if I wanted anything from the kitchen offering to coerce a cook into scraping something together
"Some pancakes and bacon would be much appreciated," I replied.
In a few minutes, she returned with items cooked to perfection.
"I couldn't find a cook, so I made it myself," she said. It turns out my short-order cook was Rachel Meaders, the director of food and beverage services at the lodge, and accustomed to motorcyclists rumbling up to the lodge.
"Riders make up a significant percentage of lodge visitors," she said. "We host motorcycle club rallies especially in the fall. We recently hosted a rally for a local chapter of the Heaven's Saints Motorcycle Ministry," Christian brotherhood of bikers.
Judging by the bikes and enclosed trailers in the parking lot, she was not exaggerating. The park makes a brilliant base camp for day rides. There are hundreds of miles of paved and un-paved roads to explore only a few feet from the lodge's portico.
The ghosts of trips past visit me each time I return to the Blue Ridge. The memories of previous rides influence the now. Twenty-five years ago, I attempted to visit Anna Ruby Falls. Arriving at the gate that day, I was dismayed to find it locked, oblivious to the federal shutdown because of a feud between then-President Clinton and Congress. Seeing this natural wonder has since been a bucket list item for nearly a quarter of a century. So, it was imperative after breakfast and the required mollification of persons at work, to ride the DR over to Anna Ruby Falls.
While that attempt so many years ago to see the falls was a failure, on this day, Uncle Sam was open for business. The falls are the namesake of Anna Ruby Nichols, daughter of an early settler. Anna Ruby Falls is actually twin waterfalls created by two separate streams. Curtis Creek and York Creek unite at the base of the falls to form Smith Creek, which flows into Unicoi Lake a prominent feature within Unicoi State Park. The headwaters for both Curtis and York creeks begin at Tray Mountain, Georgia's sixth-highest peak: Curtis Creek drops 153 feet and York Creek drops 50 feet. The falls are but one more superlative gem in Unicoi's collection. This sight is worth every penny of the $3 fee and half-mile walk. I have no explanation why it took 25 years to get here. Gorgeous.
Leaving the falls, I went for a short ride on Georgia 75 until the DR dipped into the reserve demanding to be fed. Coincidentally, my stomach also signaled hunger and I soon found myself parking the venerable DR in a sparkling line of large cruisers at the Two Tire Tavern in Helen.
Two Tire Tavern offers excellent outdoor dining space with solid bar food. Dan Terlizzi, the owner, graciously came out to talk about bikes and his growing business. Nearly every rider will eagerly talk about bikes owned, ridden, liked, disliked and loved. Terlizzi and I spent much of our time together reminiscing about several bikes we have owned over the years. Nostalgia seems to be a pattern.
Terlizzi's love of motorcycles was the catalyst to build this business that, as the name implies, caters to riders. He estimates 25 percent of tavern business is riders and plans future marketing strategies to increase moto-clientele.
A rider himself, Terlizzi owns two bikes, one being a Honda XR650L dual sport. Noticing the mighty DR650 awkwardly presenting as a proverbial ugly duckling among the shiny cruisers in front of the tavern, he recommended a dual sport ride in the nearby Chattahoochee Wildlife Management Area beginning at Poplar Stump Road. The next day I took the restaurant keeper's advice and found the road he described.
The ride is in a word, beautiful. Poplar Stump road starts out paved, but soon turns to graded gravel. As it penetrates further into the forest the condition of the road gets progressively worse devolving into a wide rocky trail winding through the mountains. This is exactly the terrain a DR is designed to tackle. The oversized piston thumping its way until either bike or rider runs out of gas. Usually the/this rider wears out first. There is no better conveyance than a motorcycle to explore these areas. As a bonus, the trail crosses the river in two places providing a free boot and bike wash. I owe Dan a debt of gratitude for recommending this ride.
This trip leaves me yet again surprised by how much Helen and Unicoi offers anyone who visits. Literally something for everyone. The moto-rides are always great. Plus, the area offers dining, shopping, extensive hiking trails, fishing, boating, mountain biking, tubing, and zip lines in an extraordinary natural setting. In the three days spent at the park, I went on two rewarding hikes, two excellent moto-rides and a mountain bike ride.
I broke camp to head home were of sitting alone in an empty lodge dining room on my computer remotely solving other people's problems. An attentive, friendly young lass named Krystal checked on me regularly. While working, I could hear music coming from the kitchen and then suddenly a chorus of staff singing loudly to what I think was an Ed Sheeran song. These unseen people sounded happy. Happy to be working, unabashedly singing together. And why not? They are privileged to live and work in a beautiful place.
The moment was fleeting, but nonetheless delightful. After months of pandemic and depressing news cycles, we all need more experiences like this. Three days in the Blue Ridge and my soul may be slightly repaired. Now, I need to muster the courage to tell my wife I am coming back in October.  y