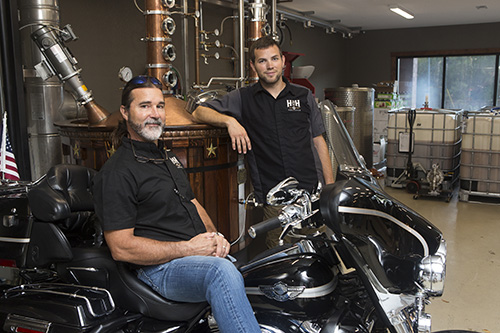 Everyone knows that drinking liquor and driving motorcycles don't go together. But now, making liquor and driving motorcycles, that's another story. In fact, it's the story of father-son team Wendell and Taylor Howard of Fairview, the partners behind H&H Distillery, a craft operation the pair founded in 2015.
Classic cars and Harley-Davidson motorcycles are interwoven into their family lore, and now into their liquors. Their Hazel 63 rum, for instance, is named for a Cadillac of that year owned by their grandfather, Hazel.
The Howard family members are entrepreneurs, so they're no strangers to hard work, and making liquor is just that. It also requires a lot of persistence just to get all the appropriate state and federal permits. But in Asheville, a booming town for craft beer, spirits and fine dining, they never doubted they had a niche that would work out. Still, navigating the permitting process, getting the right equipment and learning the finer points of distilling were arduous.
Taylor Howard, who also works for his father's construction company, T&K Utilities Inc., says he and a cousin started working on paperwork for the distillery in 2012. The official founding date came in 2015. "The first bottle of rum wasn't available until July 2016," said Taylor Howard, 30. "We weren't going full force – just doing it on the weekends, whenever we could." Now they are going full force, distributing in North and South Carolina, with approval to sell in Tennessee and Washington, D.C. They're in about half of the liquor stores in the Carolinas, and the number is growing.
"I picture that good things, better things, are getting ready to happen," said Wendell Howard, 57. "I get a lot of phone calls. There's a network of people who like supporting local." H&H is up to five employees, including the Howards. They've made a commercial with the '63 Cadillac for Hazel 63, and they've got approval for Old 74, a vodka whose name is a nod to a local highway. That's also the genesis of a gin they're working on that will be called Highway 9.
"That was my favorite motorcycle ride," Taylor Howard said. "When I'd get home from school, I'd go out Old Fort Road and Highway 9, then back down 74." Although it seems simple, vodka is one of the tougher liquors they've ventured into. "You can make it out of anything, but you have to come off (the still) at 190 proof or above (85 percent alcohol), or it's not vodka," Taylor Howard said.
They're also working on a 2018 release for Switchback Whiskey, a reference to notoriously winding mountain roads that are motorcyclist's dream. The Howards don't have a long tradition of moonshining or other liquor making in their history. Asked if he had any experience in making liquor, Wendell cracked, "No but I've been partaking in the sampling lots of times, in lots of places."
Taylor initially got into the business with a cousin, Wendell's nephew, but when the nephew decided to go in a different direction, Wendell jumped in. Wendell gets plenty of help from his wife, Amy, but he and Taylor are the official partners in the distillery. "There may or may not have been some trial and error involved," Taylor Howard said with a laugh, describing the learning process.
With a degree in electrical computer engineering and technology, Taylor Howard knows his way around the world of computers, but that didn't necessarily translate to the world of distilling. He's always been good with his hands, though, and he's open to learning.
Joe Baker, the owner of Old Smoky's Moonshine, offered to help teach Taylor the basics, so he spent most of a week working double shifts and learning as much as he could. Taylor went on to take distilling courses in Colorado and Washington. Taylor splits his time between H&H and T&K Construction, which has done foundation and water and sewer work for several major breweries in the area. With two decades running his own company, Wendell Howard brought a world of business and financial acumen to H&H, but both men acknowledge distilling has come with a whole new set of challenges. But that's part of what they love. "That is the most exciting part to me, more than anything else," Taylor Howard said, adding a personal story about necessity being the mother of invention. "I made a bottle rinser the other day. I just got tired of waiting, so I made a bottle rinser and dryer – it rinses eight bottles at a time and it can dry 32 at a time." He created the machine with plastic tubs, nozzles and other parts, mostly from Home Depot.
The Howards are going for a premium market, and their liquors are not cheap. They're using molasses from the Caribbean for Hazel 63 for instance, and it sells for $28.95 a bottle in North Carolina. Near the end of 2017, they had produced 6,000 bottles. They used curled white and French oak for aging, adding to the flavor.
Between the distillery and T&K Utilities, the Howards are busy men, especially since the economy has rebounded and the need for the water and sewer lines, building foundations and other work has skyrocketed.
Taylor Howard and his wife, Leah, have a 3-year-old son, Hawkins, and that adds to the mayhem. Wendell founded T&K 22 years ago and is the president, and he acknowledges freely that Taylor does more work with the distillery than he does. As with any family working full time and raising youngsters, life gets a bit messy at times. "He can show you that dirty diaper in the office – it's not new," Wendell Howard said with a hearty laugh, sitting in his office off Charlotte Highway.
Like a lot of high-energy people, the Howards are drawn to motorcycling because of the peace of mind and that sensation of getting away from the workaday stress. "I like just that there's no cell phones, and you get away – and like everybody says, you feel the thunder," Wendell Howard said, adding that he enjoys the camaraderie of riding. "There's so many different groups of riders, and everybody is usually user-friendly. It doesn't matter if it's a crotch rocket to a moped to a Harley to a BMW, everybody waves. I've never run into anybody who's been an ass."
Taylor Howard started riding as a kid, first on four-wheelers and then dirt bikes, moving up from 50s to 250s. "I was way better on two wheels than I was on four wheels," he said. "In fact, they scare me a little bit." Some of Taylor's earliest memories are of riding on the back of his dad's 2000 Harley Dyna Wide Glide. "He'd put a backpack that would fit over the sissy bar, and I would fall asleep back there," Taylor Howard recalled. "As soon as I got a permanent license and they would let me, I got one."
Now Taylor rides his dad's old Harley, which has about 17,000 miles on the odometer. Taylor had a brief flirtation with a crotch rocket, a 600, but he had broken a couple of fingers a few weeks before and had trouble pulling in the clutch. "I kept it for six months, maybe, then sold it and went back to the Harley," Taylor Howard said. In part, Wendell Howard gave the Dyna Wide Glide to Taylor because Wendell's neck was bothering him when he rode. Wendell thought it had something to do with the bike and the seats, so he bought a 2003 Harley Ultra Classic. The pain continued, though, and he realized it was more about his posture. A small back support seat also helped, and the pain went away. That's allowed trips to Daytona for bike week and the big rally in Sturgis.
The father-son duo ride together occasionally, schedules permitting, but they'd both like to ride more. They love heading out to Brevard, or maybe dropping down 74 into Chimney Rock. "It's a way to escape," Taylor Howard said.
Even though they work in two different businesses together, neither father nor son has grown weary of seeing too much of each other. Taylor Howard is vice president of T&K, but as he says, that mainly means he can sign "a bunch of legal stuff." He's really a jack of all trades, taking care of electrical problems on equipment one day, handling paperwork the next. "We get along pretty good," Taylor Howard said. "We do get aggravated with each other sometimes, but with our relationship we can pop off real quick and it's done. We do it, then two seconds later we're over it. We both have that same personality."
It's a personality that allows both men to handle a workload and lives most would find daunting. "It's a blessing to be able to work with your son when he has that work ethic that I would expect and that you would want all your kids to have," Wendell Howard said. "He has the desire and the drive to take something from nothing and make something happen."