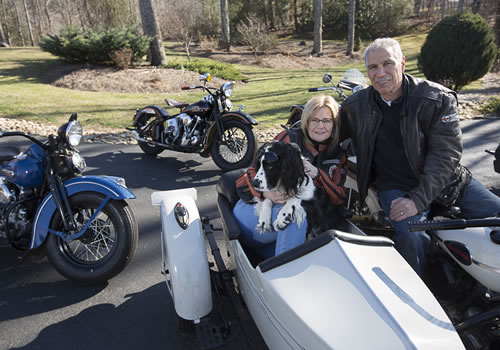 You might say the end was just the beginning for Tom Plackis.
After 20 years with the Fire Department of the City of New York, Plackis was ready to retire, and the well-traveled Long Island native knew exactly where he wanted to end up. He'd been through the mountains of Western North Carolina several times and felt comfortable in its nurturing mountains, its comfortable four seasons and its friendly denizens.
"I retired and within a year I was here," says Plackis.
In the decade since, Plackis has put down roots. He connected with community groups. He married his wife Angie in a ceremony replete with touches of 1940s popular culture, an era that has a hold on him. And he began fostering a new fascination with antique motorcycles.
Motorcycles had always been a part of Plackis's life. His father owned a Harley-Davidson. He grew up the youngest of six boys in his family, and while his mother was staunchly against minibikes, she eventually gave in to her sons' interest in bikes.
"I think I was 17 when I got a 1969 Triumph. She didn't like it, but a couple of my brothers had gotten motorcycles and she ended up being pro-motorcycle," Plackis recalls. "She would tell all her friends to watch out for motorcycles on the road."
Plackis says he quickly realized that what he really wanted was a Harley. He bought a 1972 Sportster "and was a Harley guy forever after that."
In the mid-1980s, Plackis and one of his brothers spent nine months tracing a rough perimeter of the United States on their Harleys. The two rode from coast to coast, grazing the Canadian border and the Florida Keys. Over the years, Plackis says he's visited every state in the lower 48 on a bike. He's also made a point of attending Harley rider reunions on the occasion of the company's 90th, 95th and 100th anniversaries in Milwaukee.
It wasn't until his retirement that Plackis really started getting into antique motorcycles. Plackis's basement is his refuge. It's part workshop, part motorcycle museum. In one corner, boxes of dusty parts fill shelves. There's a black bike frame waiting to be filled out. In another area, Plackis has Harley memorabilia collected and lovingly displayed, everything from toy bikes to antique signs and old calendars.
"I really liked going to meets and then I kinda got on a mission," he says, noting that he'd always been fascinated with his father's 1950's-era Knucklehead.
He bought a 1940 Knucklehead from a friend, and over the years he purchased a 1937 Knucklehead and a 1945 Knucklehead with a sidecar. But Plackis says it was his work building a 1938 Knucklehead from the ground up that sealed his love of antique bikes.
"I'd say 90 percent of it is original parts or parts from that era. I had all the parts assembled and had them in the basement, and once I started putting the bike together, it was almost like it was on an assembly line. I finished it in early 2014 and it fired right up."
"It's a fun bike. It's gets a lot of looks," Plackis adds, pointing out special details all over the bike.
All the intricate work paid off at Willie's Tropical Tattoo Bike Show, a famous bike show during the equally well-known Daytona Bike Week.
"My bike really isn't the kind to go in a show. There's a lot of very custom stuff: home-built, rat rod stuff," he says. Still, he entered along with 400 or 500 other bikes just for fun.
"It was about the end of the show and I was ready to go home and waiting for the crowd to dissipate when they called me. Willie had seen my bike and he gave me the Willie's Choice Award," Plackis says, still somewhat astounded. Onlookers snapped photos and "the tattoo girls smothered me" as he made his way to the front to pick up his award, Plackis recalls with a laugh.
"I knew the bike was special, and I put a lot into it," he adds, "but I didn't expect that."
Plackis, in fact, is a master tinkerer. In the late 1990s, Plackis was granted a patent for a convertible motorcycle seat "in which a solo seat optionally conceals a passenger seat within a cavity." He sold that patent to Harley-Davidson and began working on his next idea, a heel-toe shifter that pivots. Plackis that he just missed out, by a matter of day, on winning that patent, which was granted to Harley.
While motorcycles command much of Plackis's time, he's clearly got a full life beyond bikes.
"Guys ask me what I do now that I'm retired. 'Aren't you bored?' I always say I need a personal assistant because I'm into so many things. I had to take away hobbies," he says.
Plackis and his wife travel regularly. He loves hunting, mostly crossbow hunting these days. He's active in motorcycle and car clubs that raise money for local charities. And he's devoted to helping honoring local veterans through the Western North Carolina chapter of the 8th Air Force Historical Society.
"I love it here," he says with a contented grin. "This is the life I've always wanted."