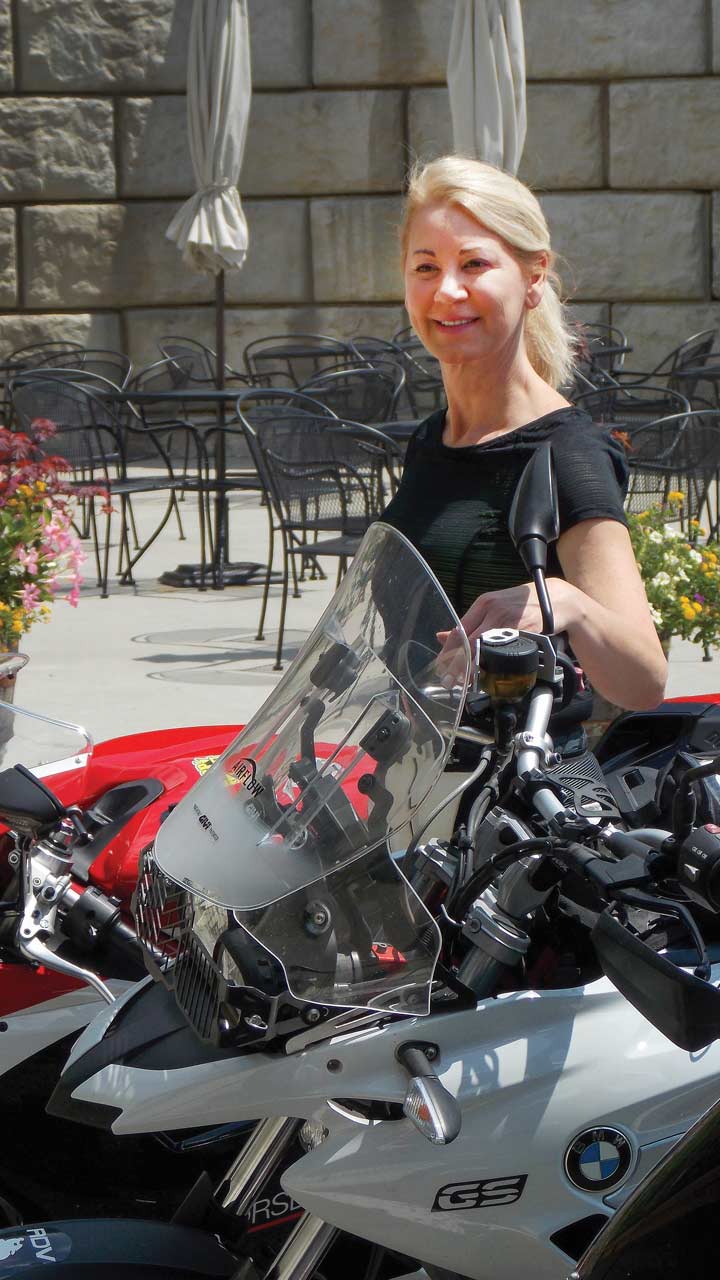 Some people dip a toe into a new activity like they're gauging an icy mountain stream – tentative and half-hearted.
Not Dr. Laura Ellis. She dives in, very likely making a huge splash before taking off at high speed.
Four years after learning to ride a motorcycle, Ellis, a serious rock climber and mountain biker, has run through a half-dozen increasingly powerful bikes, starred in a documentary chronicling a grueling two-week charity benefit ride in Peru with well-known cyclist Neal Bayly, and started her own racing team.
Her mindset is simple.
"If you want to do it, set your mind to it," said Ellis, a lithe 51-year-old , sitting in the dining room of her comfortable Asheville home. "You may not win, but you can do it."
Don't get the idea that Ellis is reckless, though. A native of Greensboro who graduated from the UNC-Chapel Hill School of Medicine, Ellis burns with intensity, but she's also methodical.
"Part of my history is I was a trauma surgeon for many years," Ellis said. "I like safety. I don't necessarily like risk taking. I like adventure, and I like a challenge, so the first thing I did was take the motorcycle safety foundation course."
Her instructor, Jim Compton, has been teaching the Motorcycle Rider Education class since 1999 at Asheville-Buncombe Technical Community College. The course, which covers the fundamentals of safe riding, includes classroom work and eight hours on the bike, spanning an entire weekend.
He remembers Ellis well.
"On Sunday evening she went out and bought a motorcycle. She sent me a picture," Compton said with a laugh. "This girl goes all in."
The smaller Kawasaki didn't last long. Compton remembers a few months later riding on the parkway with Ellis, who was on a top-of –the-line Ducati.
"She probably went up the Parkway in second gear," he said.
While Ellis craves adrenalin fueled by adventure, she is not looking to die, Compton stressed. She was actually the ideal student.
"She's a very good listener, and the main thing that makes teaching how to ride a motorcycle very easy is when person has the heart and will to do it," Compton said. "If they come in to the class and they've already bought in, our job is very easy. It's the people who come in under peer pressure, who really don't want to do it; those are the people who don't do well."
Getting faster, going on TV
Ellis felt comfortable enough with her skills to buy that first bike, a Suzuki 650, and hit the streets. And the parkway. And the back roads. And some secret spots she still keeps to herself.
"It's a smooth, easy bike," Ellis said. "It's easy to learn on."
But the need for speed prevailed, and Ellis upgraded to the Ducati, a Streetfighter 848.
"Boy, it was a handful after riding that Suzuki," Ellis said with her trademark gusto. "In addition, I bought a Yamaha R6, which is a sport bike – and the quintessential race bike. I really enjoyed riding that."
Eventually, she traded the Streetfighter in for a Ducati Evo 848, a superbike prepped for the street.
"I just fit really well on it," she said.
Not surprisingly, she found her way to the track, including NC BIKE in Garysburg, North Carolina. There, owner Sam True, hooked her up with Neale Bayly, a renowned motorcycle journalist and philanthropist who organizes charity adventure rides for his reality television show, "Neale Bayly Rides."
"He was setting out to do this adventure in Peru to benefit an orphanage, and Sam said, 'You need to help my friend Neale Bayly,'" Ellis recalled.
She contacted Bayly, a transplanted Brit who lives in Charlotte, and Bayly suggested they ride dirt bikes in the California desert.
"He's got the producer of the show out there, and I realize, this is an audition," Ellis said. "The producer brings out an Emmy, and Neale says, 'We want you to be on the show.' I said, 'Wait a minute; I just started riding.'"
To sharpen her skills, Bayly introduced Ellis to Ike de Jager, a South African and former professional motocross rider who runs 20/20 Racing Academy in Apex, North Carolina.
"For every weekend from Thanksgiving 2012, until early February 2013 – every single weekend, with the exception of Christmas weekend, I was training with Ike on the dirt," Ellis said. "I had the bruises to show for it. I was trashed."
She vividly recalls one test of her fortitude, where de Jager had her wheelie-ing off a huge ramp. It was the end of the day on a Sunday, and by the third time de Jager sent her through, she was already beat.
"I was so frickin' tired, I just thought, 'I can't wheelie this again,' so I just let the bike go," Ellis said. "It's flying through air; I'm flying through the air. I land on the ground, I'm crawling over to switch it off, the gas is leaking. I just put the helmet on the ground and my hands in the air and said, 'I'm done.' He picks me up and he goes, 'Yeah, you're done.
You're done. "
The training proved to be as vital as it was grueling.
"If you can control a bike like that in the dirt, it translates directly to the street," Ellis said. "If you can feel it break loose on you on a little bike, you can get it right back on street bike."
She felt ready for Peru, although nothing really could have prepared her, especially not for the story line the editors had in mind. Ellis recalls it as a long, difficult adventure ride from Lima, Peru, through the desert and high into the Andes, then back down.
It aired on SpeedTV . While Ellis still considers it generally a positive experience, Bayly makes no bones about Ellis' portrayal in the final cut.
"I don't know anybody who could've worked harder or trained harder for the show," said Bayly, whose riding career has taken him to 45 countries. "It was a pretty phenomenal achievement. You could look at her with the fancy cars and the blond hair, and you might think you're getting someone who's a little frou-frou. Then you see her crash again and again on that dirt course, and sitting in a little trailer in South Carolina, and she's got bruises that would make you and I wince. So yeah, the series I thought was disrespectful, because it focused on her crashing."
Bayly notes that he crashed twice during the Peru trip, just like Ellis, and the other rider took several spills – all of which ended up on the editing room floor. After one crash, Bayly snapped at Ellis, and that made the cut, but he said he was frustrated because he felt Ellis was a better rider than she was showing.
"Instead of showing her as a woman with this incredible perseverance and drive, they showed her as a blond who fell a lot," Bayly said. "It didn't show her guts, her dedication and the effort she put into learning, and the achievement of what we did over those days. If you met and saw her through the TV show, you wouldn't have a realistic view of her."
He points out that Ellis is a "nearly pro-level rock climber" and top-notch mountain biker, a woman who went from zero to two-week endurance rides in a strange country in a little over a year.
On to racing
The TV experience carried one benefit for Ellis – recognition. People knew who she was and sought her out.
When someone asked her to join their race team, Ellis thought, "When else am I going to have this opportunity."
She'd just turned 50. As a single mom past the half-century mark, she doesn't have a lot of female company on the track.
"There are very few women out there, and I'm definitely the oldest," Ellis said with a laugh, noting the other two race team members are men.
At an age when a lot of people are making excuses about their health and letting dreams slip away like that flying dirt bike, Ellis is bearing down harder than ever. Bayly gets a huge kick out of that.
"She's at an age when a lot of people start slowing down, throttling back, and she's going faster," Bayly said. "People might think, 'Oh, it's easy for her – she's got the looks, she's got the money.' But without the drive, none of that would happen. To go from something of a newbie to riding at that level, that's pretty amazing."
Her team, Triple Threat Racing, is based in Palm Beach, Florida, where the crew chief and crew live. They've competed on the Mid-Atlantic and Southeastern Club Racing circuit, and Ellis snagged a regional championship in the rookies' cup, lightweight category. She races a Yamaha R6 and a Kawasaki Ninja 300.
"From February through October of 2014, I was at the track at least every other weekend," Ellis said, adding that her practice, MedAge, sponsors the team.
As a solo practitioner specializing in vein surgeries, varicose veins and aesthetic improvements, Ellis touts healthy living and taking care of your body, which she likens to a motorcycle. She was aware that some patients might think motorcycle riding is unsafe, but when Ellis joined the team she knew she had to go public with it and decided to capitalize on it.
"Part of the message was, 'OK, you've got to build the bike, fuel it property and keep it running," she said. "Well, you do the same thing with the rider. Make sure the rider's fit, and fit for the job — built so to speak — and fueled properly."
Part of the team's advertising is that its riders are "fueled by MedAge."
She's also sure to tell her patients that she keeps the speed on the track, not on the local roads, which Ellis considers much more dangerous than the race forum, where other riders are heading the same direction and all have a mutual interest in survival.
'Pretty cool' mom teaches her kids
After four years and a lifetime of cycling experiences, Ellis felt comfortable in teaching her sons to ride. David, 12, started riding dirt bikes at age nine; while Mark, 18, started at 14.
When Mark, whose last name is Gilbert, wanted to ride a street bike, she insisted he take the safety course and then go on rides with her. The former trauma surgeon in her also insists on "all the gear, all the time."
"Here was the rule: he would ride with me, only, until I said it was OK for him to ride," Ellis said. "Then he had to ask me for permission to ride, and I had to know where he was riding."
Gilbert, 18, has been on the track, and he's comfortable in squirrely conditions, thanks to one-on-one training and dirt biking. And he's a big proponent of his mom's safety philosophy.
"I've fallen on the track once, and luckily I had all my gear on," he said. "I low-sided it going in to a turn and just slid across the pavement. If I didn't have any gear on, I would've been completely covered in road rash. I always ride with full leathers and boots."
Deep down, Ellis knows riding builds a sense of confidence, and quenches that thirst for adventure.
"It's still a risk, every time you go out," Dr. Ellis said. "But a 17-year-old kid is going to ride, whether you want him to or not. It empowers them."
Yeah, she could be talking about herself, too.
Gilbert knows his mom is, well, not like other moms.
"I think it's pretty cool she's decided now is the time to start doing all the fun stuff," Gilbert said. "What else do you have to do when you get to that age?"
Indeed.
Talk to Ellis for just a few minutes, and you'll know she's just getting warmed up.