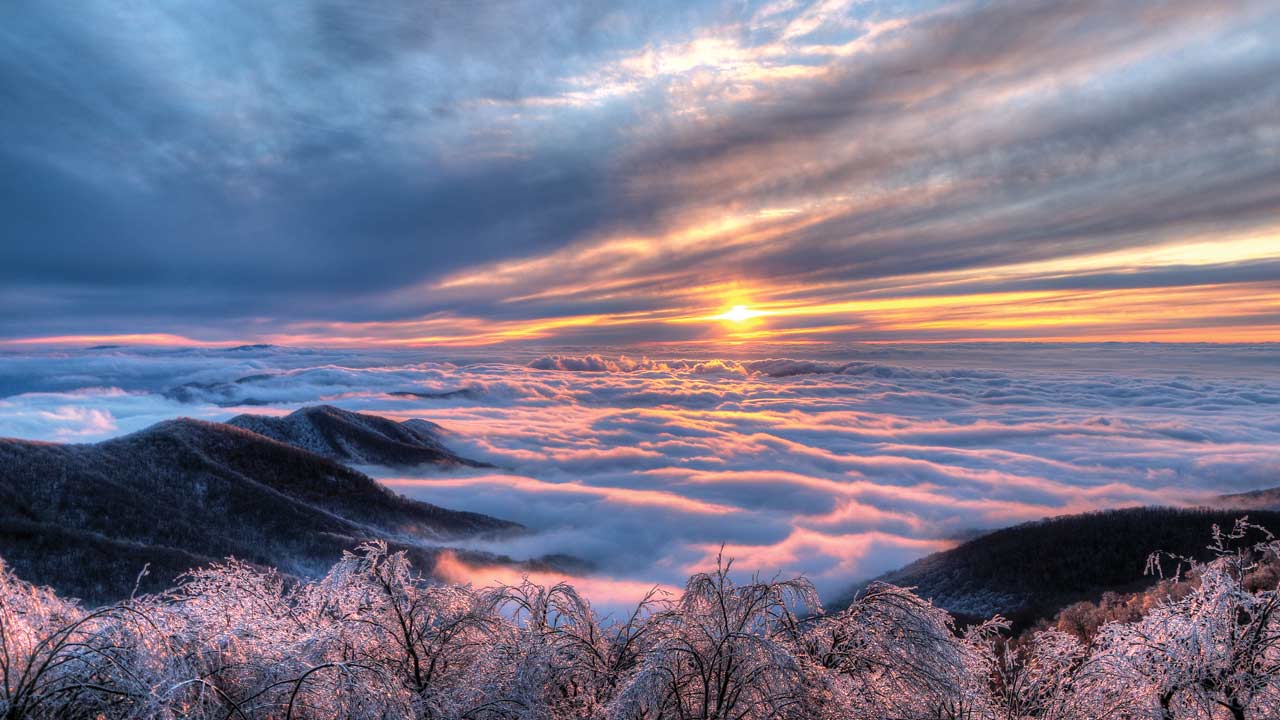 The mountains seem to cradle this bucolic valley. Beyond the orderly rows of vines, the blue-gray band of the Southern Appalachian Mountains fences off this area of east Tennessee, protecting it. Cherishing it.
Briefly interrupting this peaceful scene, a group of nearly a dozen motorcyclists arrive at Tsali Notch Vineyard near Madisonville, Tennessee, after crossing the towering blue wall on the horizon by way of the Cherohala Skyway. The peaceful vineyard offers a respite from the challenging curves and roaring exhausts.
It's harvest time. Workers load the muscadine bounty into large crates as the autumn sunshine casts everything in a green-and-gold hue. Tasli Notch Manager J.D. Dalton oversees the harvest. His two-way radio crackles as he takes a break to talk about the vineyard's operations.
"We're tasting eight wines as of today," he said. "They're all grown right here. Last year, we harvested somewhere around 137 tons. With it being so dry in 2019, we've had no rain for going on four weeks, so we won't have that kind of numbers as far as tonnage."
Dalton said a single ton of fruit will yield about 160 gallons worth of juice, producing about 750 bottles of wine. They sell most of their 97-acre crop in bulk to other customers, retaining about 10 percent to make into wines under their own label.
"We taste it and sell it right here on our grounds," he said. "We're the largest commercial muscadine vineyard in the state of Tennessee. That's all we specialize in. We do six varieties, four bronze fruit and two dark berries. That's kind of our niche. I call it the muscadine twang. It's done really well for us."
The group of motorcyclists relax under a row of shade trees, stretching and already reminiscing about the stunning drive across the mountains on the Skyway to the rolling hills of Tsali Notch Vineyard.
"It's in the middle of nowhere, but it's absolutely gorgeous. The views around here are phenomenal," said Lew Bleiweis, director of the Asheville Regional Airport. "Definitely would be a place I'd ride back to. I've not done the Skyway before, what a great ride. There are parts that are pretty winding, but the rest are nice, natural curves. It was a good ride."
"I love the Skyway," said Sarah Merrell, an accomplished rider and Knoxville public relations and marketing director. "I always love the panoramic mountain views. The Skyway is one of my favorite rides just for that reason. You just want to look everywhere and see the mountains and scenery. It was a nice clear day for it."
A small cabin on the crest of a rise serves as the tasting room. Tables out front allow for visitors to take in the nearly 360-degree views of the farm and surrounding countryside.
"The scenery here is absolutely beautiful with the mountains," Merrell said. "They do a nice job here with their wine tastings. They give you a free wine glass with your tasting, which I thought was really cool. I felt like it was a nice selection of whites and reds. A nice combination of some nice dry wines. I was actually surprised that I liked some of the sweeter wines a lot better than I thought I would. The rose in particular was really nice."
"My favorite was toss up between the Dragging Canoe and the Hiwassee," Bleiweis said of the vineyard's Dragging Canoe semi-sweet red and the Hiwassee dry white wines. Hiwassee won a gold medal at last year's San Francisco Chronicle Wine Competition. "Those couple were more dry. They were good, enjoyed it."
Merrell's favorite wine was the Notch, a dry white wine that earned a bronze medal at the San Francisco Chronicle Wine Competition for the last two years.
"They compared it to a Chardonnay, but what I really like about it is I really like dry wines," she said. "It was nice because it did have a smooth, oaky flavor to it. I always prefer that over sweet-and-fruity."
The rustic setting, complete with tire swing and a vintage Chevy farm truck from the 1950s, makes the vineyard an enjoyable destination for friends and family.
"We do events. We do birthday parties, reunions, weddings, receptions. We do all kinds of different events," Dalton said. "We do a big muscadine festival every year. We've had hot air balloon festivals here."
If the stunning scenery above ground isn't impressive enough, a unique attraction awaits just three miles away — The Lost Sea, the nation's largest underground lake. Formally known as Craighead Caverns, the cave system features a 4.5-acre lake with more flooded rooms remaining unmapped. A three-quarters-of-a-mile waking tour descends 140 feet beneath the surface and also includes a boat excursion inside the natural wonder.
Worthy of being a motorcycle destination in itself, The Lost Sea also features a nature trail, general store, restaurant and ice cream parlor. Groups of 15 or more can receive a special discount. The cave system is a Registered National Landmark by the National Park Service for its unique geological features, which include rare crystal clusters called cave flowers.