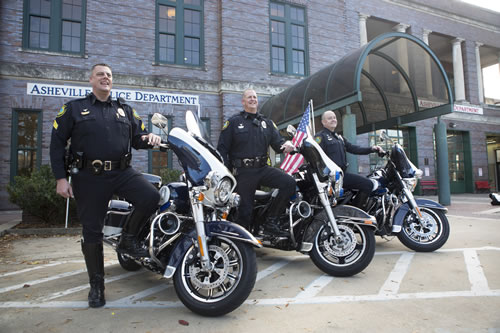 Asheville Police Department's trio of Electra Glides moves in unison through the mid-day interstate traffic. Mirror-to-mirror, the team switch lanes without ever braking formation. There's a gap beside the third officer, and I'm tempted to insert my trailing adventure bike into the formation to live out my childhood fantasy of riding with Jon and Ponch from TV's "CHiPs."
"Yes, I think that that show influenced us all," Lt. Mike Yelton chuckles after we dismount.
"CHiPs" followed the adventures of a pair of California Highway Patrol motor officers for six seasons on NBC from 1977-83. Many a Generation X rider owes at least part of their fascination with motorcycles to that show, and the leader of Asheville Police's motorcycle unit acknowledges my excitement to be tagging along with his team this morning.
Yelton, who also rides a Harley as his personal bike, oversees the unit along with Sgt. Scott Pruett, who began riding when he was only 8 years old. Senior Officer Scott Fry began riding as a teenager and now spends much of his workday during the warmer months astride a police motorcycle working traffic enforcement.
The department has four police motorcycles, two new 2017 Harley Electra Glides and two older 2010 models. As soon as another officer completes the rigorous training, a fourth rider will join the squad. APD mostly used the bikes for parades and special events until Police Chief Tammy Hooper took office in 2015. The new chief arrived from Alexandria, Va., which makes wider use of motorcycles as patrol units, not merely as part of its community relations efforts.
"She's more interested in expanding Asheville's motor unit, so we've transitioned more into an enforcement unit," Pruett says. "We wanted to change the uniform up. We wanted to go for practicality. We wanted to go for style. Being as we ride the Harley-Davidsons, we wanted to have that retro-look, so we went with the breeches and boots."
Jackets are optional, and in warmer weather the team wears their conventional uniform tops over ballistic vests, which can stop not only bullets but road rash as well. The lids are Shoei Neotec modular helmets with microphones and speakers for the police radio. I watch with envy as they strap them on, say "Go to Tac 5," and mount up. "Being on a motorcycle is so successful enforcement-wise because nobody sees you, pays attention to you," Fry says. "The danger is also that nobody sees you or pays attention to you."
The team members speak with pride about how much the unit has evolved in the last few years. They hope to expand and get more officers trained, but adding more motor officers isn't as easy as just buying more motorcycles and hitting the streets.
"To get certification in North Carolina, we go through a two week, 80-hour, extremely rigorous motor officer operator school down in Raleigh," Pruett says. "That operator certification course is mentally and physically the hardest school, hands down I have ever done."
Tragedy struck the team in 2013 when Asheville Police officer Rob Bingaman died when his patrol car tumbled off the Jeff Bowen Bridge. "He was going to be my next motor officer," Pruett says. His fellow officers traveled to Washington, D.C., to honor his memory at the annual Police Week that year. More than 500 motor officers from across the country help escort families, friends and coworkers of fallen law officers. Asheville now sends its motor unit to pay tribute each May.
Seeing Asheville's team in action, any fellow rider can recognize the precision and skill with which these officers ride. I follow the team through freeways, city streets and country lanes to Buncombe County's Training Center off Riverside Drive near Woodfin. Here, the multi-agency facility trains law enforcement, firefighters, EMS and Haz-Mat workers on a 30-acre facility that includes a vehicle test track. Gleaming in the morning sun, the new 2017 Harley-Davidson Electra Glides draw your attention. The side of the air cleaner reads simply "Harley-Davidson Police." An Old English font spells out "City of Asheville" above a larger "POLICE" on the blue-and-white bikes.
"The differences (from stock) are mainly functional," Yelton says. The seat is a solo saddle narrowed at the front and mounted two-to-three inches higher than normal. "It's so you can get up on the tank to make the bike more maneuverable." He says. The tour pack on the rear is mounted forward of the taillight, again to keep the weight centered. Inside is an extra battery to run accessories such as the blue lights, siren and a laptop computer with printer. A large empty storage bin sits where a stock Electra Glide usually houses a stereo and extra handlebar switches control the police radio, PA speaker and blue light and siren.
What remains the same is that famous Harley exhaust note as they fire up the bikes and prepare for a training session. With a course outlined by orange traffic cones, the trio expertly maneuver the heavy police bikes through a series of drills while always keeping a uniform spacing between each rider. They are highly trained riders, but that training never really stops. "You leave this school with the upmost confidence in your ability to ride, but as you know, it's a perishable skill. We strive to train on off days with Hendersonville Police motor guys or just get out in the parking lot and do some tight turns and slow moving stuff," Pruett says.
There are maybe a dozen motor officers in the western part of the state. Each one must pass the grueling motor officer training. "I had to completely forget everything I thought I knew about riding a motorcycle and just let them mold me into what I needed to be, and I'd ridden for years and years," Fry says.
Their training consists of much more than just cone work. Officers gain confidence in their ability to ride, to engage in high-speed pursuits, and to employ tactical training. The casual rider will never have to throw down their bike and use it for cover during an ambush, but these officers could face that situation someday. "The demands on an enforcement motor officer are very different than the demands on a recreational rider or a commuter-type rider," Yelton says. "Obviously, both are dangerous. But for the guys out here riding enforcement every day, the demands are just really, really high. The school focuses on the critical life-saving skills that, quite frankly, have kept us safe many, many times."
Yelton says officers frequently encounter scenarios where their training can make the difference between evading or escaping a threat or being injured by it. "As a motorcyclist, it's a life changing event. There all the time you spent riding before you went to motor school, and then after because it changes the way you ride forever," says the lieutenant.
Fry also confirms how transformative the intense training is for motor officers. "Before, I took for granted people were going to drive like they're supposed to. Whereas now, every car I see it's 'Do they see me?' Their actions dictate my actions. Every vehicle in your field of vision is a threat." Motorcyclists often see themselves as independent, free-spirited types. How do these boys in blue, with their extensive training, see their fellow bikers and their bad habits? "I think riders get too lackadaisical whenever they're out riding. We all enjoy the freedom of getting out. We look it as a stress relief to get a few miles in and decompress. I think riders lose their vigilance when they're out there not paying enough attention to their surroundings," Pruett said.
To help other riders benefit from their advanced skills and knowledge, Asheville Police's team helps conduct Bike Safe North Carolina events across the region. The free workshop combines classroom-based advice and on-the-road rides with motor officers providing tips and instruction. Based on a rider-training program in Great Britain, North Carolina became the first state to incorporate Bike Safe in 2009. Pruett says. His team hopes the program will reduce motorcycle accidents that could be avoided with proper rider training and techniques.
"Head checks. Head checks. We constantly stress head checks. A lot riders just ride with tunnel vision," says Pruett, who teaches in the Bike Safe North Carolina program. "As you approach and enter that intersection, I want to see your head moving around."
Visit www.bikesafenc.com to sign up for a free workshop in your area.