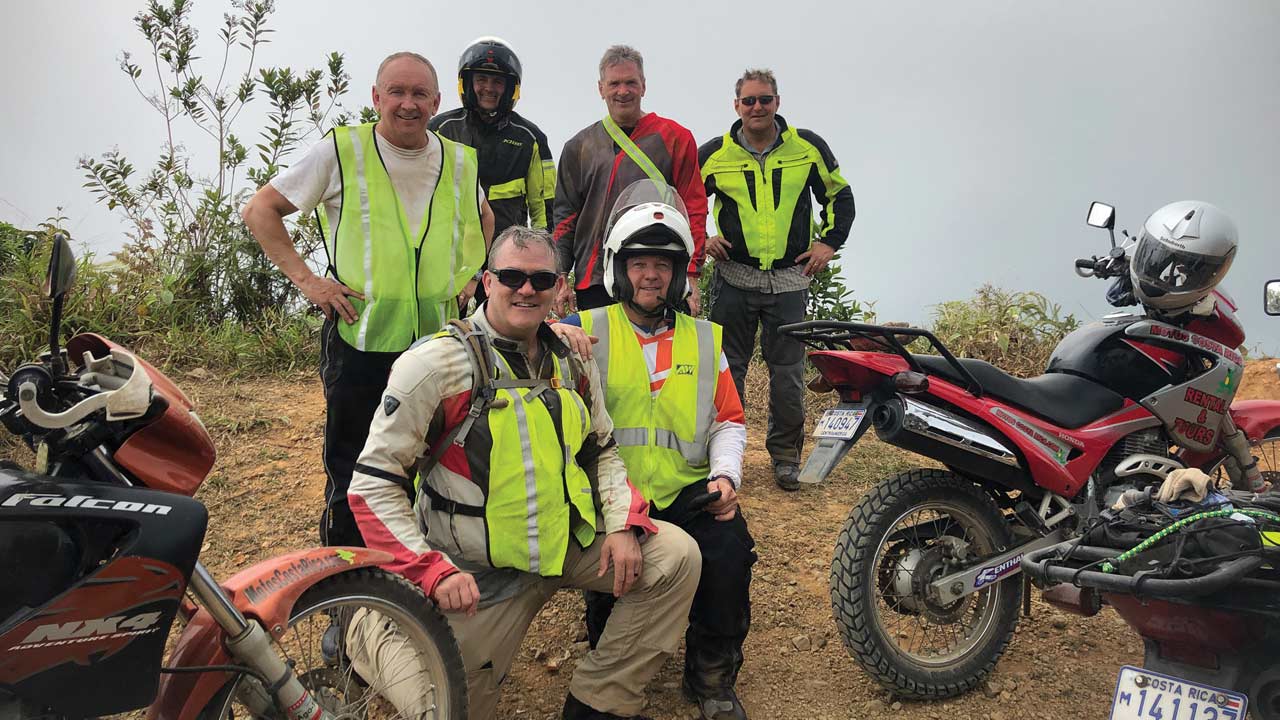 Casta Rica boy," my gray-haired grandfather said to me. "That's where you need to go."
Our group of riders from the Blowing Rock/Boone area flew into San Jose, Costa Rica, in mid-January with plans for some winter riding in the mountains of Central America. From San Jose it was a 20-mile taxi ride to Atenas, a city of about 27,000 Costa Ricans, or Ticos as they call themselves.
Atenas, a mountain town known for year-round temperatures in the mid-70s, served as home base. The Villas de la Colina features eight two-bedroom cottages. Nothing flashy, just simple, adequate and inexpensive. The cottages encircle a trellised dining area with a view overlooking the capital city of San Jose. Its garage houses six 400cc Honda Falcons, street bikes with street tires. Our intention was to get those bikes out of the garage and onto some dirt roads.
Day 1: The riders assemble
We hook up with Buster Yarborough, a Winston-Salem native and a bad-ass motorcycle rider.  Buster rode on the pro circuit and raced the Baja when he was younger. He's now semi-retired, and he and his wife, Christine, spend part of their year at their home in Atenas. Buster introduces us to Gerado, a 50-something local coffee grower who rides a Yamaha 250 like he grew up on it, which he did.
Out of Atenas and into the hills we ride. Up, down, left, right twisting through the hills. They have lots of roads in Costa Rica, dirt roads. They put dirt roads on hills we wouldn't even consider putting a road on in the U.S. Steep climbs lead to diving drops, through little communities, passing tiendas, homes and farms. We took breaks on mountain tops above the clouds, and sometimes from points where we could see the coast and the Pacific Ocean beyond.
In the afternoon, Gerado decided to see what we were made of. He led us on some rock and boulder goat paths where our weaknesses and street tires showed themselves. Motorcycles fell and mirrors broke. We were dripping sweat and cussing. Tiptoeing over a couple of large rock slabs and making an uphill hairpin turn, we found Kevin Kelly laid out on a steep climb with his bike lying beside him. Chris "Big Money" Wilcox, Carl "Delta Force" Beene, and I righted the bike but could not start it so we pushed it up a long hill to a more level resting place. "Ice Cream" Bill Williamson stood watching as Kevin slogged up the hill behind us with his helmet in hand. Team leader Rick Riddle spoke with Gerado, suggesting that it might be time to head us toward some pavement.
That night we all met at Buster's house, a one-bedroom gabled home sitting on top of a large garage that houses motorcycles only. Buster built a bonfire in the side yard and two old speakers cast out songs above the fire pit. Sitting on a mountain top in a foreign land, my friends sipped whiskey and sang along with the Allman Brothers Band. The fire pit's flames waved quietly while below us the night lights of San Jose tried to compete for our attention with the thousands of stars in the dark sky above.
Day 2: Drive to the Pacific Coast
We awoke to crowing roosters, lots of them. Delta Force, already up and dressed, sat polishing the visors on both our helmets.
Today's plan involves a two-hour asphalt drive to the Hotel Delphin on the Pacific Coast. Rick, our team leader, planned out the route. A road map gave him the numbers of the highways leading to our destination. Unfortunately, the road signs don't correspond to the maps. The only directional signs I saw were stop signs, and a stop sign is merely a suggestion in Costa Rica. Speed limits are painted on the asphalt in large white print, 65 KPM or 80 KPM. Delta Force, who led the way, disregarded instructions and doubled whatever speed was written on the highway.
A typical motorcycle in Costa Rico is a 125cc bike. The average rider has on shorts, flip flops and maybe a light helmet. We would roll through towns in full armor adventure gear on 400cc motorcycles. The owner of our villas would stop and stare at us like we were the circus coming through town.
We arrived at the Hotel Delphin, an attractive, clean, 20-room ocean front hotel owned by Eddie, an ex-pat businessman from Georgia. Eddie was sitting at the bar when we rolled in. A motorcyclist himself, Eddie also likes riding dirt roads and says he can show us some cool roads if we would like to meet at his home in San Isidro tomorrow before lunch. Rick takes down the directions and agrees to the meet.
---
---
Day 3: All roads lead to a San Isidro
We roll out on sandy dirt roads through a palm tree plantation. The plantation roads crisscrossed through the palms in all directions. Rick just guessed which way to go at every intersection until we hit the Pirris River. We could go up the mountain or through the river. A bus passed in front of us going along the river. Rick determined that the bus was a sign, so off after the bus we went. We never saw that bus again.
The Pirris snaked back and forth along the base of the mountains, requiring us to cross the same river several times. Round rocks and running water were our trail. Ice Cream Bill was the first to drop his bike in the river. I was second. Kevin became frustrated during a crossing and so turned his bike downstream in the middle of the river until he just stopped. Delta Force dismounted and was wading out to assist Kevin. Ice Cream Bill was helmetless, staring at his stalled bike. Big Money was under a shade tree, arms crossed and fuming. Always-smiling team leader Rick wasn't smiling. Big Money pulled up beside him.
"This isn't a road Rick," he pointed out. "This is a river." Rick turned his bike around, re-crossed and began making new tracks opposite our old ones.
We ascended on a great twisting dirt road, up a tall mountain to the town of Santa Pablo. Once in Santa Pablo, Rick pulled up to a truck which had three men riding in the bed and asked, "Which way to San Isidro?" Each man pointed in a different direction.
Rick picked one and off we went. We rode pavement on the mountain tops, twisting along until we came to a small sign on the side of the road that read "San Isidro." Two chickens pecked at bugs beneath the sign.
"This is it. Now we just have to find the McDonald's," Rick said removing his helmet. "Eddie lives next door to the McDonald's."
"McDonald's?" Ice Cream Bill asked as he surveyed the hamlet before us. "I don't think we're going to find a McDonald's here."
Rick looked over the hillside before us, dotted with tiny modest homes. Mosquitos buzzing and babies crying were the only things we could hear. Rick reached for his cell phone to call Eddie.
"Is there more than one San Isidro?" we heard Rick ask. He nodded, grinned into his phone, said OK and then said good bye. "How many?" asked Bill. "About 30 of them," Rick replied.
•••
The shadows grew longer and we began to worry about getting back to the hotel before dark. We abandoned our quest for Eddie's San Isidro home. Delta Force took the point. Using the Waze app on his phone, he led us along a ridgeline through small villages with darting kids and rambling cows crossing the roads before us. He stopped at an intersection and nodded toward the downhill as we pulled up. The dirt road down was a double black diamond, steep and twisting. Delta dove over the edge and we followed. Down, down, down we went, turning, sliding and down again.
We passed coffee bean harvesters sitting on the side of the road with large white sacks of beans waiting for a pick-up. Down we went and down some more, dust was flying and I was wondering where the bottom of the hill was when we suddenly crossed a small bridge over a creek and began going up an equally tall mountain to do it all again. And then a third mountain before we got back to the asphalt and the coastal road. Kevin pulled up to Delta Force, who was covered with dirt and waiting at the edge of the pavement.
"I'll tell you what Carl," he said wiping his visor. "We just think we got hills in North Carolina." Carl just grinned, nodded, turned his front wheel, twisted the throttle and led us down the highway home.
Writer Tom Enterline's first motorcycle was a used 1974 Norton 850 Commando, metallic blue with silver trim, that he says was "beautiful." He was 19 years old at the time, and the bike blew up once, was repaired, and eventually transported Tom the 550 miles from his father's farm in Dover, Delaware, to Boone. That trip was entirely in the rain and done without a face shield, just a bandana across the face for protection. That was 42 years ago. Tom — now a building contractor, carpenter, husband and father — still lives near Boone, just a quarter-mile from the Blue Ridge Parkway. Today he has a Suzuki DRZ 400, a KTM 500 EXC, and a BMW 1200 GS adventure bike.  "I am blessed in that live, work and ride in the Southern Appalachians," he says. enterlinetomt@gmail.com