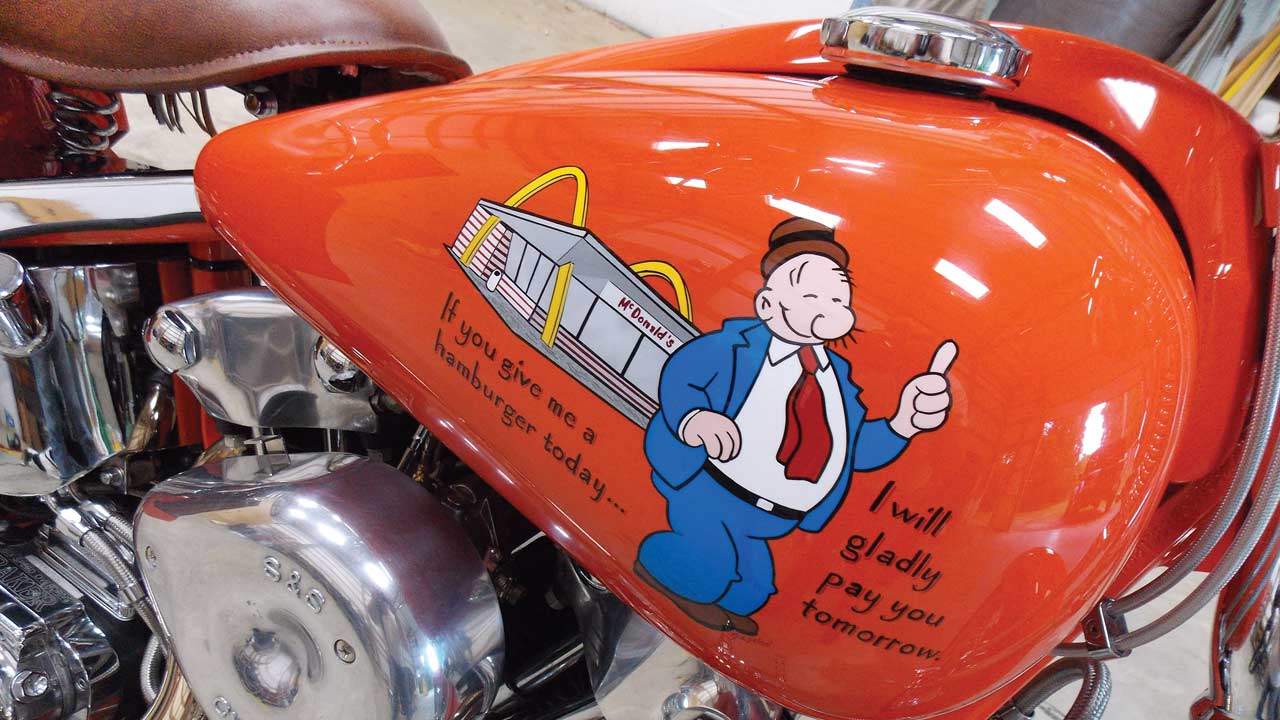 It all started with an old leather suitcase.
Charlie Stroebel's late brother, Frankie Striffler, loved a good hunt for antiques and curiosities. On one of his outings, he stumbled upon what looked like a salesman's sample case, probably from the 1920s or '30s.
Frankie called Charlie and excitedly told him all about the suitcase, but Stroebel didn't share his brother's fascination.
"I said, 'What do you need another suitcase for?'" Stroebel said. "He said, 'I'm going to build a motorcycle around the suitcase.'"
Stroebel says he spent his working life as a Navy helicopter pilot — including a long stint flying the presidential helicopters known as Marine 1, 2, 3 and 4 (but only when the president is on board) — and then landed in federal law enforcement. Along the way, he said, he met Presidents Carter through Clinton, and then spent years gathering information for federal search warrants for the U.S. Marshal's Service.
It was all fascinating work, but nothing that prepared him for the Popeye build.
"I've never built a motorcycle before," said Stroebel, a 64-year-old who lives in Waynesville, not far from Maggie Valley.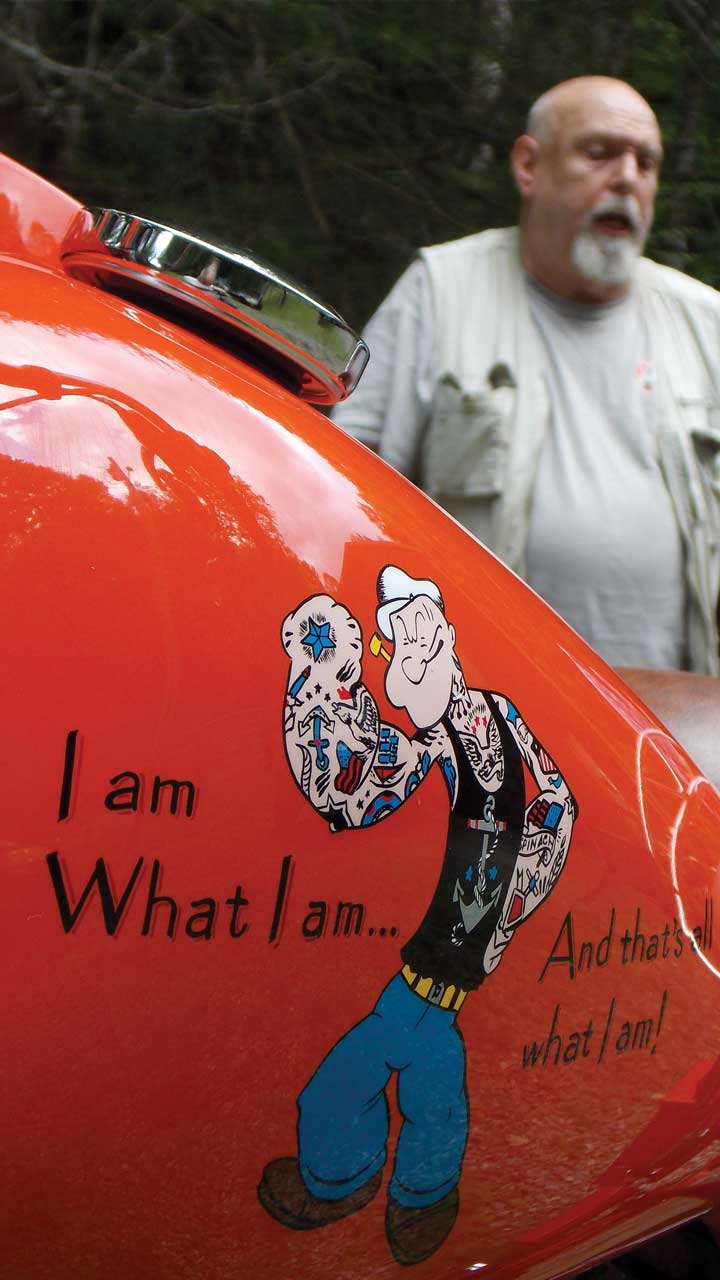 Both brothers had a vision for the bike, and Stroebel's included this demand: it had to have a fishing pole holder.
His brother envisioned the Popeye the Sailor Man theme.
"He was a big Popeye fan growing up, and he worked some on the Robin Williams movie," Stroebel said, adding that his brother made a living as a contractor.
Frankie had a strong vision for the bike, but it was all in his head.
"He couldn't draw a straight line with a ruler," Stroebel said with a laugh.
For the power plant, they bought a "repop," or reproduction of a 1936 Harley-Davidson Knucklehead motor, along with a Baker six-speed transmission. They married it to the frame, which Stroebel freely admits had to be professionally redone in spots, as the brothers' welding skills were lacking.
Then came the eye-catching paint job: 1998 GM orange that can be seen from a satellite, and the Popeye motif.
On the left side of the gas tank, the swollen-armed sailor man flexes, boasting, "I am what I am…and that's all what I am!" His girlfriend, Olive Oyl, graces the top of the tank, while Popeye's good friend, Wimpy, commands the right side, stating, "If you give me a hamburger today, I will gladly pay you tomorrow."
The bike also glistens with chrome and boasts a gorgeous reconditioned leather seat that came off a 1948 Indian Chief. The seat alone cost $1,200, Stroebel said, adding that all in all he's got about $40,000 in the bike, which has nabbed a "best in show" award at a bike and car gathering.
The bike also serves as a steel and chrome tribute to Stroebel's brother, who died last year at age 76.
Stroebel grew up in California's San Fernando Valley and moved to the Smoky Mountains six years ago, largely drawn by Dale's Wheels Through Time Museum in Maggie Valley, which boasts dozens of vintage American bikes.
Stroebel said his grandfather had a welding shop near the manufacturing facility for Crocker Motorcycles, which started near Los Angeles in the 1930s. His grandfather did welding jobs for Crocker, and at one point they paid him with a motorcycle.
"But my grandmother threw a fit, and he had to give it back," Stroebel said. "I saw pictures of him with the Crocker."
That created a lifelong fascination with the bikes for Stroebel, so when he saw Wheels Through Time founder Dale Walksler on a TV show talking about a Crocker bike, Stroebel knew he had to at least visit the museum.
He liked the area so much, he ended up moving here in 2013.
Like a lot of motorcycle enthusiasts, Stroebel grew up riding, in his case mostly on dirt bikes and mini-bikes on his other grandfather's huge ranch in Montana. That's also where he learned to fly helicopters — his grandfather, despite being in his 80s, had bought a small helicopter to get around the massive ranch.
He quickly realized it was a bit much for him, but he thought it'd be great for 14-year-old Charlie to learn to fly it. So he did.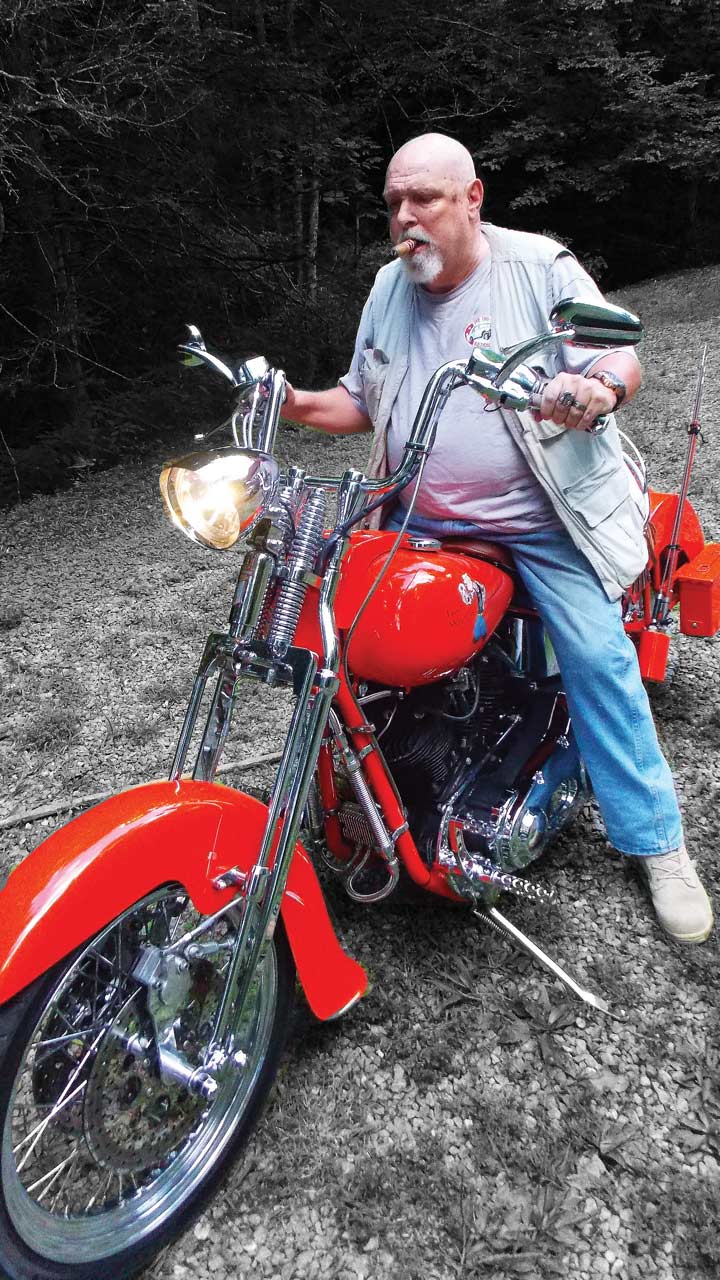 His first real street bike was actually his father's, a 1971 Honda CB750 four cylinder. Now a classic, the CB750 borrowed generously from racing models and was known for its power and speed.
"It sat in the garage more than he rode it," Stroebel said, adding that he soon appropriated it. "I was riding his motorcycle back and forth to school at 15 years old."
After high school, Stroebel joined the Navy, and when they found out about his pilot's license, they sent him to flight school. Stroebel said that led to a 10-month stint flying wounded soldiers to and from MASH units in Vietnam.
At times, it was nerve-wracking.
"I went in the service at 175 pounds and came out at 125 pounds," Stroebel said. "I couldn't hold food down. It was ugly."
After a stint in the hospital to recover, he was assigned to the Pentagon, eventually passing through the security and background checks to serve on the staff of the helicopters that fly presidents, he said.
It was good duty, he said, adding that it also included a lot of more mundane flights to move mail or haul lesser-known staffers from the White House grounds to various destinations.
Standing by his bike and occasionally puffing on a cigar, Stroebel looks imposing, with a bald head, goatee and a stocky build. But he clearly has a soft heart.
Stroebel and his late wife, Sofia, raised four daughters, three of whom had serious disabilities or physical limitations. He and Sofia, who died in 2009 from ovarian cancer, would bring their kids to the Smokies for camping, which started the family's love affair with Western North Carolina.
Stroebel is also passionate about basset hounds, having rescued numerous members of the breed over the years, including his current pets, Daisy Mae and Willie B. Basset, who spent much of their time during Stroebel's interview barking for attention.
But the pooches have to compete with the bike, which is technically registered as a 2016.
He's had a long love affair with Harleys. Stroebel said his first Harley-Davidson was a 1918 Army model, a surplus bike that was less than pristine.
"I actually rode that bike for a while," he said. "But I found I couldn't find parts for it."
The new bike is a touch more reliable. Stroebel said he gets it out about once a week, and it always turns heads wherever he goes.
His friend and neighbor, Ray Borges, rides with Stroebel a couple of times a month and has driven the Popeye bike, too.
"It rides really nice," Borges said. "Which is a little surprising, because it's more of a show bike than anything."
Borges said you can't go unnoticed on the machine.
"It's quite a conversation piece, wherever you go," Borges said, noting that Stroebel is also a bit of a conversation piece, too. "He is quite the character. He's done a lot in his life."
Stroebel had a Harley trike that he would ride more often, but he sold that. So now it's just him and the Popeye bike, which also boasts a small container that holds two vintage fishing poles and an old ammo can on the left rear, opposite the vintage suitcase.
"That's the tackle box," Stroebel says with a smile.
— John Boyle